Today, we continue our Hometown Adventure Series with a visit to a beautiful coastal community, Beaufort, South Carolina. Our guest writer, Melanie Beahm, is a local resident. She loves her hometown and shares a few of the wonderful places and sites that are a MUST SEE for families visiting the region.

Beaufort: A Southern Treasure
Historic charm, Southern hospitality, Family friendly, and Seafood……….these are the attributes that have brought us to the state of South Carolina (and the military, of course). Let me introduce you to Beaufort…….recently named The Happiest Seaside Town in America by Coastal Living Magazine in 2013. We are the essence of low country living with our historical homes, Bay Street shops and fantastic eateries.
Beaufort boasts many festivals throughout the year especially designed for families to enjoy on a beautiful low country day. The Shrimp Festival, Oyster Festival, and Water Festival are just a few of the fine ways that the locals like to spend Saturday afternoon.
I am particularly partial to the swings on the Bay Street waterfront that overlook the ocean. The view is amazing and you just might see a playful otter or a dolphin or two gracing us with their presence. There is also a delightful playground located next to the swings that allow the little ones to slide, swing, and climb until they are ready to visit the ice cream shop just across the street.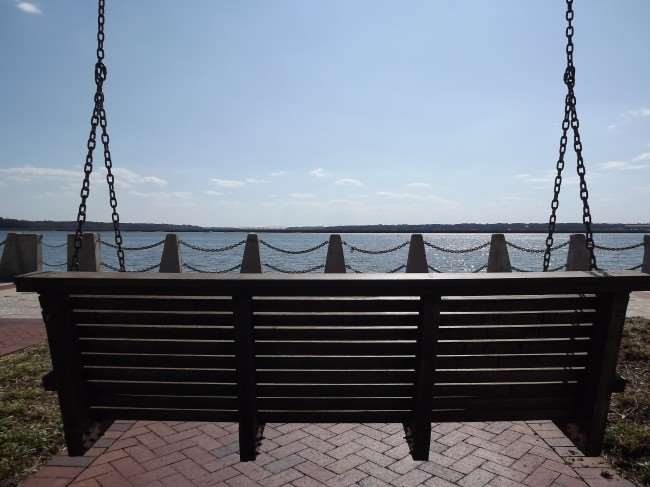 Walking tours and carriage rides are also available if you would like to tour the historic district. I highly recommend taking a stroll down Rainbow Row and observe the colorfully painted homes from days gone by. Major motion pictures have also been filmed here in Beaufort such as Prince of Tides, The Big Chill, and Forrest Gump. The day would not be complete without visiting The Chocolate Tree Shop for a wonderful handmade treat (my favorite stop in town).
Beaufort is a hidden treasure trove of local restaurants. Dockside is a local favorite for amazing seafood, Q on Bay is a delightful bbq eatery that will not disappoint, and Steamers is a winner with their fried pickles. There are choices for the whole family and the locals are always eager to share their favorites when you come to town.

What are you waiting for?
Y'all come on over to Beaufort and sit a spell. You will be glad you did.
About Today's Guest Writer
My name is Melanie Beahm. I am a proud military wife of 20 years, homeschool mom for almost 17 years, and Wine Sommelier for the past few years. In my spare time I enjoy traveling and experiencing new foods along the way. Beaufort is a wonderful town that offers everything that our family has come to love…….beautiful scenery, wonderful friends, and amazing foods. The southern hospitality just can't be beat! You can follow my wine adventures via my blog at All Enjoy Wine and/or my email [email protected]