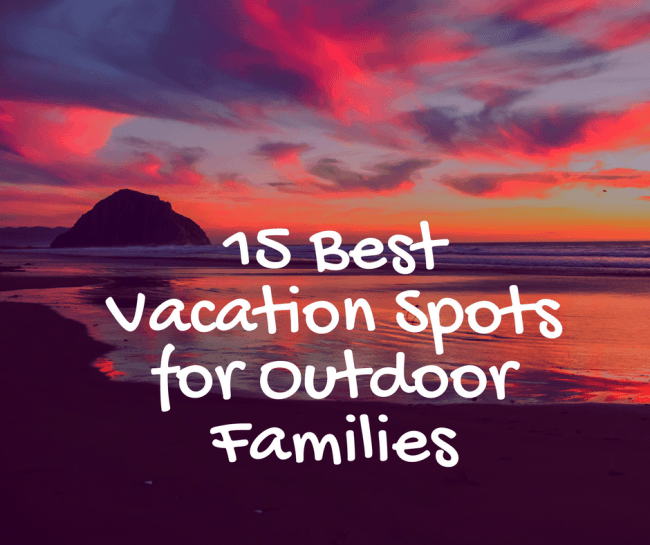 When deciding where to go on your family vacation, there are SOOO many options. What are the best vacation spots for you and your family? Will it be sun or ski, urban or natural, local or far away, international or within the U.S.? To help you find some inspiration to plan your next family vacation I asked friends and fellow bloggers what some of their favorite family destinations were. Each loved a location so much that they even wrote about it on their sites. I have gathered their favorite places here for you. Hopefully, they will give you a few ideas and destinations for this year's family vacation adventure
Best Vacation Spots for Families
Swim with Manatees
Imagine swimming with gentle giants in crystal clear water surrounding my cypress trees. Florida is the only place you can see manatees in the wild. Kari at ActiveKidsClub.com and her family recently traveled to Crystal River, Florida for this family friendly activity. She shares pictures and a few tips to swim with manatees. She says you can easily do this and combine it with a visit to Disney World. The best time to swim with manatees is winter from November to March.
Springfield, Missouri
In Springfield, you can step back in time at the Wilson Creek National Battlefield and Laura Ingalls Wilder Rocky Ridge Farm. Michelle at SimplifyLiveLove.com loves the area and recently went with her family. See what other attractions the area has to offer.
Pacific Rim National Park
Two of the biggest draws in the Pacific Rim National Park are the beaches and the rain forest. Kate at wildtalesof.com recently hiked along the Schooner Cove (Tofino, British Columbia)and lists it as "one of our favorite outdoor inspired destinations from the past year."
Grand Teton National Park
Ashli at goadventuremom.com was once a Park Ranger at Grand Teton National Park. She loves everything about this Wyoming park and had a hard time narrowing done her "5 Best of" list. If you want to escape here are the places you must check out when you go.
Yellowstone National Park
This is one destination our family hopes to visit this summer. Ashli at dirtinmyshoes.com loves to visit Yellowstone. There are so many things for visitors to explore and enjoy. She shares her top 5 attractions to see.
Backcountry horseback riding in Yellowstone gives you a unique view of the area. Mel at travelingmel.com joined a local tour company to saddle up and explore with her family.
Yosemite National Park
Yosemite Falls is the highest waterfall in North American. It's one of several waterfalls in park that you just have to see. Annie at outdoorsymama.com says there are 4 that you MUST SEE when you visit. She shares hike reports to help you make the trek to see these natural wonders.
Tami at at the Organic Crumbs podcast lives in Southern California and highly recommends Yosemite too. She had great advice share on camping in the park. She says, "stay in the upper camp sites during the summer because the valley is usually a good 10-20 degrees warmer."
Okanagan in the Canadian Rockies
Tanya at the Family Adventures in the Canadian Rockies is often exploring with her family. Her favorite summer destination is the Okanagan region in British Columbia. The area is home to amazing opportunities for outdoor fun. Tanya shares just a few of her favorites that your family would love too.
RVing in Alaska
Take home on the road with an RV. Erin at akonthego.com took a three week trip from Forest City, Iowa to Anchorage, Alaska. Erin answers some basic questions for any one considering RVing and shares higlights from her trip.
Lake Tahoe's Best Beaches
High in the Sierra Nevada's you will find Lake Tahoe, the largest alpine lake in North America. It is a popular winter ski destination, but during warmer months, the beaches are breathtaking. Alyssa at kidproject.org wants you to find and enjoy Lake Tahoe's best beaches. Find them and get ready for a great adventure.
Lot Creek Wilderness Camp in Colorado
A family trip may be what you need to just getaway and have fun. Jessie at twokidsintow.com went on an extended family trip to this Colorado campground. See what simple pleasures you can enjoy while camping.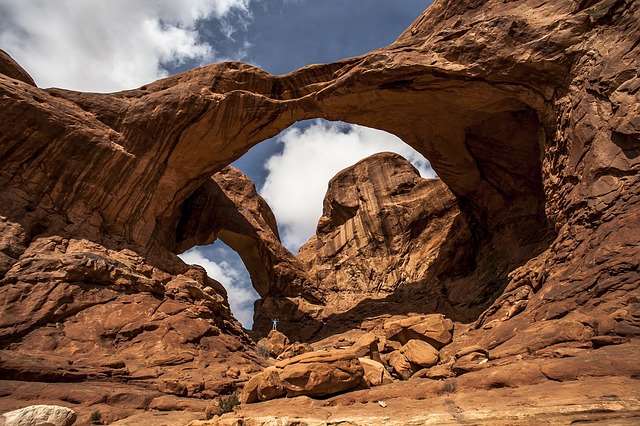 Arches National Park & Moab, Utah
If you want family friendly hiking, Alyssa at kidproject.org recommends Arches National Park. It is easy to access and the views are stunning. After visiting Arches, head down to Moab for even more fun.
Bridal Veil Falls in Provo Canyon, Utah
There is just something about an area with a waterfall. Susan at mountainmomandtots.com loves the Bridal Veil Falls in Provo Canyon and shares why you should explore this easy to access park.
National Park to Park Highway
Looking for an epic vacation? Susan at mountainmomandtots.com and her family traveled to 18 National Parks and 5 National Monuments on the National Park to Park Highway. See how she did it, the preparations she made, and the sites you can enjoy on your trip.

Other California travel destinations
Tami at the Organic Crumbs podcast had a few other recommendations for the best vacation spots families to visit that I wanted to share with you.
San Luis Obispo's Thursday Farmer's Market

They shut down a huge main street and have everything from local food to local produce and entertainment in between. Sometimes gets pretty crowded. A good tip is to park a few blocks away and walk in. Tons of real food places to grab dinner too.

Wildwood hike in Thousand Oaks

Fairly mild hike to a waterfall called Paradise Falls. Back in the day it was a swimming hole, but no swimming allowed now. Waterfalls in CA are kind of a big deal.

Old town Sacramento

They have a train museum, and a very old time feel. They also have tours you can do, some of which take you to the lower level of the town which flooded out in the 1800's. The rest of the town is basically built on top of it.
Another friend who also lives in California, Erin, loves to escape to San Francisco to escape summer heat. It is great in the summer: Ferry Building, Alcatraz, Chinatown, Coit Tower, Golden Gate park, have Bison and an aquarium, drive across (or you can ride bikes) the Golden Gate Bridge. It's not a camping friendly place, though. The closest camping we could find with no notice was Mt Tam – 45 min north. It was gorgeous but hot there.
These are the best vacation spots for active and outdoor families based those that have been there and enjoyed that. I hope these family travel destinations will inspire you to start planning your next little family adventure this year to explore for yourself.