Monterey, California is a great coastal destination for families. From the historic Cannery Row to the Monterey Bay Aquarium, there is something for everyone to explore and enjoy. The hardest part of planning a trip to the area is deciding what to do, what to see, and where to eat. Monterey's Cannery Row is home to some phenomenal eateries serving local seafood, produce, and regional wines.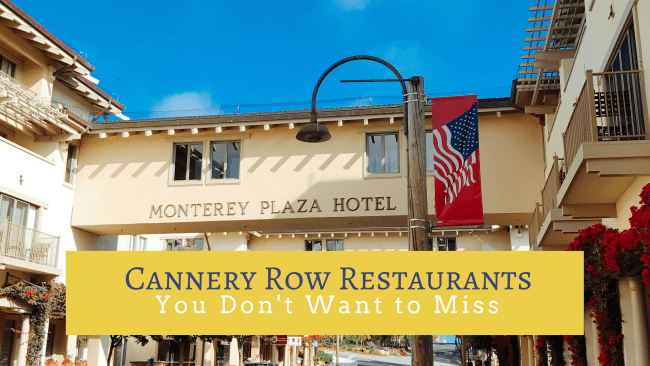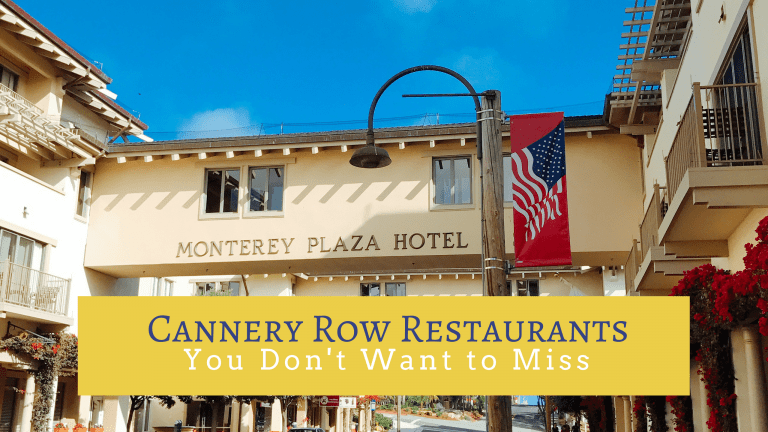 This summer I traveled to Cannery Row for a press trip. While there, I explored and found so many fun things to do in Monterey's Cannery Row with kids. I can't wait to go back! Next time, I'll have to take my family so they can discover all the fun activities and sites. But while I was there, I dined at several Cannery Row restaurants. Each served up amazing local dishes featuring fresh seafood and produce.
Cannery Row Restaurants
If you are planning a trip to Monterey, these are the Cannery Row restaurants I highly recommend for your next visit.
The Fish Hopper
Located right on Steinbeck Plaza, this locally owned restaurant has breathtaking views of Monterey Bay. While you eat, you can watch sea otters and seals swimming nearby as well as sea birds flying by. You may be fortunate enough to see a school of dolphins swim by like I did on a recent visit.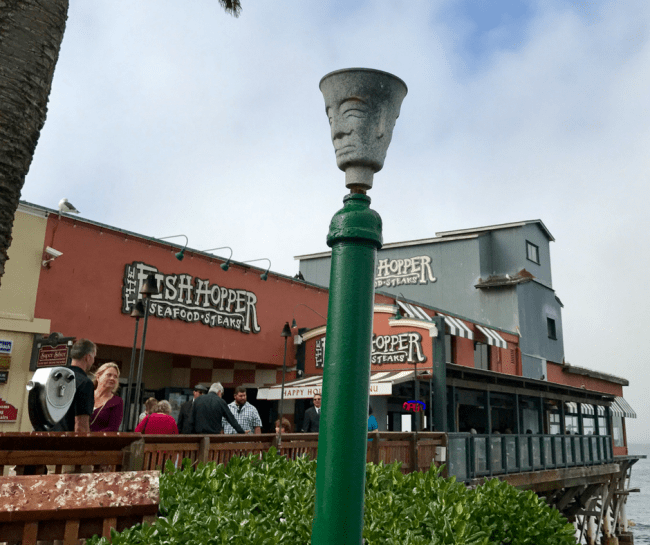 This local seafood restaurant has been a popular choice for visitors and locals for many years. I can easily see why. Start with an appetizer of fried calamari or crispy coconut prawns. For lighter far, try this Ahi Tuna and Mango dish that is fantastic. If you enjoy New England style clam chowder, Fish Hopper is serving up one of the best bowls in town.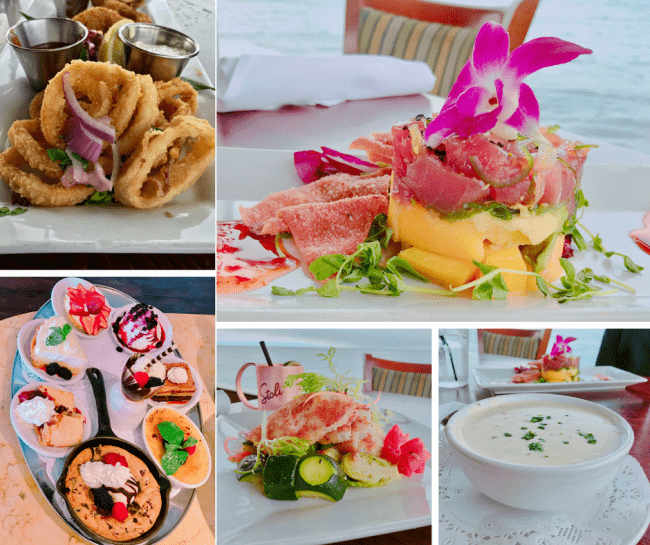 Another local favorite is a fish called Sanddabs. They are prepared lightly breaded are served with fresh vegetables. You won't get anything like it anywhere else. But be sure to save room for dessert.
Schooners Coastal Kitchen in Monterey Plaza Hotel & Spa
Coastal California is beautiful year around. At Schooners Coastal Kitchen you can enjoy dining outside on the patio or indoors. Select a seat along the surf board themed bar, or dine at one of the umbrella covered tables. You can watch sea otters swim in the nearby Marine Sanctuary or see kayakers paddle out from the beach.
Schooners is one of my favorite places for lunch. The menu has a great variety including Seafood Paella which is perfect to share, sandwiches, salads, and more.
For dessert, you can't go wrong with any of their "Sweet After Thoughts". Our table ordered the Key Lime Strawberry Tart and enjoyed every bite. It was tart and refreshing. On a hot summer day, I couldn't think of anything better.
Cannery Row Brewing Company
If you are looking for a casual place for a meal, head to this beer concept restaurant with a huge selection of draft beer. The atmosphere is lively and family-friendly.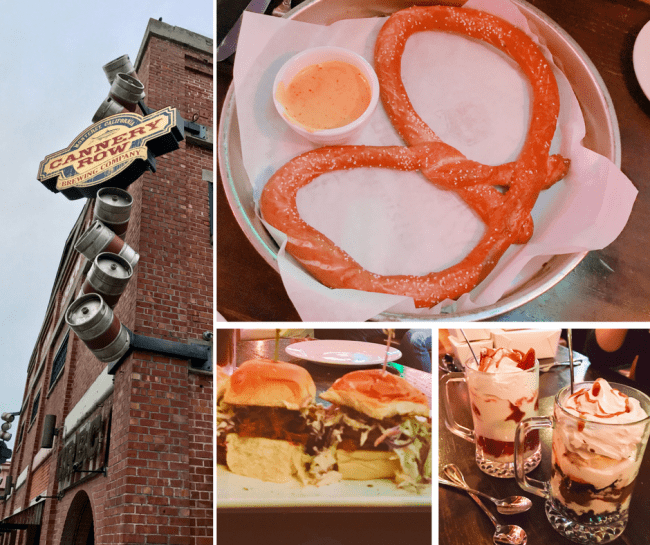 Chef Justin Robarge runs the kitchen where they are making most everything in house. He stopped by our table and talked how he had to get a bigger prep table to make their monster handmade pretzel. He talked about curing meats in house like the Pastrami for the Pastramim Sandwich (which I ordered) and other things. He's working in conjunction with the Monterey Bay Aquarium to create a few new Lionfish dishes. Note: Lionfish are a favorite aquarium fish but are an invasive species taking over the reefs. There is a major effort to reduce their population and enjoy chefs/restaurants to create dishes using the meat. Watch for those Lionfish dishes when you visit.
The menu includes classic pub/brewery favorites like sliders, burgers, street tacos, and more. When you go definitely try that handmade pretzel, Pastrami sandwich or the slider trios.
Lalla Oceanside Grill
When you want great food and a stunning view, head to this locally owned California grill. Large picture windows overlook the beach and bay. During you see a few scuba divers heading out for a dive.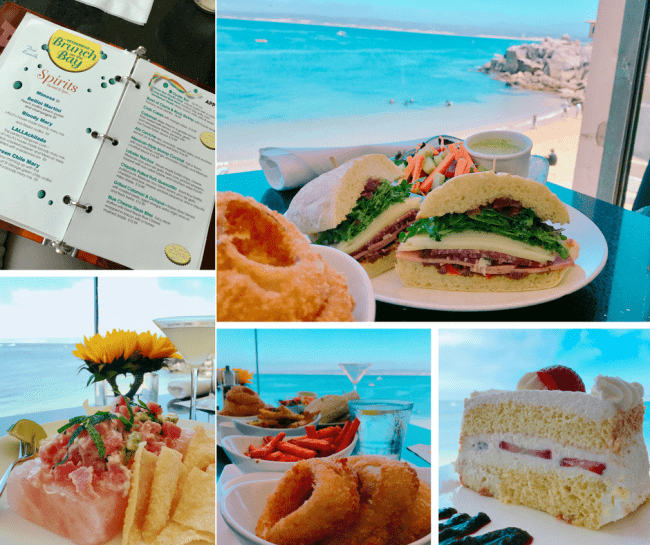 This restaurant has a huge selection featuring fresh seafood, salads, sandwiches, entrees and more. For lunch, a friend and I enjoyed the Ahi Ceviche served on a Himalayan salt block, Calamari Octopus & Farro Salad, World's Greatest Italian Sandwich (truth in advertising!!), and a Tres Leches cake. Their dishes have unique combinations of flavor that will have you wanting more. Plan to stop here for lunch, dinner, or Sunday Brunch.
The C Restaurant + Bar
If you are looking for the perfect Cannery Row restaurant for dinner, I'd highly recommend The C Restaurant inside the Intercontinental The Clement Monterey Hotel. Make your reservations for sunset dining with spectacular views of the bay. Most evenings the restaurant a local musician performers on the outdoor patio or inside. The soft sounds add to a delightful dining experience.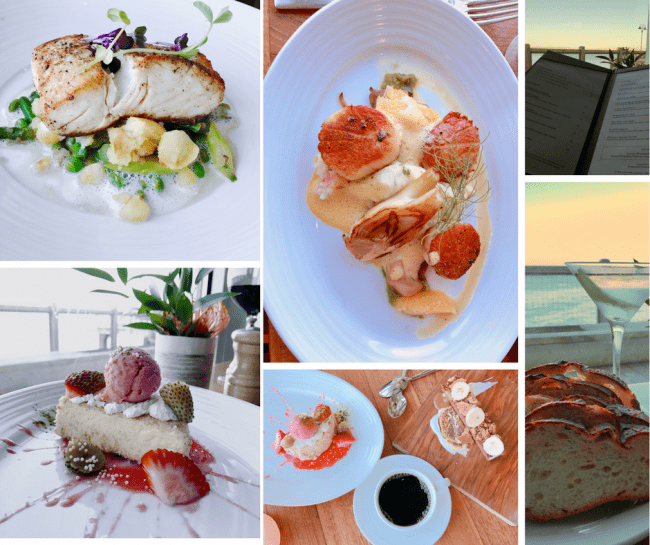 The C restaurant serves a variety of seafood including a stellar Black Bass and Scallops. You'll also find other entrees including Berkshire pork, Mary's Free range Chicken, and Wild Mushroom Ravioli. Although this is a great date night restaurant, it is also child friendly with a dedicated children's menu serving healthier options.
A Taste of Monterey Wine Market and Bistro
Set overlooking the Marine Sanctuary in Monterey Bay, you can enjoy a stunning view while enjoying locally sourced wines and food. Grab a table along one of the large picture windows that overlook the water.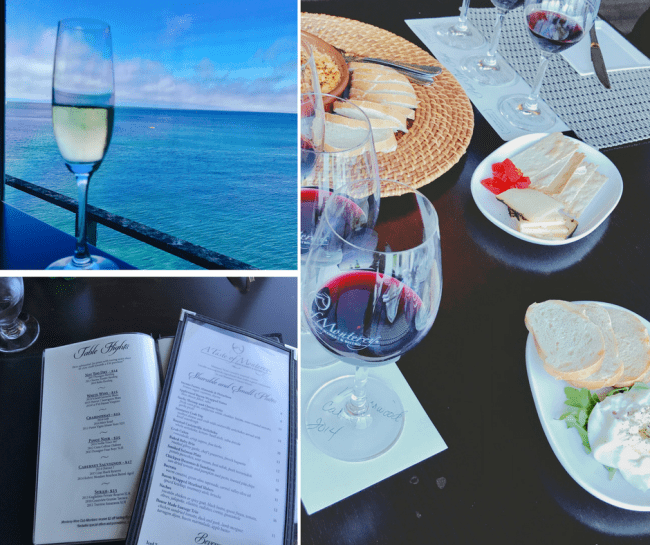 Their menu of small shareable plates, cheese boards, soups and salads, flatbreads, and desserts pairs well with the wine list featuring 95 Monterey area wineries. Enjoy a wine flight and taste your way through the region.
If you are hungry, you will not go wrong with the Monterey Crab Dip served with local sourdough bread or the freshly made local Buratta served with crostini, olive tapenade, and Carmel Valley olive oil. By far, my favorite was an ash rubbed Humbolt Fog cheese served with flatbread crackers and a candied fruit.
As you can see, your next visit to Monterey, California will be a delicious one. The central coast is rich in seafood and it's proximity to California's agriculture community provide for free produce year around. Foodies will love discovering new dishes when they come and explore Cannery Row restaurants. If you are looking for more things to do in Monterey CA, we have a few family friendly suggestions too.
Thank you to Cannery Row for hosting me on this recent trip to Monterey Bay. Visit their website. All opinions are my own and are based on my most recent adventures.
SaveSave
SaveSave
SaveSave