Monterey, California is a popular destination for families and couples. I recently traveled there myself for a press trip with Cannery Row. I had so much fun!. The area is filled with amazing restaurants, shops, and activities. The area offers a variety of things to do for families from outdoor recreation to wine tasting.

Disclosure: This blog contains affiliate links. They help pay for the coffee that keeps us turning out adventures week after week. I'll only recommend and share products that I use and love myself. Thanks!
Come Explore Cannery Row in Monterey, CA
As you get ready to plan your next trip to Cannery Row, here are a few places and activities that I really enjoyed and I know you will too.

Explore Cannery Row's History
Cannery Row was made famous by novelist John Steinbeck who made the area the setting for his books Cannery Row and Sweet Thursday. Cannery Row was once a thriving sardine canning site. In the early 1900's warehouses lined the streets along Cannery Row to process sardines that were caught just off the coast. Both books explore the area around Cannery Row and the people who lived there.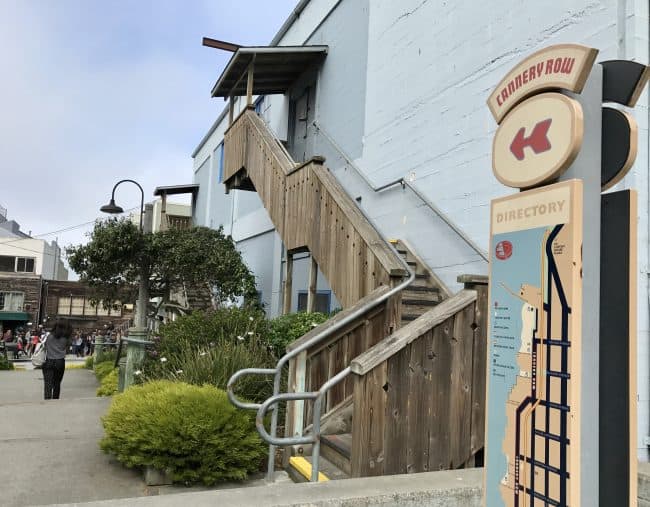 Today you can find sites referenced in Steinbeck's books as well as information on Cannery Row's past. See Ed Ricketts' Lab which was the basis for doc's marine lab. Across the street from the lab, visit the three tiny Cannery Row Workers' Cabins that once housed cannery workers. Look through the windows and imagine was life was like during the area fishing boom.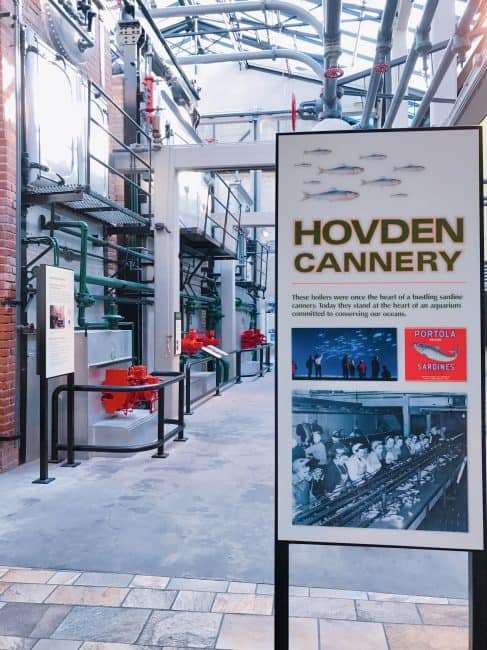 The Monterey Bay Aquarium sits on the site of the area's largest cannery, the Hovden Cannery. Inside you can see remnants of the old cannery like its old boiler and other information on the area and it's history.

Sea Kayaking in the Monterey Bay Marine Sanctuary
Cannery Row sits on the Monterey Bay and the Monterey Bay Marine Sanctuary. Head out to explore the sanctuary's kelp beds with Adventures by the Sea. They offer kayak rentals and guided tours of the area. I highly recommend the guided tour. Your guide will take you out and talk about the area, the marine sanctuary, the animals, and more. Be advised that kayaking on the bay may cause motion sickness, so wearing anti-nausea patches or bands is advised.
The area is a protected marine sanctuary. Remember you'll need to keep your distance, but you may just see a few sea otter mothers with their pups while you are out. You'll also see birds flying and diving into the water, sea lions swimming nearby, and maybe a few crabs or small animals sitting on top of the kelp.

Explore the Monterey Bay Coastal Recreational Trail
Walk, run, skate, or cycle along this 18 mile multi-use trail runs from Castroville, through Cannery Row, to Pacific Grove. The trail follows what used to be the Southern Pacific Railroad that hauled sardines from the canneries to other parts of the state. On the buildings that neighbor the trail, you will see nods to the area's past with pictures and small information plaques.
The paved trail offers stunning views of Monterey Bay and its rugged coastline in Pacific Grove. In the Cannery Row area, the trail veers a block off the waterfront and provides a scenic, often shaded area to run, walk, or cycle. away from the main streets.
You can rent single person cycles, tandem bicycles, and 4 person surrey bikes at Adventures by the Sea. They have several locations in Cannery Row and Monterey. I highly recommend a ride from Cannery Row up towards the Point Pinos Lighthouse. The paved trail ends just after Lovers Beach. You can ride along the road to get to the lighthouse or you can lock up your bike at the park and walk up. Either way, you get walk/ride with stunning scenery.

Tidal Pools
During low tide, head out to one of the area tidal pools to explore. Just behind Cannery Row's Steinbeck Plaza on McAbee Beach, there is a popular tidal pool with easy access. Another prime location is just past Lovers Point beach along the recreational trail. Head down to the the rocky coastline and explore. Just be careful on the rocks. You can usually find small fish, hermit crabs, snails. small rock anemones, and small sea urchins.
Wildlife Viewing
Cannery Row and Monterey offer visitors great opportunities to see local wildlife and sea life. When viewing any wild animal, no matter how cute they look, please remember to keep your distance. You should stay at least 50 yards away from marine and land animals.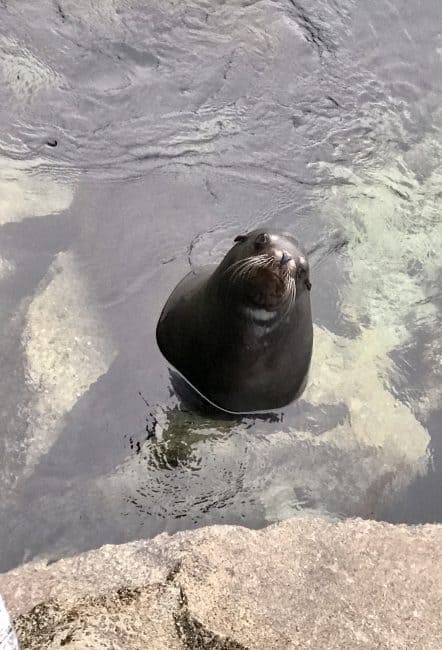 California Sea Lions – You'll see sea lions swimming up and down coast. If you dine in any one of the waterfront restaurants or have a hotel room facing the water, you're sure to spot them. A prime spot to see sea lions is on Coast Guard Pier, just past San Carlos Beach Park. Walk down the pier and on your right, you'll see sea lions swimming and resting on the rocks. On your right, you'll see and hear sea lions resting on the boat access ramp and on the docks. Find sea lions and sea birds resting on the rocks at the end of the pier. Note: There is a large gate preventing access to this area. But it's worth the walk down to see them.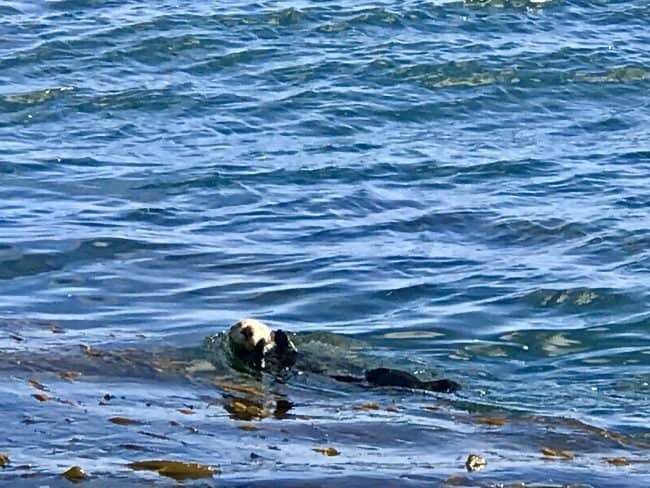 Sea Otters – You'll find quite a few sea otters in the Monterey Bay Marine Sanctuary's kelp forests. Just off San Carlos Beach, kelp beds are frequented by sea otters. You can view them from the beach, but for a better elevated view, try the raised back deck at the Monterey Plaza Hotel.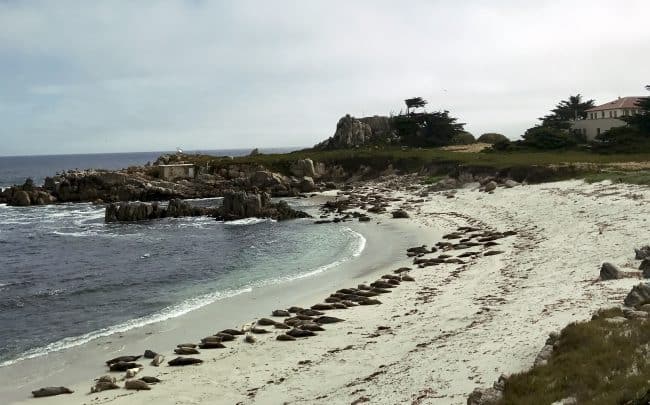 Harbor Seals – The best place to see harbor seals is just past the Stanford University's Hopkins Marine Station in Pacific Grove. There is a stretch of beach that the harbor seals frequent and can be seen from the walking trail. Look to see if you can see any seal pups on the shore.
Dolphins and Whales – On occasion, you may be able to see pods of dolphins or a whale swimming in Monterey Bay. From April to November, Humpbacks are common as they migrate along the coast. From December through April, Gray Whales are common. During summer months, Blue Whales can be seen. Every now and then, you'll also see a Killer Whale or Orca. Whales are rarely seen from shore, but there are whale watching tours you can book that will take you out further in the bay.

Monterey Mirror Maze and Laser Challenge
Located on Cannery Row, this is a fun attraction for all ages. Visitors get lost in the mirror maze and then work to find a way out. In the Vault Laser Challenge, you can participate in different games and challenges. Do the Beam Buster Challenge where the objective to break as many beams before your time runs out. It's addictive family fun.

Highway 1 Black Light Mini Golf, Games, and Grub
Here they turn on the black lights to play glow in the dark miniature golf. Holes are themed with murals and structures representing iconic northern California icons like the redwoods, Santa Monica pier, and Golden Gate Bridge. After golf, kids will love the arcade filled with video games, claw machines, and redemption games.

Northern California Beaches
A trip to the beach is a must when in Cannery Row. The most popular beach is San Carlos Beach Park. This beach is located on the west side of Cannery Row next to the Coast Guard Pier and is popular with scuba divers exploring the marine sanctuary. The nearby park makes a great spot for families to picnic, build sand castles, or just walk along the beach.
McAbee Beach – Just behind Steinbeck Plaza is a short stretch of beach located with easy public access. It's popular with diners who want to walk before or after a meal at one of the nearby restaurants. During low tide, the tidal pools are a popular destination.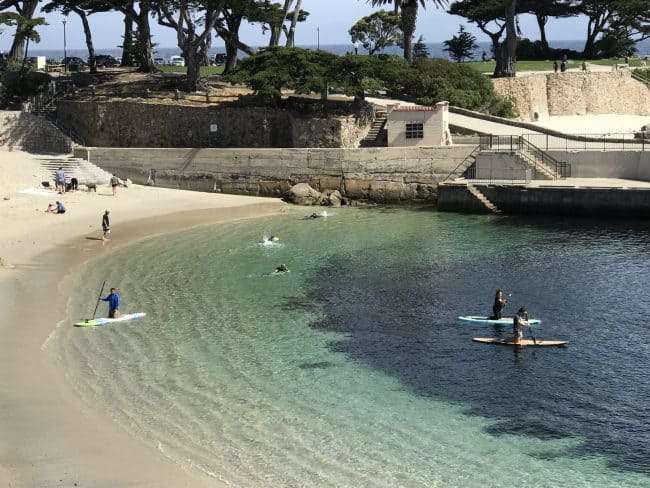 Lovers Point Beach in Pacific Grove is a nearby favorite with locals and visitors. It's one of the safest swimming beaches in the area, although water is COLD year around.

Monterey Bay Aquarium
The aquarium is a popular attraction giving visitors a view of sea life both on land and under the sea. You can see over 500 animals here including penguins, birds, sea otters, sharks, jellyfish, octopus, and otehr fish. Exhibits range from the large Open Sea Gallery to touch pools where visitors can see tidal pool residents and ask the aquarium staff questions.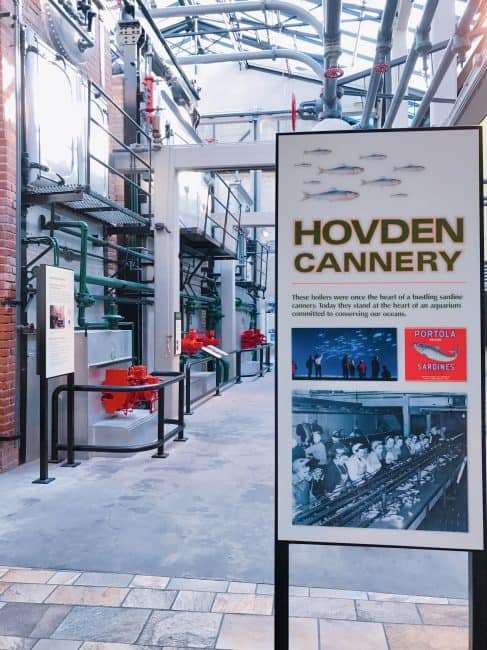 The aquarium now sits on the site that once housed Cannery Row's largest cannery. In addition to all the sea life and marine region exhibits, there is an exhibit that pays tribute to the area's canning history and offers visitors a glimpse of what the area was like.
Wine Tasting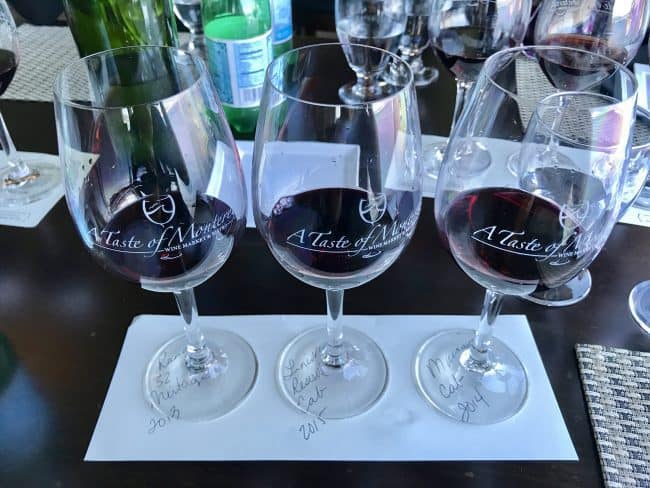 The central California region is well renowned for their wine. Cannery Row has several wine tasting rooms and experiences that adults can partake in. Taste of Monterey is a wine tasting room offering 90 regional wines and a gourmet menu of small shareable plates, flatbreads, and lighter fare to accompany the wine.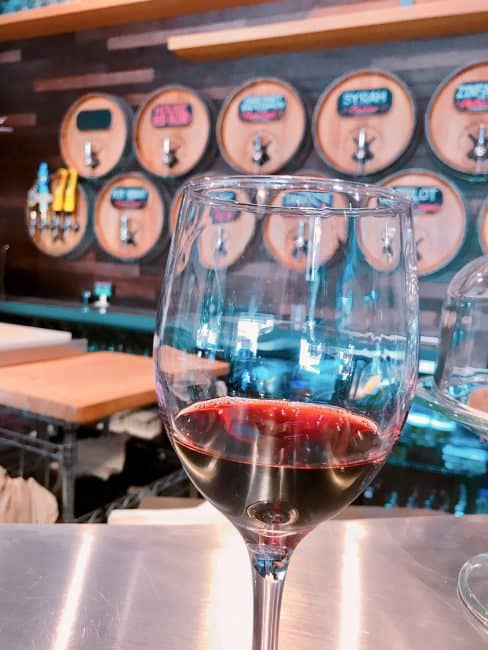 The Wine Experience is a more than just a wine bar or tasting room. Here you can enroll in interactive classes to create your own custom wine blends and learn about the wine making process. It's fun for couples or larger groups.
As you can see Cannery Row has a host of activities that anyone visiting the Monterey area will enjoy. I barely touched on all the great shops and Cannery Row restaurants you can visit while you're here. For now, let these activities and sites inspire you make Cannery Row and Monterey your next vacation destination.
When you're ready, check out the best Monterey Hotels on Cannery Row and my tops picks for Cannery Row restaurants serving the vest in local food.
Thank you to the Cannery Row Co. for hosting me on this trip. All opinions stated are my own.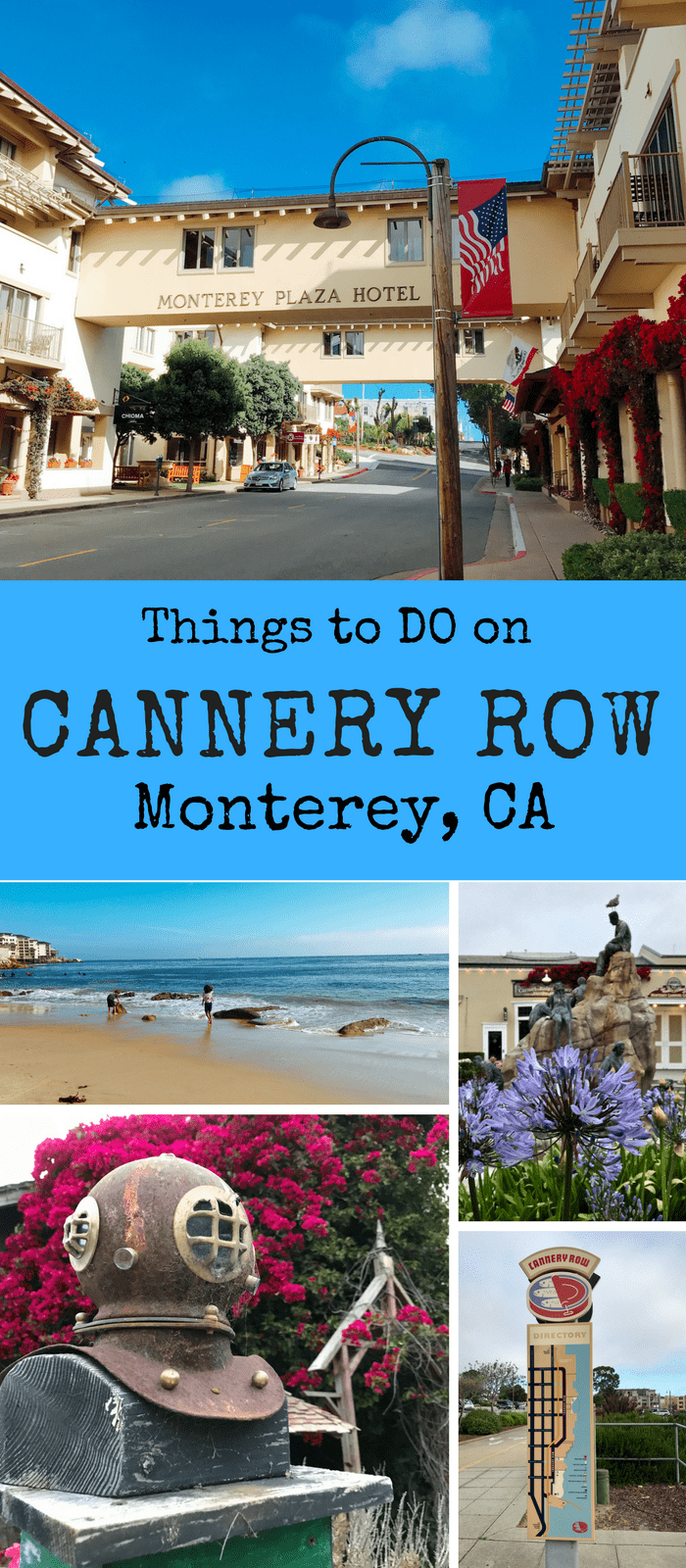 SaveSave
SaveSave
SaveSave