Monterey, California is a coastal destination filled with top notch dining, shopping, and outdoor activities. It is home to the popular Monterey Bay Aquarium and historic Cannery Row. For families looking for a getaway, there are plenty of things to do in Cannery Row with kids. These three Monterey Hotels on Cannery Row offer a range of amenities and pricing to fit every family getaway. If you are looking to visit the area, start here with these top notch hotels.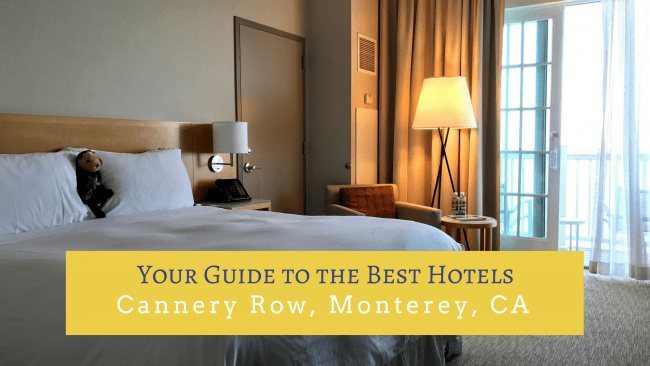 Disclosure: This blog contains affiliate links. They help pay for the coffee that keeps us turning out adventures week after week. I'll only recommend and share products that I use and love myself. Thanks!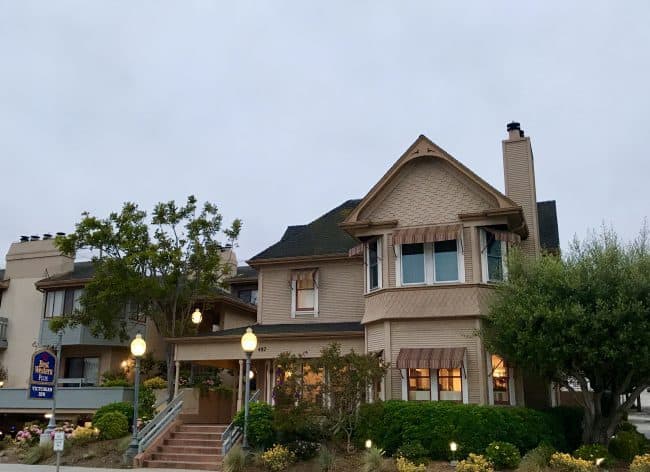 Best Western Plus Victorian Inn
On a recent visit to Cannery Row, I stayed in the one of the Inns of Monterey, a collection of boutique hotels in Monterey, California. The Best Western Plus Victorian Inn, simply known as the Victorian Inn, is a family friendly hotel whose building dates back to 1906. With 70 renovated rooms and suites, families can enjoy a quite hotel with modern amenities.
Quiet Location
Victorian Inn is located two blocks from the beach and is within easy walking distance to Cannery Row and downtown Monterey. Not being directly on the beach allows for a quieter experience away from the busy restaurants and shops along Cannery Row. Several rooms facing Foam Street offer a view of the water. But if you want a quieter room, request one away from the street.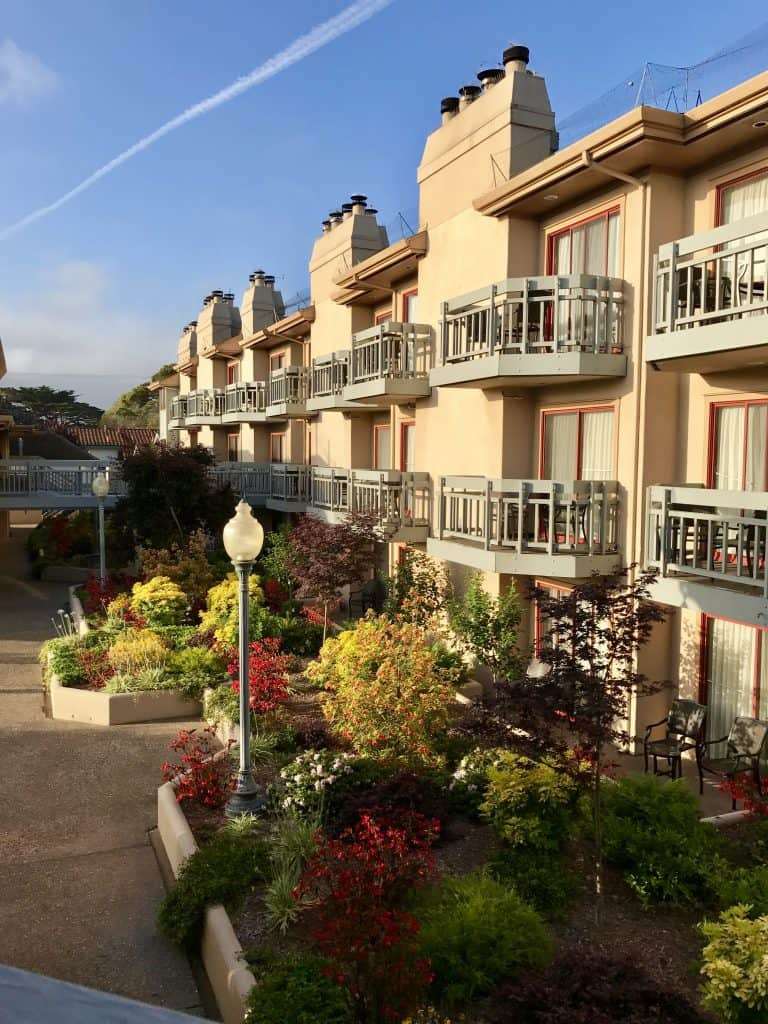 Being off the water has another advantage, price. Check current rates for the Victorian Inn. You can enjoy all the activities, sites, and dining in Cannery Row without a premium priced room.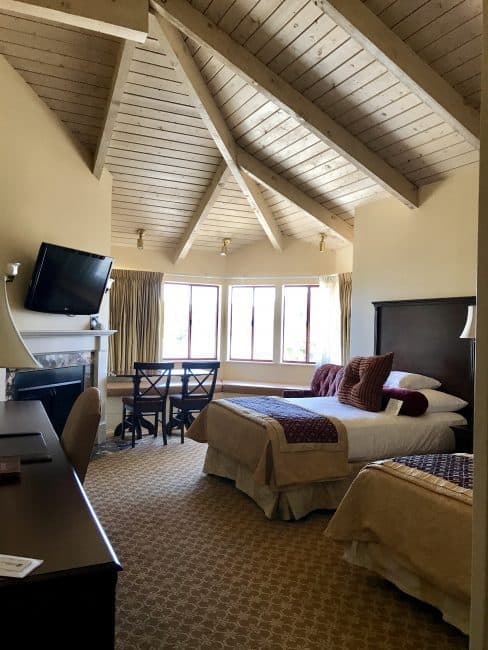 Family Rooms
The Victorian Inn has a range of rooms to fit any family. Their family suites have separate sleeping and living areas that can accommodate up to 6 people. All of the rooms have a private patio, balcony, or window seating. Deluxe rooms, like the one I was in, have a gas fireplace which is very nice. I was able to sit on a window seat near the fire and look out to the water It was a great way to relax and unwind every evening.
Complimentary Breakfast and Afternoon Wine Reception
The whole family will enjoy the complimentary breakfast each morning. You can choice from breads and cereals, to hot items and fresh fruit. Coffee and juices are also served.
Every afternoon, the hotel invites guests to enjoy a wine and cheese reception in the lobby parlor area. Guests can sample Monterey County wines and chat with other guests.
Intercontinental The Clement Monterey
If you are looking for oceanfront accommodations, head to the heart of Cannery Row and there you will find Intercontinental The Clement Monterey. Located just steps from the Monterey Bay Aquarium, this hotel offers the perfect location with a host of amenities. It offers in-house dining options, nearby shopping, and more.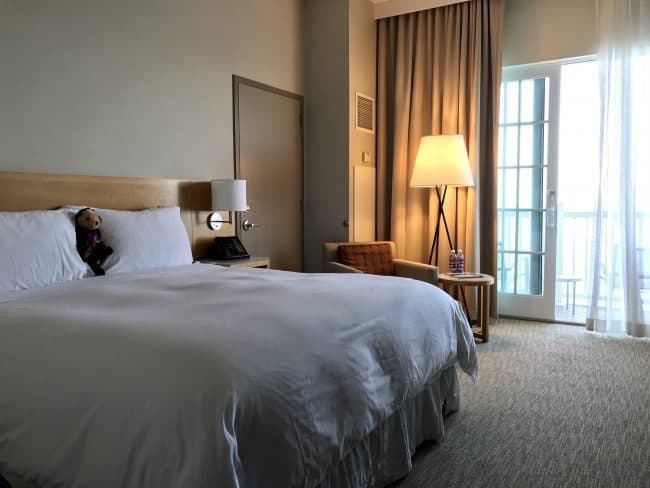 The hotel's coastal decor is relaxed and inviting. Guest rooms are appointed with amenities families will enjoy.
Check current rates for the Intercontinental The Clement Monterey.
Under the Sea Magic
The hotel brings a touch of magic to the coast. They partnered with a Disney Imagineer to bring whimsy and the undersea world to the hotel. Children and adults alike will want to stop in and see what this is for themselves.
Dining at the C Restaurant
One of the great features of the hotel is its dining options. The C is a local favorite for dinner.
Whether you are looking for a couples only meal or a family dinner, the C serves the freshest local seafood. The restaurant has a bank of large windows and every table overlooks the bay. Read more about the food from my recent trip to Cannery Row.
Monterey Plaza Hotel & Spa
If you are looking for a more contemporary getaway with a stunning view, you'll want to visit this 4 star oceanfront hotel. The Monterey Plaza Hotel and Spa is ranked #1 by Trip Advisor and has a host of amenities for families and couples to enjoy.
Check here for current rates on Hotels in Monterey's Cannery Row.
Relax and Unwind at the Spa
When you head to the coast, you want to relax and unwind. On the Monterey Plaza Hotel's rooftop, you'll find the Vista Blue Spa.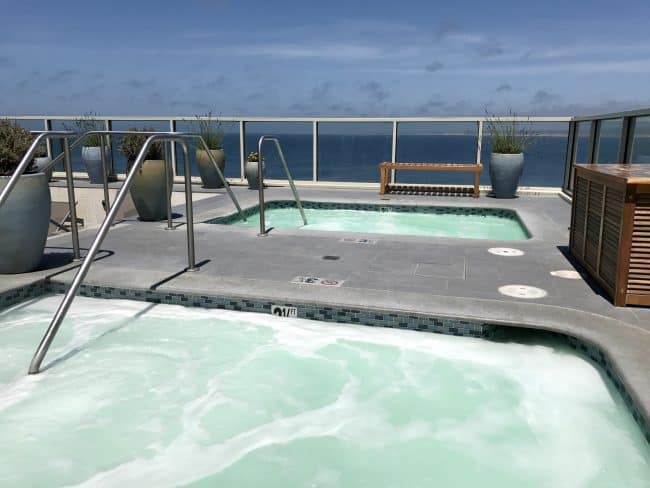 Ranked as one of Travel & Leisure's TOP 25 Spas and one of Conde Nast's TOP 75 Hotel Spas in North America, you can truly unwind here. Adults can schedule some much needed relaxation.
Overlooking the Marine Sanctuary
Monterey Bay's Cannery Row has spectacular views. But the views from this hotel are stunning, especially if you love sea life. The hotel overlooks the Monterey Bay National Marine Sanctuary. Common areas, restaurants, patio area, and many rooms offer a great view of the sanctuary where you'll often see sea otters and sea lions. You can arrange for a sea kayaking tour just steps from the hotel with Adventures by the Sea.
Enjoy Award Winning Dining
Schooners Coastal Kitchen and Bar features fresh local seafood and a wine selection that has been recognized by Wine Spectator Magazine. Enjoy lunch or dinner out of the patio or indoors with your family. The menu features a diverse range of options from seafood paella, sandwiches and soups, to wood-fired dishes.
On a recent trip, I had lunch with a few friends. You can't beat the view of the marine sanctuary while having lunch. You may see sea otters or a few sea lions swim. Read more about that visit.
These are 3 of the best Monterey hotels on Cannery Row. Whether you are looking for a budget friendly trip to the coast or a relaxing weekend of fine dining and pampering, you will find it at one of these hotels. Whether you are looking to explore all the things to do with kids in Monterey and Cannery Row or just want a weekend away, you'll enjoy your time here. Any day you spend at the beach is a good day!
Thank you to Cannery Row for hosting my recent visit. All opinions are mine and based on my most recent adventure.