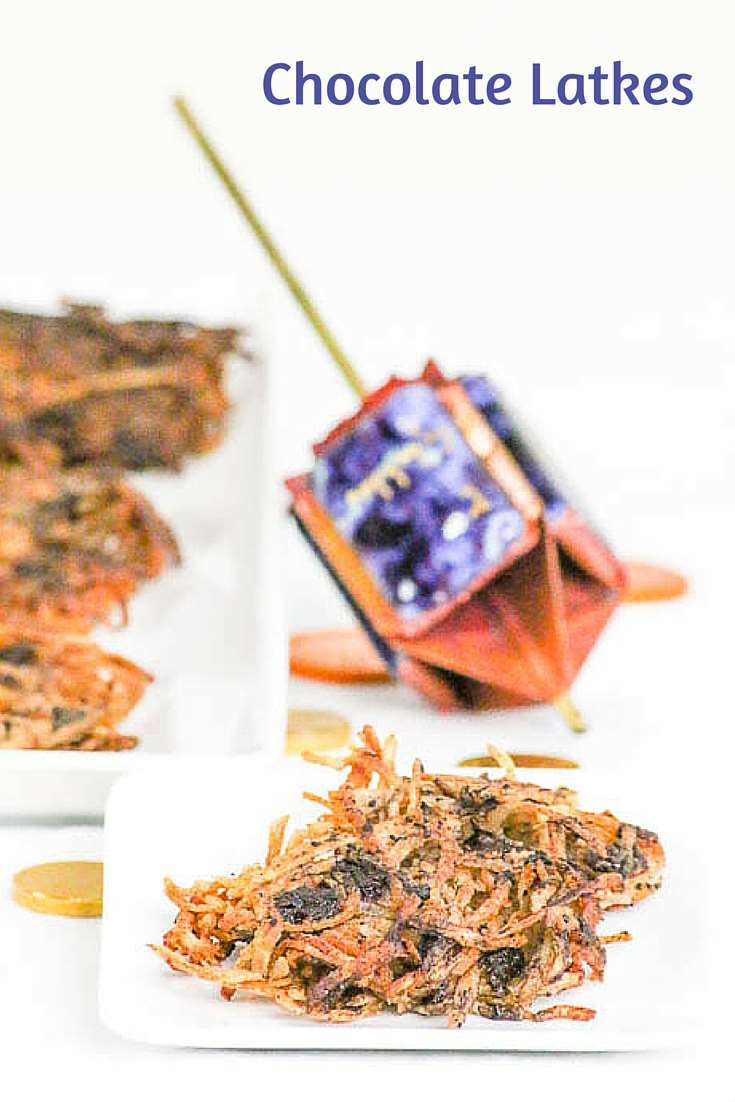 Chocolate Latkes
Hello Everyone! I am Betsy from
Desserts Required
where my motto is, 'Without desserts, life would not be as sweet!' I am thrilled to be guest blogging here today while Nicky enjoys some much-deserved R&R!
The Jewish holiday of Hanukkah begins this evening. Hanukkah lasts eight days and celebrates two miracles; first, that of a great military victory and second, that the oil in the Temple which was supposed to last for only one night, actually, lasted for eight.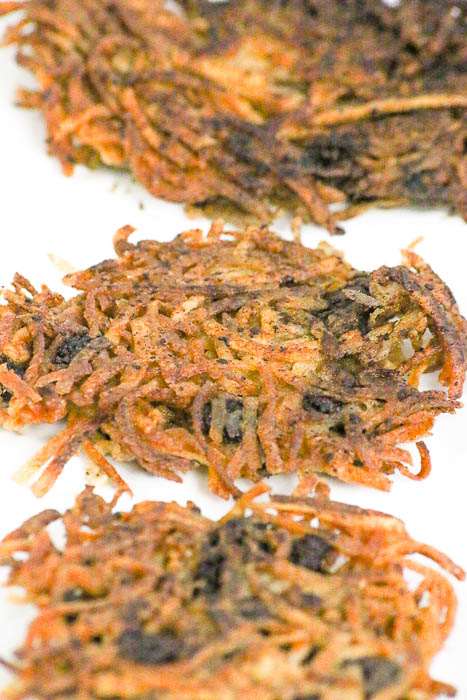 The foods usually associated with Hanukkah focus around oil and the two most common ones are donuts and latkes. Latkes are potato pancakes and most people think that their latke recipe is the best. Trust me, never try to argue this one!
I tried making donuts once but did not love the process. It is fortuitous that I have a fabulous donut shop around the corner from my house; so I prefer to go there and spare my kitchen from any disaster. Latkes, on the other hand, are totally worth the time and mess to make.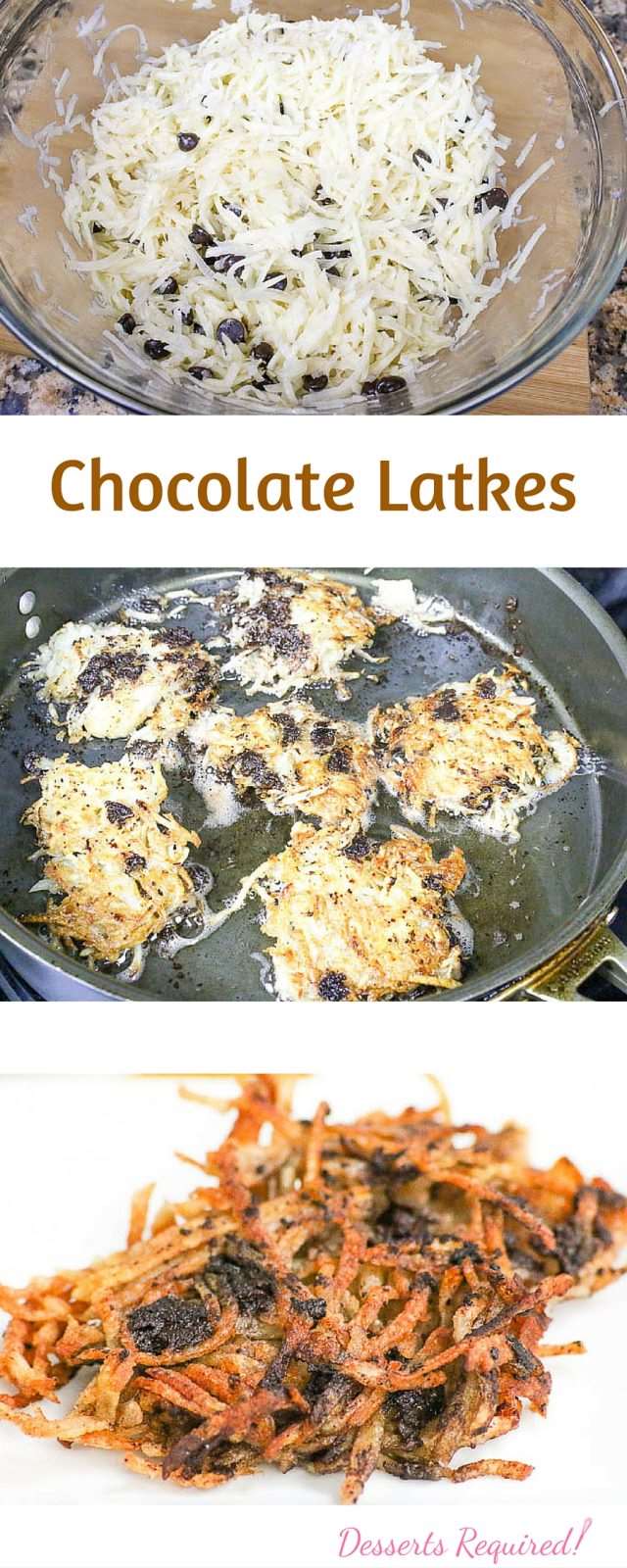 I have yet to find an amazing latke in a restaurant. At home I make potato latkes and mix them up by adding corn, habanero peppers and/or zucchini. Today I am bringing you something really special for Little Family Adventures, something that will tie in with Desserts Required: Chocolate Latkes.
Someone asked me what they taste like and I responded by telling her that Chocolate Latkes are like Chocolate Covered Potato Chips on crack! There is a crispiness to them, thanks to the oil, but the inside is packed with chocolate chips and more shredded potato. It is a tad messy but that's all part of the adventure.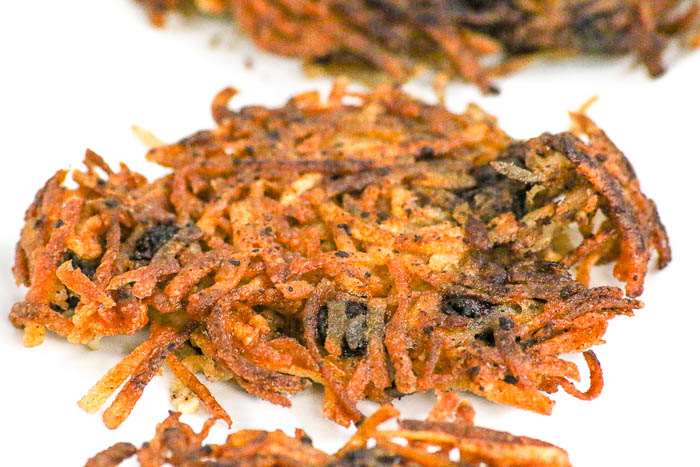 There were a couple of things that are worth noting before you venture into the world of Chocolate Latkes. Drain the excess water off the rinsed potatoes because oil and water do not play nicely together in scalding oil. The first batch will be your prettiest batch because the chocolate melts into the pan leaving the following batches a bit darker than the golden brown of fried potatoes. It does not impact the taste but if you want all of your latkes to look the same, you will need to wipe the inside of the pan clean before cooking the next batch.
If you don't feel up to making Chocolate Latkes, Chocolate Covered Potato Chips will work beautifully to commemorate the holiday. Either way, your family will thank you just as I thank Nicky for the privilege of being here with you today. Whether Hanukkah is your holiday or not, I wish you all a very happy and healthy holiday season!

Yield: 12-14
Chocolate Latkes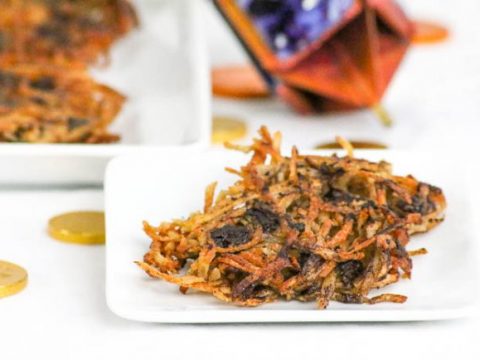 The bottom of the pan will be have flecks of melted chocolate as the batches cook. The pan may be wiped clean in between batches, if preferred.
Ingredients
3 Idaho potatoes
1 egg, beaten
11/2 tablespoons all purpose flour
1/2 teaspoon salt
1/4 teaspoon baking powder
3/4 cup semisweet or bittersweet chocolate chips
vegetable shortening
Instructions
Peel and grate the potatoes. Transfer them to a colander and let them sit for 10 minutes.
Rinse the potatoes under cold water until the discoloration is washed off. Dry thoroughly with paper towels and place the dry grated potatoes into a large bowl.
Add the egg, flour, salt, baking powder and chocolate chips. Mix them all together.
Melt vegetable shortening in a large skillet over medium heat. Test the oil by placing one piece of grated potato in the skillet. If it boils and bubbles, the oil is hot enough.
Scoop the potato mixture into the skillet. Do not move the latkes until the bottoms are brown.
Carefully flip them over and cook until the bottoms are brown. Add more vegetable shortening as needed.
Once the latkes are cooked, transfer them to a baking sheet lined with paper towels, to drain additional oil.
Serve immediately.