This article on Denver's Downtown Aquarium restaurant is made possible by Landry's. All opinions are my own and based on my experiences during a recent visit.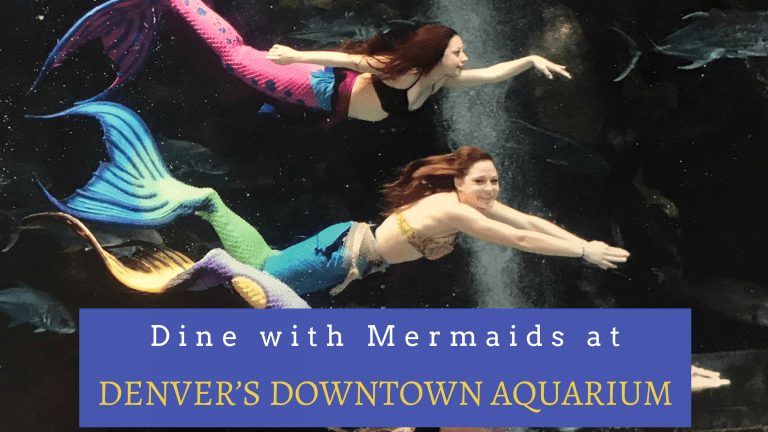 Aquariums are a favorite destination for our family. But add the ability to dine with mermaids and I knew we had to visit the Downtown Aquarium restaurant in Denver.
Dine with Mermaids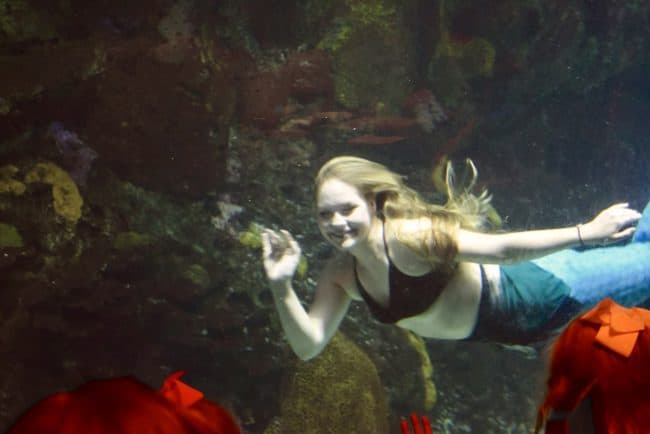 One of the unique things about the Downtown Aquarium restaurant is its mermaids. In addition to performing in the aquarium's Under the Sea exhibit, they also perform for restaurant patrons. During lunch or dinner, you dine on fresh seafood dishes and enjoy their show that begins at the top of the hour.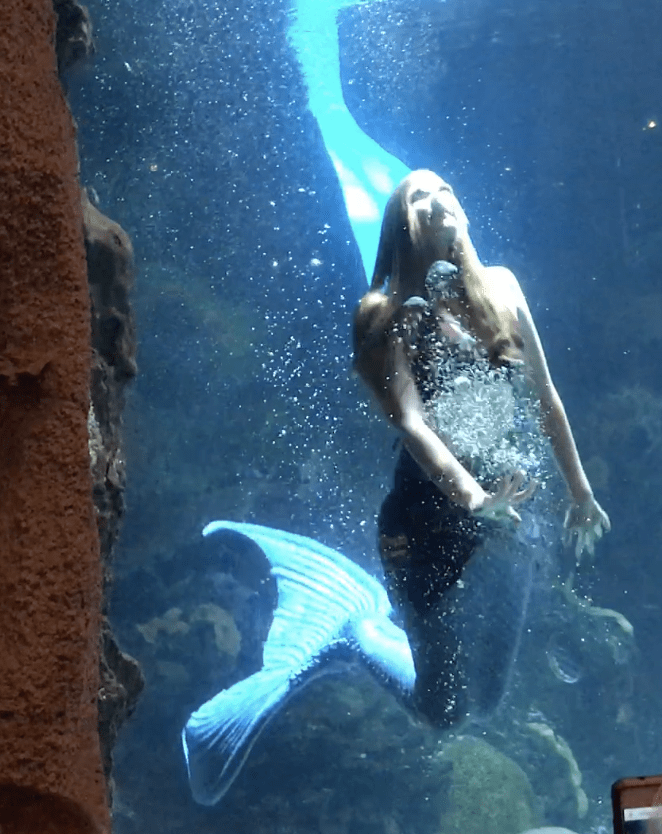 Two mermaids submerge into the main tank and interact with restaurant guests. They wave at children, blow kisses, and swim around while free diving. The kids will love the show!!
Dine In Front of a 50,000 Gallon Aquarium
The highlight of your visit to the Downtown Aquarium restaurant is dining alongside a floor to ceiling aquarium. Their 50,000 gallon aquarium houses over 100 species of fish from Mahi-Mahi to eels.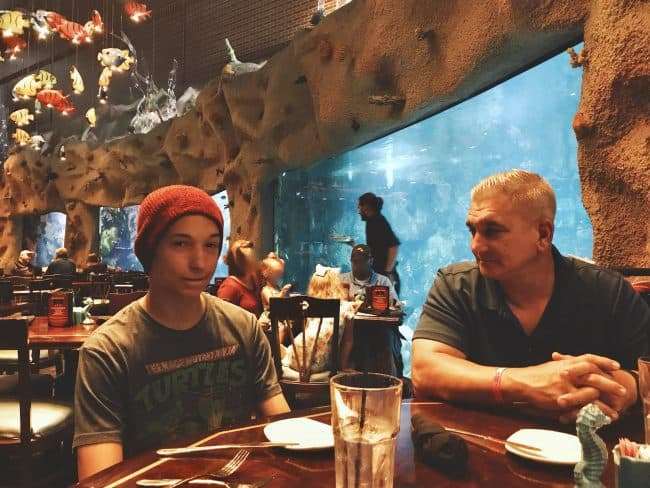 Depending on where you are seated, you'll have a view with different types of fish. Barriers keep the different communities separate. Our view was of this shipwreck and some really large fish.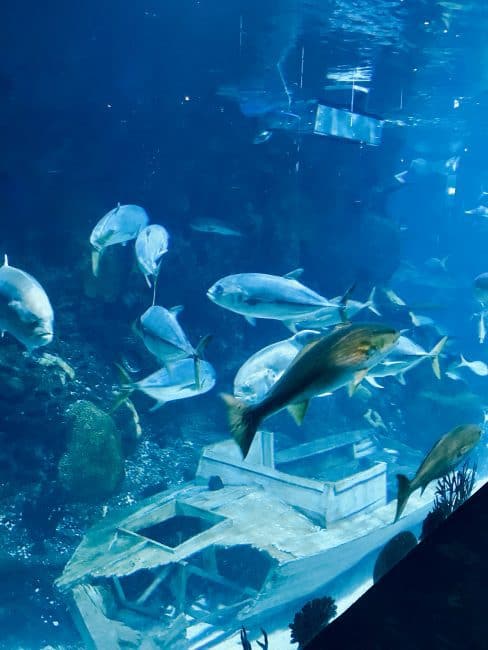 During our dinner, I saw one of the largest eels I've ever seen.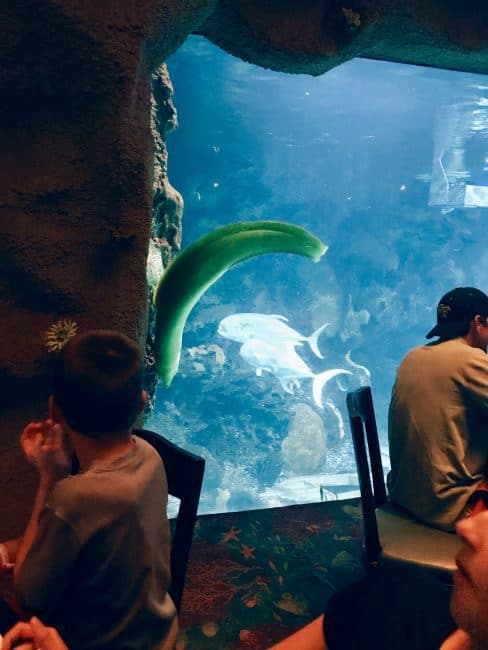 This picture makes it look smaller than it is. I would say this eel was at least 7 feet in length if not more.
What's the Food Like?
Downtown Aquarium restaurant is owned by the Landry's Restaurant, Inc. The menu features a variety of seafood favorites and area favorites.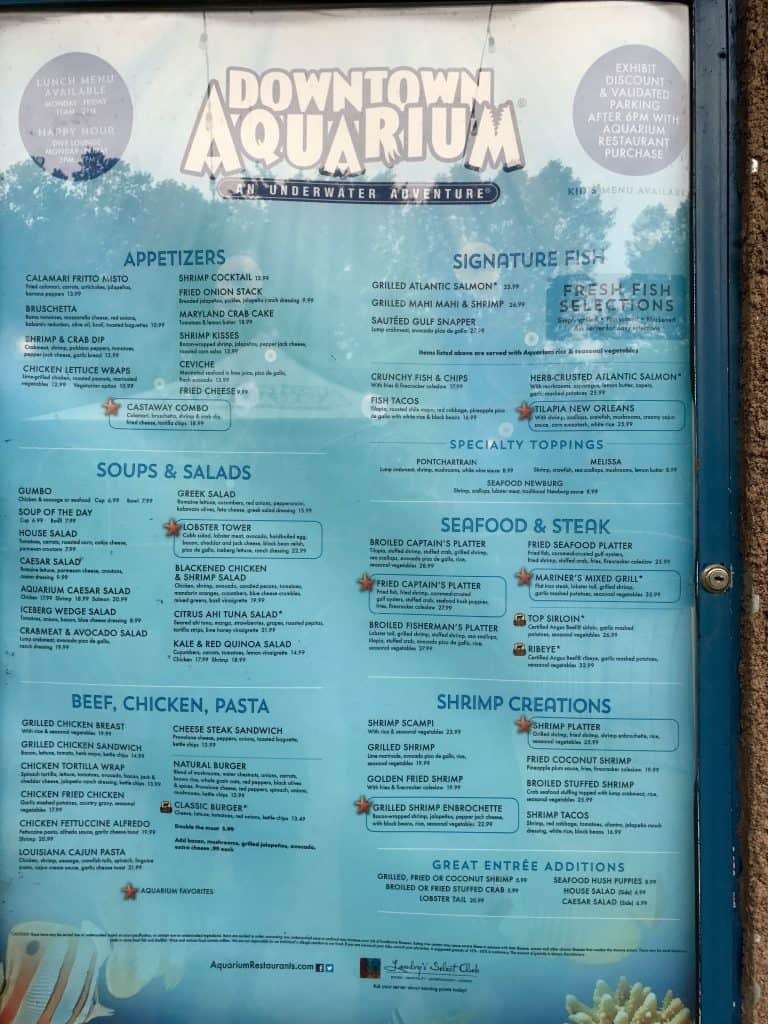 During our visit we started with the Shrimp and Crab Dip.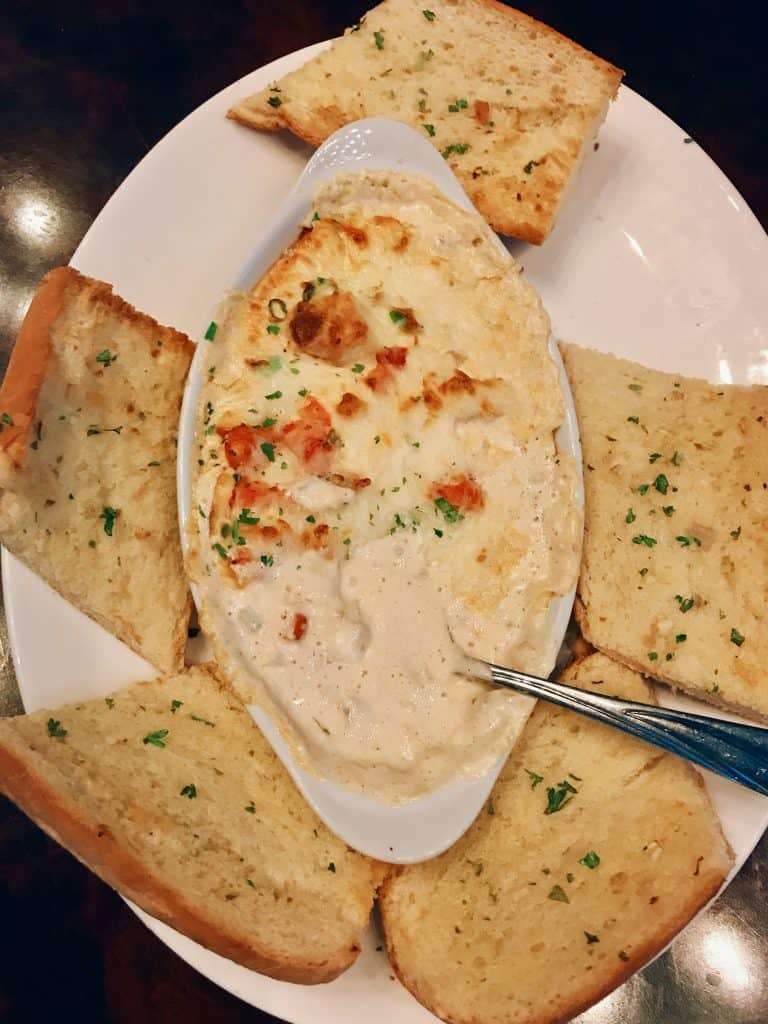 This hot appetizer was a cheesy dip loaded with crabmeat and shrimp. It was served with large pieces of toasted garlic bread. It was really good and I'd gladly order this again as my meal with a caesar salad.
For the kids, you have some favorite options like shrimp, fish, sliders, and chicken.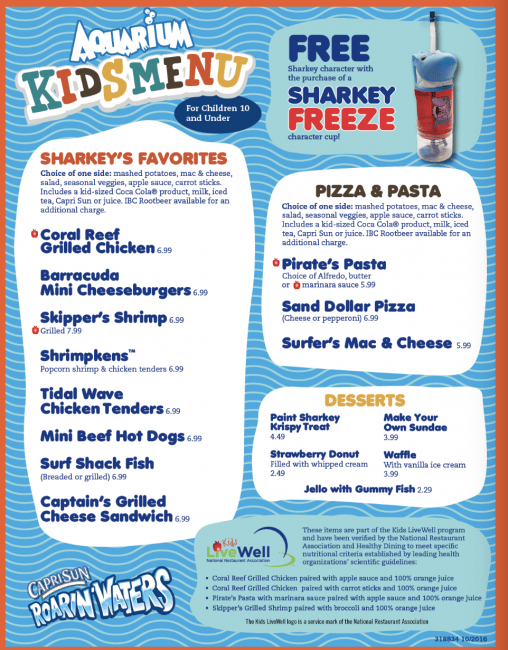 Children's meals are served on cafeteria style trays which are kind of fun. If you have a picky eaters, I can see these being a big hit.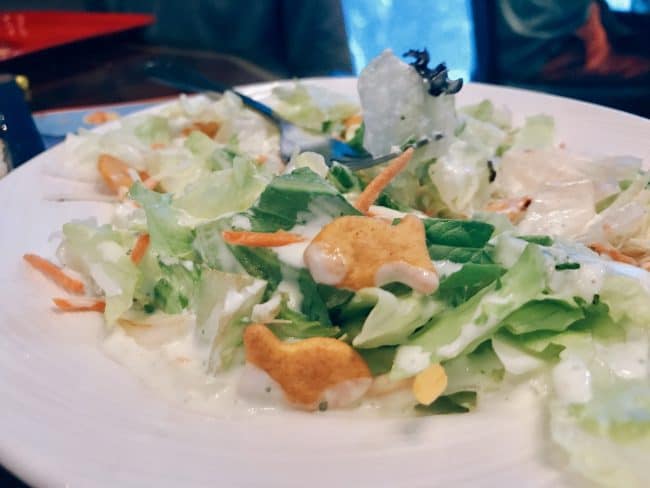 My daughter had the children's side salad, shown here. She loved the goldfish cracker croutons!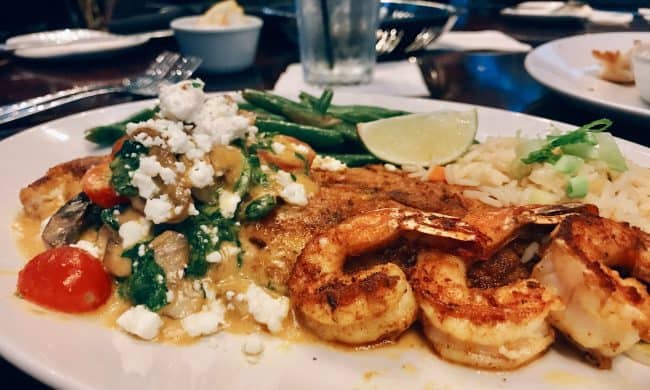 The restaurant recently added a few new menu items they called Island Flavors. This was one of them. It's a curried fish and shrimp dish served over rice and a side of steamed vegetables. It was delicious!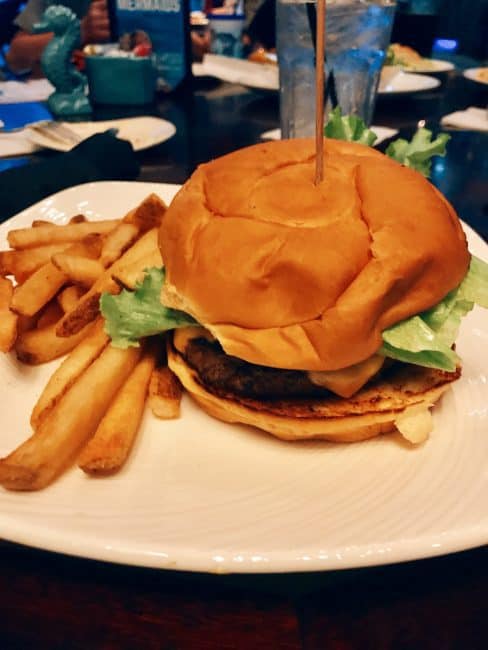 If you don't want seafood, the menu offers other items like this Classic Angus Burger and Fries.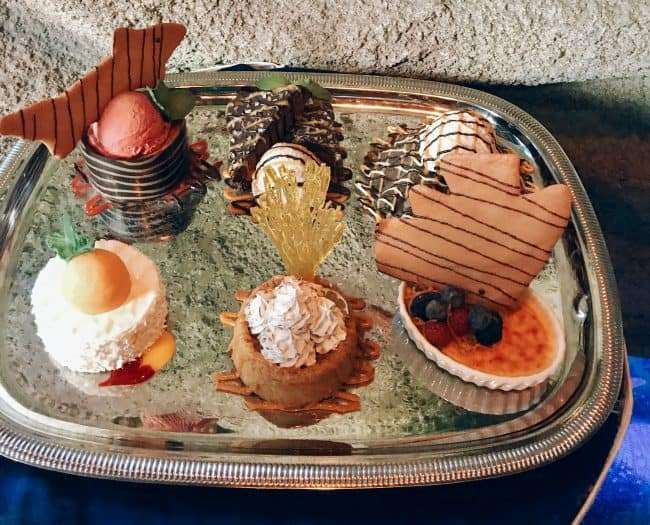 Now you can't visit the Downtown Aquarium restaurant without having dessert. Just look at that tray. You can't go wrong with any of those. We had the Key Lime Pie and Cheesecake. Both were fantastic and the end to a great meal.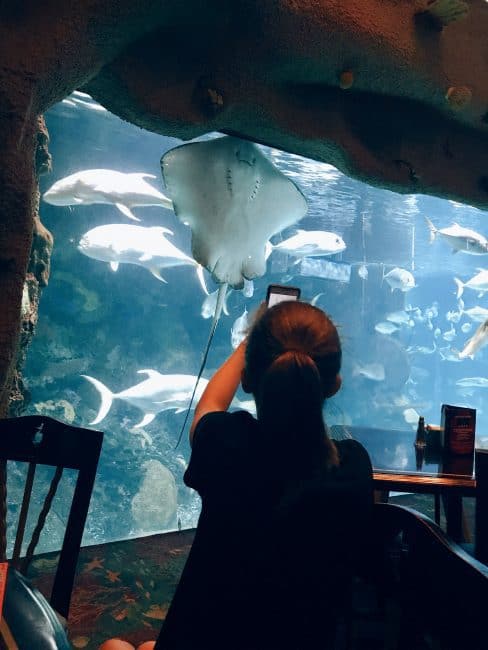 Have you ever been to the Downtown Aquarium or its restaurant? We did both on our recent visit. Head over and take a look at the 4 reasons why you should visit the Downtown Aquarium when you are in town. When you dine at the restaurant and visit the aquarium, you'll receive a discount on your admission tickets and validated parking. So it pays to dine and play at the Downtown Aquarium.
Thank you to the Downtown Aquarium for hosting us during our trip. They provided complimentary meals during our visit. All opinions are based on our experience while at the restaurant.