This summer, we took a 4 week road trip from Oklahoma through Colorado, Wyoming, and Utah. One of the destinations we loved exploring was Park City, Utah. The Wasatch Mountains are an outdoor playground full of hiking trails in summer and ski slopes in winter. There are so many fun things to do in every season. During our trip, we were invited to stop and visit Deer Valley Resort in Park City. It's a great family destination you will want to visit too. See what outdoor fun you can have on your next trip.
A great family vacation for me is equal parts fantastic food and fun family activity. I often say I start my vacation planning with destination, then food, and then activity. After we decide on the where, the family starts looking at what activities there are to help cancel out the extra calorie splurges when traveling. In the end it all equals out and vacation calories don't count. On our recent trip to Park City, I wrote about dining in Deer Valley and surrounding areas. Take a look at the great food you can enjoy too!
The key to making vacation calories NOT count is to do plenty of physical activity. During the winter, you can ski at Deer Valley. But in the summer, there is mountain biking, hiking, walking, and stand up paddleboarding. While we were there, we did ALL of it.
Deer Valley Mountain Bike School
If you are new to mountain biking, like we all were, it's recommended you take a class to learn the basics. Riding a bike on straight pavement is easy, but mountain biking is a whole other beast entirely. Deer Valley offers private riding clinics to help get you started. They outfit you in full protective gear and size you for a mountain bike.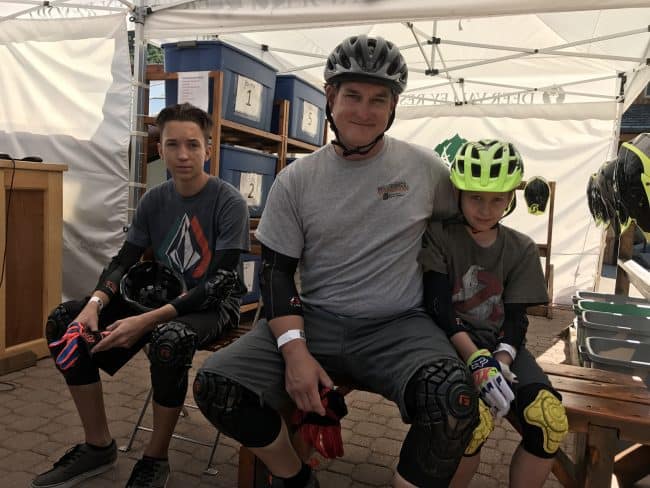 The instructor we had was a VERY patient man and a great teacher.
The biggest thing he taught us were the 4 Bs: Both Brakes, Butt Back. When you ride downhill, you go slow and shift your weight back to your butt. Handy little tip when you can remember it. I'll admit that I didn't take to mountain biking at first. I was on the ground more than I was actually on the bike. You can read about that here. My daughter on the other hand took to it really well.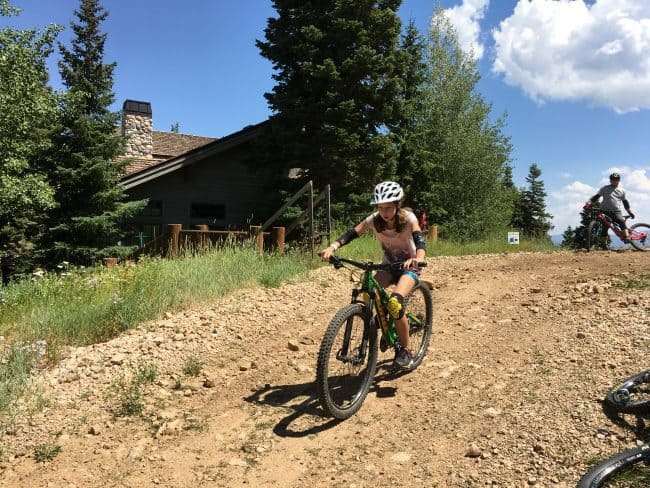 In just a few hours, all five of us were on the bike, traversing obstacles, riding down stairs, and ready for the trails. At the end of our class, we were zipping down the mountain (cautiously and at our own speed, but on the bike).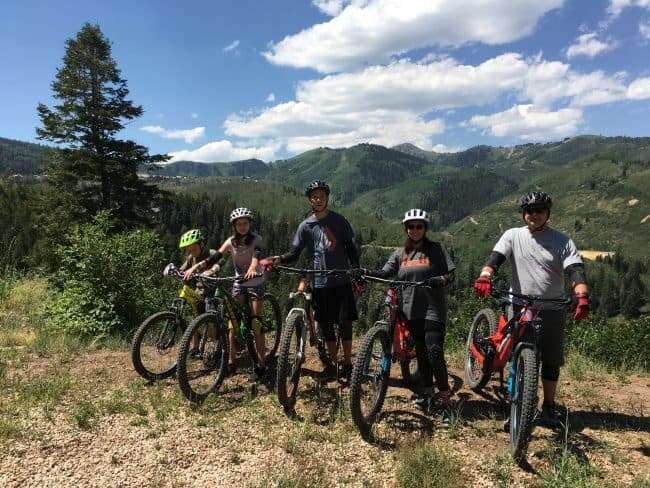 The mountain bike trails range from beginner to expert and take you through a variety of terrains. Get a lift ticket and start riding at the top of the hill.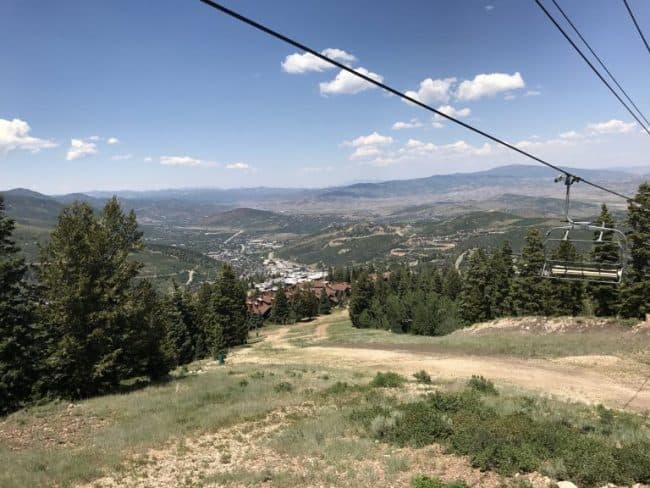 If you didn't bring your bike, you can rent a really nice one with a hydraulic lift seat and variable suspension. I will warn you that if you rent one, you may not want to go back to the bike you have at home.
Hiking Deer Valley
Deer Valley in the summer is a great place to hike. There are trails up and down the mountain.
The condominium we stayed at was very near the Silver Lake Village area where many trails started. You can drive up there or get a ski chair lift ticket and take the scenic route.
You can hike on your own or opt for a guided tour. We went out on our own for short hikes with the kids and used the chair lift. The views from the chair are pretty spectacular.
Stand Up Paddleboarding
Park City SUP has a seasonal shop set up on Pebble Beach at Deer Valley Resort. There you can rent a paddleboard, sign up for a clinic, or take a yoga class.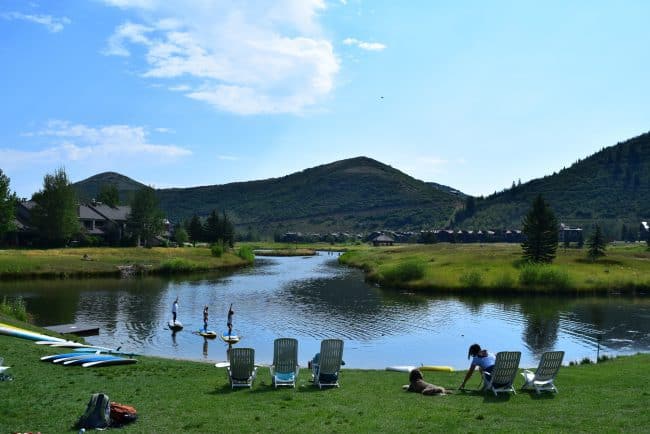 We opted for a family paddle on the small lake near the plaza.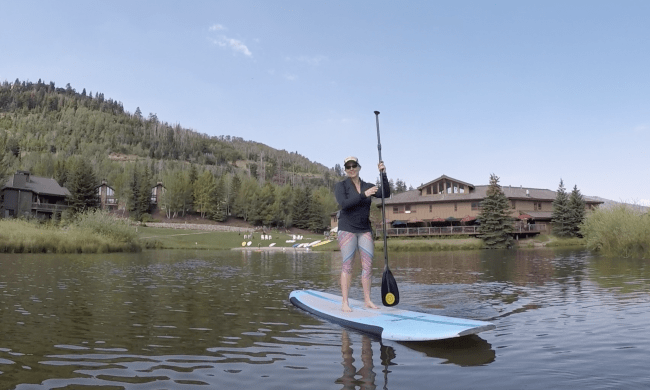 Owner Trent Hickman's pug LOVES the water.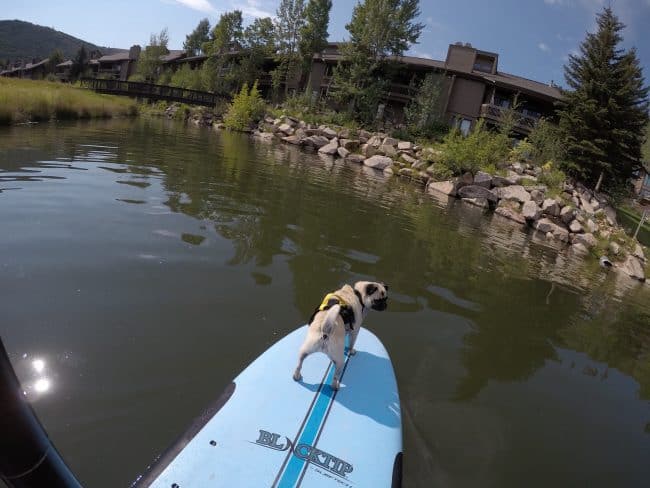 Just before heading out in the water, she hopped onto my board and then the kids and I proceeded to play "Capture the Pug". Fun times!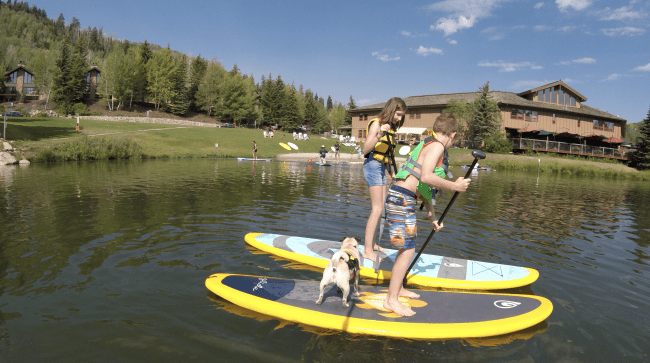 Walking nearby Downtown Park City
If you don't want to leave the resort, you don't have to. But if you want to venture out, you will definitely be rewarded. The downtown area is a fun place to visit, walk, and do a little shopping. You'll find art galleries, coffee shops, gift stores, clothing, and more.
This is just a taste of the outdoor fun you can have at Deer Valley during the summer. With all that physical activity, you'll definitely work up an appetite. Whether you are staying on property to dine at one of the many restaurants or heading into town, you'll love the variety and flavors the area offers. Indulge, enjoy, and have a great vacation full of outdoor fun in Deer Valley and Park City.
SaveSave
SaveSave