Little Family Adventure some times receives complimentary products, hosted travel, and/or compensation related to shared content. This story may contain affiliate links. Purchase through our affiliate links and we receive a small commission without any extra expense to you!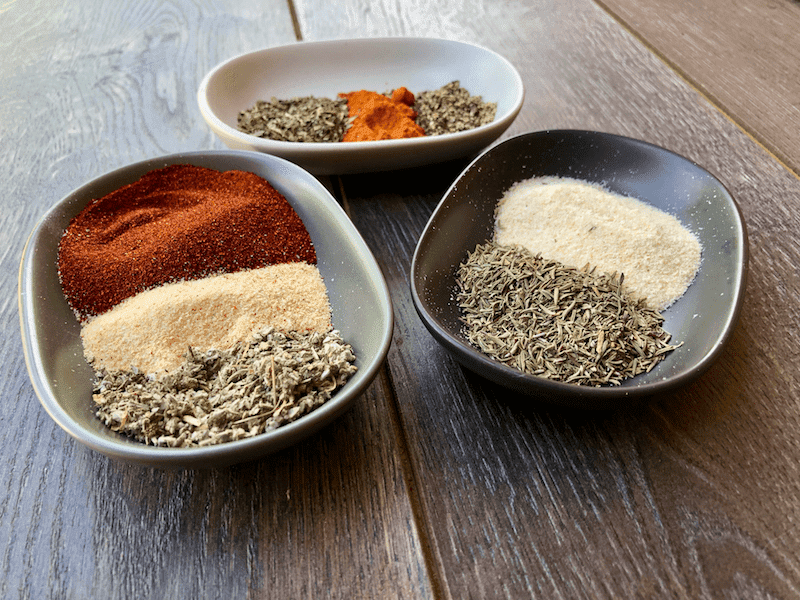 Whether cooking at home or over a campfire, blackened seasoning can spice up any meal. Whether you're adding it to steak, chicken, fish, or vegetables, this homemade blackened seasoning recipe adds a a spicy kick is easy to make. Plus homemade seasoning/spic blends are cheaper that store bought seasonings.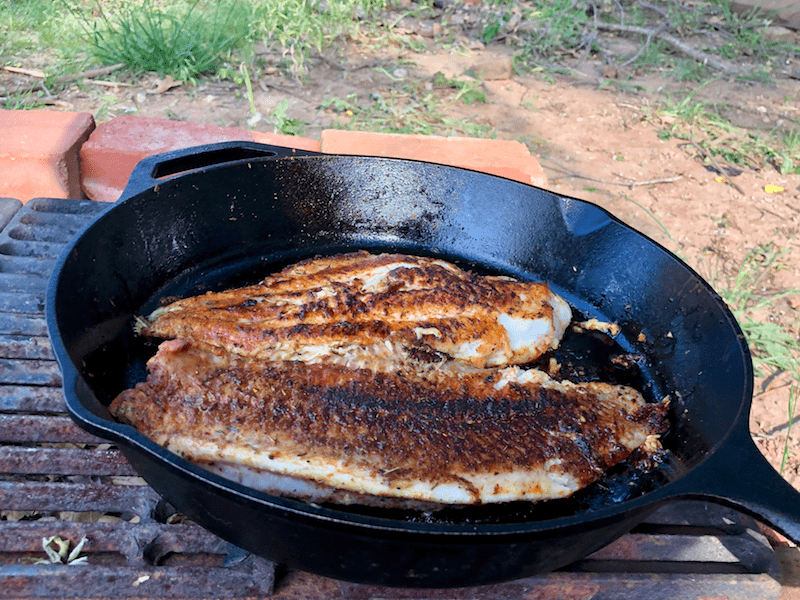 Blackened Seasoning Recipe
My favorite way to use this blackened seasoning is on fish. I will most often use it on catfish to make Blackened Grilled Catfish. This seasoning is also really good on tilapia, salmon, and other fish. To get the spice blend "blackened", I like to use a cast iron skillet. It retains heat really well and allows me to basically char the seasoning to form the black spice crust I want.
How to blacken fish
Heat the skillet to medium heat
Add a little oil and then add your fish filets.
Cook 4-5 minutes on each side, being careful to only turn once.
Other recipe/meal ideas using this homemade blackened seasoning recipe:
Blackened Chicken Alfredo
Blacked Steak with a Herbed Garlic Butter
Blackened Fish Tacos with Coleslaw and Sriracha Mayo
Blackened Carrots and Sweet Potatoes (oven roasted is the easiest)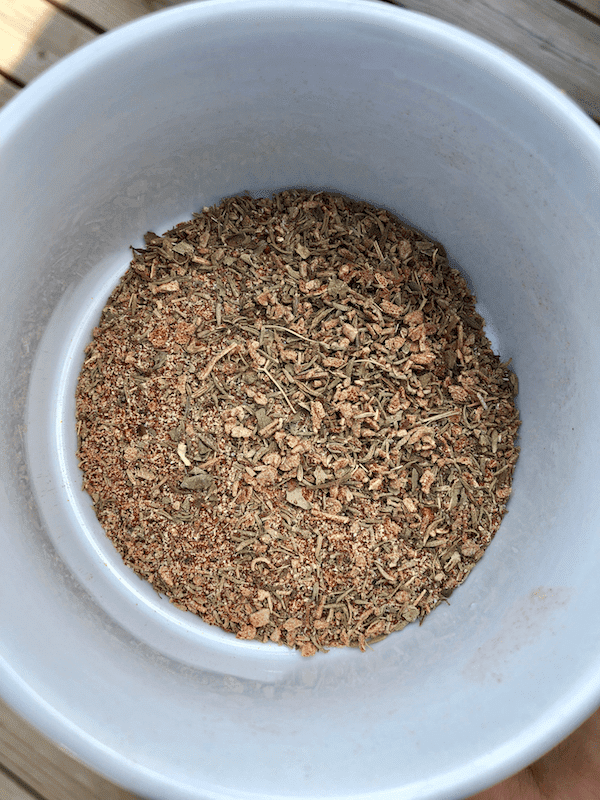 Storing Seasonings
With homemade seasoning, it's up to you if you'd like to make a small or large amount of seasoning. I like to make smaller batches and store my homemade seasonings/spice mixes in these glass containers*. They have nice looking chalkboard labels and shaker insert lids to make it easier to sprinkle seasoning onto any food.
amzn_assoc_tracking_id = "littfamiadve-20";
amzn_assoc_ad_mode = "manual";
amzn_assoc_ad_type = "smart";
amzn_assoc_marketplace = "amazon";
amzn_assoc_region = "US";
amzn_assoc_design = "enhanced_links";
amzn_assoc_asins = "B07193N71J";
amzn_assoc_placement = "adunit";
amzn_assoc_linkid = "e34adaf833353e10395cb662cd883a0c";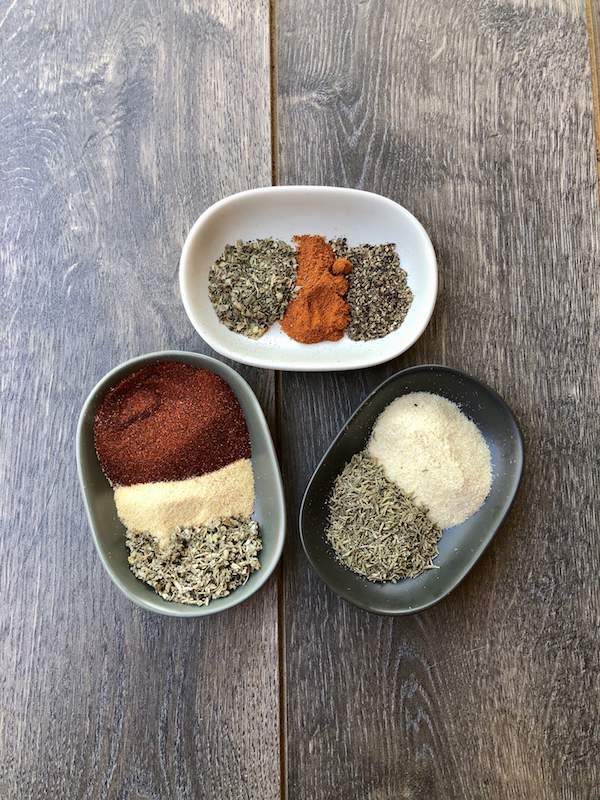 Simple Blackened Seasoning Recipe
Yield: 1/3 cup
Easy Homemade Blackened Seasoning Recipe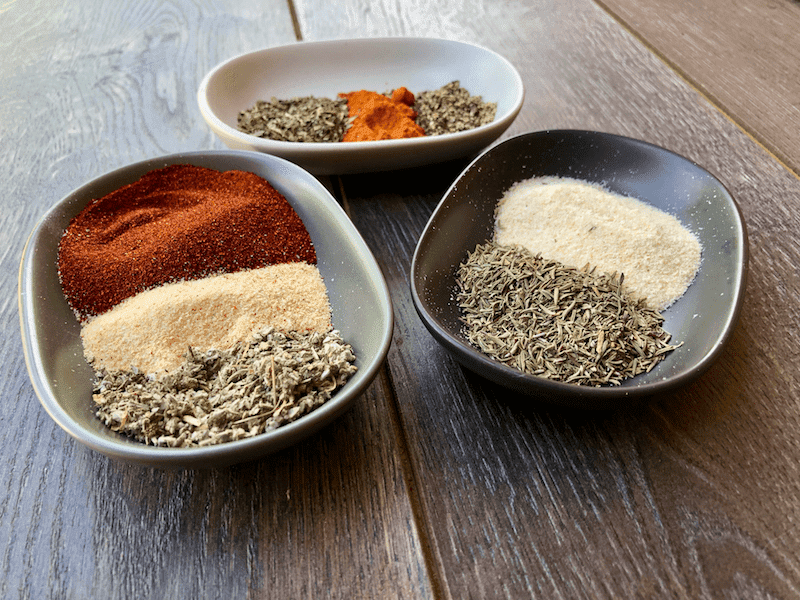 Ingredients
1 1/2 Tablespoons paprika
1 Tablespoon onion powder
1 Tablespoon garlic powder
1 Tablespoon dried thyme
1 teaspoon dried basil
1 teaspoon dried sage
1 teaspoon cayenne pepper
1 teaspoon ground black pepper
Instructions
Combine all the ingredients and store in a sealed container.
Nutrition Information:
Yield:
18
Serving Size:
1 teaspoon
Amount Per Serving:
Calories:

6
Total Fat:

0g
Saturated Fat:

0g
Trans Fat:

0g
Unsaturated Fat:

0g
Cholesterol:

0mg
Sodium:

1mg
Carbohydrates:

1g
Fiber:

0g
Sugar:

0g
Protein:

0g
If you liked this recipe, you may also like: