Looking for an easy keto salad dressing or healthy veggie dip? This is it! In partnership with Barlean's, I have this simple salad dressing that takes just a few minutes to make. It's great for salads, as an easy veggie dip, and as a marinade for grilled chicken.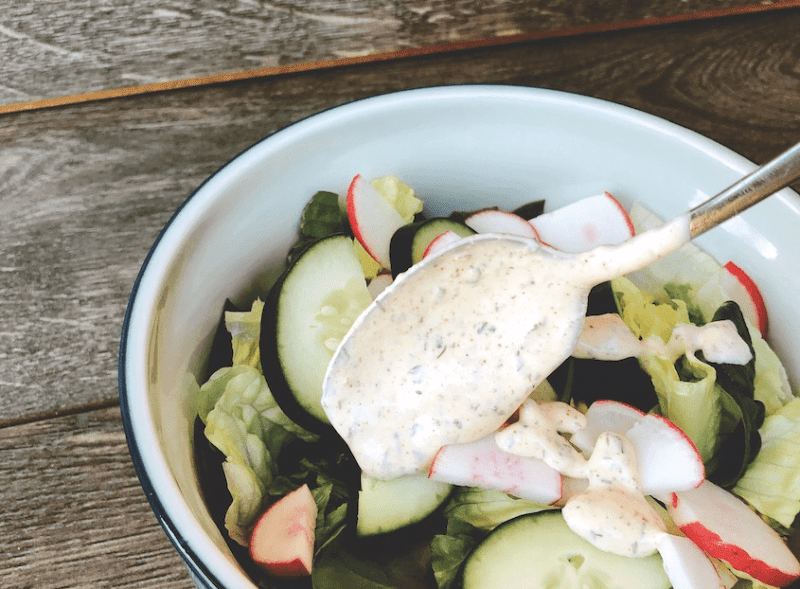 This story contain affiliate links. Purchase through our affiliate links and we receive a small commission without any extra expense to you!

Homemade Salad Dressing Recipe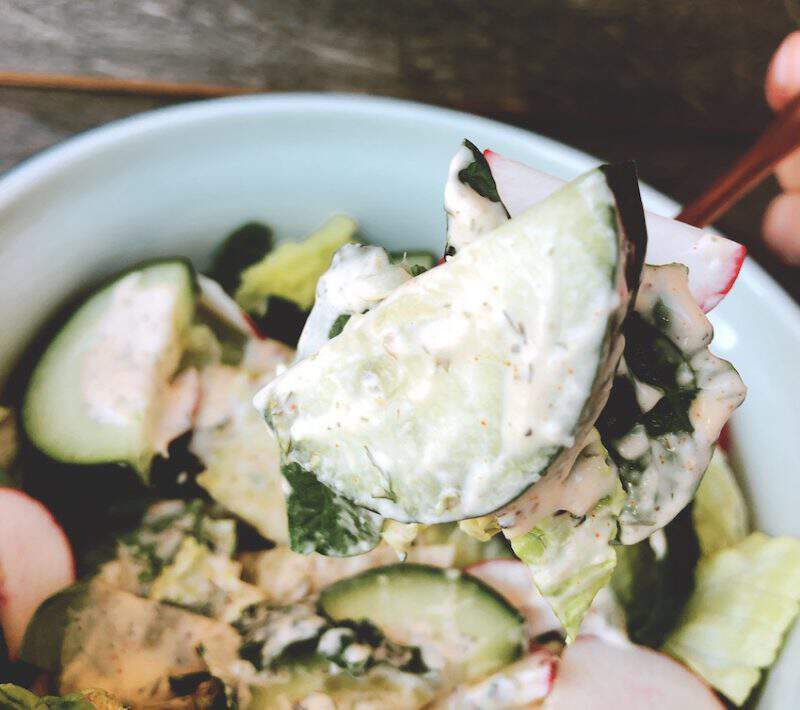 The weather is warming up and that means barbecue/grilling season is here. Fresh leafy green salads and vegetable platters are some of our favorites during warmer months. Ranch dressing is by far my husband's favorite dressing and dip. He's one of so many people I know that who were practically raised on the stuff. Instead of buying one of those store bought dressings, I prefer to make it myself. It only takes a few minutes to make a homemade salad dressing and it's really really easy. You probably already have all the ingredients needed to make this recipe right now.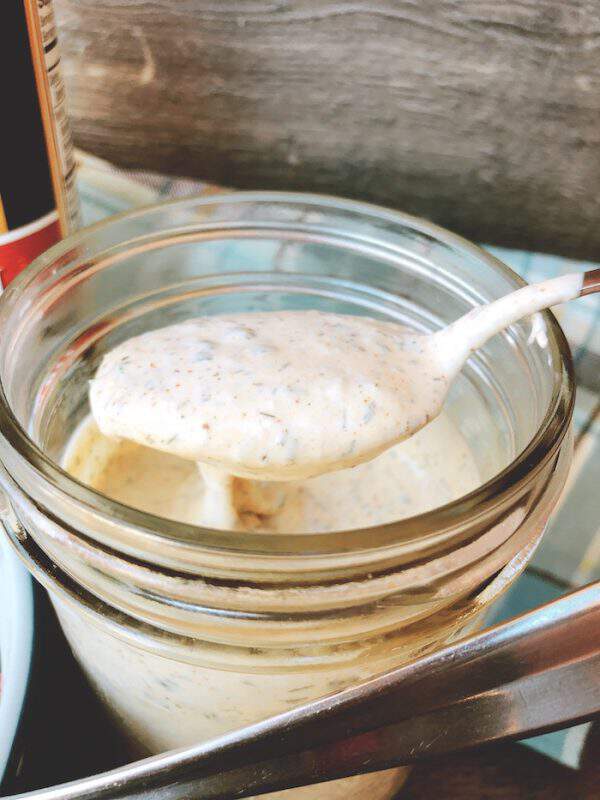 This ISN'T a Ranch Dressing Recipe, it's BETTER!!
I say this and know that you are probably skeptical. How can Ranch dressing be made better? Honestly, I didn't think it could either until THIS recipe.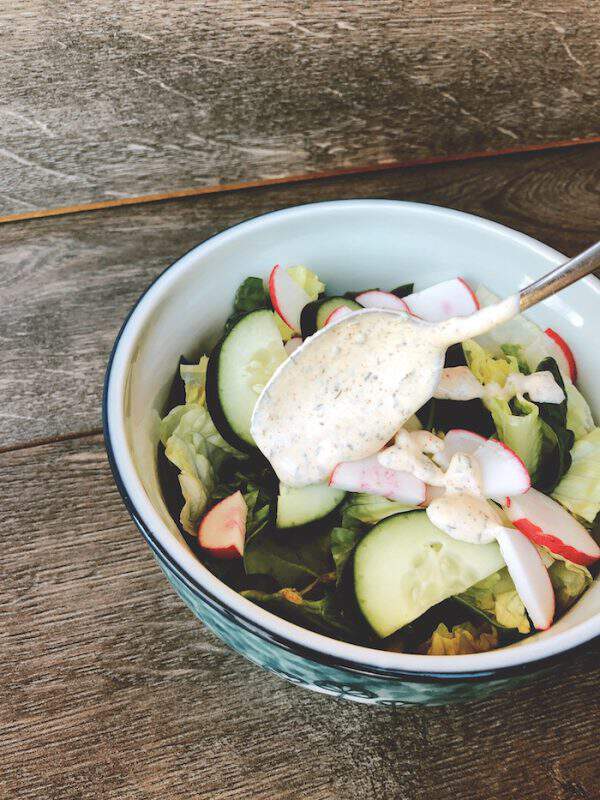 Let me start off by saying, this COULD be a ranch dip or dressing because at its base, that's what it actually was. A basic ranch recipe is one that can easily be changed with a dash of this and a dash of that. That's actually how this recipe came to be. It started as a Keto Ranch Dressing (I'll have recipe down below too) but with a few tweaks it became something so much better. I think it's the extra garlic.

There's a local Mediterranean restaurant here that serves a garlic dip topped with a sprinkle of paprika. I love that dip and I get it over my Chicken shawarma bowl. I wanted to make something like it at home. This garlic and herb recipe is what I created and it's fan-freaking-tastic!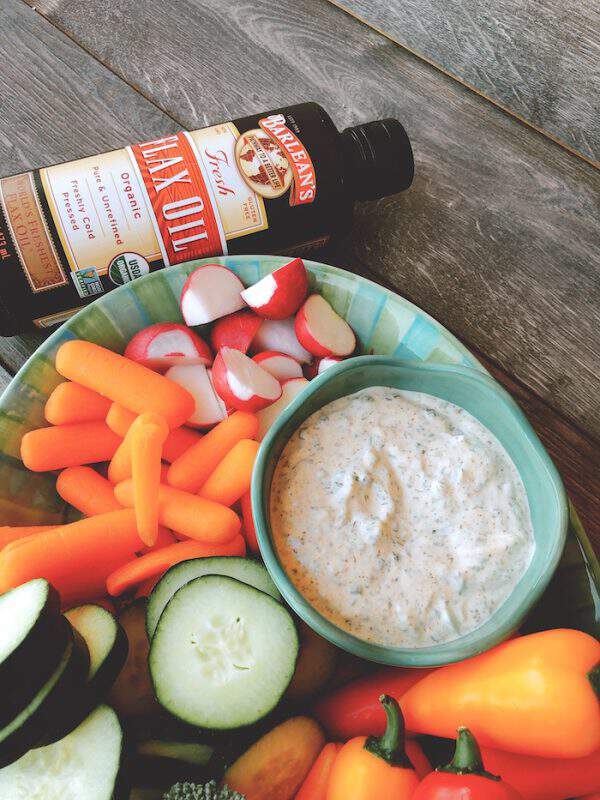 Healthy Veggie Dip
The only difference between a dip and dressing is the consistency. Dips are thicker so they will stick or coat whatever you are dipping in it. I like to use Greek Yogurt because it has thicker consistency than sour cream or regular plain yogurt. Greek yogurt salad dressings and veggie dips also offer more protein. If you are on a keto or low carb diet, that helps balance out the few carbs it contains. My brand I like to get has fewer than 6 grams of sugar in a 8oz serving.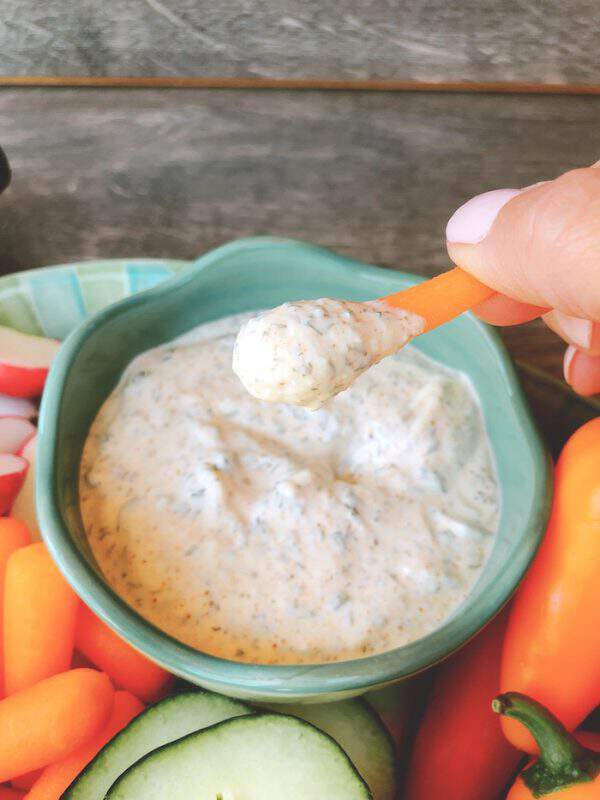 Note: Any dressing, well most any, can be converted into a dip my reducing the amount of liquid. The same is true with this recipe; just omit the heavy cream, milk, or non-dairy milk listed in the ingredients. What you'll get is a creamy dip that goes great with so many things.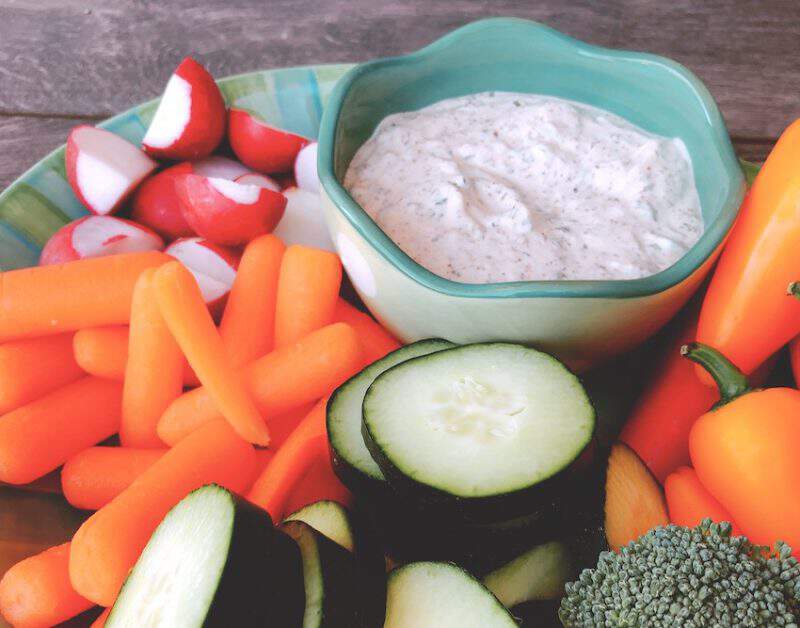 This healthy veggie dip isn't just limited to raw or steamed vegetables though. This is an easy vegetable dip that also doubles as a garlic dipping sauce for chicken bites, french fries or potato chips, beef gyros, shawarma, etc.

Adding Heart Healthy Omega-3 with Flax Oil
I add Barlean's Flax Oil to my dressings and dips for added dose of hearty-healthy ALA Omega-3 fatty acids. Omega-3 fatty acids are beneficial to your health as they improve heart health, reduce inflammation, and protect the brain against aging. A single tablespoon of Barlean's flax oil provides the recommended daily ALA value. Flax oil has a mild taste and is great in dressings and other recipes. It's just recommended for anything that is heated over 225˚F.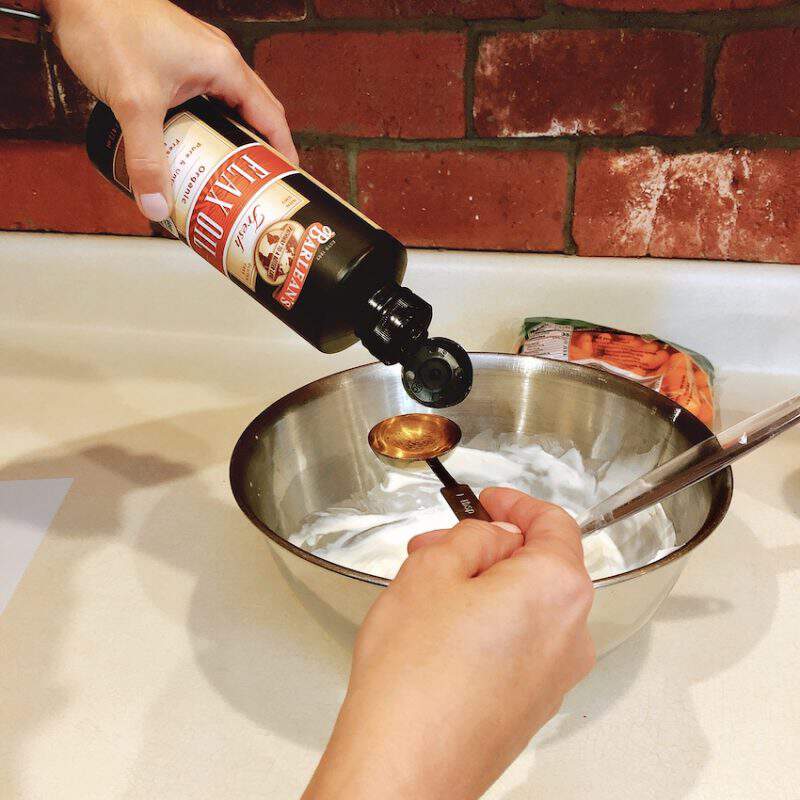 I've talked enough about the why this recipe is BETTER than plain ol ranch. You need to try it for yourself. The proof is in the pudding as they say, or in this case the dressing. Enjoy!
Garlic & Herb Keto Salad Dressing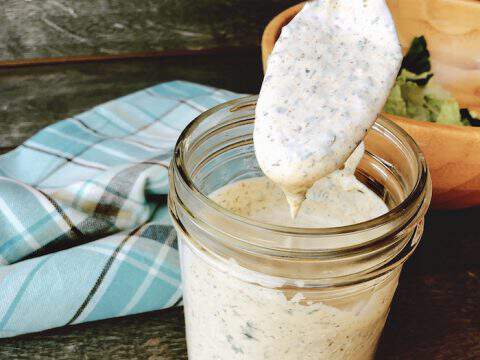 Low Carb, Keto Salad Dressing with garlic and herbs makes a great addition to salads, wraps, or as a healthy veggie dip.
Ingredients
1 1/2 cup Greek yogurt
1 cup Keto-Friendly mayonnaise
3 Tablespoons Flax Oil
2 crushed garlic cloves or 2 teaspoons garlic powder
1 Tablespoon lemon juice
2 tablespoons dried parsley
1 tablespoon dried dill
1 tablespoon chives
2 teaspoons onion powder
1 teaspoon tarragon
1 teaspoon ground pepper
1 teaspoon salt
1/2 tsp paprika powder
1/4 cup milk or non-dairy milk (only for a thinner consistency dressing - omit for dip)
Instructions
Add yogurt, mayonnaise, and flax oil together into a mixing bowl.
Mix with wooden spoon or whisk until well combined.
Add all remaining ingredients together and mix together.
Cover mixing bowl or transfer to a lidded container.
Place in refrigertor for at least 1 hour.
Notes
This Garlic and Herb Salad Dressing is best if refrigerated at least one hour before serving. Can it be made ahead too and is good for 6-7 days in the refrigerator.
Nutrition Information:
Yield:
40
Serving Size:
2 tablespoons
Amount Per Serving:
Calories:

60
Total Fat:

6g
Saturated Fat:

1g
Trans Fat:

0g
Unsaturated Fat:

5g
Cholesterol:

4mg
Sodium:

102mg
Carbohydrates:

1g
Fiber:

0g
Sugar:

1g
Protein:

1g
Keto Ranch Dressing

If you want a traditional ranch salad dressing for Keto diet, use the same recipe above, but:
Only use 1/2 the garlic listed
Omit lemon juice, tarragon, and paprika