I once thought that getting groceries delivered was super expensive and not something the average person did. But during the COVID stay-at-home order, I found myself using these type of services much more. Many others did too. Today, it's a practice that has stuck with me for its convenience and practicality. All things considered, I am also saving money on my groceries and staying within my monthly food budget too! I want to share a few ways I'm doing that and the stores, apps, and online companies that are helping me do that.
Groceries can be expensive, especially with three teenagers in the house now. Prices are steadily on the rise too. So I have to do what I can to stay within my food budget. My utilizing local stores and third party grocery delivery service near me, I've been able to do it.
Here are 3 ways I'm saving money by getting my groceries delivered:
More intentional on what I buy – I order what I need based on my weekly meal plan and that's it. I don't see that impulse buys and "good deals" near the in-store checkout, so the temptation to bust my budget is gone. I can stay within my grocery budget because I'm just buying what I need. Note: I use Platejoy for my meal planning and it allows me to transfer my grocery list to Instacart with the click of a button. I unselect the ingredient I already have on hand and then order what I need.
No more I forgot this and come back with ALL OF THIS – I hate it when I forget something on my grocery list and have to go back to the store. When this happens, I end up with a cart full of stuff PLUS the missing item, especially at stores like Target and Whole Foods. Both stores offer home delivery by the way, so it's quite easy to avoid this pitfall.
Taking advantage of sales – Even with online shopping and in-home delivery, I can shop sales and stock up on things, like pantry staples. If I'm running low on flour or yeast and it's on sale at Azure Standard, I'll stock up and take advantage of the savings. Snacks and meat are two other things I will stock up on when they are on sale.
Amazon Prime is always, but there are other options too. The ones I am using most often are Azure Standard, Instacart for ALDI, Imperfect Foods, Butcher Box, Perdue Farms, and Grove Collaborative. Together, I buy my groceries, bulk pantry staples like flour and yeast, meat proteins, the green cleaning supplies online. I stay out of the stores and spend more time doing what I'd rather be doing with my family. Even with the delivery fees, if any, I am still coming out ahead and feeding my family healthier options to boot.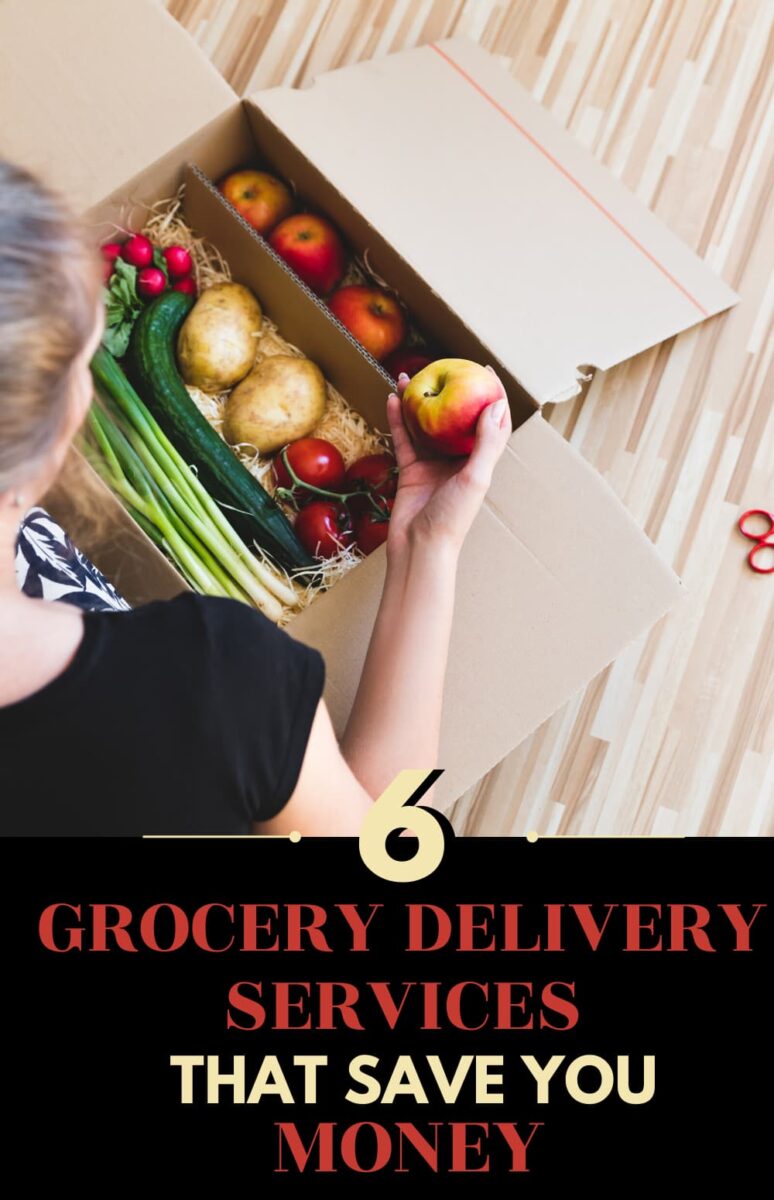 Where to Get Groceries Delivered Near Me/You
1. Azure Standard
Azure Standard is a food co-operative based in Moro, Oregon that I turn to and shop for natural and organic groceries plus bulk pantry staples. I can shop for brands like Organic Valley, Applegate Farms, Bob's Red Mill, Dr. Bronner, Santa Cruz, and more others. There's no fee to join co-op either. Instead of delivering food to the house, which is an option for an extra fee, they utilize community drops where I pick up food from each month. Near me, I have two options.
During COVID, I started baking again and they have great quality baking supplies. As a write this, I just finished my order for the month and some of those baking supplies I was nearly out of where on sale. So I stocked up. Azure Standard ships nationwide, except for a few states in the Northeast. They do charge a delivery fee based on your total order.
Visit the Azure Standard website here and see where the closest drop location is near you, discover new recipes, and start shopping online. Please use NickyOmohundro1 in the personal share code field.
2. Imperfect Foods
Fruit and vegetables doesn't have to look perfect to be delicious. Imperfect Foods takes irregular shaped/sized fruits and vegetables, those considered to be unsaleable in conventional grocery stores, and sells it at a lower price. They also offer overstock grocery and dry goods like cereals, meats, vegan proteins, and grains.
Over the last few months, I have done the bulk of my fruit/vegetable shopping here. I recently talked about Imperfect Foods here when I compared them to Farmbox Direct. I find that most prices are cheaper than ALDI, although not all. The minimum order is $30 and they charge a shipping fee. To save money, I order at least $60 and get free shipping every two weeks. It has worked out really well and what I can't get here, I get at ALDI.
Visit Imperfect Foods and order your first box. Use this link and get $10 towards it.
3. ALDI via Instacart
I have been shopping at ALDI for years and I was so happy to see they offer home delivery and in store pickup with Instacart, a third party app for grocery delivery near me from local stores. In the past some online apps offering in-home delivery had much higher pricing, but I found that I can get both advertising ALDI Finds and weekly specials thru the app. Other products are similar in price as what I would pay if shopping in the store. Every now and then is a difference, but it's not significant.
More about Instacart: Here in Oklahoma City, Instacart shops not only ALDI, but also Costco, Sams Club, Sprouts, Target, CVS, CashSaver, Big Lots, Homeland, and Natural Grocers. They offer service around the country, so stores will vary by location. Usually I can schedule a drop off the same day I order. Instacart charges a $3.99 delivery fee, but I upgraded to the Instacart Express. I pay $99 a year and get free delivery. There is also a monthly option at $9.99 a month. If you are new to Instacart, click here and get started as a new customer. You'll get $10 off your first order with my affiliate link. When you refer friends, you can get up to $50 credit too.
Get started with Instacart with this link. Looking to make extra money, become an Instacart shopper.
What do I tip for grocery delivery?
I want to mention that I generally tip 15%-20% of the pre-tax amount for our large orders. On smaller orders like from CVS, I will do $2-$3 a bag.
4. Butcher Box
ButcherBox is a meat delivery service offering grass-fed beef, heritage pork, and free-range organic chicken. Customers can choose between a curated box or a create your own package. I signed up for Butcher Box in early 2019 during a promotion for free bacon for life. With every order since, I opt to select the cuts I want and then I also get a free package of uncured bacon. Everything is better with bacon, right?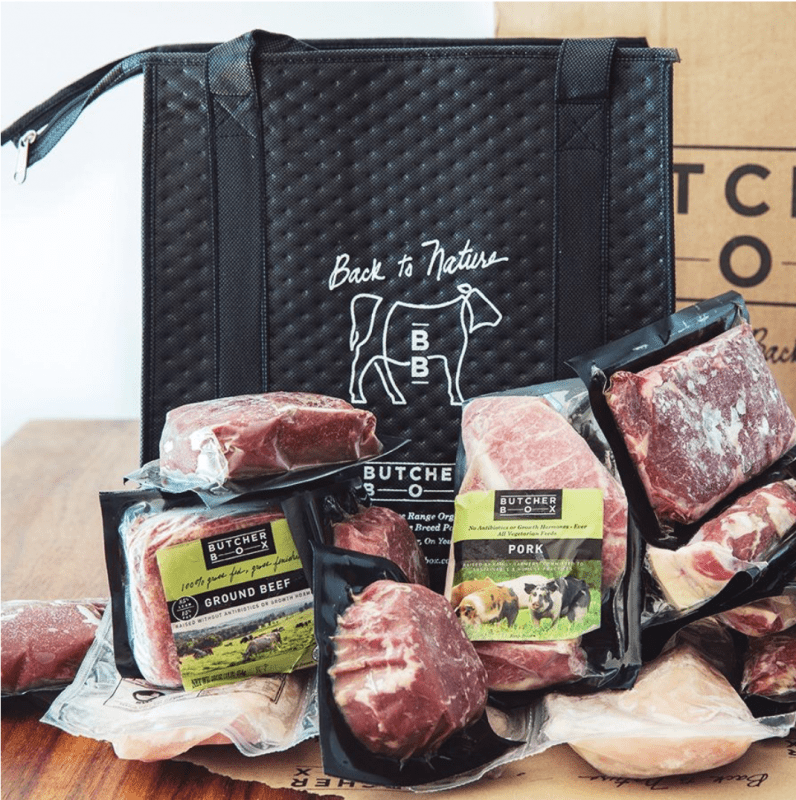 I get between 15-20 pounds of meat for $149 a month. Usually, that includes 1-2 roasts or brisket, 4-8 steaks, pork chops, and bacon. I could opt for non-grass fed beef and organic chicken at ALDI, but it's a difference I can taste and I'd rather not. Also, the last box I ordered was shipped from within Oklahoma where I live. The company sources regionally from smaller farmers.
Visit Butcher Box and discover current specials.
5. Perdue Farms
When it comes to chicken, I stock up during online sales from Perdue Farms. I'll share an exclusive savings code below. Their online customer site allows me to order both organic and conventional chicken as well as beef and pork from Niman Ranch and/or pork from Coleman Natural. The organic chicken bundle is a package I order most often with 70 servings at $1.46 a serving. I love using the whole roast chicken in it to make this Beer Can Chicken.
You can learn more about Perdue Farm's home delivery that started in 2019 in this article I wrote.
Visit Perdue Farms and save 10% off with affiliate code FARMER10
6. Grove Collaborative
I started my membership to Grove with their FREE sustainable home starter set with my first $30 order of dish soap and paper towels. After that a recurring shipment was set up, tweaked a bit, and I get non-toxic cleaning products delivered. There's no membership to buy, but there is a $4.99 shipping fee. If you want free shipping, you can upgrade to the VIP membership for $19.99 a year and you get an additional 4 full sizes gifts through the year.
Visit Grove Collaborative and get that FREE home starter set with your first purchase.