The Atlantis Resort in the Bahamas truly is a magnificent all ages family travel destination. Yet for teens and tweens seeking more active outdoor fun, this resort quickly moves up the list. Here the kids can speed down Aquaventure's water slides, go swimming with dolphins, encounter marine life in one of the world's largest habitats, and enjoy day after day of endless fun in the sun.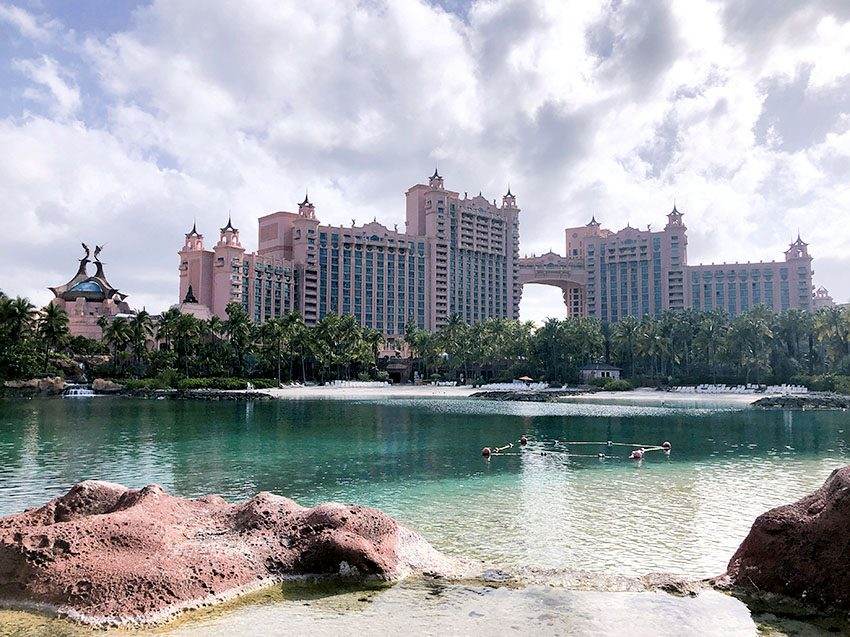 This story is brought to you in partnership with Nassau Paradise Island.
When it comes to your next family vacation in the Bahamas, we have a few ideas on what your kids will love about visiting here. Why? It's what our kids loved on their visit. This guide points you the thrilling and not so thrilling water rides inside Aquaventure, places you can see the resort's marine animals, indoor activities, and a quick guide on which Atlantis resort is right for you. For those of you that are just visiting for the day while on your cruise, there's even a tip on how to get the Atlantis Day Pass for less.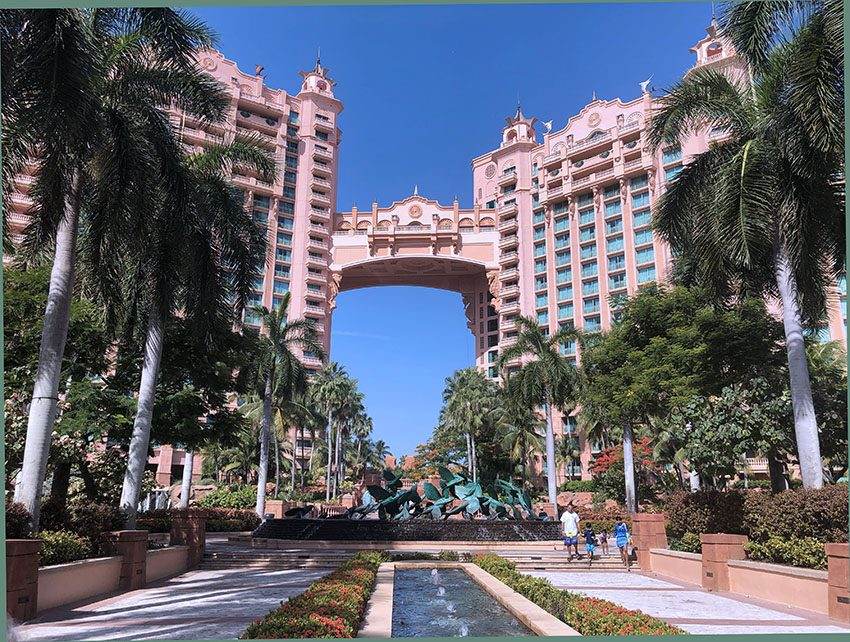 Atlantis Aquaventure
The biggest "Must-Do" for adventurous teens when visiting Atlantis is Aquaventure. This waterpark has 16 water slides, 11 pools, 3 beaches, a mile long river rapids ride, lazy river, and inland Paradise Lagoon. There is so much to do here and teens ages 16 and older can explore on their own or in a group.
Water Slides
Slides are grouped together in two towers; Mayan Temple and Power Tower.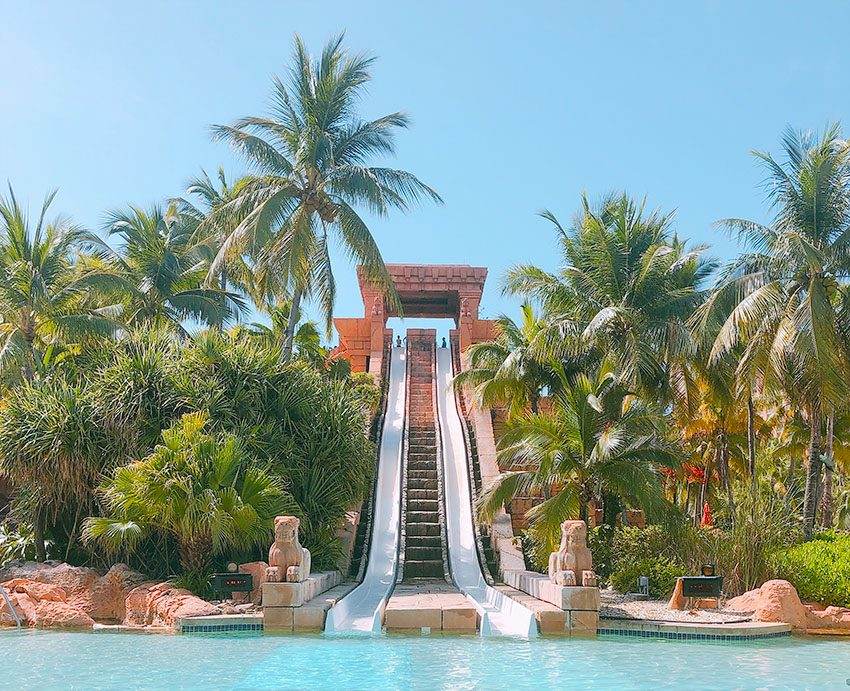 Mayan Temple
Thrill seekers will want to start at the Mayan Temple and take the nearly 60ft vertical drop on the Leap of Faith. The name fits this one to a T. It drops you down and then through the shark filled lagoon via an acrylic tunnel. (This was one of my son's favorite rides.) For those looking for a race, the Challenger Slides are side by side high speed slides. If tube rides are more their thing, the Serpent Slide starts riders off five-stories high and weaves you down in complete darkness only to emerge inside an acrylic tunnel inside the shark lagoon. It's thrilling to watch sharks swim by when you are in the water.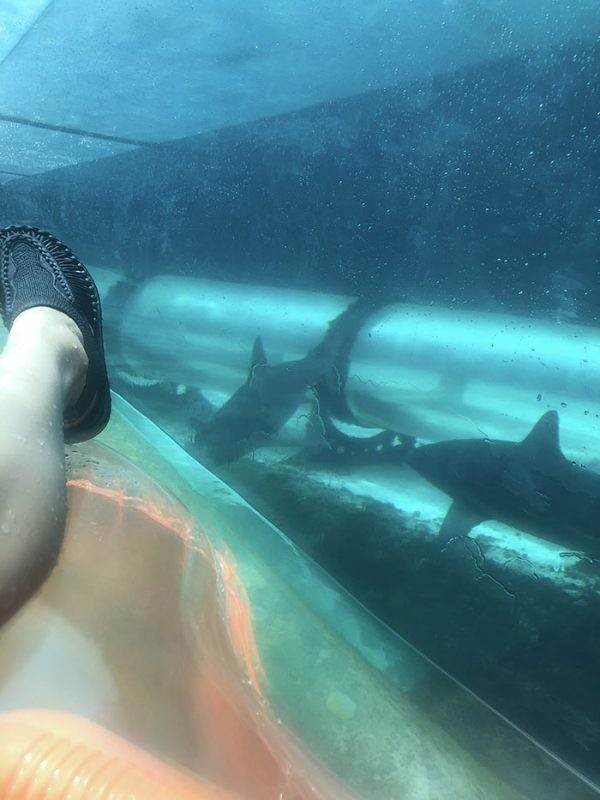 Power Tower
For less extreme water slides, head to the Power Tower for their inner tubes rides. Here The Surge, The Drop, and The Falls take riders through water slides powered by jets of water. These rides end in unique places like white-water rapids and into the Rapids River. The Abyss is another dark ride that ends in an underwater cave. Teens love this one too!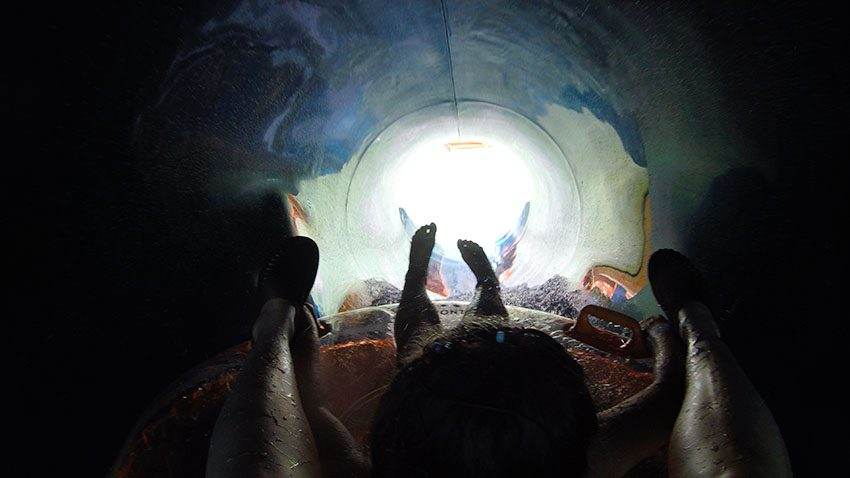 River Rides
Whether your tweens or teens want mild or wild in their river rides, they are here. The Rapids River is a mile long with several entry points that take riders along extreme rapids, water escalators, and a few surprises. The Lazy River is a gentle 1/4 mile loop perfect for relaxing or soaking up the Bahamian sun.
Pin this for later. Be sure to follow us on Pinterest too for more family travel ideas.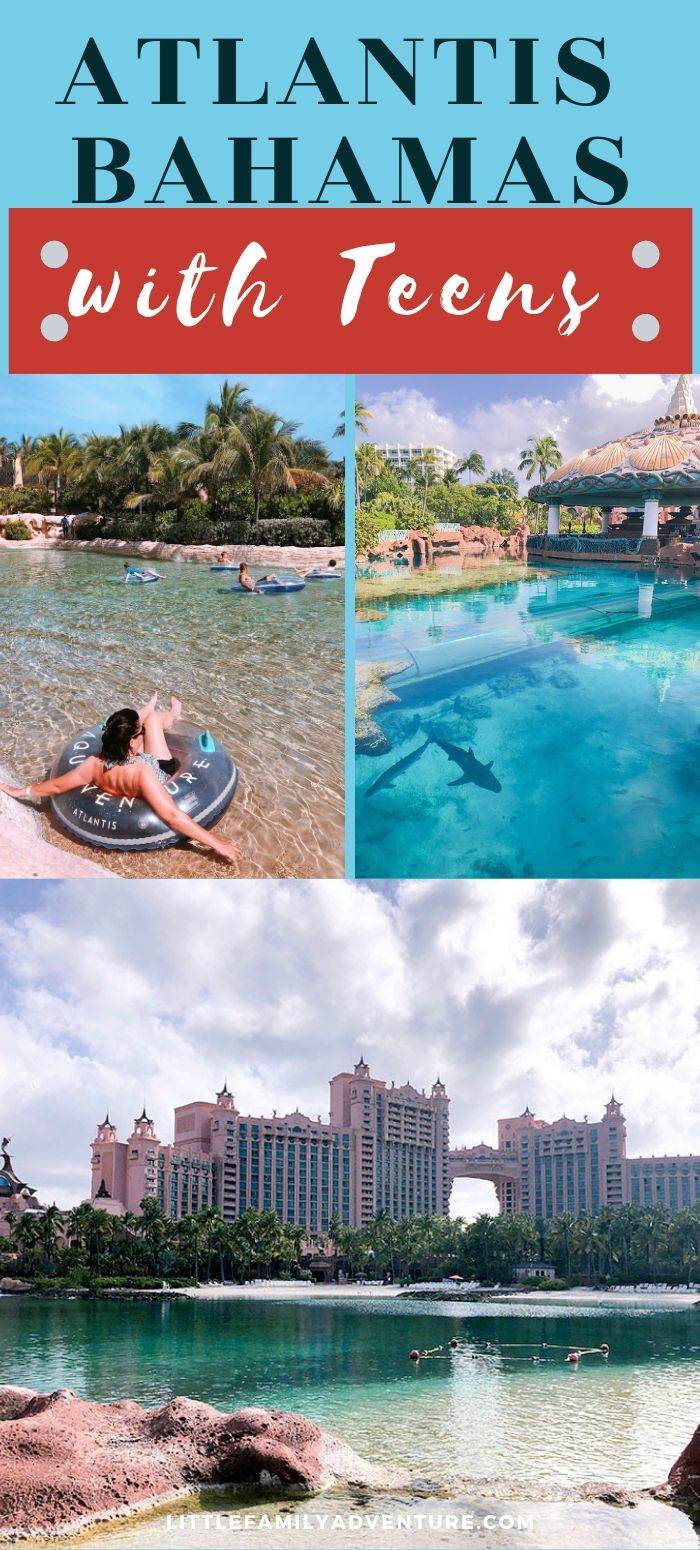 Paradise Lagoon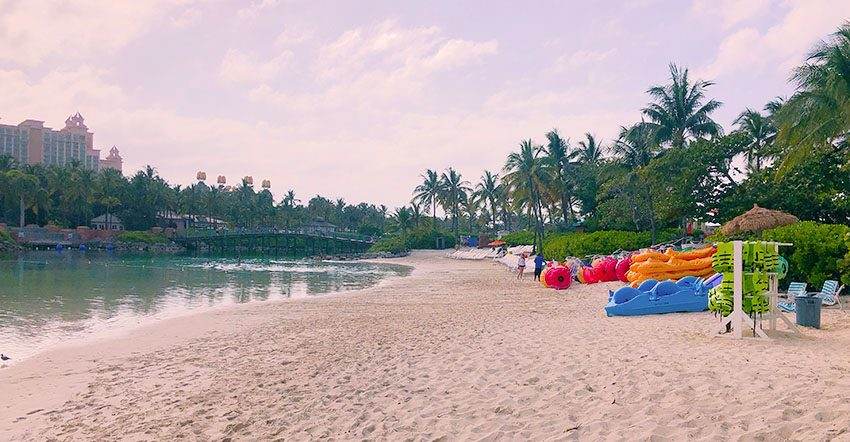 The Paradise Lagoon in front of the Atlantis Casino is the perfect place for snorkeling, paddle boarding, water bikes, and kayaking. The lagoon's two white sand beaches are ideal for playing in the sand too.
Dolphin Cay Atlantis
Get your feet wet in one of the largest marine habitats in the world. This 14-acre marine habitat allows guests to interact/swim with Atlantic Bottle-nosed dolphins rescued following Hurricane Katrina, play with sea lions, and snorkel through Atlantis' Ruins Lagoon. For a more rewarding experience, become a trainer for the day.
The Dig Underwater Aquarium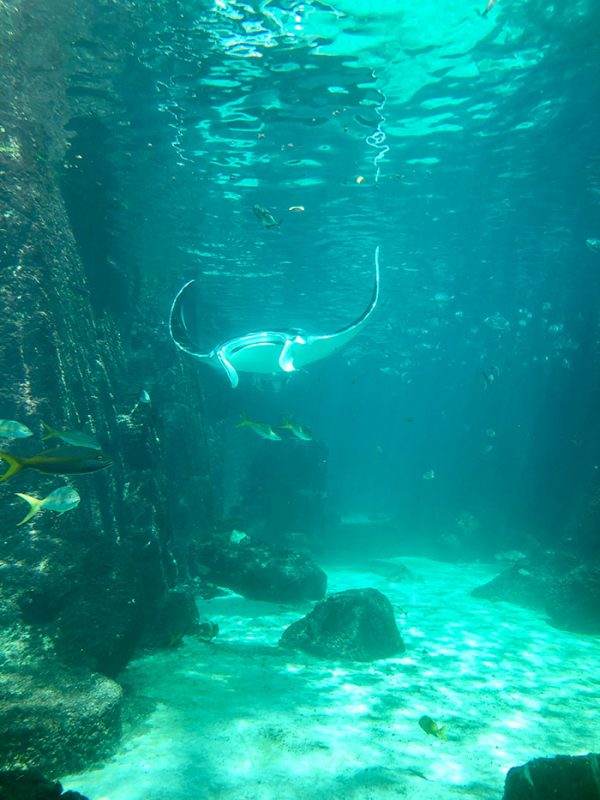 Atlantis is home to over 50,000 marine animals across 250 species. For those that don't want to get wet, stroll through The Dig tunnels of the Dig and see everything from Manta Rays to lobster large enough to feed the whole family.
Animal Viewing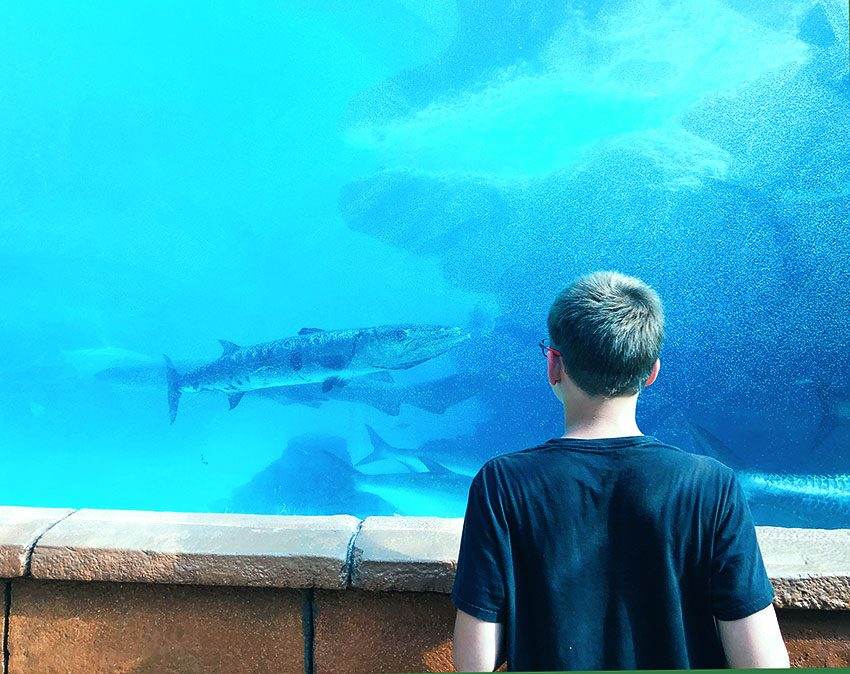 Throughout the property, your kids will find sea life in open-air exhibits and pools. Kids can find sea turtles, stingrays, and other animals.
Predator Lagoon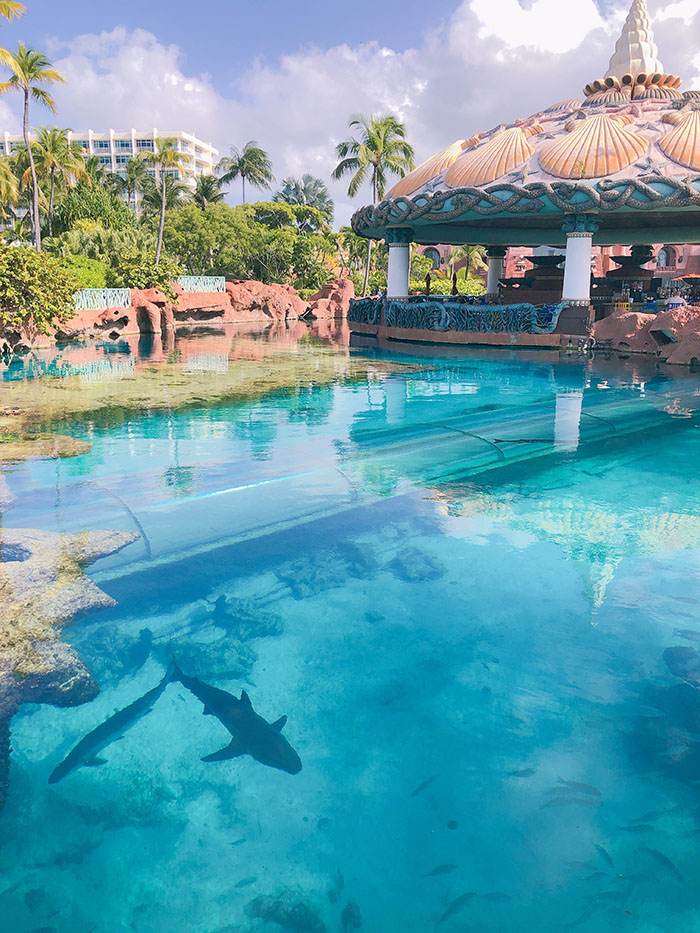 If your kids are fans of sharks, then they MUST view the Predator Lagoon. This was one of our favorite animal viewing areas. There are underwater viewing tunnels so you can see sharks face to face. Then there are suspended viewing bridges over the lagoon that let you look down into the water. Plus there are small lookout points all around the lagoon too. We loved seeing a shark thrash around from one vantage point.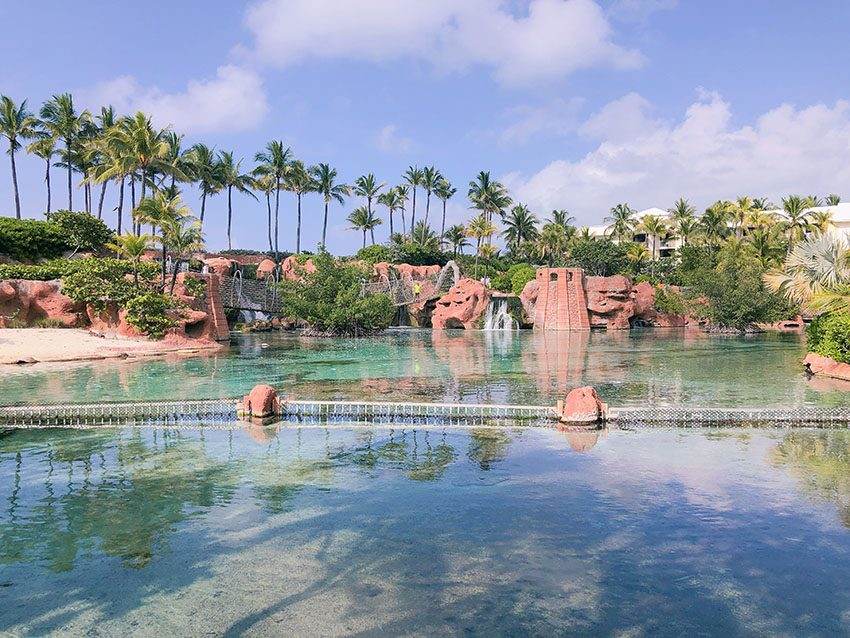 Related: Check out our itinerary for a 4 day family vacation in Nassau, Bahamas.
Indoor Fun for Teens at Atlantis
For teens and tweens that want indoor activities, Atlantis has a load of options too. Head to the underwater themed arcade called Gamer's Reef to play their favorite games, Earth & Fire Pottery Studio to throw down on the wheel, watch a movie in the theatre, or visit Crush, the kids-only nightclub. At Crush tweens and teens have their own space free of adults with live DJ and dance floor, video games, internet and concessions.
Staying at Atlantis Resort
Atlantis is not just one hotel, but six hotels. Each hotel has a range of amenities and nightly rates. Take a look at the current resort promotion below and a brief review of each hotel.
The Beach
Most budget friendly option of the six hotels. It is furthest away from the where you want to be with your family, but you are on property.
The Coral
This budget friendly hotel is very popular with families. It is a step up from The Beach.
Harborside Resort
Another great option for families with villas that have one to three bedrooms. These are off the beach and just a short walk to the Marina Village with its shops and restaurant.
The Royal
This is one of the two pink towers that everyone associates as Atlantis. It has shopping, The Dig, casino, and most of the other resort attractions including Aquaventure water park. This is often the busier of the two tower hotels.
The Reef
This is the only Atlantis lodging option with kitchenettes and dining spaces. For that reason it is a popular choice with families. It is quieter than The Royal.
The Cove
Although this is only of the nicest hotels on the property, it's not recommended for families.
Comfort Suites Paradise Island
For those wanting to enjoy the amenities of Atlantis Bahamas without staying here, you should consider staying here at the Comfort Suites Paradise Island. It's located across the street from the Marina Village and a short walk from The Coral hotel. Guests enjoy full Atlantis privileges including Aquaventure Bahamas water park, kids club, room charging, and more including in your nightly stay. It's a great option for families looking to stay on a budget or for cruise passengers looking for a less expensive option to the Atlantis Day Pass. Find a great rate on Hotels.com or at Travelocity.com.
Atlantis Bahamas is a top notch family destinations. Your teens and tweens will love their visit here. You'll enjoy the time you spend together and the memories you'll make.