Crystal clear Caribbean water, sandy beaches, and loads of things to do, make the Bahamas a top family travel destination. Nassau and Paradise Island are two cities families keep coming back to, ours included. We have great ideas for you on family-friendly resorts, things to do in Nassau, where to eat, and even a few budget-friendly tips. Let us help you plan your next trip to the Bahamas.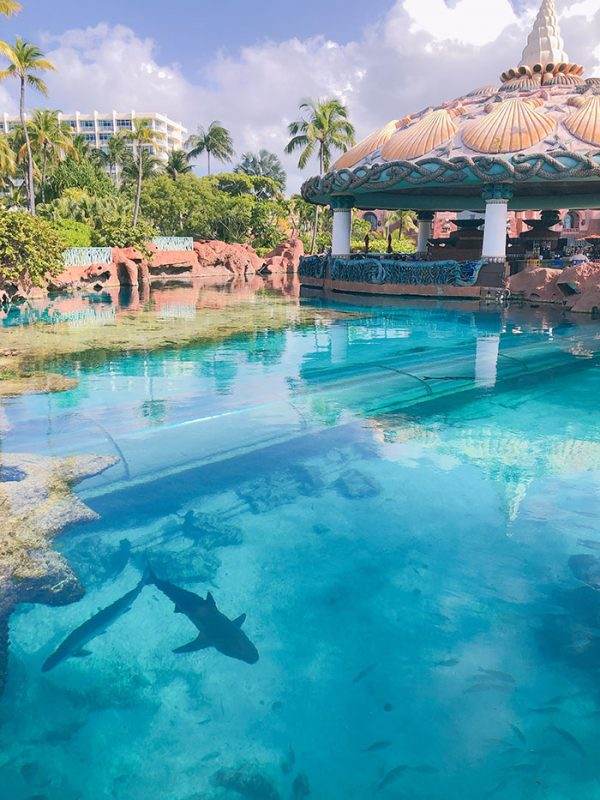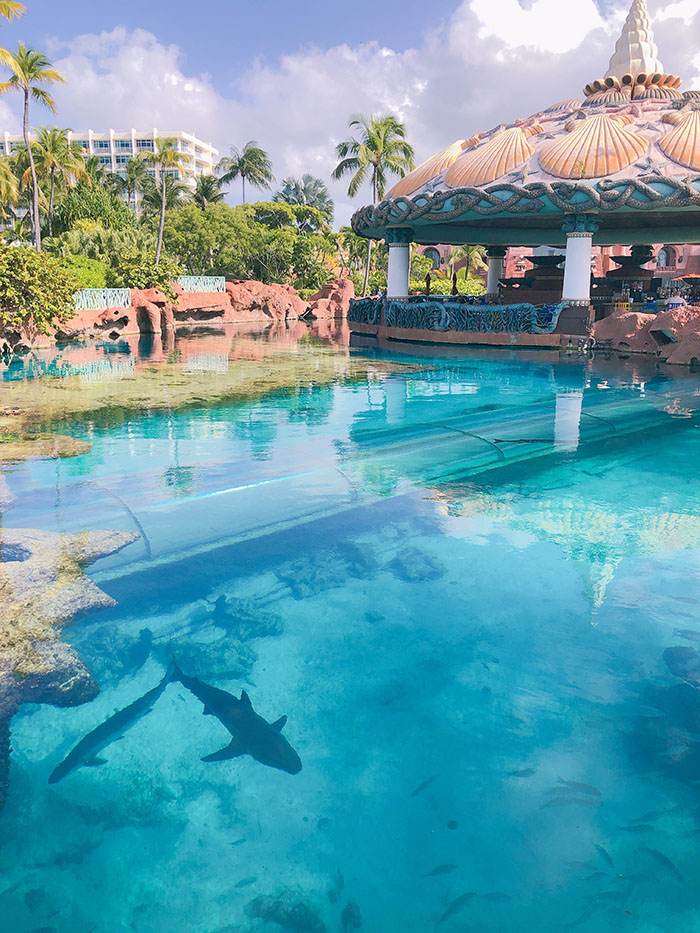 Our Trip to the Bahamas
Just 50 miles off the coast of Florida, the Bahamas are the closest island paradise to the US. Yet with 700 different islands, it can be hard to pick which island is the best island in Bahamas for families. New Providence Island is our favorite because it's where Nassau and Paradise Island are located. There are so many things to do in Nassau Bahamas with Kids.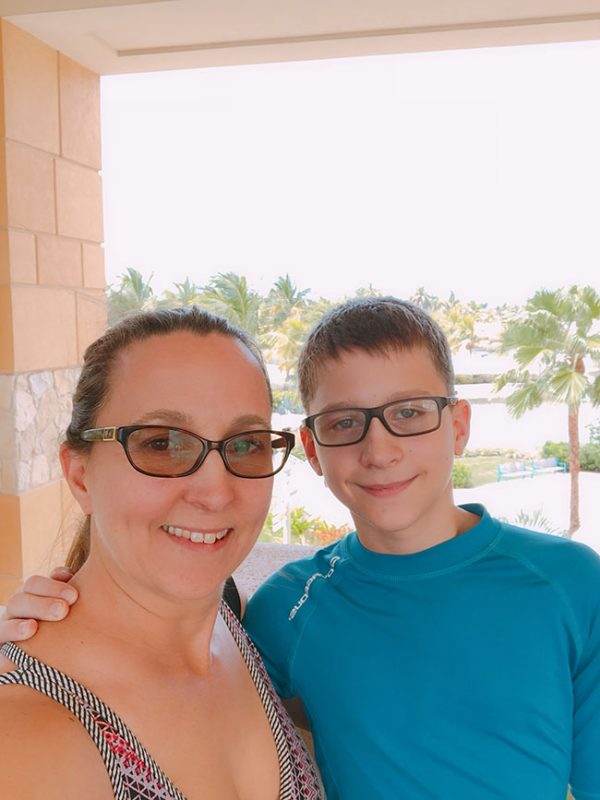 Took My Son on a Nassau Bahamas Vacation
Recently, my youngest son (age 12) and I returned to Nassau for a 4 day media visit filled with animal encounters, delicious food, and copious amounts of fun in the sun. Last time, we made a day trip during our Disney Cruise and strolled the downtown Nassau area. It's really hard to get a feel for the island in just a few hours, especially if you are just downtown. This time we flew in, stayed one night at the Grand Hyatt Baha Mar, and two nights at the Comfort Suites Paradise Island. We got to explore more of Nassau and Paradise Island.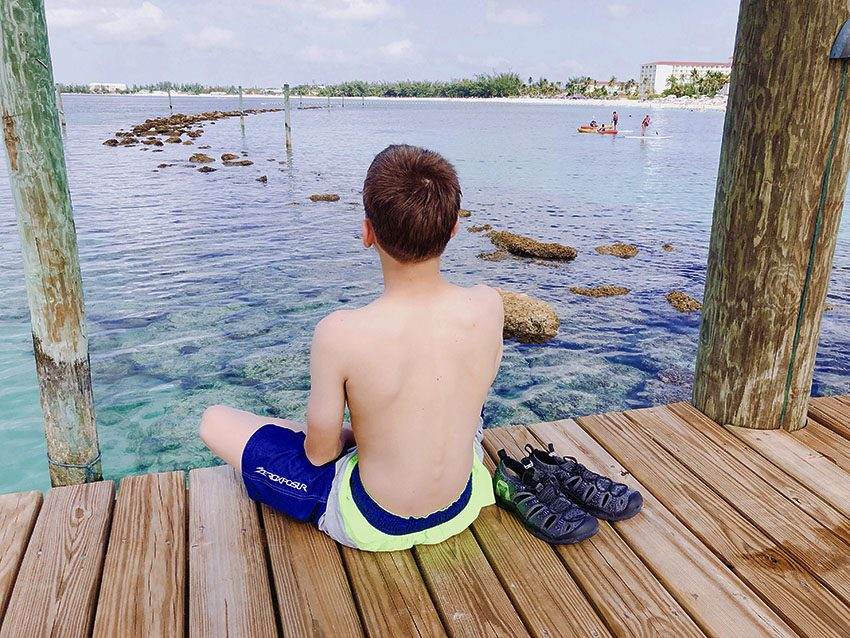 Where to Stay in Nassau and Paradise Island with Kids
New Providence's most famous Bahamas family resort is undoubtedly Atlantis on Paradise Island. You see the pink towers and you instantly recognize it. Many don't realize that Atlantis is actually not just one resort, but several each catering to a different type of traveler and budget. The island as a whole as every type of resort and accommodation style imaginable ranging from all-inclusive to budget, and small scale to mega hotel.
We stayed one night at the Grand Hyatt Baha Mar and two nights at the Comfort Suites Paradise Island next door to Atlantis. This Comfort Suites offers full access to all of the Atlantis resort amenities including the waterpark Aquaventure. We loved splitting up our stay like this because we got to explore more of the area without feeling as though we were rushing to get somewhere.
What We Loved About Grand Hyatt Baha Mar
The resort pool complex at the Grand Hyatt Baha Mar is one of my all time favorites. The layout is carefully planned so that even on a busy day, it didn't seem crowded. Guests can enjoy several pools scattered around the property.
The favorite pool has to be Dean's Blue Hole, a swim through cave that features aquariums along the back wall. You can swim up and see sharks!! Another thing I loved is access to their private Island called Balmoral Island. Its beach club atmosphere is perfect for families.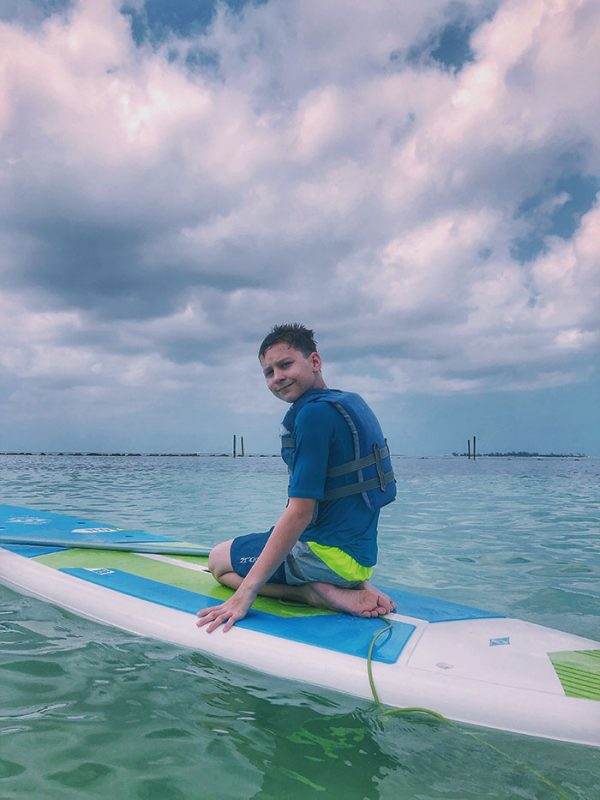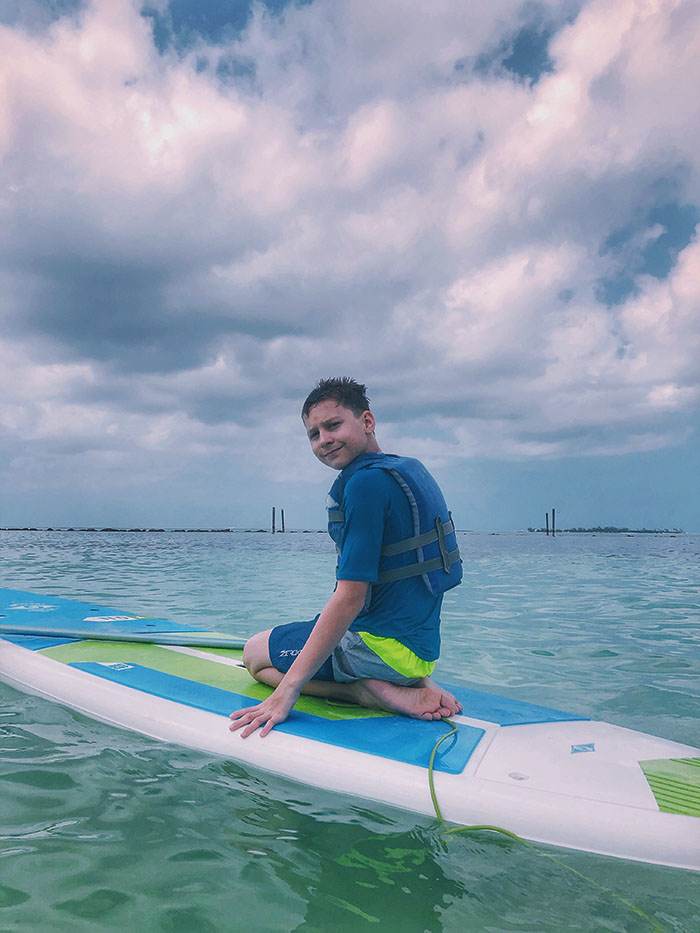 We also love that most of the self-propelled water activities were free. That means we could use the resorts kayaks, paddle boards, snorkeling gear, etc and it was complimentary.
What We Loved About Comfort Suites Paradise Island
One of the biggest perks at this all-suite hotel is that guests get full privileges to Atlantis including admission to the Aquaventure waterpark.The Comfort Suites rooms are spacious and provide families plenty of room to move around. The complimentary hot breakfast is also a nice benefit.
Don't forget to pin this, and to sign up for our Newsletter to get access to our FREE family travel packing list, destination guides, travel tips, and more!
What to Do in Nassau Bahamas with Kids
Enjoy Grand Hyatt Baha Mar
For families like ours who enjoy the outdoors, the complimentary amenities are reason enough to stay here. Guests enjoy complimentary use of stand up paddle boards, canoes, kayaks, and water loungers on the beach. If you want to go snorkeling, there is gear you can use too! Visit the BEACH Sanctuary for their touch pool exhibit and to learn about the resident sharks, turtles, and stingrays. I've already mentioned this hotel's pools, but it bears repeating that they are pretty fantastic!

The food options here at Grand Hyatt Baha Mar run the gambit with over 30 restaurants. Although I'm not normally a fan of food buffets, I really enjoyed the Regatta Buffet here. It provided me with my first taste of Conch Fritters and other island flavors. The options here are fresh and it's very easy to eat healthy for breakfast and dinner. The outside food trucks housed in Airstream trailers are quirky, but the food is very good.
Spend the Day at Balmoral Island
This private island, directly across from the Grand Hyatt Baha Mar, is a must for families. Be sure to bring your snorkel and fins for snorkeling. Just off the beach there's a rocky barrier in 6 feet of water. There the water is crystal clear and we saw several species of fish including tangs, damsels, wrasses, squirrelfish, and even a barracuda. The island offers a full kitchen so you can enjoy a full menu of local flavors including conch fritters.
Note: Balmoral Island is open to day use visitors. So when the cruise ships arrive in Nassau, the crowds here and other places around the area increase. We reserved one of Balmoral's one cabanas that gave us a large designated space to ourselves. It also included beverages, water floats, and other amenities that are really enjoyable to have.
Do A Dolphin Encounter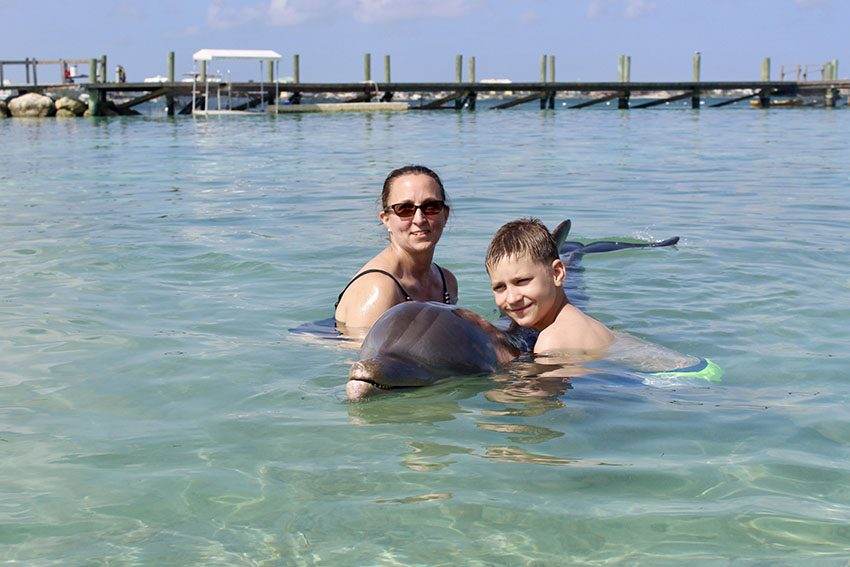 While at Balmoral Island, sign up to do one of their dolphin encounters. Trainers take you into the water where you get up close to Atlantic Bottlenose Dolphins. You'll learn about these beautiful animals, about their care, and good marine stewardship.
Take a Hi Speed Boat Tour of the Area
If we have a choice between a leisurely jaunt and going fast, we will go faaaaaast every time. After our visit to Balmoral Island, we boarded a charter boat for a hi-speed tour of the bay. What a fun way to learn a little history and see other sights. Just hold onto your hat! There are a number of boat charters you can choose in the area.
Explore Atlantis and Enjoy Aquaventure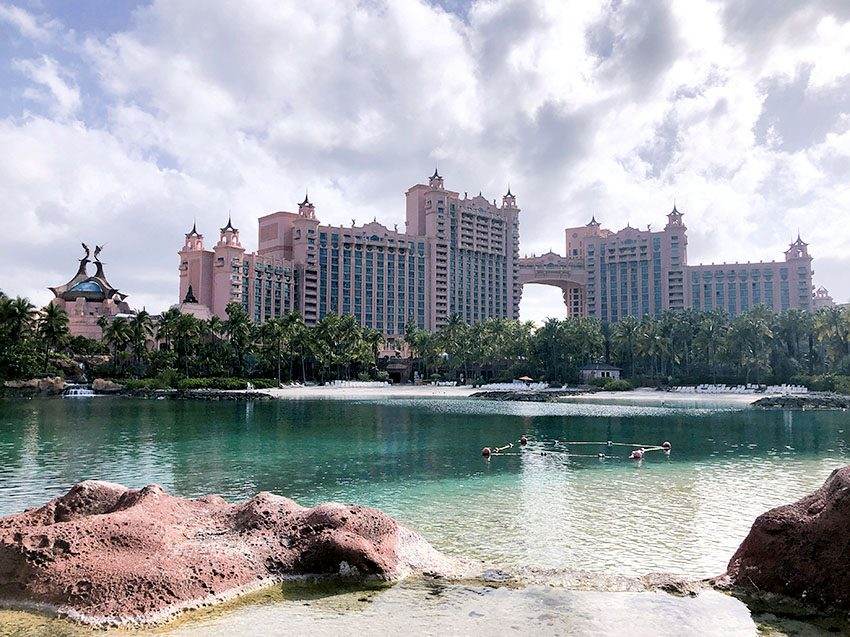 Atlantis is a whole other world and a must for your Bahamas family vacation. Be sure to view the aquariums at The Dig, play on the beach, ride the waterpark rides, and just walk around the property. This place is HUGE and it's easy to get lost until you find your bearings. I was turned around a few times, but always managed to find my way to Sun & Ice, the ice cream shop inside the Coral resort. It's easy to spend your entire day here, if not several days, at Aquaventure. To beat the crowds, try to get here early in the day and enjoy the rides before there are any lines and get a lounge chair or two. We found that back my the lockers and one of the exits to the Rapids River (lazy river) was a great spot.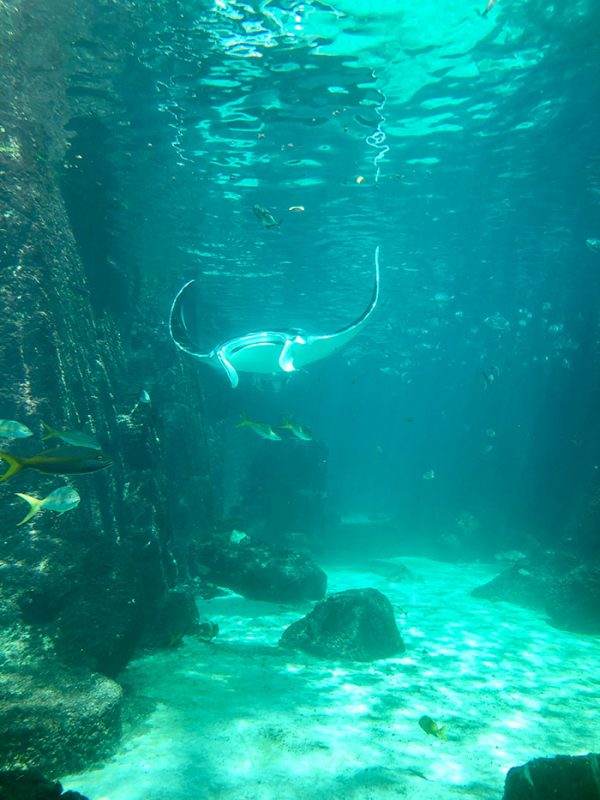 Be sure to check out my tips on what to pack for a waterpark including a FlexSafe to keep your valuables safe.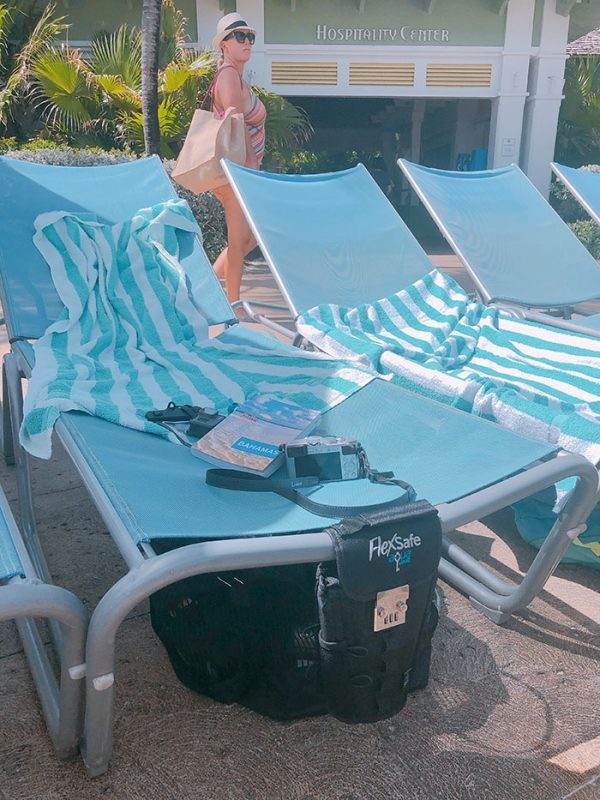 Note: When staying at the Comfort Suites Paradise Island you get full use of the amenities at Atlantis, but note that to get your wristbands for Aquaventure and the guest only areas, you need to arrive before 4pm.
Explore Marina Village
Across the street from The Coral, one of the Atantis resorts, you'll find this quaint shopping and entertainment district. There are great resort clothing stores, souvenir shops, a candy store for kids, ice cream parlor, and more. The second and fourth Saturdays of every month bring local artisans to the village for the Art Walk. You can pick up locally made items or just browse and listen to live music. On select nights, catch the Junkaroo parade, a lively display of music and Bahamian culture.
For dinner Frankie's Gone Bananas is a great place for families and groups. The atmosphere is very island-esque with live music and local flavors. These are by far the best conch fritters in the area. If I'm wrong, I'll go back and do more "research".
Take a Morning Stroll in Versailles Garden
These landscaped gardens and remains of a 13th century monastery are one of the unexpected finds in Nassau. I read about them in the Moon Guide Bahamas, but never imagined what I'd find down the street from the Comfort Suites. It's a beautiful area and perfect for family photos while you are here. Kids may not be too enthusiastic about seeing flowers and statues, but you can promise donuts from Dunkin Donuts when you walk back. It's definitely something all should see.

Need Help Booking your Bahamas Family Vacation?
A trip to the Bahamas can be expensive for a family. If you are looking for places to help plan a family trip on a budget, be sure to check out our Travel Deals Page. I list my favorite sites to save on airfare, tours, car services/shuttles, and hotels. I have found some of the best hotel deals for Nassai on
Want More Nassau Bahamas Things to Do With Kids?
There are so many things to do in Nassau with kids that you can't possibly do them all in 4 days. You can visit the local tourism office's website at www.NassauParadiseIsland.com to learn more. Although we didn't do these attractions/activities, other visitors say they are definitely worth keeping out when you are here.
Fort Charlotte
Ardastra Gardens
Graycliffe
Pirates of Nassau Museum
Straw Market
Arawak Cay Fish Fry
Queen's Staircase
Parliament Square