Water parks are great family fun! It is a great way to spend a summer day and cool off at the same time. Whether you are going to Disney's Typhoon Lagoon, Schlitterbahn, or your local water park, you'll want to ensure that you have everything you need when you get there. So we have put together this guide with tips for visiting a water park including what to wear, what to pack, and tips on how to protect your phone.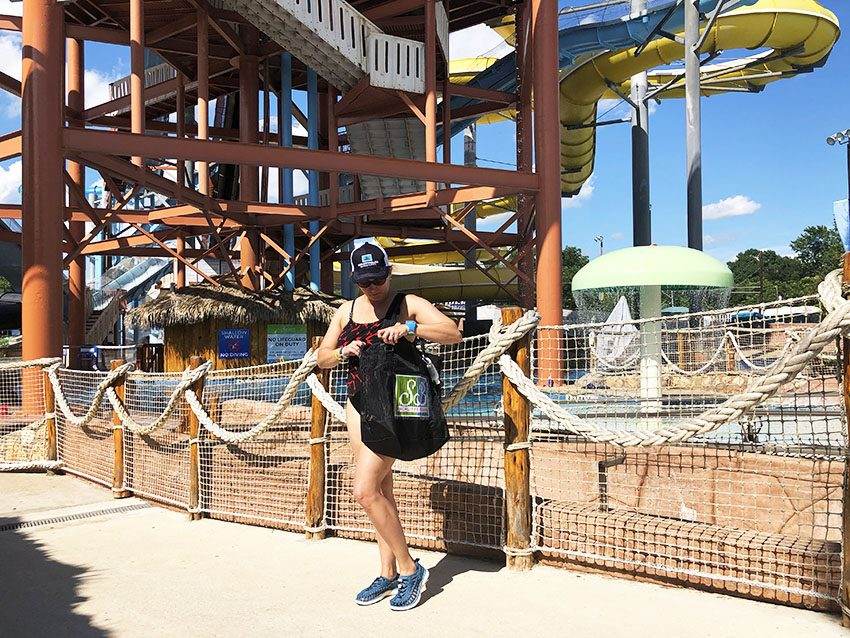 What to Wear to a Water Park?
On the way to and from the water park, we like to wear comfortable clothes or a swim cover-up over our swimsuits. The boys will usually wear their swim trunks and a t-shirt or rash guard to the park and then change into shorts on the way home. My daughter and I usually just do the cover-up or a tunic all day. My cover-up and swimsuit , shown below is from Miraclesuit and together looks like a skirt and top, so I wear this to water parks. Another company I really like is Title Nine, who I featured in this eco-friendly clothing/gear guide. I love their cover-ups and swimsuits for both me and my daughter.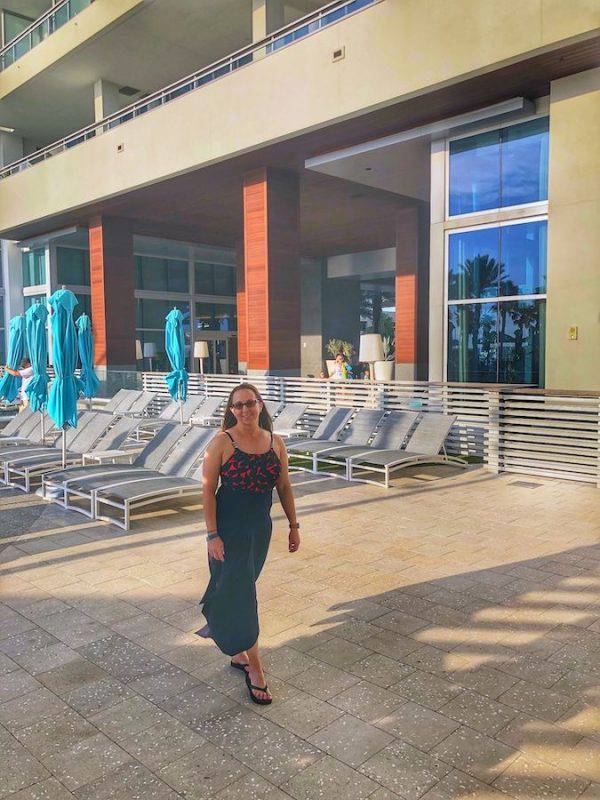 Check out miraclesuit.com and use PROMO CODE – MSAFF15 to save 15% off your order.
Even if we are spending the entire day at a water park, we like to wear loose fitting clothing or a cover up as added protection against the sun. If we aren't out riding rides or swimming, you will usually cover up to prevent sunburn. A hat helps too!
What to Take to a Water Park?
So what will you bring to a water park? If you have kids, it can feel like you need everything plus the kitchen sink. But that really isn't the case. At a minimum you should bring these 7 things. If you have small children who are still in diapers, add swim diapers and your diaper bag with everything you would take for a day out.
1. Water Park Bag
Let's start with your bag. Most any bag will do, but I like to bring two bags. The first is a big tote with mesh sides because I do not my bag to smell like an old gym bag. I want anything wet, clothes, towels, etc., to air out. Plus a big bag like this is spacious enough for everything I pack into the park, minus an ice chest. The one shown in the picture is one I got on a trip to Schlitterbahn New Braunfels. You can find other mesh beach bags at Amazon.
The second bag is a waterproof bag. I use it to place any dry clothes I don't want to get wet. I bring this one from SealLine. It's the same one I take camping and hiking.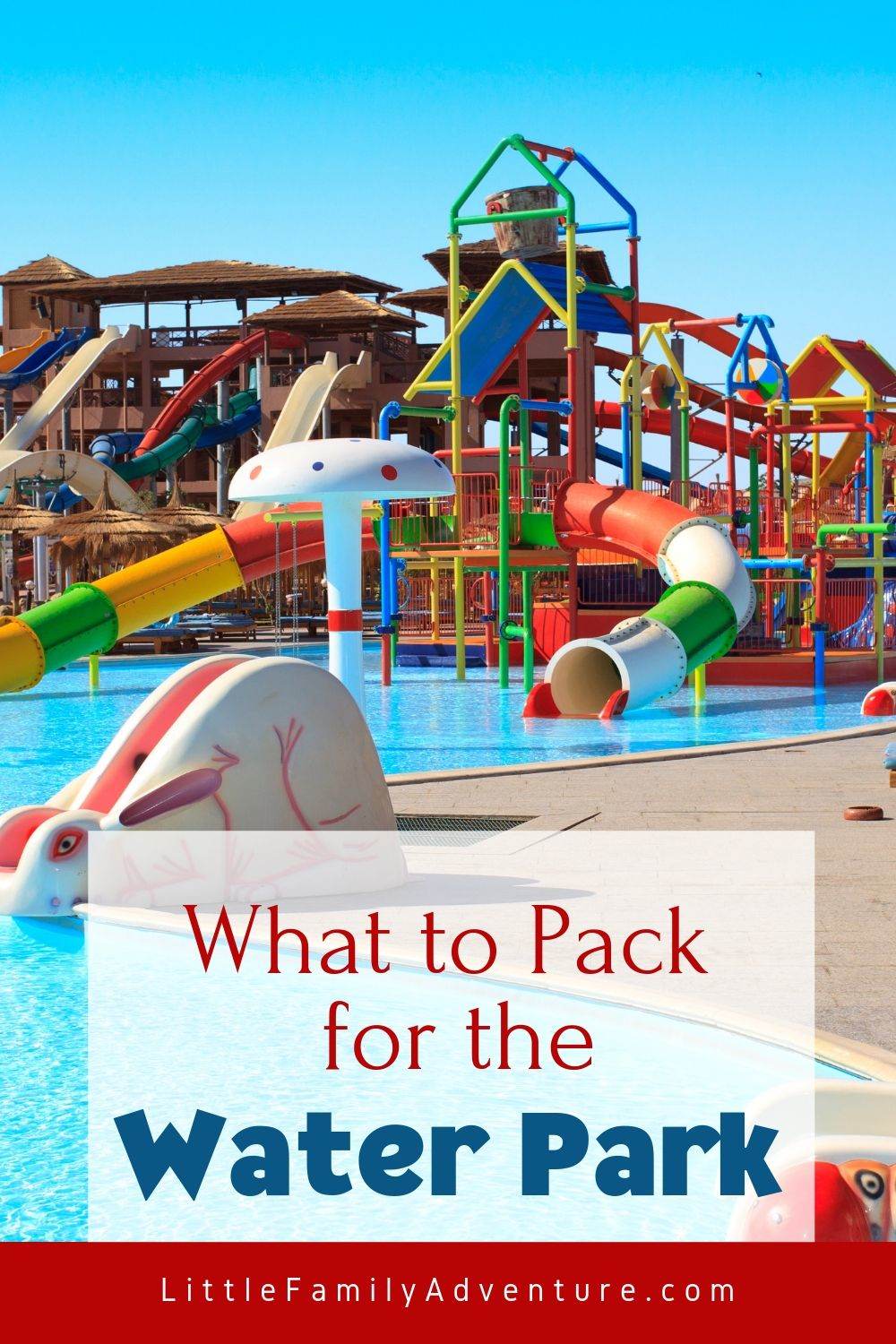 2. Swimsuit
The key to the perfect water park bathing suit is it being comfortable. The boys always opt for trunks. My daughter and I opt for a one piece. Bikinis are find for poolside or at the beach, but we don't want any embarrassing moments at the bottom of a water slide. For women, I love the suits from MiracleSuit that offers a full range of suits that help me look 10 pounds littler. For my daughter, I love to shop for suits at Title Nine and REI.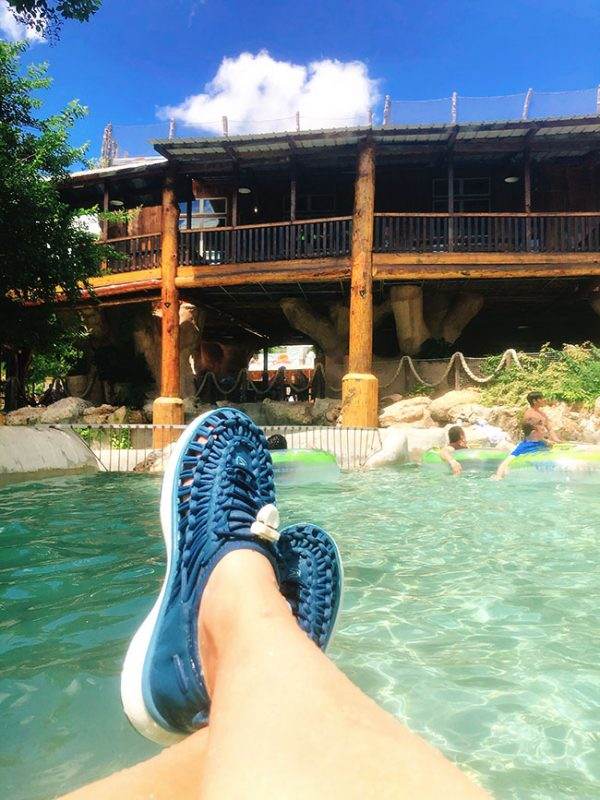 3. Water shoes
The pavement and walkways at outdoor waterparks can get very hot and in some cases slippery. Wearing shoes that can get wet help protect your feet and avoid falls. Most water rides will not allow flip flops on rides, so you should choose water shoes that slide on and don't slip off. Our family is a huge fan of KEEN shoes. These are the ones we have and use at the waterparks.
4. Mineral Based Sunscreen
Whenever you are outside, you want to protect your skin with a mineral based sunscreen. Forget the chemical laden brands that take the varnish off furniture. (If you want to hear this story, email me or read this article on giving chemical laden sunscreens the bird.) Choose a lotion or spray that has natural ingredients and apply it every hour. Here are 4 of the brands that we use/have used and recommend.
Did you know that your skin shouldn't look white or streaky when using mineral sunscreen? That sunscreen ghost look means you aren't applying correctly. I have easy tips on how to apply mineral sunscreen here.
5. Water Bottle
Hydrate, hydrate, hydrate! You may be around water all day, but it's easy to forget to drink plenty of water throughout the day. Carry a refillable water bottle and drink often.
6. Healthy Snacks
If the water parks allows it, I bring my own healthy organic snacks. Playing in the water and sun really works up an appetite. So at a minimum, I'll bring fresh or dried fruit, unsalted nuts, and crackers.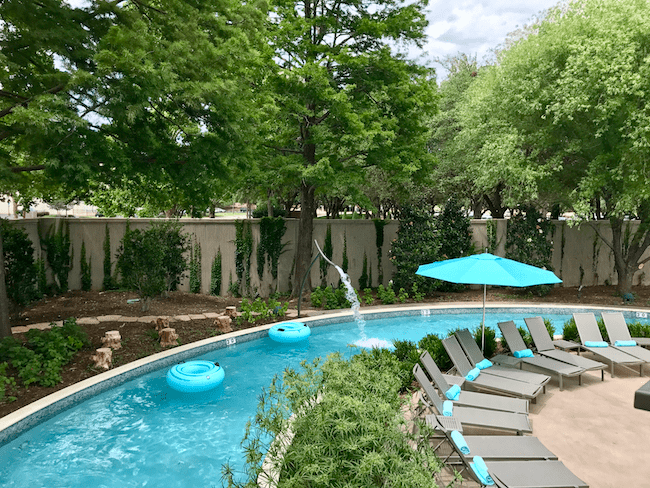 7. Towels
Some hotel resort pool complexes like the Hilton Anatole's JadeWaters provides pool towels free of charge. Yet most water parks rent towels if you don't bring your own. In the past, I was all for the huge, fluffy beach towels. But recently I was introduced to these thin Turkish cotton towels. They are much thinner, absorb water extremely well, and dry quickly.

Arrive Early
Like with all theme parks visits, getting here early is a big bonus. You beat the crowds, enjoy the park before the heat of midday, and secure that all important beach chair or lounger to serve as your meeting or rally point. Getting to the park 20-30 minutes is enough to get you a parking spot closer to the front and entry before others.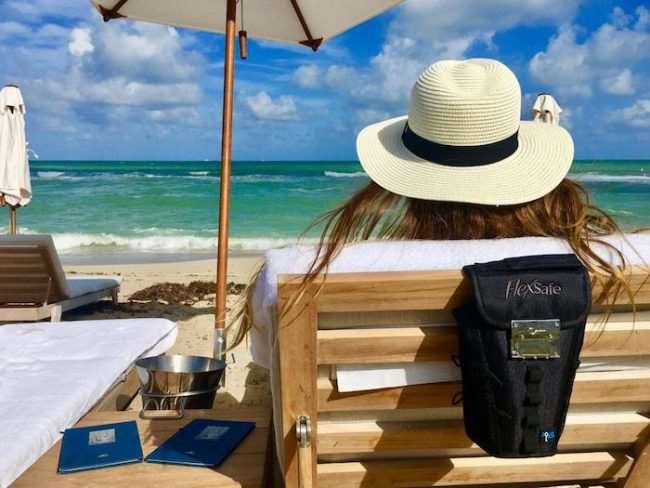 Secure Valuables in Portable Safe
You will likely find a central point in the park to drop your bags and shoes. If you don't want to rent a locker, protect your valuables inside a portable safe. We have thisFlexSafe by AquaVault. It wraps most any support bar like a lounge chair, beach umbrella, chair, or bicycle frame. You add your credit cards, phone, keys, etc., zip it up, and secure it. It's great piece of mind.
How to Protect Phone at Water Park
To protect your phone against water damage, you need a waterproof case. I have tried several, but I got this one from Seawag when I was in New Braunfels. Others I tried couldn't fits my iphone X with a protective case and pop it button. The Seawag fits, takes great pictures, and has a watertight seal. I am really impressed with it. So when it comes to answering the question, "How to protect phone at water park?" I saw Seawag is the way to go.
Rent a Cabana
Splurge and rent a cabana on your next visit. There is an added cost involved with renting one, but the perks are worth it. When I visited Schlitterbahn New Braunfels, a group of us had a cabana. It came equipped with bottled water, beach towels, fruit plate, ceiling fan (really nice on a Texas summer day), locker for valuables, big screen TV, and an attendant to assist with food or other needs.
So these are the 9 things I pack for a water park visit. Are there other things you bring in addition to these? If so, I'd love to hear about them. Drop me a comment below.
Pin one for later….