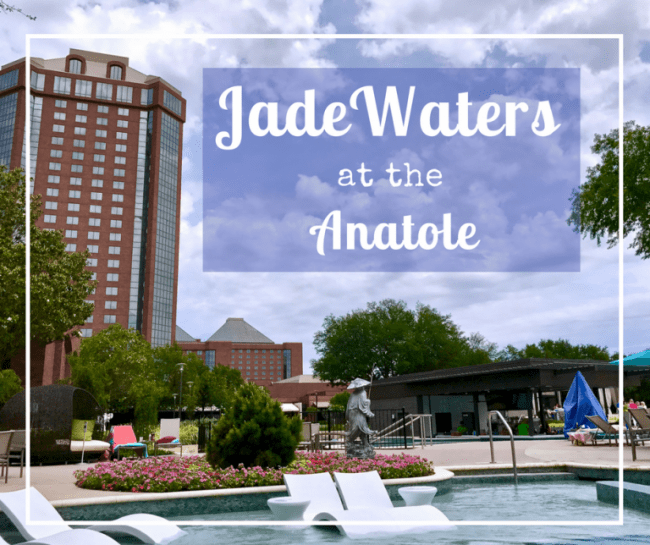 It's fun to get away, check into your favorite hotel, and have a relaxing weekend away. But during the heat of the summer, you also want a place to stay cool. When we go to Dallas, we enjoy staying at the Hilton Anatole. In July 2016, they opened their new resort pool complex, JadeWaters at the Anatole. Guests love this 2 acre summer oasis featuring a lazy river, water slides, pools, and a host of family-friendly activities. It is the perfect place to escape the Texas heat in Dallas.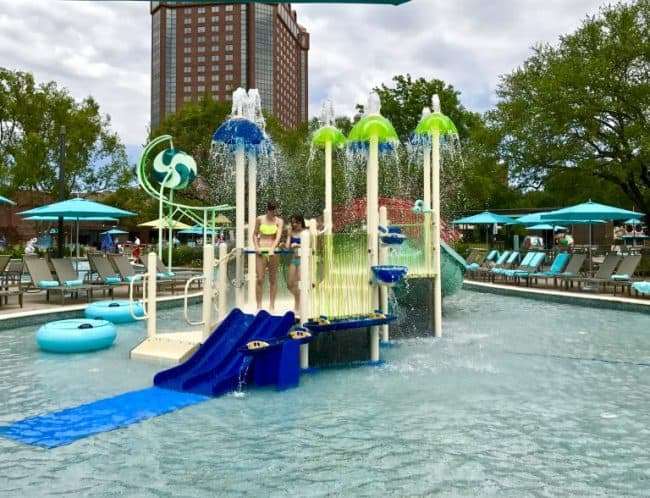 JadeWaters at the Anatole
Now JadeWaters is about to begin their first full season in 2017.  They official open Memorial Day Weekend through Labor Day. During their soft opening, I was
invited down to Dallas to see for myself what they have planned for families this year.
The Anatole's Director of Recreation, Ta'alolo Puni Pa'u Jr., came to the Hilton Anatole from Disney's Aulani Resort in Hawaii. He brought a little magic with him and it shows in the experience he and his staff have created for guests. He talked about many of the features Hilton has added this year.
There are more scheduled activities, new amenities, and a new menu all designed to give guests a great summer getaway.  Last year, they offered 4 activities. This year they added 17 more ranging from puppet shows to a S'Mores Party for the kids. For the adults, they have upgraded the menu to add more elevated food, an adult pool, and a swim up bar.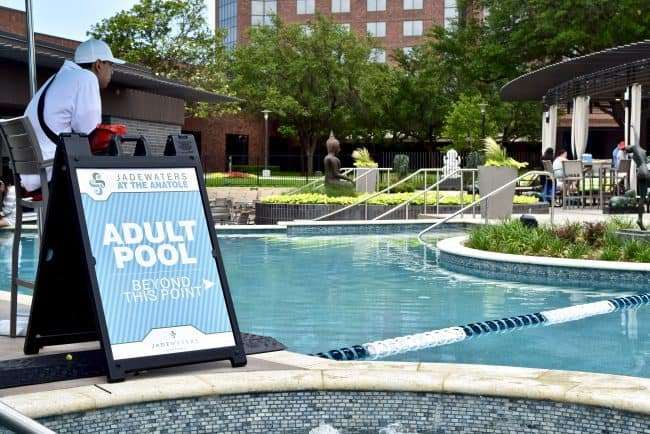 Fun Fact: 300,000 gallons of water is used throughout the JadeWaters complex.
I was happy with the new additions they made for both kids and adults. There is something for everyone to come, have fun, and relax your time away.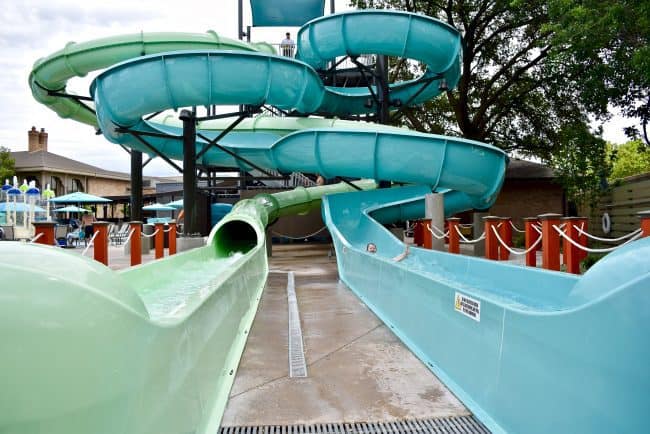 Fun for all Ages
The kids are going to love the lazy river and resort's 2 water slides.  Each will provide hours of fun for everyone. I know when we come back in a few weeks, my youngest will be found on these slides. But if, you or the kids want to get out of the water, there are plenty of planned activities and games for all ages. There are games on the lawn (a few shown below) and a sandcastle dig available everyday.
On the weekends, there are more planned activities, pool parties, happy hours for kids and adults, and movies under the stars. This is the schedule I received during the soft opening. It is subject to change, but you can see all of the activities you and the kids can take part in.
JadeWaters at the Anatole is exclusive to registered hotel guests and is included with your resort fee of $25 per room/night. The fee includes:
Self parking of one vehicle
Two Starbucks Drip Coffees per day
JadeWaters Resort Pool entry
Public WiFi internet access
Access to Verandah Club and classes (Ages 16+)
15% Discount on V-Spa services
Kids 12 and under eat dinner free in Media Grill and Counter Offer (one kids menu meal per adult entrée)
You can add extras like the Fun Pass (shown on the schedule above), rent a cabana or a day bed, and entree a meal or snack from the newly expanded JadeWaters Grill + Bar Restaurant.
New Elevated Menu Items 
(Starting top left and moving clockwise)
Shrimp Spring Rolls made with fresh Gulf Shrimp
Fresh Ceviche with Gulf Shrimp and Atlantic Octopus – marinated in house each day and served  with housemade Blue Corn and Regular corn chips (This was my favorite!!)
Buffalo Chicken Salad
Punch Perfect – Bacardi Dragonberry, Bacardi Limon, POM, in house sour mix
Not Shown:
Funnel Fries
Red Pepper Hummus with fresh made pita chips
Watermelon infused margarita
Sangria – Red & white wine with orange liquor, brandy, and a little lemon lime soda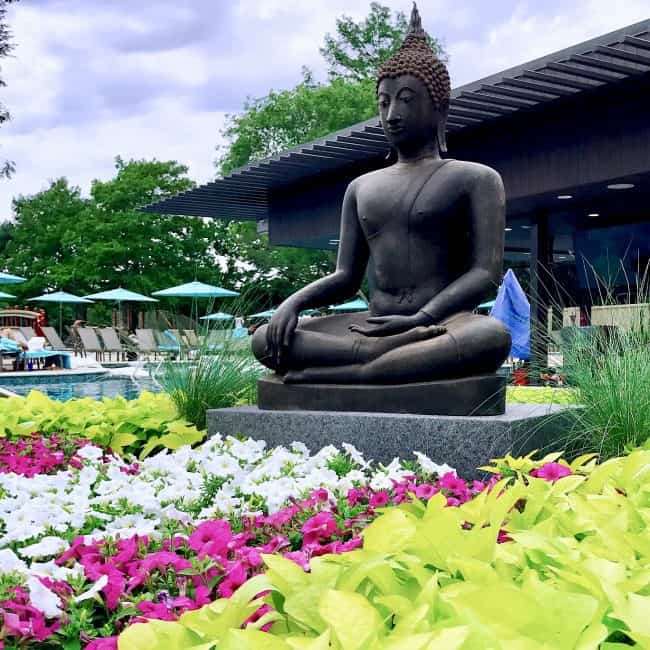 JadeWaters is the only resort pool complex in Dallas and is a great getaway for families. Whether you are coming in from out of town or looking for a staycation experience, this is it. Make plans now to visit the Hilton Anatole and JadeWaters because summer fun is bigger in Dallas. Visit Hilton.com for more information and to book your stay today.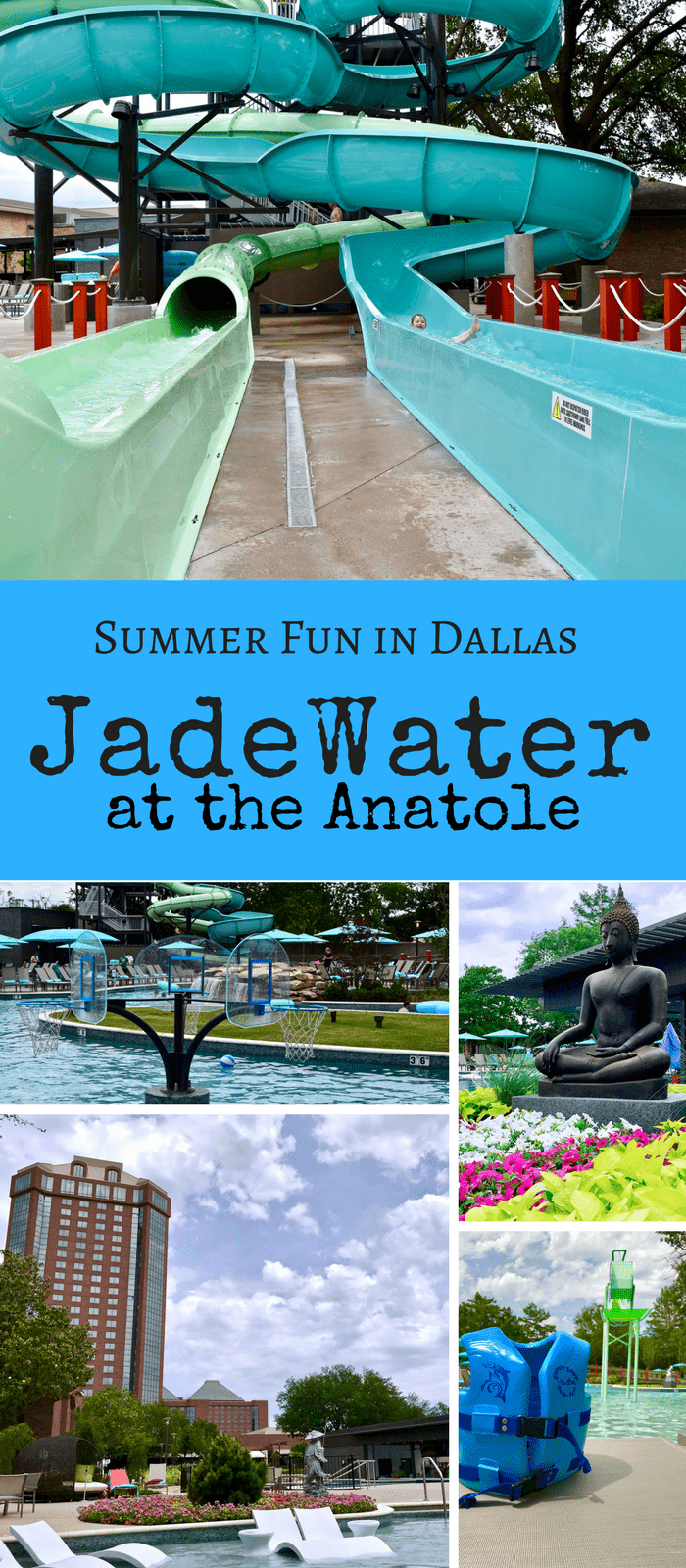 Disclosure This post was written in partnership with Hilton Anatole. As always, all opinions are my own.