Everything is bigger in Texas, especially holiday celebrations. The city of Dallas is one of our favorite family destinations because there are so many fun things for families to do. During the holidays, there are even more fun things to do in Dallas.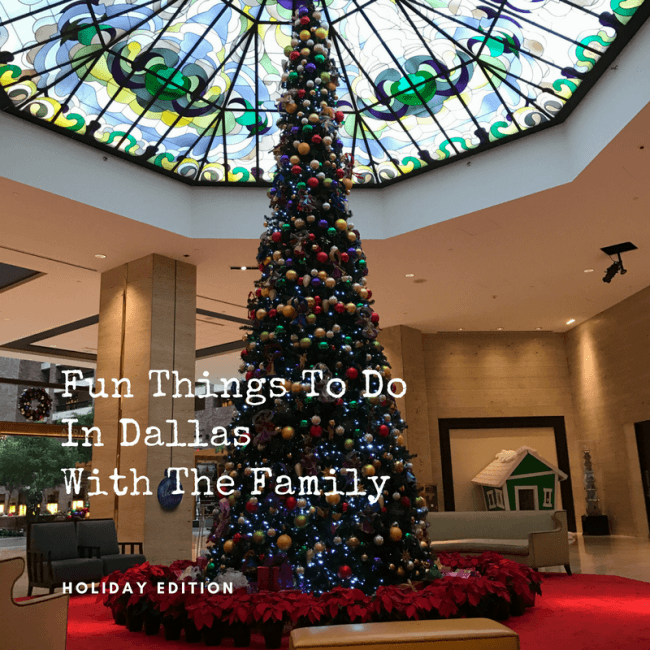 Fun Things To Do in Dallas
During the holidays, Visit Dallas teams up with area attractions and arts institutions to make the holidays even bigger and brighter.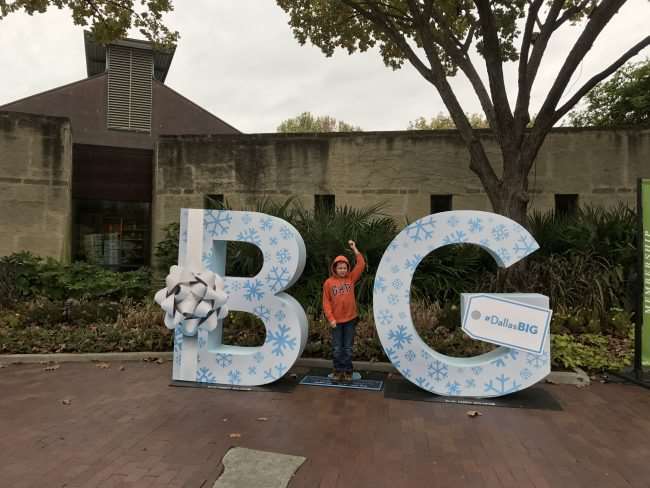 The "Big D Holiday" program features brilliant holiday displays, festive Christmas programs, and so much more. Visit Dallas recently invited our family to travel down and experience Dallas for the holidays. We love Dallas. So we gladly embarked on this holiday adventure filled with fun, holiday spectaculars, and of course a visit with jolly ol' St. Nick.
Christmas at the Anatole
When visiting any area, you want to stay in the heart of the activities. You want a place to rest your weary head after a full day of fun, but also be filled with activities. For us, the Hilton Anatole in Dallas was THAT place.

Dressed for the Holidays
The Hilton Anatole was our home away from home and the perfect place for celebrating holiday festivities. Right after Thanksgiving, the hotel was busy decorating for the season. A huge Christmas tree greeted guests in the foyer. Around the lobby, you found lighted Menorahs, nativity scenes, photo opportunity sets and houses, and fun scenes like Rudolph's Reindeer Barn. There was no better place to get into the holiday sprit than at Hilton Anatole.

Breakfast with Santa Experience
If the holiday decorations weren't enough, the hotel offers a "Breakfast with Santa" weekend experience. During our stay, we had a fun movie (Polar Express) night complete with a popcorn/candy bar, full breakfast buffet, visits from Santa and Mrs. Claus, a scavenger hunt, cookie decorating, and so much more.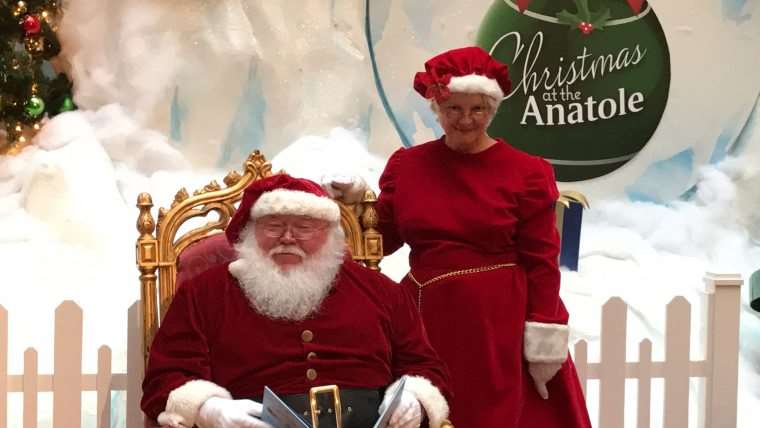 Dallas Zoo
Texas' largest and oldest zoo has more than 2000 animals. Our family loves visiting zoos and animal parks. We "Opted Outside" on Black Friday for a really fun day at the Dallas Zoo.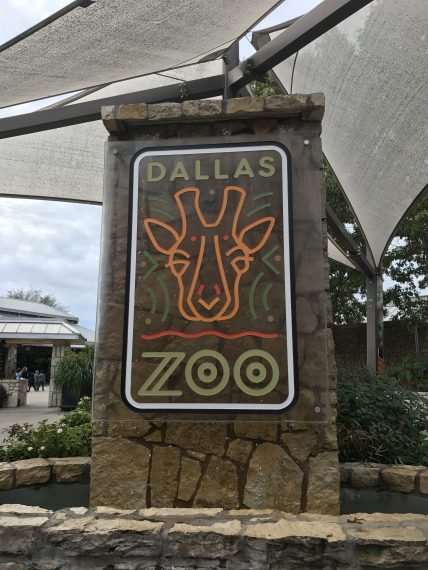 Giraffe Feeding
One of the unique experiences we enjoyed was feeding a giraffe.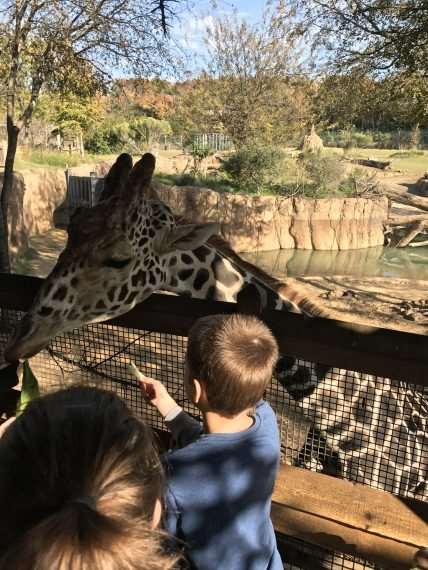 For $5, we bought several pieces of romaine lettuce and got to hand feed a giraffe. You don't realize just how big a giraffe is until you get up close and personal with one.
Great Animal Exhibits
The Dallas Zoo has great animals exhibits and experiences. Each of us had a favorite section of the zoo. The kids really liked the Elephants on the Savanah, reptile house, and gorillas. My husband really liked the size of the snakes in the reptile house and getting to watch the lions while we ate lunch at the Serengeti Grill. I really liked the Koala Walkabout. Having grown up near San Diego, I loved visiting their zoo as a child just to see the cute, cuddly koalas. The Dallas Zoo is just 1 of 10 zoos in the US to feature these Australian marsupials. We spent nearly the whole day at the zoo and still didn't see everything. We will surely go back, especially with their winter Penguin Days.

Penguin Days + $7 Admission
During the winter months, December 1st through Feb. 28th, the zoo offers Penguin Days and $7 admission. Guests can visit the African Penguins and all the other animals for just $7 per person. Visit DallasZoo.com for more information about this and other fun things to do in Dallas at the zoo.
Holiday at the Arboretum
Visiting the Dallas Arboretum and Botanical Garden for the holidays is a colorful adventure. At night, the gardens are aglow with over 500,000 lights for illuminating holiday displays. During the day, visit the colorful gardens and the12 Days of Christmas exhibit with life sized Victorian style gazebos each representing the 12 Days of Christmas.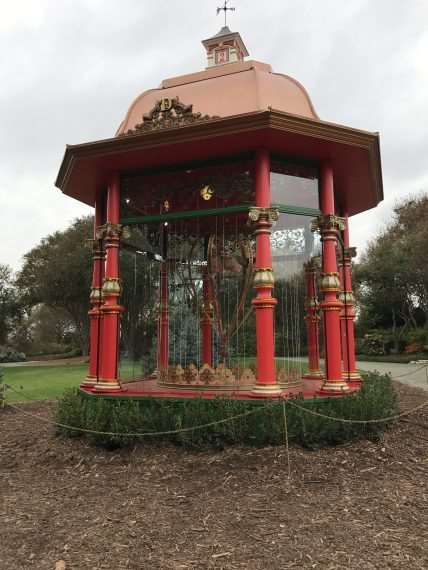 12 Days of Christmas
We toured the gardens during the day and found ourselves singing along to the different Christmas carols at each 12 Days of Christmas gazebo. A holiday scavenger hunt had the kids searching each gazebo for the featured picture. It was a fun way to get them to slow down to observe before darting off to the next gazebo.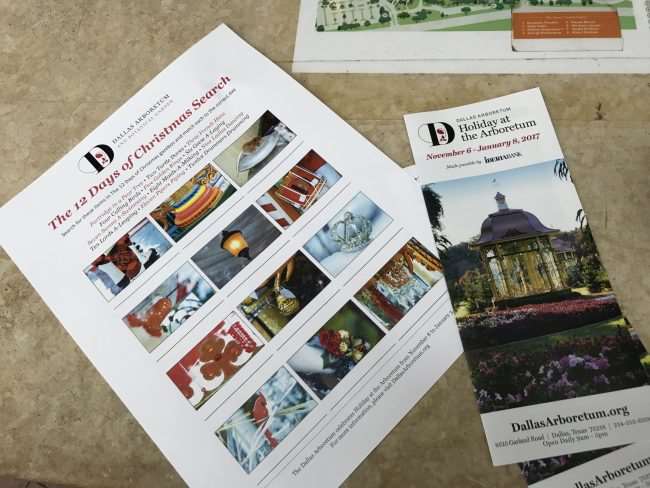 Holiday Family Fun
All winter long, the Dallas Arboretum hosts various holiday events from visits with Santa and holiday dinners to children's crafts and activities in the Rory Meyers Children's Adventure Garden. Starting in December, they will host various daytime choir performances. Local school choirs will perform as well as the Prose of Texas Music Festival. I love outdoor events like this and I'm a little sad we didn't get to see it. But no one said we couldn't come back.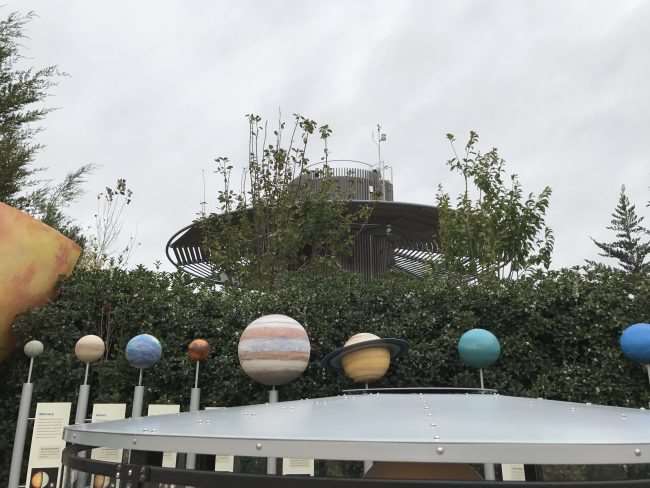 It was a little windy during our visit, so we didn't stay as long as the kids wanted in the Children's Garden. But in the spring, we are looking forward to going back and at just $3 admission, it's money well spent.
Check out Groupon for Two Tickets for Any 12 Days of Christmas at Night for $20.
Perot Museum of Nature and Science
The Perot Museum is one of our favorite museums in the country. From the stars to dinosaurs, you can find it hear. Their interactive exhibits allow the kids to get hands on for a full day of fun for families.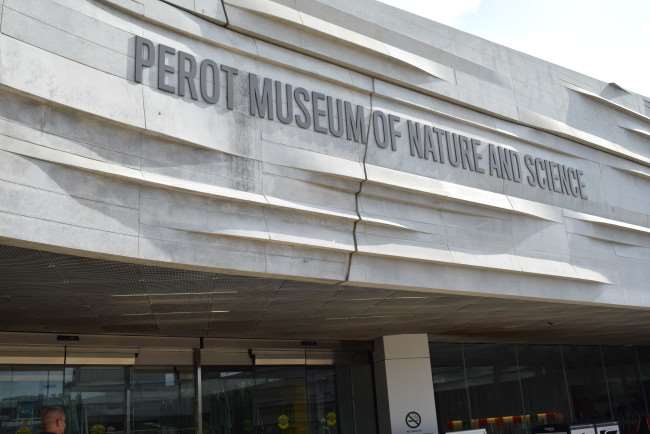 Giant Gems of the Smithsonian
Temporary exhibits at the Perot Museum are fantastic. The Smithsonian was exhibiting their Giant Gems during our recent visit. Although this isn't traditional holiday fun, the Perot Museum is a great place to escape the winter cold and have fun as a family.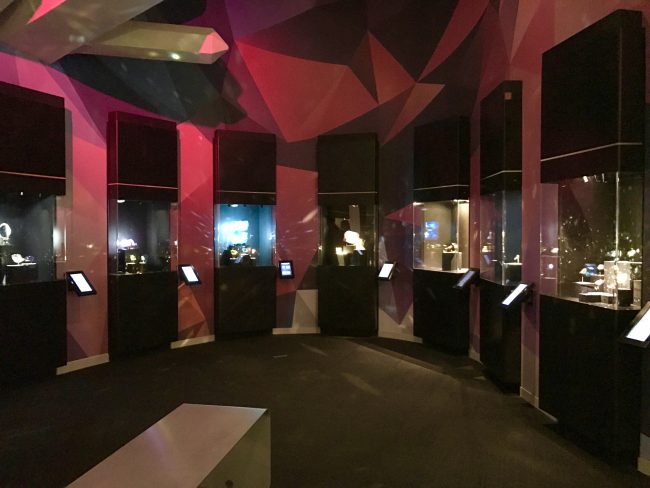 I always thought the life sized geode in the Lyda Hill Gems and Minerals Hall was impressive. But have you ever seen a gem over 20000 carats?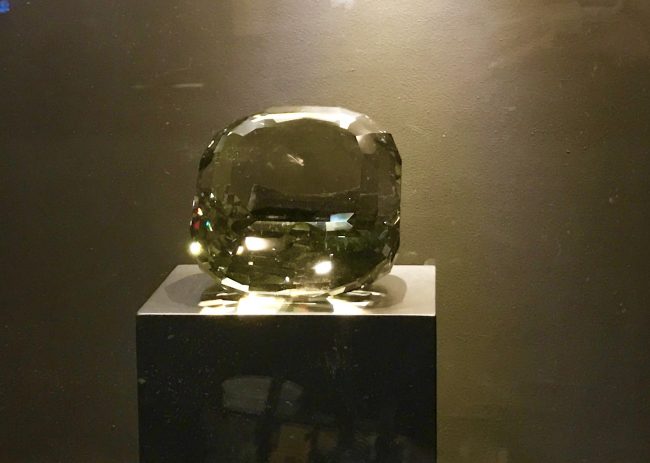 This American Golden Topaz is 22,892.5 carat to be exact. It weighs over 11 kg and was bigger than my forearm. It was HUGE!!!
George W. Bush Presidential Library and Museum
This year for the holidays, experience a touch of what Christmas is like in the White House. An all-new special exhibit, A Season of Merriment and Melody: Christmas at the White House 2004, will display holiday vignettes that decorated the White House during the Bush presidency, show behind the scenes photos, and more.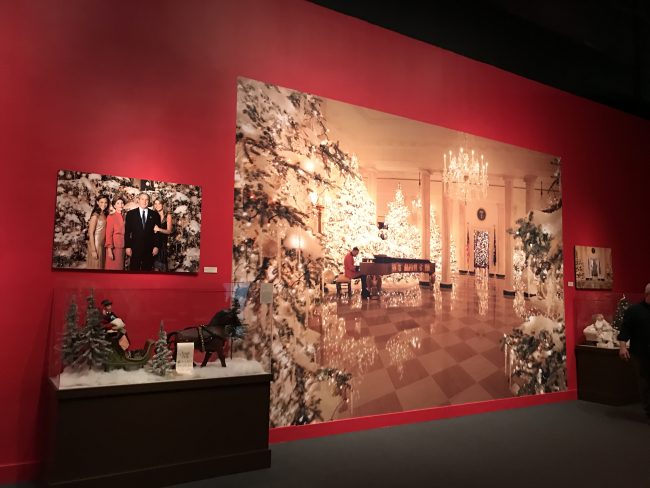 We had never been to the George W. Bush Presidential Library and Museum before. Located on the SMU campus, just north of downtown Dallas, it was a unique experience. The permanent exhibit walked guests through the Bush presidency from his first inauguration through 911 and more. There were short films, interactive displays, and an Oval Office replica. We all got a turn seating behind the president's desk. My youngest asked what the "red" button on the desk was for. He was assured by staff that it was just to call a Presidential Aide. He pushed it anyway and found that nothing happened.
The Nutcracker Ballet
Few things allow you to experience the holidays quite like the Nutcracker. The story of a little girl and her nutcracker that comes to life is a holiday classic. We went to the Winspear Opera house in Dallas to see this ballet performed by the Texas Ballet Theater.
We all loved the ballet. Our daughter dances and has loved taking ballet for several years. Even the boys enjoyed the performance. I think it's important to see plays, ballets, live performances and theater as a family. It gives you an experience a movie can't give you. The Nutcracker is one of my favorite ballets and I could see it again and again!
GeO-Deck at Reunion Tower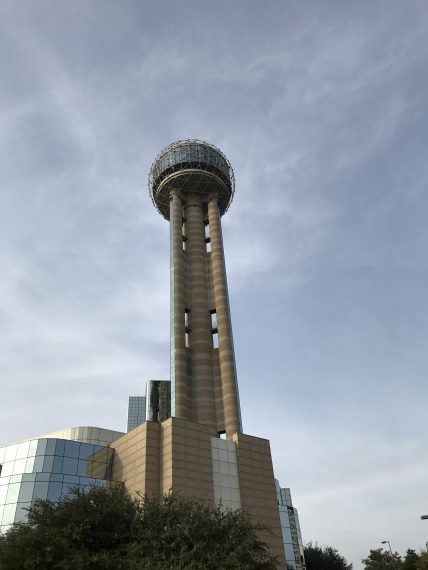 A trip to Dallas isn't complete to Reunion Tower. This Dallas landmark is 561 feet tall and gives visitors a 360 view of the city. During the holidays, you can visit with Santa on Saturdays or see furry creatures courtesy of the Dallas Zoo on Sundays.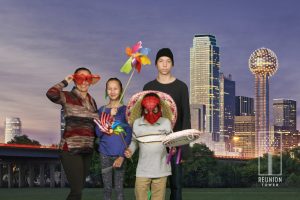 High above the city, we enjoyed being goofy and then talking with Santa. The sky deck atop the tower is complete with interactive monitors to help you understand what you are seeing and tell you more about the city. It was a great experience!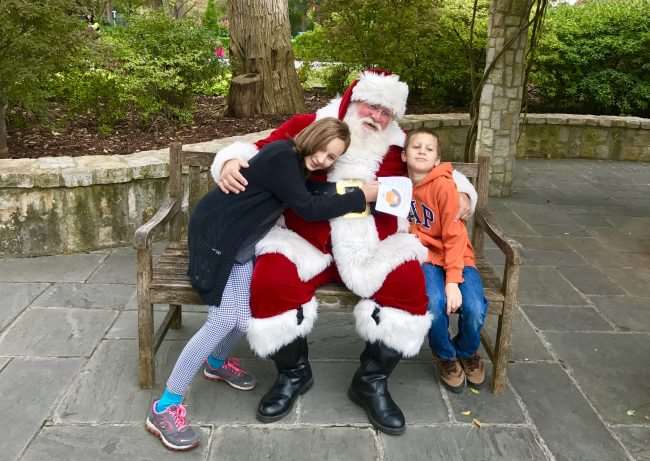 Dallas is filled with great holiday things to do with your family. See what fun you and your family can enjoy there this year. VisitDallas.com is the place for holiday information, events, and a listing of more fun things to do in Dallas with your family.
A BIG Texas sized "Thank You" to the Dallas Convention and Visitors Bureau for making this trip happen for us. We received a hosted stay in Dallas at The Hilton Anatole and received complimentary tickets to experience the holiday fun things to do in Dallas. All opinions are our own and we are happy to share the great time we had in Big D.