What are your family traditions? We all have them. It could be an annual activity, a special meal, or a sequence of events. Around the holidays, family traditions become even more important. It's a special time to gather together and celebrate. Easter is nearly here and there are several family traditions that are important to us. Do you have any special Easter traditions? Every year we look forward to decorating hard boiled eggs, watching the kids hunt for Easter eggs, and gathering together for a BIG family meal. With the help of ALDI grocery stores, this year I'm creating a large, healthy, Easter dinner on a budget.
Growing up, I remember joining my family for a large Easter meal. It was usually my grandparents, my two aunts and their families, and my family. We would all sit down to a large family meal about mid day. All the adults would sit together and then all my cousins and I would sit at the "kids" table. It was always a lot of fun. Now as a parent, I want my children to grow up with those same family traditions. Unfortunately, we don't live as close to family as I did growing up. Luckily, we have great friends and neighbors, who may not be blood, but are just like "family". So now, we host Easter dinner at our house and friends and neighbors join us for Easter and other large meals.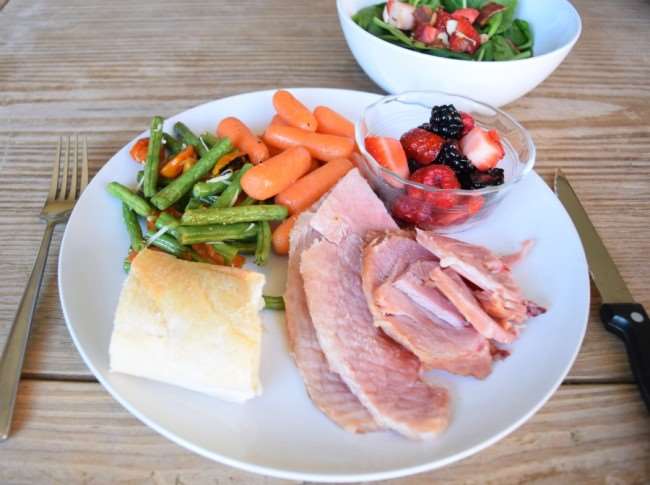 This year, I had am making a large meal for 12 people. On the menu are
Glazed Spiral Cut Ham
Honey Glazed Carrots
Roasted Green Beans and Tomatoes with Parmesan
Spinach Salad with Warm Bacon Dressing
Triple Berry Salad
Warm baguette
While our family and friends arrive, there will be warm baked brie with raspberry preserves and toasted baguette rounds to snack on. One of the other families is bringing dessert. So I don't have to make one this year.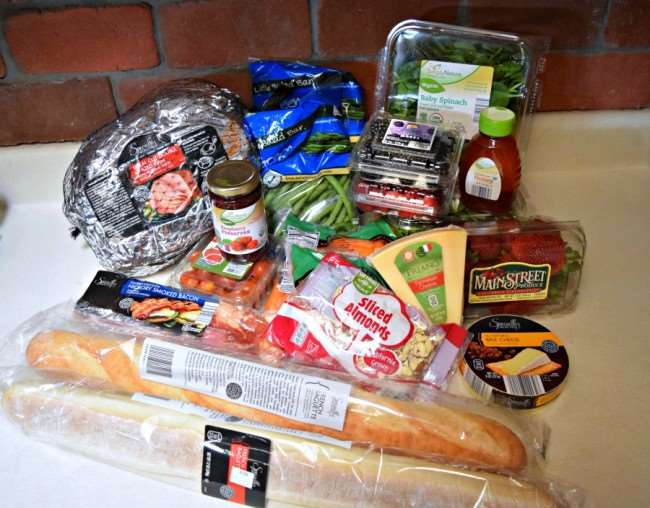 All of this year's recipes are healthy and easy to make. With the exception of the ham, all the recipes are made with whole foods, some using organic ingredients. With the help of ALDI grocery stores, I'm able to create a fabulous holiday meal on a budget.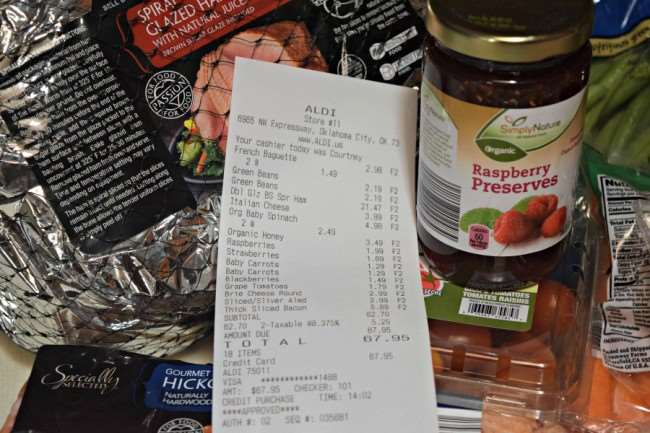 This year, my total came to just under $68. For 12 people, that comes to $5.67 per person. Plus I know that I'll have leftover ham for sandwiches, Spanish Tortillas, and other leftover meals.

Baked Brie with Raspberry Preserves
As guests arrive, it's always a good idea to have something available to snack on. I have been craving Baked Brie and toast points lately, so I decided that would make a tasty appetizer for Easter dinner. This is really simple to make. You'll need:
Small round of brie, wrapper removed


3 Tablespoons of preserves/jam of choice, I used Simply Nature Raspberry Preserves
Toasted bread sliced or crackers, I used Specially Selected French Baguette sliced into 1/4″ slices
To create this appetizer, preheat oven to 375 degrees F. Place brie wheel in a oven safe dish. Top with jam/preserves and place in oven. Bake for 12-15 minutes or until the cheese inside the rind is melted. Serve with toast points, bread slices, or crackers.

Glazed Spiral Ham
ALDI always has great prices on hams ranging from $0.99 to $1.99. This week, they had a special buy on Spiral Cut Double Glazed for $1.99 a pound. I decided to try this instead of the cheaper pork shank ham I usually buy. Since we had company coming for dinner, a pre-cut spiral ham, just made more sense. It will be easier to cut and serve at the table.
To cook the ham, I follow the package directions; tightly wrap the ham with aluminum foil and bake for 10 minutes per pound at 325 degrees F. Once finished, I'll remove the ham from the oven and remove the foil. To glaze the ham, add 3 tablespoons of water to the glaze ingredients and brush over the ham. Return the ham to the oven for 20 minutes at 325 degrees until finished.

Triple Berry Salad
1 pound strawberries, cut into bite sized pieces


1 pint blackberries, cut in half if large sized
1 pint raspberries
2 Tablespoons Simply Nature brand honey
Juice of half an orange, about 2 Tablespoons
Combine honey and orange juice until incorporated.
Place all the berries in a bowl. Add the honey and juice syrup to the berries and toss gently.
Refrigerate until ready to use.
Note: If you want to stretch this salad for more people without the expense of more berries, add 3-4 largely chopped apples. It adds a nice texture and crunch to the salad.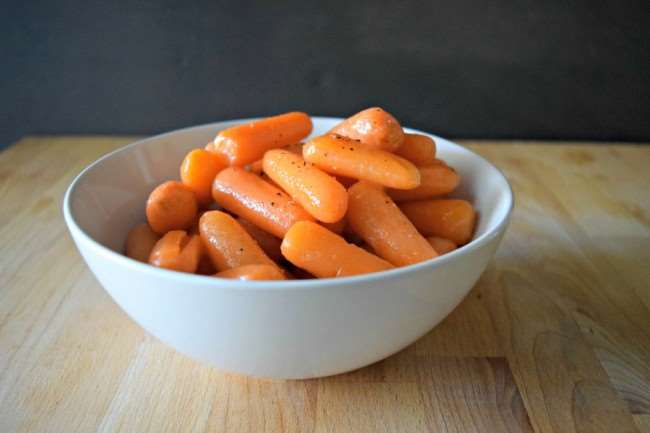 Honey Glazed Carrots
2 pounds baby carrots
2 Tablespoons butter
2 Tablespoons Simply Nature brand honey
Salt and Pepper
Place carrots in a sauce pan and cover completely with water. Bring to a boil and cook for 10-12 minutes, until carrots are tender.
Drain carrots in a colander.
Add butter and honey to the saucepan. Once butter is melted, stir to combine. Return the carrots to the saucepan and toss to coat with butter and honey. Add salt and pepper to taste.
Place in a serving bowl and serve immediately.

Roasted Green Beans and Tomatoes with Parmesan
2 pounds Little Salad Bar green beans, trimmed and cut in half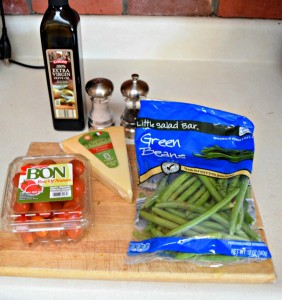 1 pint cherry tomatoes, sliced in half
1 tablespoon olive oil
Salt and pepper
2 tablespoons grated Priano brand Parmesan cheese
Preheat oven to 400 degrees. Place a baking sheet inside oven to preheat as well.
Combine the green beans, tomatoes, and olive oil in a bowl.
Drizzle with olive oil and toss to coat.
Add salt and pepper to taste and toss again.
Remove baking sheet from oven and place green beans and tomatoes in a single layer.
Bake for 12-14 minutes, stirring occasionally.
Remove from oven and place green beans and tomatoes on a serving platter. Top with grated Parmesan and serve.

Spinach Salad with Warm Bacon Dressing
Everything is better with Bacon! Don't you agree? If you love all things bacon, you will absolutely LOVE this salad.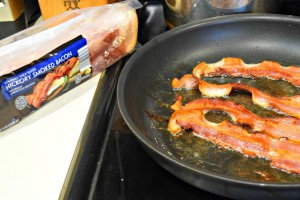 This salad contains 6 thick slices of bacon crumbled in the salad, plus the bacon drippings are used in the dressing. You may be thinking, "How have bacon fat be healthy?" A little dressing goes a long way here. So a light drizzle is all you need to get full flavor, bacon goodness. If you wish to cut the bacon drippings out, substitute with EVOO.
Salad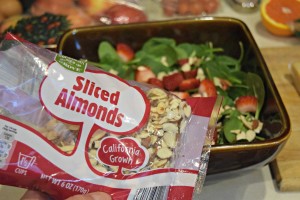 2 pounds Simply Nature brand Baby Spinach leaves
6 large strawberries, sliced
¼ cup sliced almonds
6 slices thick sliced Gourmet Hickory bacon, cooked and crumbled
Dressing
1/3 cup bacon drippings, reserved from the cooked bacon
1/3 apple cider vinegar
3 Tablespoon Dijon mustard
¼ cup honey
Salt and pepper to taste
For salad: Combine spinach, strawberries, almonds, and crumbled bacon.
For dressing: Whisk together the warm bacon drippings with the vinegar, mustard, and honey. Add salt and pepper to taste. Add dressing to salad just before serving.
Warm Baguette/Bread

Easter Dinner isn't complete in our house without some warm bread to serve alongside the meal. I really like the Specially Selected French Baguette available at ALDI stores. It contains no artificial ingredients and is really delicious.
I'll slice up 1 1/2 loaves into 2-3″ sections. Then, warm it in the oven as I'm finishing up the rest of the meal.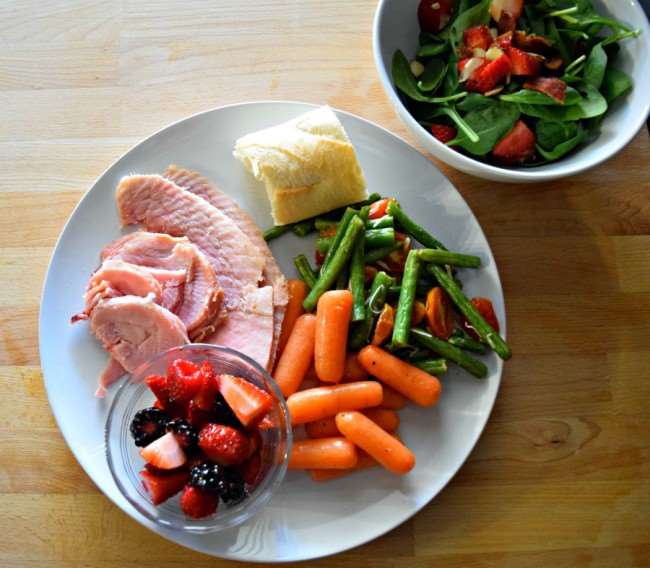 Creating a healthy Easter dinner on a budget is easy with ALDI. You can find a local store near one. A few of the items listed above are seasonal items and may not be available in all markets. So please check your local store for availability.
What will you be serving for Easter dinner this year?
Want to learn more about saving money at ALDI? Check out these other articles/recipe collections: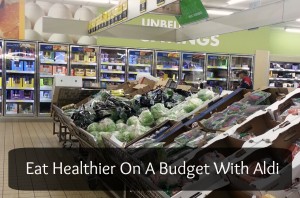 …or find more recipes on ALDI's Facebook page. Be sure to give them a "Like" while you're there.
SaveSave