There are several home meal/grocery delivery services out there. They offer you the convenience of a home cooked meal without having to go to the market to buy your ingredients. Today I'm reviewing Blue Apron who provided me to sample 4 meals off their new Family Meal Plan. These meals were complimentary for this review and all opinions expressed are my own.
Blue Apron Meal Delivery Service
Blue Apron is a food delivery program who sources the best seasonal ingredients directly from family-run farms, importers and producers dedicated to providing the highest quality products possible. Each week, Blue Apron provides customers with different meal options on their individual and family menus. The individual menu offers shoppers a choice of 6 different meals for 2 people and the family menu for 4 meals with 4 servings each. Both plans offer a good variety of meal option.
Delivery Day
On your selected delivery day, your Blue Apron order arrives in a sturdy cardboard box with freezer gel packs keeping everything cold. Your main meal ingredients are packaged individually and smaller condiments are stored in a paper sack with a label.
Any additional special items, like wooden skewers for the Chicken Rollatini, are included to help you create your meal.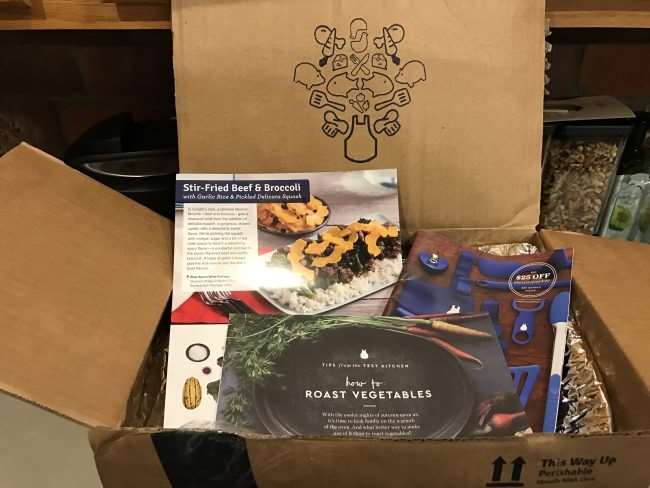 A catalog and roasting guide are also included. These were nice to have if you are new to cooking or looking to expand your skills.
My Blue Apron Meals
I tried these four family meals:
Stir Fried Beef and Broccoli with Garlic Rice & Pickled Delicata Squash
Chicken Rollatini with Spinach and Cheesy Elicoidali Pasta
Seared Chicken Thighs with Cipollini Onions and Kumquats
Shrimp & Squid Ink Pasta with Green Cabbage and Furikake
All my meals were easy to create with the provided recipe cards. These recipe cards can be used again and again and provide easy to follow directions. The nutritional facts for each recipe are also provided on a separate piece of paper. So if you are interested the analysis, you have that information.

What I Liked
I really liked the Stir Fried Beef and Broccoli with Pickled Squash. I wasn't sure about the squash, but found I really liked it. The kids weren't as sure, but did like it after they tried it. The meal was just as good as anything we order when we do take out and took a short time to prepare.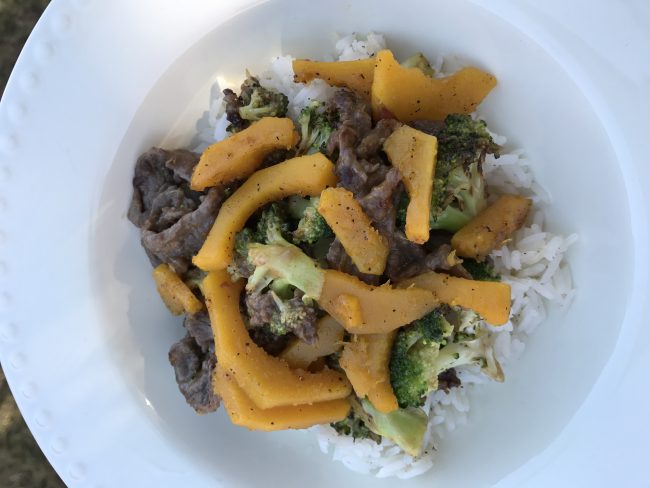 The second meal I liked best was the Shrimp and Squid Ink Pasta. I have never tried squid ink pasta and this box gave me an easy way to try it. I liked that the weekly menus offer something unique like this that I may not normally make at home. It allowed us to be adventurous but still have a safety net by having step by step instructions on how to create a tasty meal.
What I liked best about Blue Apron Meal Kit: The recipes I tried were very good and made me rethink my cooking. I liked that the recipe showing measurements in teaspoons, tablespoons, and cups instead of ounces.
What could use improvement: There were a few things that I would have preferred, like more vegetables in the meals. I like a larger percentage of vegetables to protein and carbs. I also found meals needed more seasoning. So I ended up adding more seasonings like herbs, salt, and pepper to the recipes to suit my taste. I did have one small issue with the squash I received for the stir fry. It had gone bad before I could make the dish and I had to buy another one.
Overall, I liked the family Blue Apron meal kit because it is providing a good service to customers everywhere. Their meals are varied and offer families several options for dinner. Meal portions are good for families and are suited to all ages. Get your first order today and
If you are interested in our meal/grocery delivery services, check out;