This 5 things to do in Hays, Kansas with kids article is part of a hosted stay sponsored by Hays Convention and Visitors Bureau. All opinions expressed are based on my experience.

The journey can be just as fun as the destination. So you should always be on the lookout for family fun and adventure wherever you travel.  Half way between Kansas City, Missouri and Denver, Colorado, along I-70 sits the town of Hays, Kansas. This little town has loads of fun. Whether you are looking for a place to stop while you are in the area or looking for a family getaway.
This summer we are taking a 4 week road trip, aka #lilfamroadtrip17. On the first leg of the trip, we'd be traveling from Oklahoma to Missouri, Kansas, and Colorado. The first stop was Kansas City, Missouri for BBQ and family-friendly museums. The second stop was Hays, Kansas. It's about 4.5 hours from Kansas City and half way to our next destination, Denver Colorado. When we drive, 5 hours a day is about the most we'll drive. After that, we all (myself especially) get road weary and start asking "Are we there yet?". On a long road trip, its best to avoid crankiness as much as possible. So Hays was the perfect 2nd stop.
5 Things to Do in Hays, Kansas with Kids
Sternburg Museum of Natural History
Take a step back in time and discover the dinosaurs that once called this part of Kansas home. The Sternburg Museum is part of the Fort Hays State University and features exhibits on dinosaurs, paleontology, the full solar eclipse happening August 2017, snakes, and more.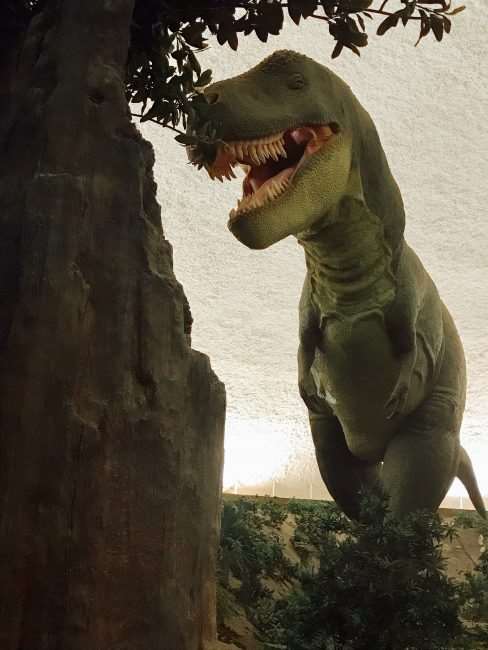 Kids will love the T-Rex that "wakes up" as you walk by. This giant dinosaur moves and roars at guests. Find other dinosaurs here too that come to life to chomp on grasses, make noise, and more.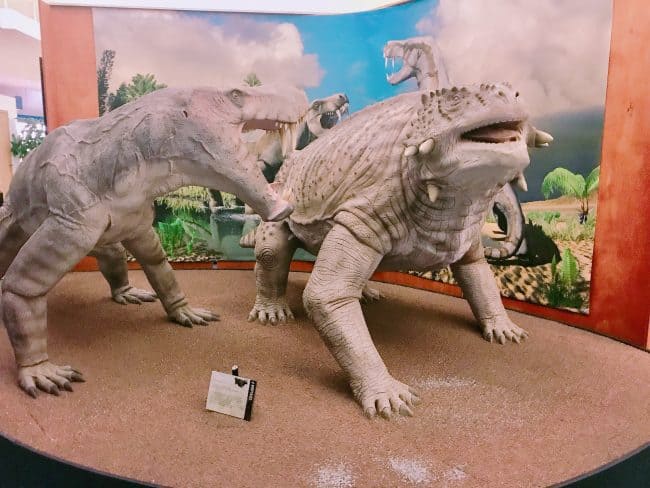 The new Permian Monsters: Life Before the Dinosaurs exhibit, takes you even further back in history. Animatronic dinosaurs  move and roar to make the exhibit fun for all ages.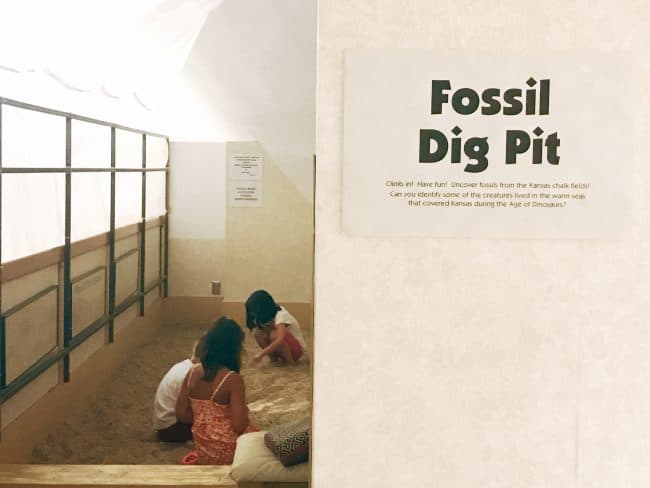 The kids can get "hands on" in the kids' discovery area. Try out the Fossil Dig Pit.  Climb a whale skull.  Or, just grab a book and read up on your favorite animal.
This is a fun museum of the whole family. You can easily spend a few hours if you have any dinosaur fans in the family.
For more information, visit sternberg.fhsu.edu
Blue Sky Miniature Horse Farm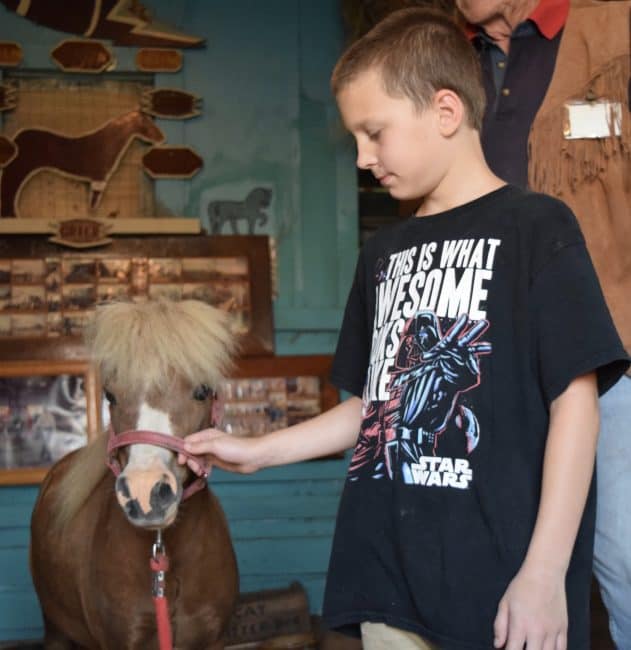 Schedule a tour and head to the country for a visit to a miniature horse farm. These small statured horses measure no more than 34" and each has it's own unique personality. You'll enjoy learning about these show horses, including their care, grooming, and training.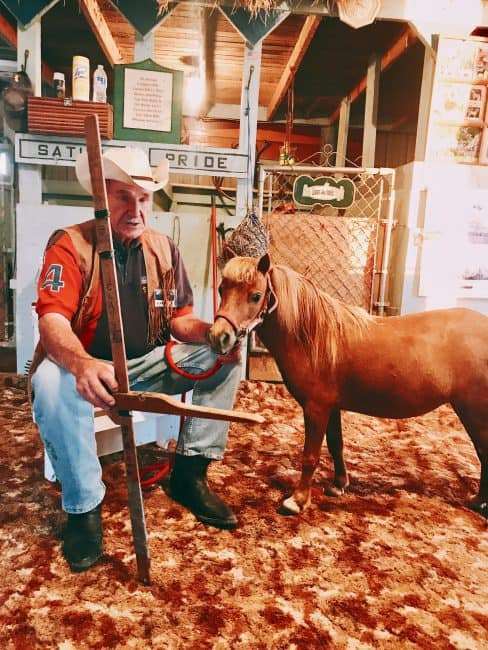 Owners, Donna and Marion Schmidt have been raising miniature horses for many years. They walk you through the farm and provide plenty of hands-on learning for kids of all ages. Our kids enjoyed helping to groom, but everyone loved the chance to literally take the reins and drive the cart.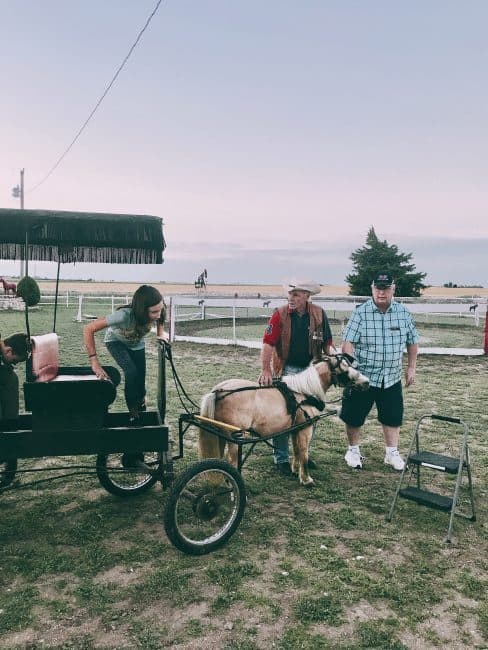 Instead of being a petting zoo, this farm is an agri-tourism site that provides a fun opportunity to learn about these beautiful animals. For more information, visit www.blueskyhorses.com.
Fort Hays Historic Site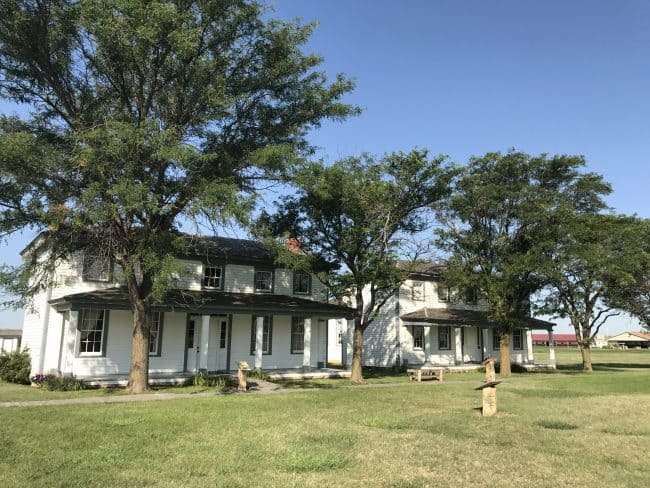 Since the mid-1800's, pioneers traveled  west through the Hays area via the Smoky Hill Trail. The Fort was an important site to travelers heading west. It was a safe place to rest and eat along the trail. Several of the buildings remain today on what is now called the Frontier Historic Park. The site gives visitors a glimpse life back then.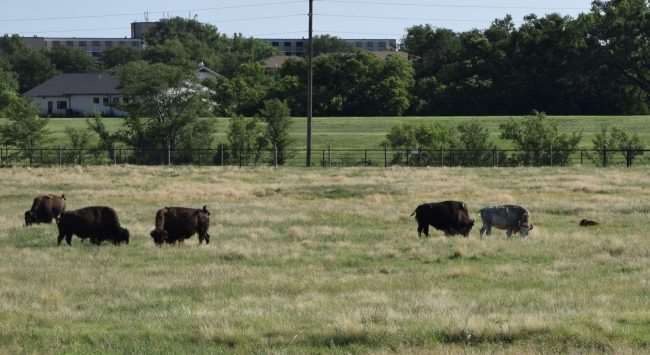 A visitor center is open Wednesday-Saturday. You can take a self guided or guided tour of the area. Visit https://www.kshs.org/fort_hays for more information. Afterwards, head across the street to visit the local bison herd. Can you spot the white bison and the calf in this picture?
Downtown Scavenger Hunt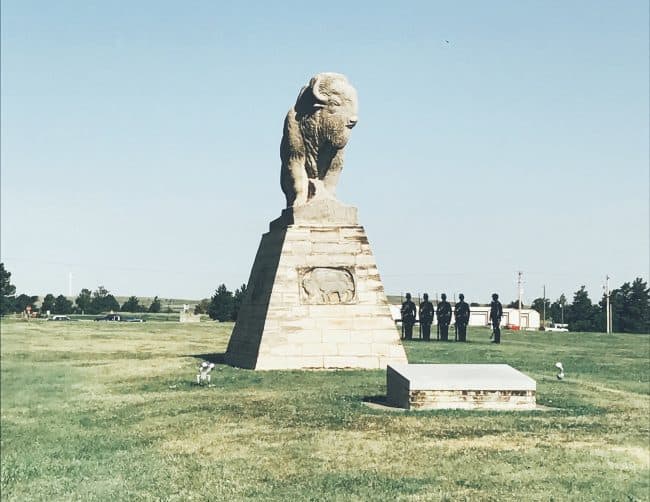 On the Fort Hays Historic Site I just mentioned sits the "Monarch of the Plains." This limestone statute is just one of the many statues created by local artist, Pete Felten. This particular statute was created for the town's centennial in 1967. This statute is just one of the two family-friendly scavenger hunts in town.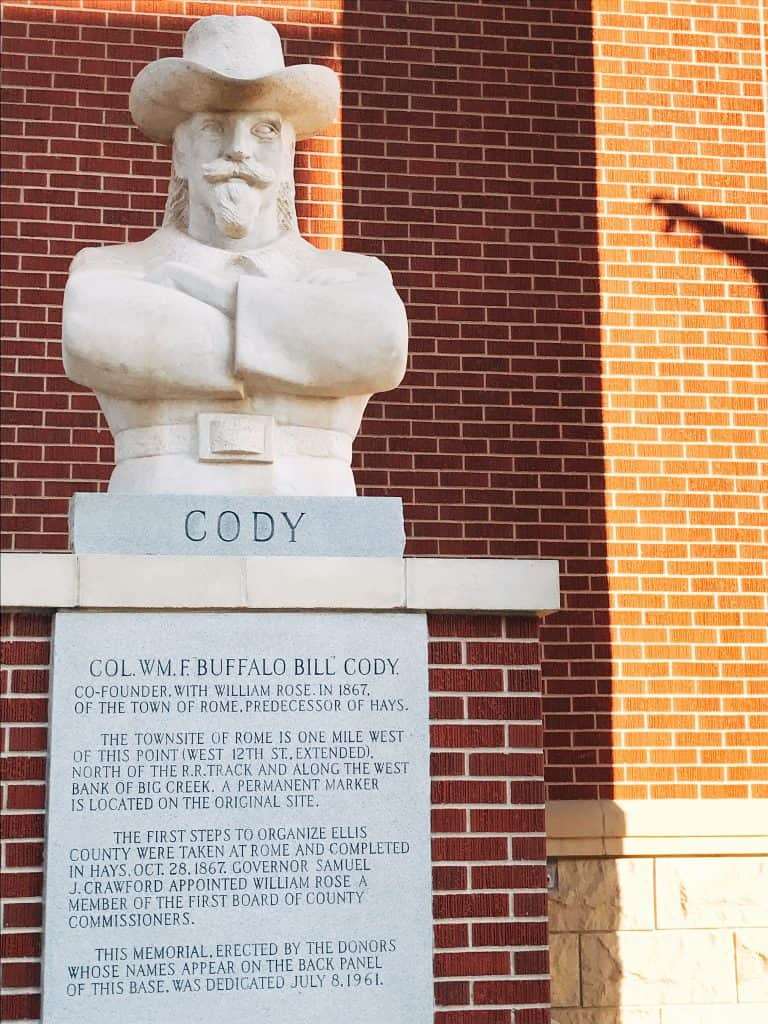 Felten Limetsone Scavenger Hunt
Today there are 28 limestone statues in Hays and surrounding areas. Visit the Hays Convention and Visitors Bureau and pick up "Discover Hays' Limestone Art". This guide will help you find all the statues and provide a little history on each piece.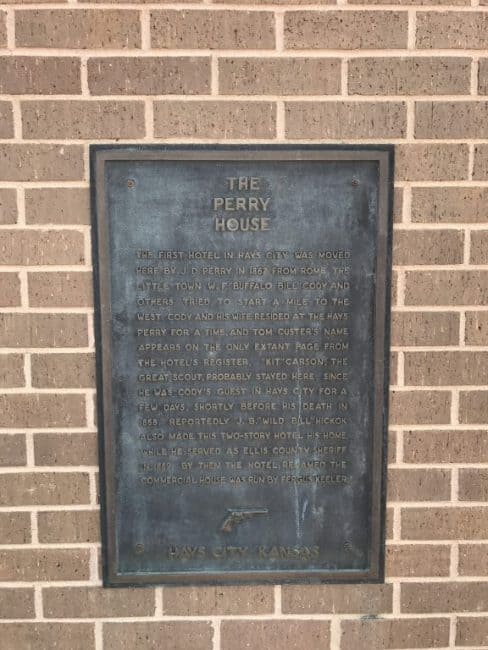 Downtown Historical Walking Tour 
The second scavenger hunt is a walking tour that traces the steps of people like Buffalo Bill Cody and General George A. Custer. This tour has 25 bronze historical plagues for you to find and learn about the area's history. You can pick up a map in the Hays Convention and Visitors Bureau.
Cathedral of the Plains in Victoria

One of Pete Felten's limestone statutes sits across the street from The Basilica of St. Fidelis, also known as a the Cathedral of the Plains. Although, not in the town of Hays, it is a short drive away in Victoria.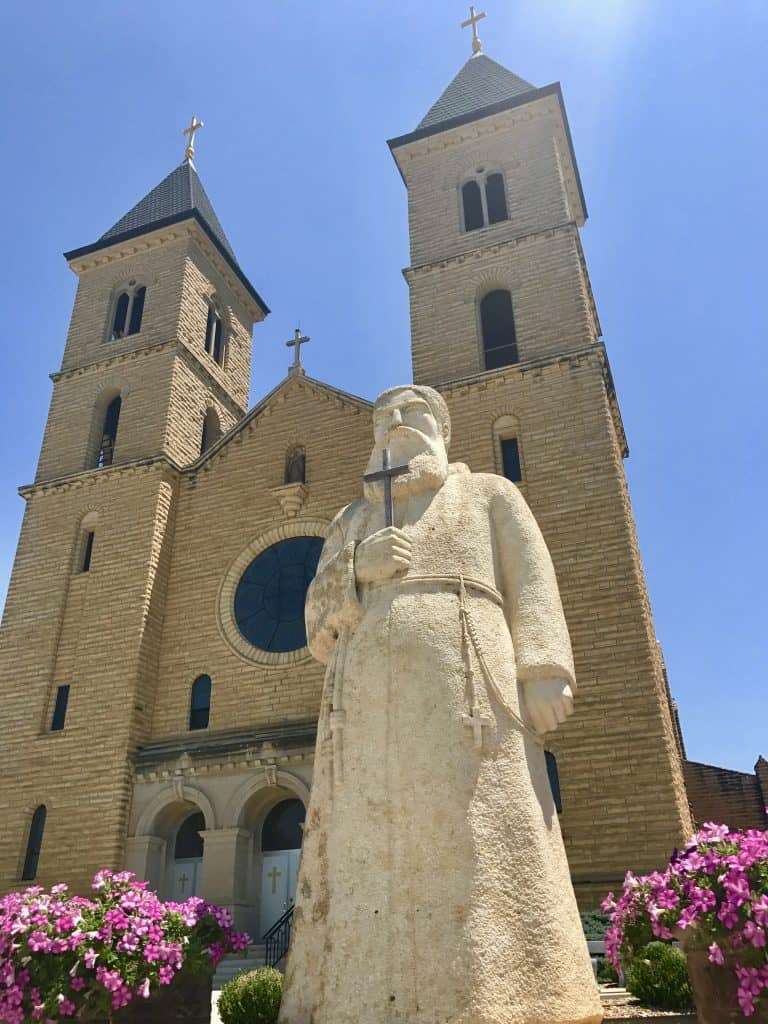 This church is the largest of the historic churches in the county. It was built between 1908 and 1911 and is an impressive sight. The area has a large Volga-German heritage that can be seen in this and other area churches. If you like architecture or art, you'd enjoy the stop here. The stained glass is beautiful!
Dining in Hays
While you're in town, stop by Gella's Diner. We heard that it was a must see when in town and it didn't disappoint. Gella's Diner and Lb. Handcrafted Beer Brewing Company are located  "On The Bricks" downtown. The restaurant features a diverse menu including German favorites, seasonal items, and locally crafted beer.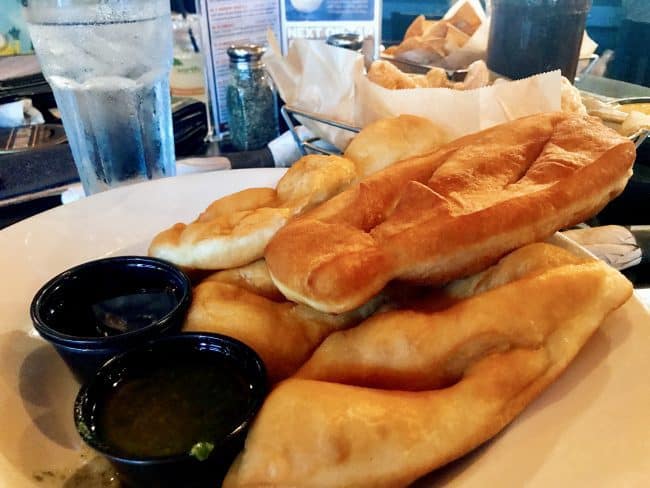 For an appetizer, you need to try Gella's Grebble. This local favorite is deep fried bread served with maple syrup and a sunflower seed pesto.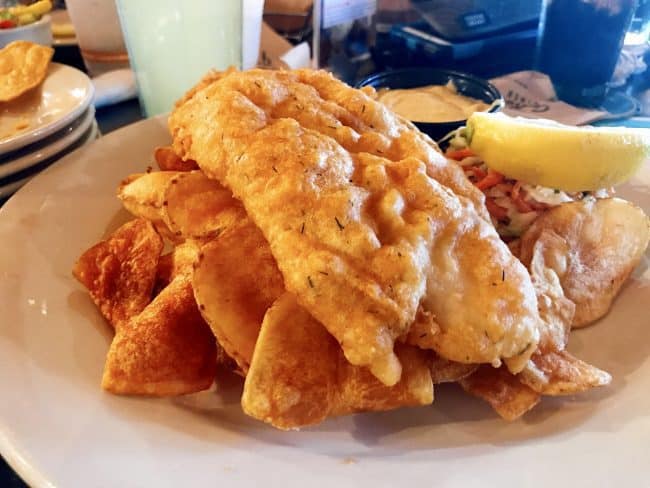 For your main entree, everything is good. But I'll suggest the Fish and Chips. It's a huge portion.
While in downtown, take a look at all the great shops.
Lodging in Hays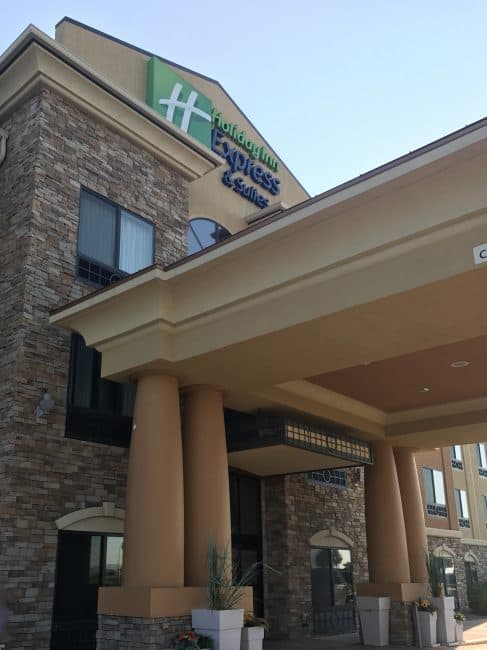 While in Hays, we stayed at the Holiday Inn Express & Suites Hays. It's just north of I-70 on Hwy 183. For us, we regularly stay at IHG properties like this one. There is plenty of room to stretch out, rest your road weary head, and set out again the next day.
The indoor pool is great when traveling with kids. After a long day, it's a fun way to get moving again. The kids love it. At the end of the day, a good swim tires them out and helps get them ready for bed.
SaveSave