Do something different in the garden this year. Create a Container Pizza Garden. This easy project takes up a small amount of space, is a great way to get little ones involved with their food, and gives the whole family the ingredients needed for GREAT pizzas.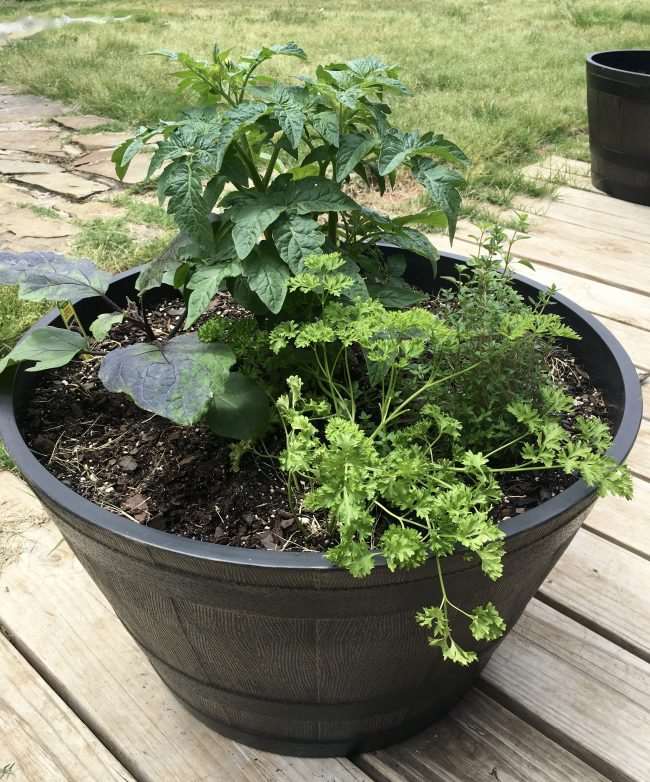 Container Gardening with Kids
As a mom, I am always looking for new ways to get my kids to eat healthier. This garden is a good project to get my kids involved with their food. It allows them to get dirty (a BIG PLUS if you asked them), teaches them how food is grown, and encourages them to try new foods.
I'm going to share with you how to make this fun container garden. That way you can pick up everything you need to make this garden at home.
Pizza Garden Kit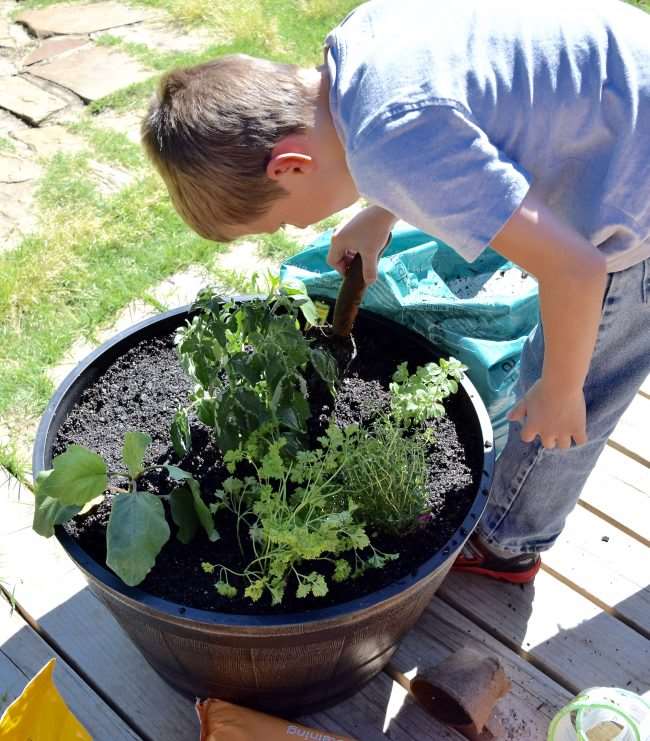 This container pizza garden includes:
24" diameter container, pot, or Whiskey barrel
Quality potting soil
1 Tomato (look for variety ideal for containers)
1 Eggplant
1 Bell Pepper
1 Oregano
1 Thyme
1 Parsley
Basil (if you don't have it going anywhere else)
These plants give you the ingredients to make a traditional pizza sauce, herbs and tomatoes for a simple flatbread, a Gluten Free Eggplant pizza, and more.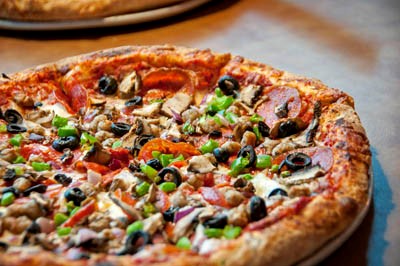 Try our homemade pizza crust recipe. It's a staple in our house for every Pizza Night.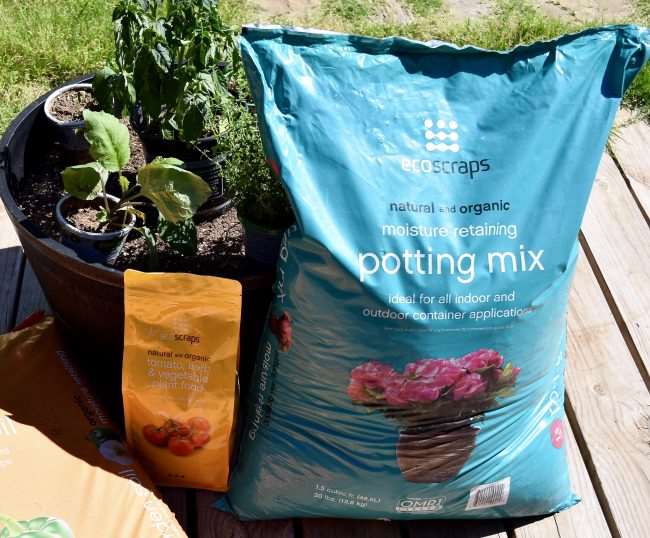 A successful container garden starts with soil
For any container garden, start with a quality potting soil. You want one that retains moisture, provides vital nutrients to your plants, and is free of synthetic chemicals.
Most home and garden stores carry a variety of organic and sustainable lawn/garden products: compost, potting soil, garden soil, compost accelerator, vegetable plant food, and more. I opt for one or more of these.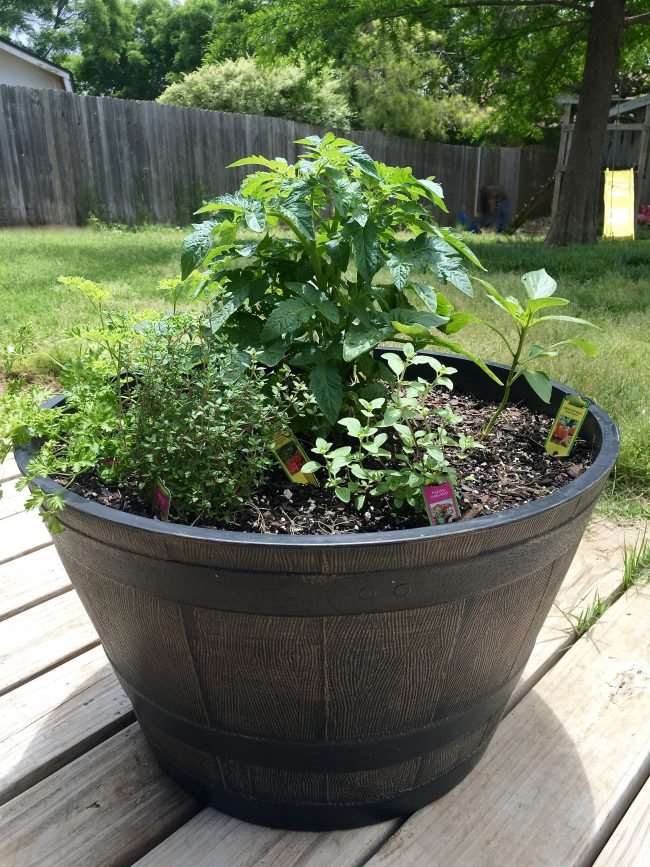 What You'll Need for this Pizza Garden:
Select a large 24" container for this garden. I selected a whiskey barrel because I like the look of them. You can choose a style you like.
Quality Potting Soil
Include 3 vegetables and 3-4 herbs:

Tomato
Eggplant
Bell Pepper
Oregano
Thyme
Parsley
Basil, if desired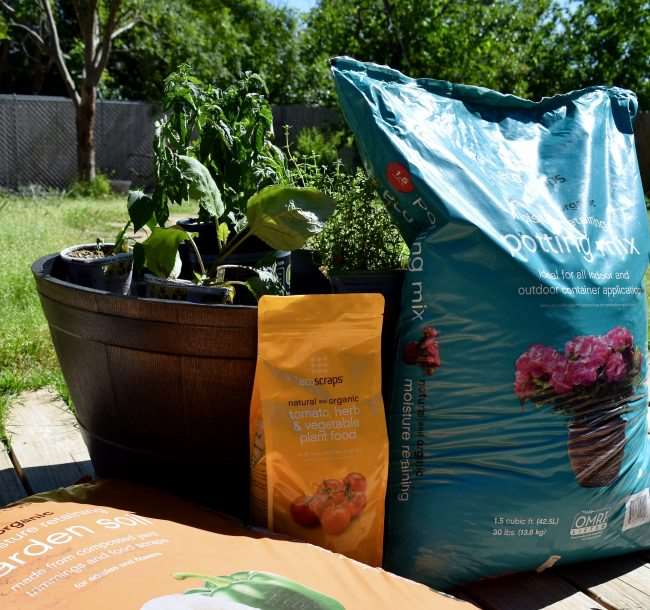 For the tomatoes, bell peppers, and eggplant look for varieties that are good for containers.
Roma tomatoes are a good choice for making tomato sauce.
Cherry tomatoes are our pick because they are wonderful cut in half and cooked on top of flatbread.
We opted for an Ichiban eggplant which produces a sweet, mild eggplant. These are long and slender which make them nice on pizzas or as a Gluten Free substitute for the bread itself.
Bell peppers come in several colors; green, red, yellow, orange, black. Let the kids pick their favorite. My youngest doesn't like bell peppers, but his favorite color is orange. We chose an orange bell pepper to encourage him to eat bell peppers more often. This little trick works. If you have a picky eater, try it out for yourself.
Parsley, oregano, and thyme are herbs that come back every year. You can also add basil to your pizza garden. (Note: I didn't add it because I have it growing in another part of my garden.) You can use these herbs fresh from the garden or dry them to use after the growing season is over.

How to Create your Container Pizza Garden
Drill drainage holes into the bottom of the container. Cover with coffee filter, small mesh screen, or landscape fabric.
Fill a large barrel or container with potting mix to 2 inches from the top of the pot.
Add your plants (Note: loosen roots after removed plants from containers before placing them into the potting mix)
Top with more potting soil ensuring that all the roots are covered.
Add 1 tablespoon plant food around each plant.
Water throughly

Tips for Container Gardening with Kids:
Let the kids get dirty. It's part of the fun and dirt washes off!
Allow children to help make decisions on give them a sense of ownership.
Make it fun!
When growing vegetables or herbs in containers, replace potting mix every growing season. However, if you are growing houseplants or flowers and want to save as much potting mix as possible, replace 1/3 of the old potting mix with new mix between growing seasons.