When it comes to family outdoor fun, I can't think of a better place than the Sierra Nevada and Lake Tahoe, California. The mountains and lakes here are simply breathtaking. I can't think of a better way to explore them than getting out on the Lake Tahoe hiking trails. The area is home to miles and miles of trails that feature everything from waterfalls and views of the lake to wide bands of wildflowers lining the canyon floor.
Best Lake Tahoe Hiking Trails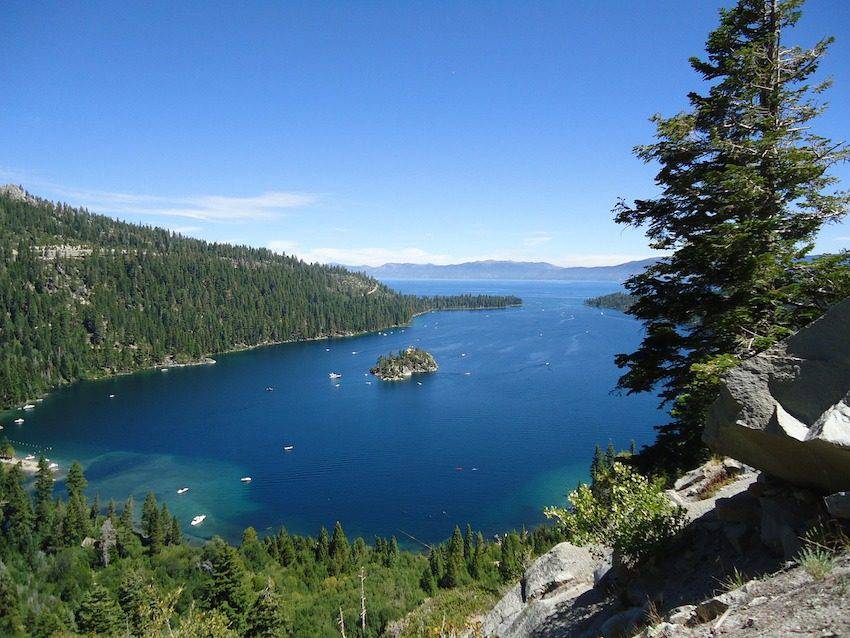 Not sure where to get started? True, there are trails branching out in all directions from the lake. The Tahoe Rim Trail circles it. We find that the best hiking trails in Lake Tahoe lie to the north and south. Many offer breathtaking views of the lake and surrounding mountains. We have put together our list of favorites for easy, moderate, and difficult trails.
Tahoe Rim Trail
The 165-mile-long Tahoe Rim Trail takes hikers around the entire lake. This trail has numerous trailheads and offshoots that make it ideal for a day hike or multi-day backpacking.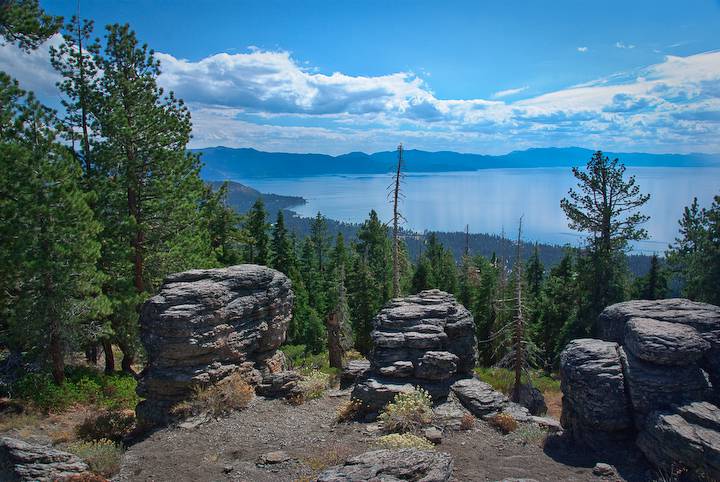 Picnic Rock Viewpoint
One of the favorite Lake Tahoe hiking trails north shore is one to Picnic Rock Viewpoint along the Tahoe Rim Trail. This moderate three-mile trail rewards you with great views of the lake and surrounding mountains.
North Lake Tahoe Hiking Trails
Tahoe Meadows Interpretive Trail
Tahoe Meadows Interpretative Trail is a short, one-mile loop through granite boulders, pine forests and mountain streams. It's level path at the summit of Mount Rose is great for families with small children or people with disabilities.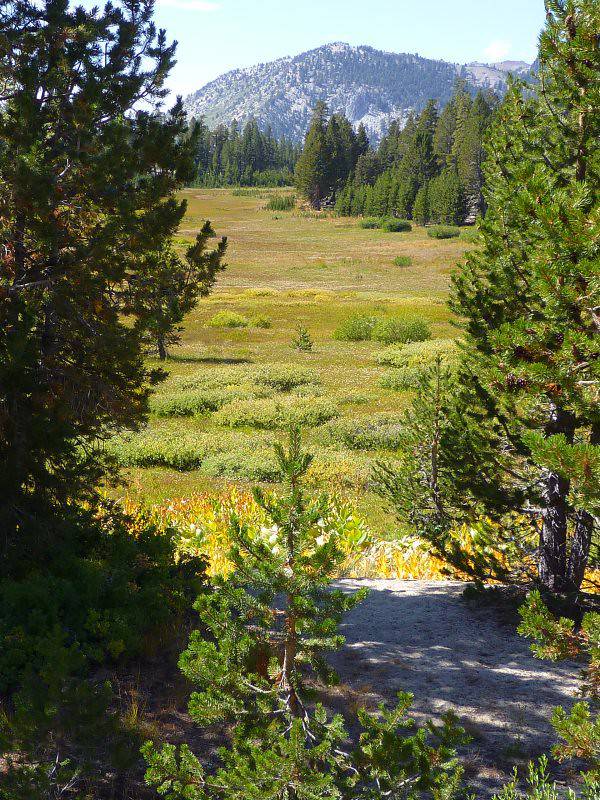 Lola Montez Lakes Trail
Lola Montez Lakes Trail is a multi-use, six-mile trail loop that's off the beaten path and a little hidden. You'll find it off Highway 80 at the Soda Springs exit. Follow the paved road east past the fire station to the trailhead/parking area. The terrain includes shallow creeks, forested areas, and rocky hills. Although there is no view of the Lake Tahoe, hikers are rewarded with Lower Lola Montez lake at the mid-point. This lake is quiet as not too many people know about it and it's perfect for an afternoon swim.
Mount Rose Summit Trail
Mount Rose is one of the area's tallest peaks and on clear days you can see Reno and Carson City. The 10-mile trail climbs to 10,776 feet through forest and meadows and then turns into vertical, switchbacks as you near the top.
Pin This for later….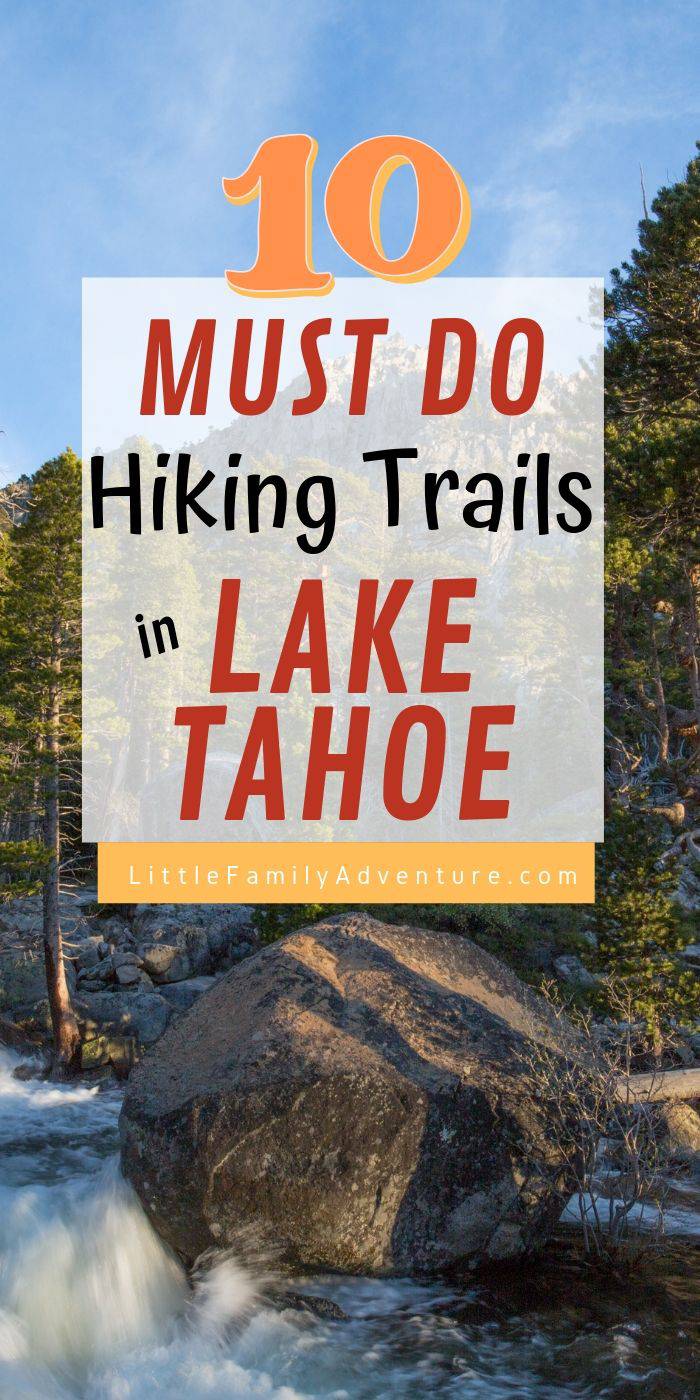 South Lake Tahoe Hikes
Van Sickle Bi-State Park Waterfall Hike
We love hikes that end at a waterfall. This is an easy, 1.5-mile out-and-back waterfall hike. This trail starts with an uphill hike that takes you to a cascading waterfall and views of the South Shore of Lake Tahoe. If you want to continue this hike, you can stay on for 3.6 miles to connect to the Tahoe Rim Trail.
Skyline Trail Hike
The Skyline Trail is one of the best hikes in Lake Tahoe if views are what you are after. You start aboard the Heavenly Ski Resort Gondola which provides views of the entire valley below. Once you reach the summit, you can see the basin below then descend the mountain.
Frog Lake to Winnemucca
This is one of the best summer hikes in the Lake Tahoe area. The 6.5-mile trail is often lined with summer wildflowers and hikers enjoy expansive views of the Mokelumne Wilderness. You can extend your hike and head into the canyon to view Fourth of July Lake.
Lower Eagle Falls
Lower Eagle Falls is another waterfall hike that is good for families. This two-mile hike is accessible from the Vikingsholm Castle parking lot inside the Emerald Bay State Park, but can be a crowded hike during mid-day. It's best to get here early. It's an easy hike to get to the falls as its downhill. The hike back up is uphill (150ft) so it takes a little more effort.
Mount Tallac
This 9.5-mile hike is one of the area's most difficult hikes, but it also it one of the most scenic. You'll climb 3500 feet to the summit of Tahoe basin's tallest mountain. From the summit hikers can see Cascade Lake, Emerald Bay, Fallen Leaf Lake, and all of Lake Tahoe's South Shore. At a moderate pace, this hike will take 9 hours. Pack a lunch and plenty of water. Trekking poles are also a great idea. Note: Pick up your required hiking permit at the trailhead.
Hotels and Airbnbs near Lake Tahoe, Calfornia
Best Time to Visit Lake Tahoe
Lake Tahoe is a premier ski destination, yet I find myself wanting to visit in the summer more than anything. With summer temperatures in the mid 70's and sunshine for days, it's an easy guess why. Summer is the best time to visit Lake Tahoe if you enjoy outdoor recreation like hiking, kayaking, camping, and paddleboarding. It really is a great time to visit.
There are our picks for the best hiking trails for south Lake Tahoe and north Lake Tahoe. I know it isn't an exhaustive list, but it is enough to get you started on your next trip. Tell about the trails you've enjoyed when in the area and where we need to go next.