Silverwood Theme Park in Athol, Idaho is fun for all ages. From Garfield's Summer Camp for the tiny tots to high intensity rides in Roller Coaster Alley for the teens and adults, you'll find fun at every corner. Astrid at The Wandering Daughter recently visited with her family. She had so much fun, that she wanted to share her trip with you. No matter the age, she has the rides and attractions you won't want to miss. Take a look!
Silverwood Theme Park – Fun for All
Unless you grew up in the Pacific Northwest, you may not have heard of Silverwood. Located just outside of the town of Athol in northern Idaho, and 45 miles east of Spokane, WA, Silverwood is one of the largest theme parks in the northwestern region of the United States. Since its creation in 1988, Silverwood has grown to over 70 rides and attractions, and even includes a water park called Boulder Beach. In recent years, Silverwood has brought in more than 600,000 guests a year during its operating season, which runs from May to November. The park is still a family-run operation, and attracts families from Washington, Idaho, Montana, and even Canada.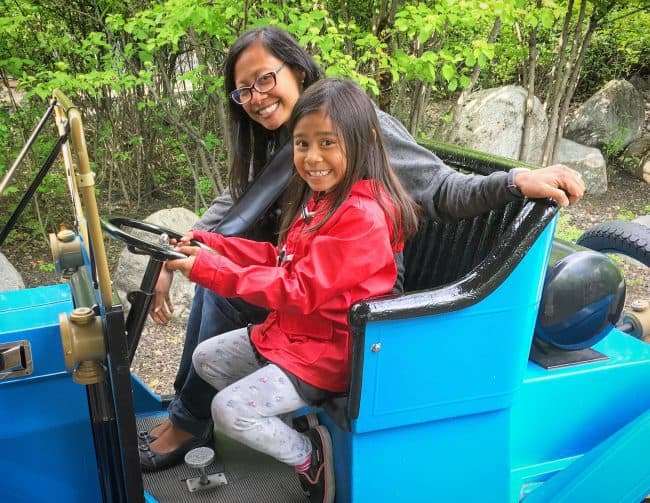 Making Summer Memories with the Kids
Ever since I was a kid, my summer vacations were always filled with fun family memories. Growing up, my parents would take us on at least one summer trip, either around the United States, or overseas. By far, my favorite memory from those summer trips was visiting theme parks. We've visited several theme parks during my childhood, including Disneyland and Disney World in the United States, and also theme parks in Denmark, Indonesia, and Norway. By far, though, my favorite theme park was one that was much closer to my home state of Washington: Silverwood Theme Park.
We took a visit to Silverwood Theme Park in early-June, and spent a day exploring the rides and attractions. For our family of four, with two young kids, it was the perfect way to spend a summer day. We liked how Silverwood gave our family an opportunity to build fun memories together, and we especially loved that it allowed us to get our theme park fix, without the premium of parks like Disney or Universal Studios. But most importantly, we loved that there were so many options for our kids to choose from, regardless of their age. If you're considering a trip to Silverwood, here are some of the rides we loved.
Silverwood with Tiny Tots
If you have toddlers in your family, head straight for Garfield's Summer Camp. This section of the theme park has kid-friendly rides that will appeal to youngsters. They will love rides like the Frog Hopper, a kiddie version of a drop tower, or the Butterflyer, a giant swing.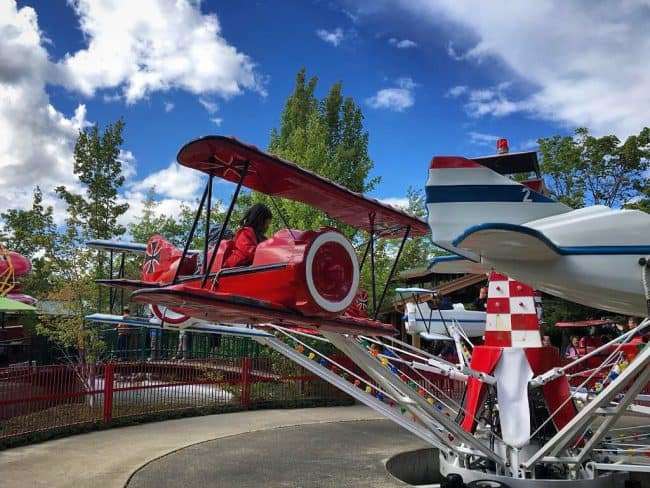 Our kids particularly enjoyed riding the Red Baron, a mild airplane ride geared towards youngsters. Many of the rides in this section have a maximum height restriction, so the kids will enjoy the fact that they can go on rides that grown-ups can't!
Silverwood with School-agers
If your kids are in elementary school, they can still enjoy the rides in Garfield's Summer Camp. But they'll most likely have a better time exploring the rides in the Country Carnival. Our favorites were the Roaring Creek Log Flume, a classic log ride; the Bumper Boats, a water-based take on bumper cars; and Thunder Canyon, a whitewater rapids style raft ride.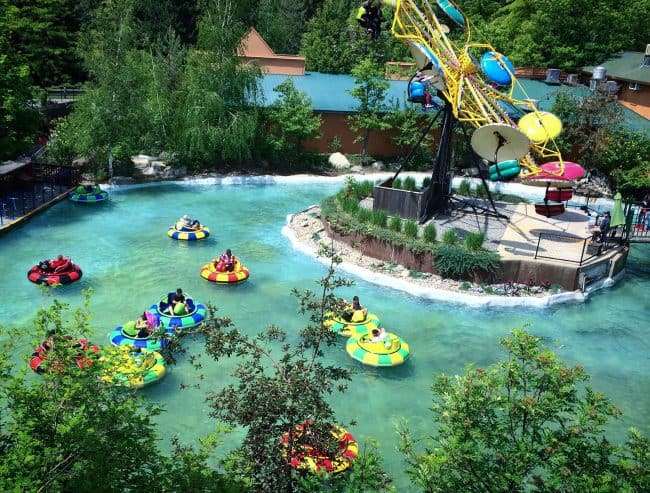 All three of these rides are great ways to cool off during a hot summer day. For the more adventurous youngsters, the Krazy Coaster, a ride that spins you around as you go along the figure eight track, is a great option for this age group.
Silverwood with Teens and Older
Teenagers are a difficult group to impress. Fortunately, Silverwood has a large selection of heart-thumping rides located in the part of the park known as Roller Coaster Alley. For those in search of the classic roller coaster ride, Silverwood has two wooden roller coasters to choose from: Timber Terror and Tremors. Silverwood also has two other roller coasters, Aftershock and Corkscrew, which take riders on inverted loops and rolls.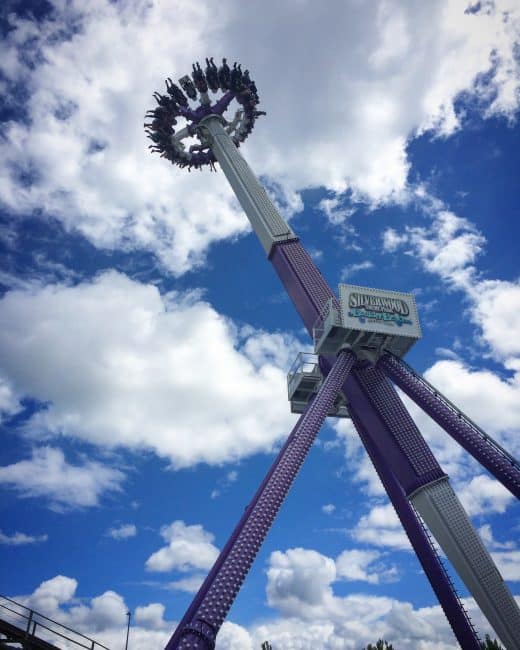 In addition, Roller Coaster Alley has a ride called the Spincycle, which spins riders while also swinging back and forth like a pendulum, eventually making a full 360-degree revolution. This ride looked quite exciting, and was pretty popular during our visit, but my husband and I were both a bit too hesitant to try it!
All Ages Fun at Silverwood
One of the things we loved about Silverwood was that it really seemed to be geared for families. In fact, there were plenty of rides and attractions at the park that we thought were perfect for any age. One of the oldest rides and a must-do for any visitor to Silverwood is the train ride and stunt show.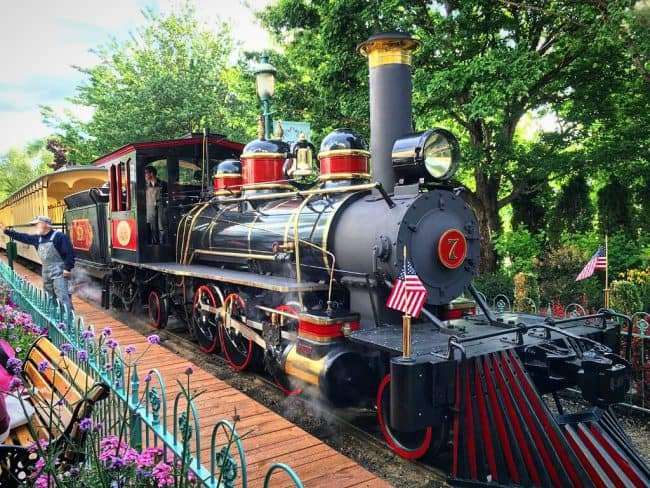 This show takes visitors on a ride in a real steam engine around the grounds of the park, and even involves a train robbery and stunt fight! We enjoyed watching the stunt fighting, and the kids really got into the action of the show.
Another thing we loved was the magic show, performed by magician, Nick Norton, who is also the son of Silverwood's founder, Gary Norton. His show has won several awards in recent years, even beating out Disney as the winner of the best male performance in the 2016 International Association of Amusement Parks and Attractions' Brass Ring awards!
As you can see, there is fun for all ages at Silverwood Theme Park. I'll have a few tips for making the most of your next family vacation to the park coming soon. If you find yourself in the Pacific Northwest, I highly recommend a trip to Silverwood. You'll make memories with the family that will last a lifetime.
Guest Blogger Bio:
Astrid Vinje is a travel-loving mom of 3 living in Seattle. Find her family adventures and stories on approachable family travel at www.thewanderingdaughter.com. Find her on social media too at Twitter: @WanderDaughter | Instagram: @wanderdaughter | Facebook: TheWanderingDaughter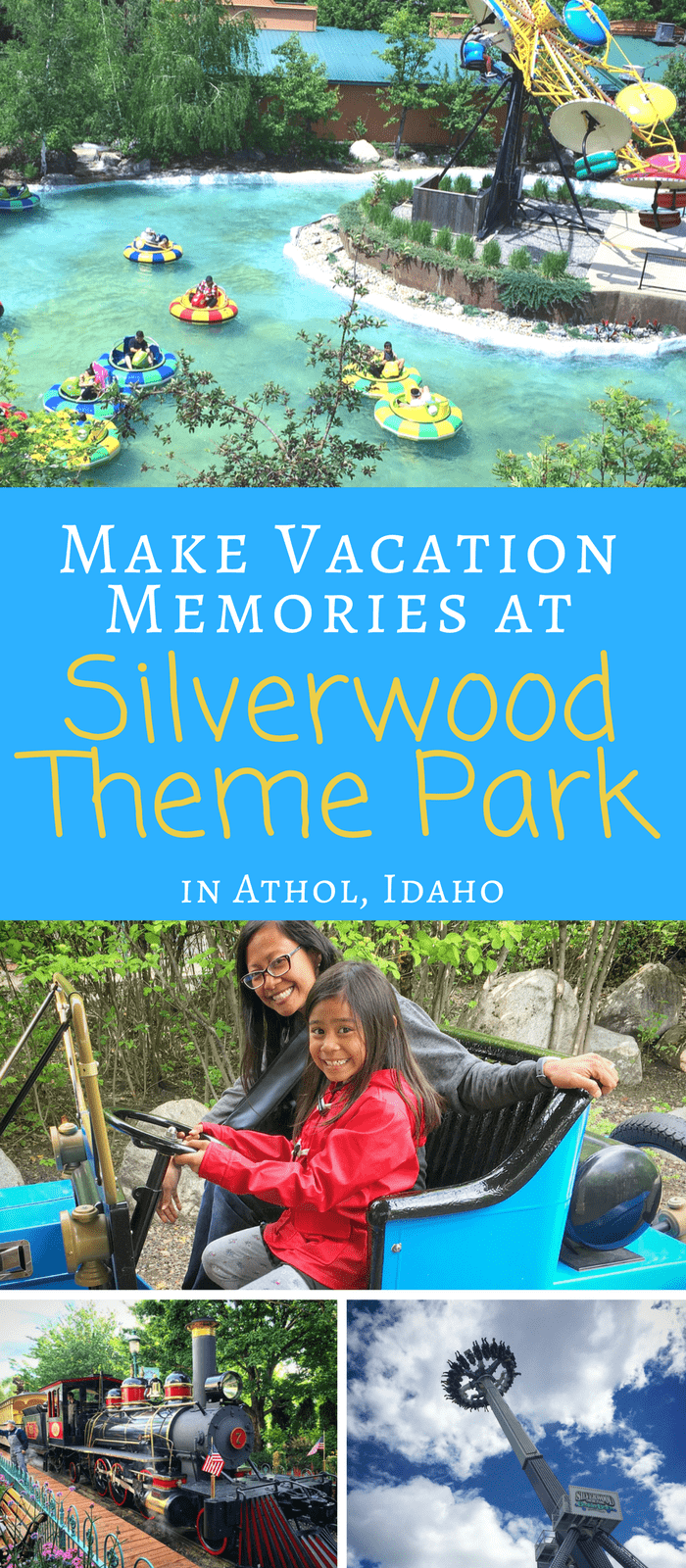 SaveSave
SaveSave