Academy Sports + Outdoors recently partnered with Discovery Adventures to create a new line of family camping gear. They sent me one of their new tents and sleeping bags for the family to try out. We put this family camping gear to the test and I am ready to tell you all about them as we get ready for our big summer trip.
Our family loves to go camping and be outdoors. This summer, we are embarking on a 4 week summer road trip through Colorado, Wyoming, and Utah. The plan is to visit:
Rocky Mountains National Park/Estes Park, Colorado
Grand Teton and Yellowstone National Park/Jackson, Wyoming
Salt Lake City, Park City, and Heber Valley in Utah
Dinosaur National Monument in Vernal, Utah
Arches National Park in Moab, UT
Mesa Verde National Park near Cortez, Colorado
I'm finding that the lodging near the larger national parks like Yellowstone and Rocky Mountains are booked a year in advance. So the plan is a mix of hotel, resort, and tent camping. But even the campgrounds are limited on space, so a large 3 room cabin tent won't work on this trip.
I have been looking for a smaller tent to go camping in that will accommodate the 5 of us and our gear. The plan is to do car camping at several locations where we drive to a campground, park, unload, set up, and relax.
One of the sporting goods stores I regularly shop at is Academy Sports + Outdoors. They are the premier sports, outdoor and recreation lifestyle retailer that offers everything from camping equipment and gear to sports and leisure footwear and apparel. They are my one stop shop for outdoor gear and clothing. They recently partnered with Discovery Adventures, the consumer arm of the Discovery Channel, to exclusively sell a brand new line of outdoor products.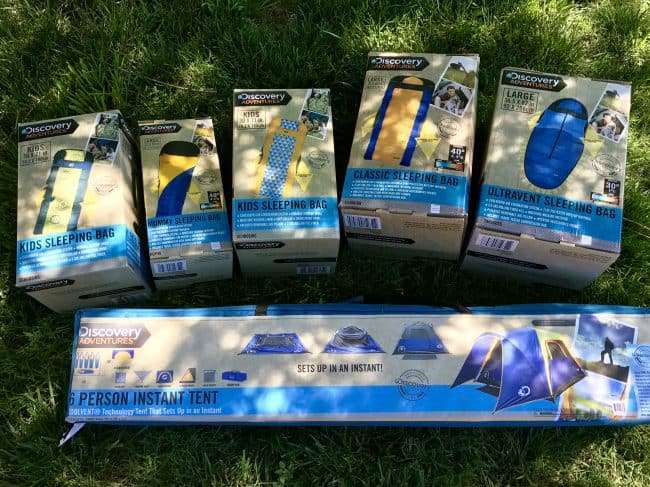 They sent me the following camping equipment from this line to tent out:
Discovery Adventures 6 person Instant Camping Tent
Discovery Adventures Mummy Sleeping Bag
Discovery Adventures Kids Sleeping Bags
Discovery Adventures Ultravent Sleeping Bag
Discovery Adventures Classic Sleeping Bag
Discovery Adventures 6 person Instant Camping Tent $149.99
This tent is ideal for family camping with up to 6 people. It measures 10ft x 10ft x 6 ft. Its dome shape does really well in windy conditions, like those we have here in Oklahoma, and provides a lot of living space.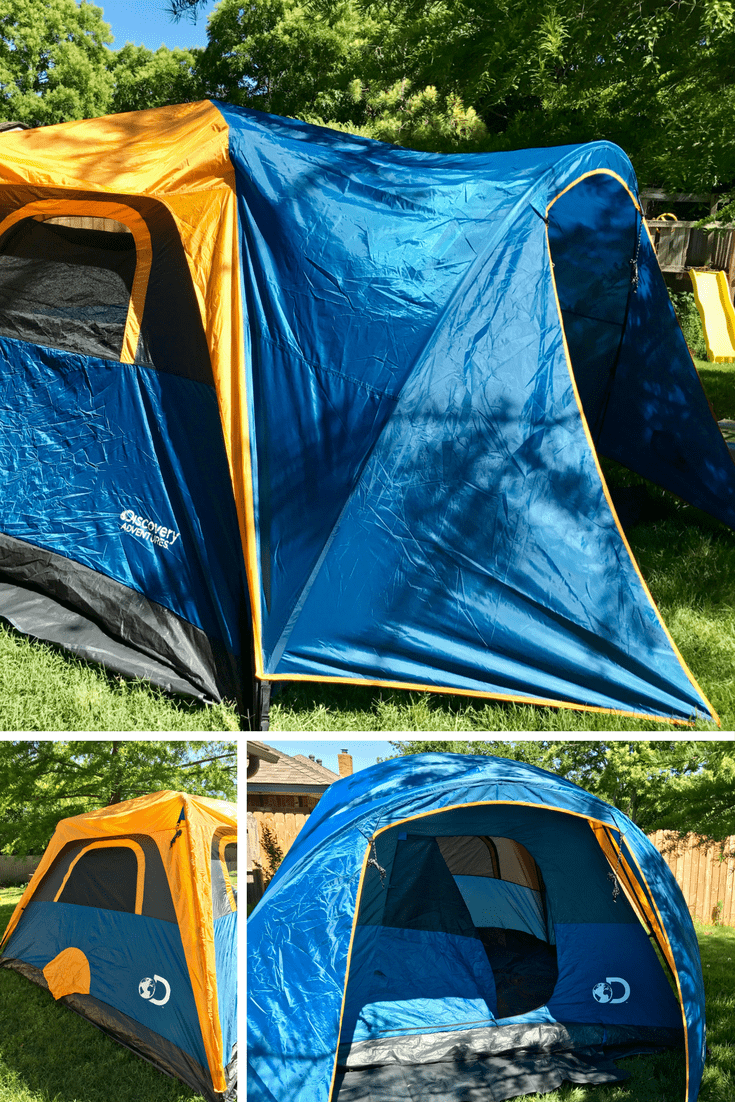 Features I love for family camping:
No More Dirty Shoes in the Tent
This tent has two features that help keep dirt out.
Welcome mat – A floor mat/welcome mat is included with this tent so you can wipe your feet before entering the tent. The tent has loops where you can attach this waterproof mat via plastic hooks. When it gets dirty, you can remove, rinse, and return.
Shoe pocket/pass thru – A welcome mat is great, but dirt can still enter your tent if you don't remove your shoes. This tent has a show pocket that you unzip on the outside of the tent and and place your shoes inside. Then you can go into the tent without muddy or dirty shoes. Once inside you can retrieve your shoes or just want until you go back out.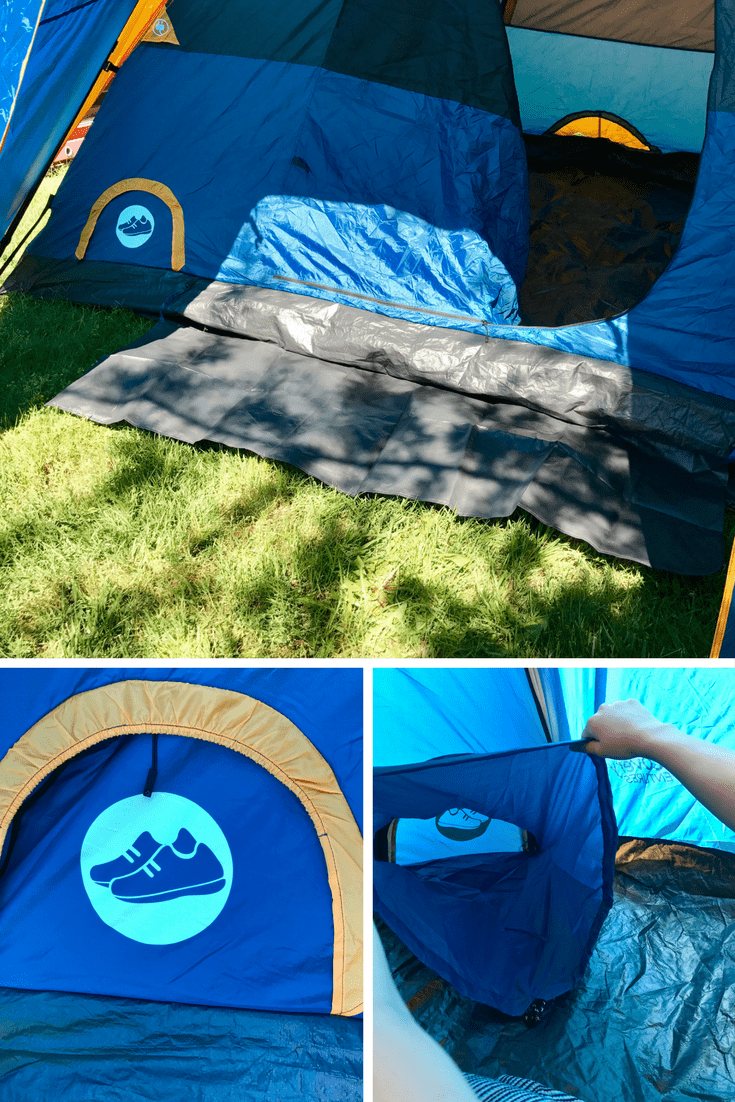 Quick Set Up
This instant set up tent can be put up in less than 10 minutes by one person. If one of the adults is busy with the kids, the other adult can easily put up the tent by themselves. The main steel poles are attached to the tent, so you don't have to battle with set up. Here's the set up process:
Remove tent from the carry bag
Lay out the included ground sheet
Unfold the tent
Extend the poles until they snap into place
Pull rain fly over tent and insert the only pole to support the rain fly over the opening.
Secure rain fly to tent with clip closure.
Secure tent and guidelines with tent stakes
Ideal for Families
The tent has room for a family and their gear. You'll find attached storage areas for tech, glasses, flashlights, and more. Whether it a sewn pocket on the side of the tent or a detached net at the top of the ceiling, you will find a place for most things. If you need electricity for anything, there is a power opening for that too.
The only area that could use improvement is on the windows. When I open a window completely, I like straps or ties to secure window fabric. This tent doesn't have them, but with snap bracelets, that will be an easy fix.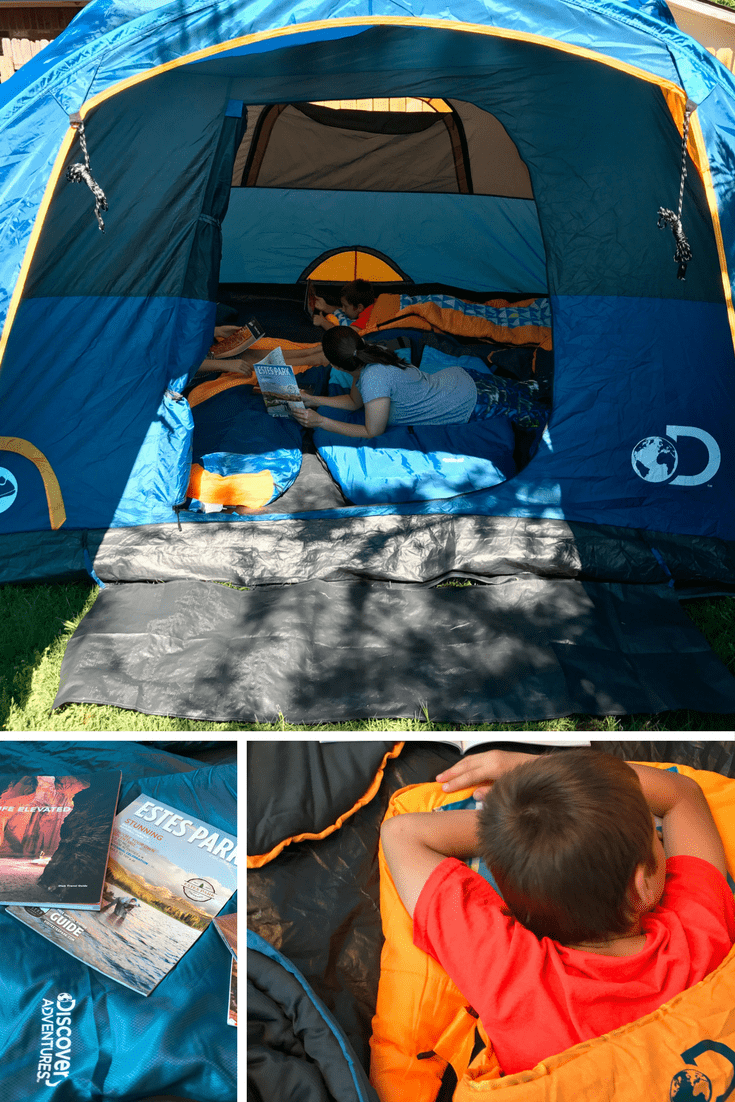 Backyard Camping is a Fun Staycation
Our weather has been really eradicate here in Oklahoma the past few weeks. We haven't been able to head out camping at all this spring. So when this new tent and sleeping bags arrived, we decided to pitch the tent in the backyard for a backyard campout. It gave us the chance to test everything and talk/plan out our upcoming summer trip. It was a fun way to pass the afternoon.
I should note that we didn't set up our sleeping mats under our sleeping bags before we took these pictures. We would whenever we are camping to help provide cushion and insulation against ground temperatures.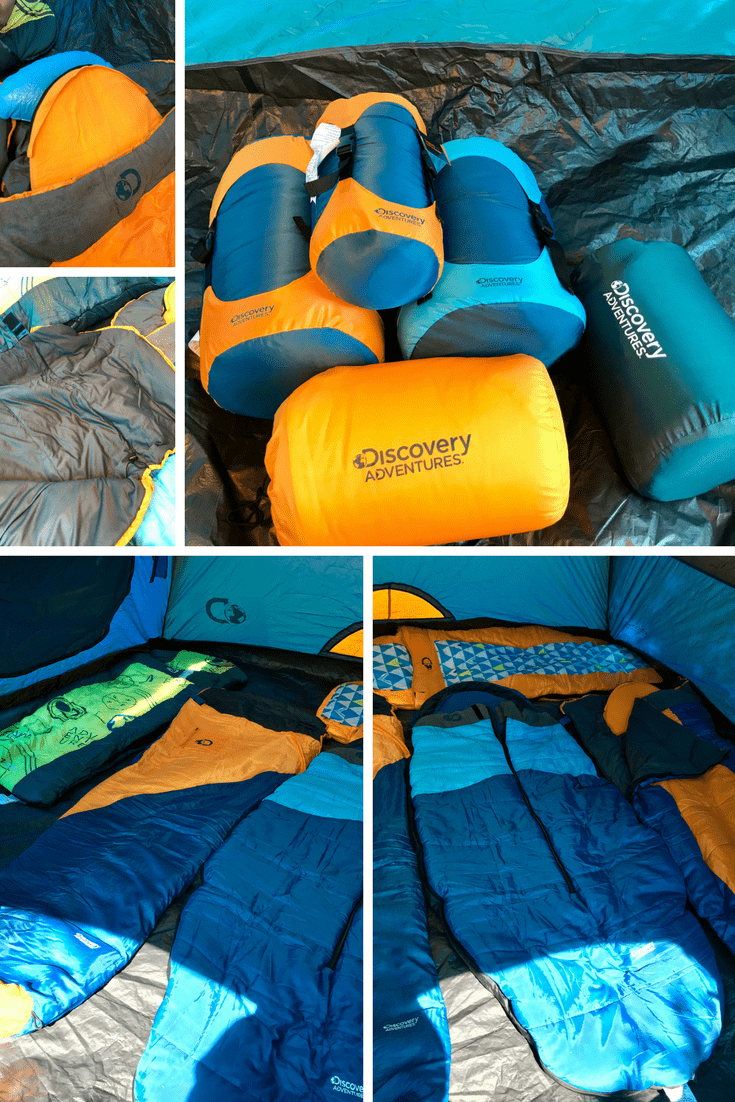 Discovery Adventures Sleeping Bags
There are 4 different sleeping bags in the new line available at Academy Sports + Outdoors. Plus the children's bag comes in two different colors/designs.
Mummy Sleeping Bag $39.99

Measures 32×85 and is rated to 40 degrees F
1lb Thermolite fill (Only bag with this fill)

Kids Sleeping Bag – $24.99

2 designs: Discovery theme and bold graphics
Measures 30×71 and is rated to 45 degrees F
2 lb Hollow fiber fill

Classic Sleeping Bag $44.99

Measures 38×85 and is rated to 40 degrees F
3 lbs Hollow fiber fill
Hang dry straps

Ultravent Sleeping Bag $44.99

Measures 36.5×82 and is rated to 30 degrees F
3.5 lbs Hollow fiber fill
Sleeping Bag features I love for family camping: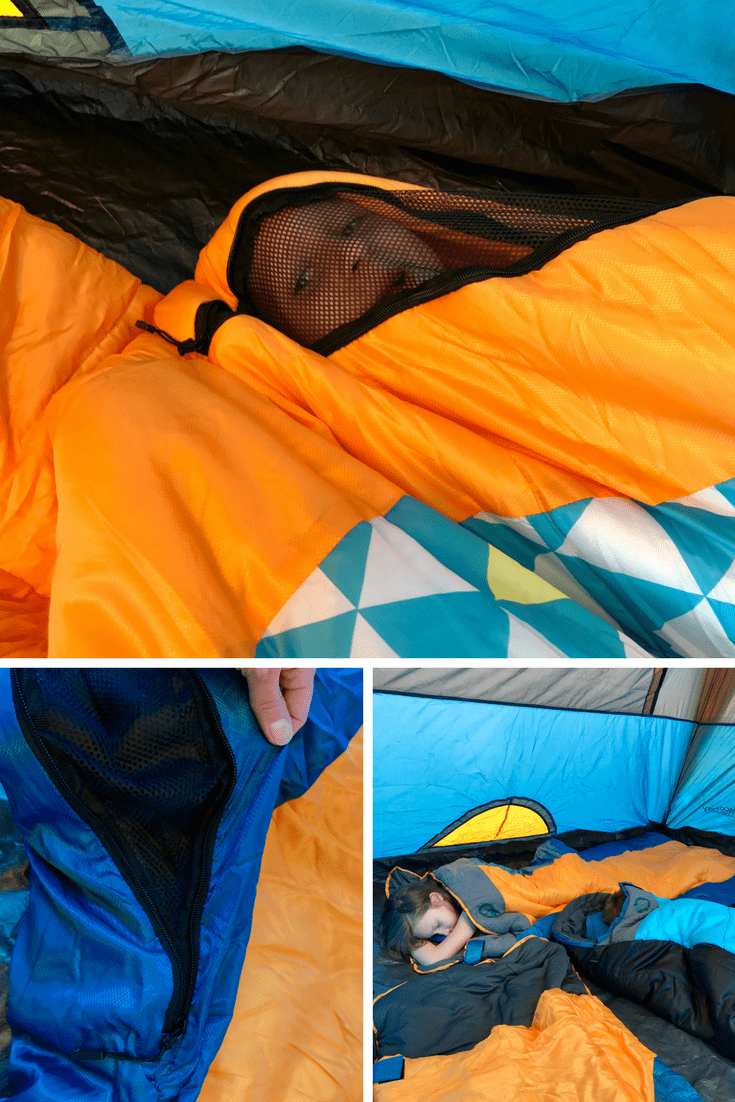 Coolvent™ technology for air circulation
The best feature on these bags is the air vent system. This is a mesh vent insert sewn into each side the bag. You control the temperature inside your bag by increasing or decreasing the air flow by un/zipping the vent. The Ultravent bag has the bigger vents that encase about 75% of the bag while the other sleeping bags only vent along a smaller side section. This feature is great for people like my husband who are really warm natured or if you plan to camp in different climates ranging in temperatures between 30 to 70 degrees.
Integrated Pillows
These may not seem like a great thing, but it's a perk that makes sleeping outdoors more enjoyable. Each sleeping bags has a removable air pillow that can be blown up by mouth to the desired firmness. The pillow is then inserted into a pouch at the head area on each bag. With this, you pillow doesn't get away from you and you are giving a comfortable place to rest your head each night.
Compression Bags
Each of the adult sleeping bags includes a compression bag to decrease the amount of space needed for storage. At first I didn't like these bags. If you don't roll up your bag just right, it doesn't fit into the bag. But once you figure out the best way to roll, it works and works well.
Family Friendly Fabric
Each of these sleeping bags features moisture wicking interiors and water resistant exteriors. That being said, they are also washable in a large front loading washing machine. So it's the best of both worlds. There are those sleeping bags that void the warranty is they are washed, but these clearly state on their label that you CAN wash them. With kids that is a HUGE plus.
All in all, I am very happy with these sleeping bags and tent from Academy Sports + Outdoors and Discovery Adventures. We are looking forward to taking them with us on our trip this summer. Because of that Coolvent™ system, they will do great in both the desert and high mountain settings. Find these products online at www.academy.com/discovery.
Note: I received these products for the purpose of this review. All opinions are my own. You can find my full disclosure and privacy statement here.