Mesa Verde National Park is best known for the cliff dwellings that date back to 550 A.D. There are over 4,800 archaeological sites in the park, including 600 cliff dwellings.. Mesa Verde is a great place to travel with kids as it's an excellent history lesson and much more interactive than a text book. In addition to the fascinating cliff dwellings, there is much to see and do in Mesa Verde National Park. You can go hiking, take a scheduled tour, go stargazing, and more. Here we have included a few things to help you plan for your next visit to the park.
Where is Mesa Verde?
The park is located in the Southeast corner of Colorado, near the Four Corners area. It is located off of US Highway 160 between Cortez and Durango, Colorado. It's easily accessible by car and is within a few hours drive of major cities and other national parks; Moab (124 mi), Telluride (98 mi), Albuquerque (260 mi), and Denver (380 mi).
Cortez is the closest town to the park with over 8,000 people and is just 10 miles from the park entrance. In Cortez, you'll find lodging, restaurants, shopping, and groceries. When we visited last year, we stayed in Cortez at the Baymont by Wyndham Cortez. The next largest town/city is Durango about 40 miles away. If you are flying into the area, you have closest regional airports are in Durango, Farmington (Four Corners), and Telluride.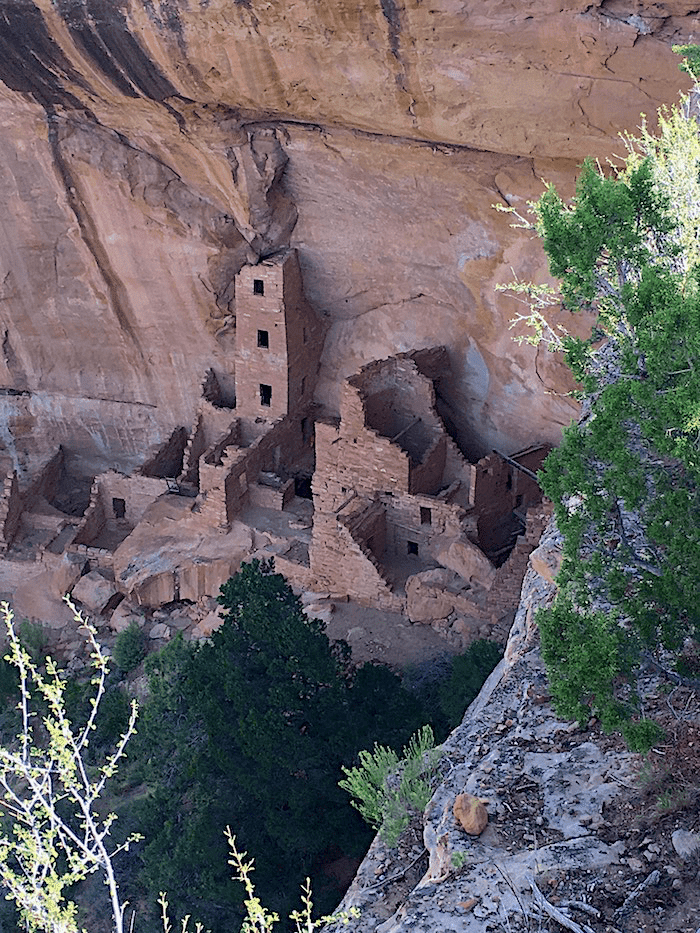 Getting Around the Park
Mesa Verde National Park is open year around. On site camping, lodging, and restaurants are open mid-April through October. During the off season, services are more limited. Admission is $20 per car during the season and $15 per car during the off season.
The park has 4 main areas, where all activities and facilities are located. Morefield Village is where the campground and amphitheater are located. Far View is where you'll find the lodge, dining room and cafe. Wetherhill Mesa is 12 miles beyond Far View, and has a few sites you can tour, as well as a picnic area and cafe. Chapin Mesa is the end of the park road, 20 miles from the park entrance, and is probably the most visited area. This is where you find several of the cliff dwellings as well as the Archaeological Museum.
You can drive yourself around to all the park areas and trailheads. Another option to take one of the offered guided bus tours. These guided tours are half day programs that take you to different areas of the park.
Mesa Verde Lodging
Families visiting Mesa Verde National Park have two options for sleeping inside the National Park; Morefield Campground and Far View Lodge.

Morefield Campground
This campground is the only Mesa Verde Camping area. It is open from mid-April to mid-October, with a 14-day limit. The campground has over 260 improved camp sites, 15 full RV hook up sites, plus primitive and group camping sites. Reservations are recommended. Get our tips on camping in any national park here. The campground has free hot showers, coin laundry, and a general store where you can pick up supplies and firewood. Click here for the campground map.
The campground is located just 4 miles from the park entrance, with several hiking trails in the vicinity, however the cliff dwellings are another 25 miles into the park, so plan on plenty of travel time (about 45 minutes) for tours of the cliff dwellings. You are in black bear country here, so all precautions need to be taken with food storage and scented items, and the park does impose fines for campers who don't follow bear protocol when storing food. Each evening, there is a Morefield Campground Evening Program, at the amphitheater in the campground. Campers can enjoy a free 60-minute campfire talk presented by National Park rangers.
Far View Lodge
If your family prefers to sleep with a solid roof over their head, the Far View Lodge is an excellent option, located adjacent to the Far View Visitors Center, 15 miles inside the park. Like the campground, the lodge is open from mid-April to mid-October. Unlike many National Parks lodges, the FarView Lodge does not feel outdated as the 150 rooms are newly renovated. You'll have the choice of two room types: Kiva and Kiva Deluxe View. The rooms are designed to blend with the surroundings, featuring handcrafted furniture and private balconies. The Deluxe View upgrade is just as it sounds – prime views, right from your balcony!
With the nearest town being at least 1 hour from the main parts of the park, it is worth staying here for convenience alone, not to mention getting a head start on all the tourists in the morning! There are no televisions in the lodge rooms, and no mobile service, so make sure you've packed plenty of activities for the kids once the sun goes down! You can also bring the family dog, for a nominal fee and refundable deposit, but they technically are not supposed to be left in the hotel room unattended while you explore the park. (Dogs are not allowed on any trails in the park).
Dining inside Mesa Verde National Park
Your family will have several (seasonal) options for eating within Mesa Verde National Park. Do check ahead as opening and closing dates vary, and you don't want to tell hungry kids that dinner is an hour's drive away!
Knife Edge Cafe, located in the Morefield Village near the campground, serves casual breakfast, lunch and dinner, including an all-you-care-to-eat pancake breakfast daily until Labor Day.
The Spruce Tree Terrace Cafe, located at Wetherhill Mesa closer to the cliff dwellings offers cafeteria service and outdoor patio dining. A great place to stop on your way to the cliff dwellings! Unlike most services in the park, Spruce Tree Cafe is open year-round, though the menu is more limited in the winter.
Far View Terrace Cafe, located near the Far View Lodge, is a casual food-court style cafe where you can grab some food and enjoy the view from the terrace. This is a great place to grab sandwiches and snacks to take for a trail lunch later in the day.
Metate Room is your other dining option at Far View Lodge, and is a more upscale experience with an award-winning, contemporary menu inspired by regional foods, such as pan-seared steelhead trout and ancient grain risotto. There is no kid's menu, so keep that in mind, but older kids should be fine as there are less exotic options like chicken or pork chops. Bus tours also stop here, so reservations are recommended!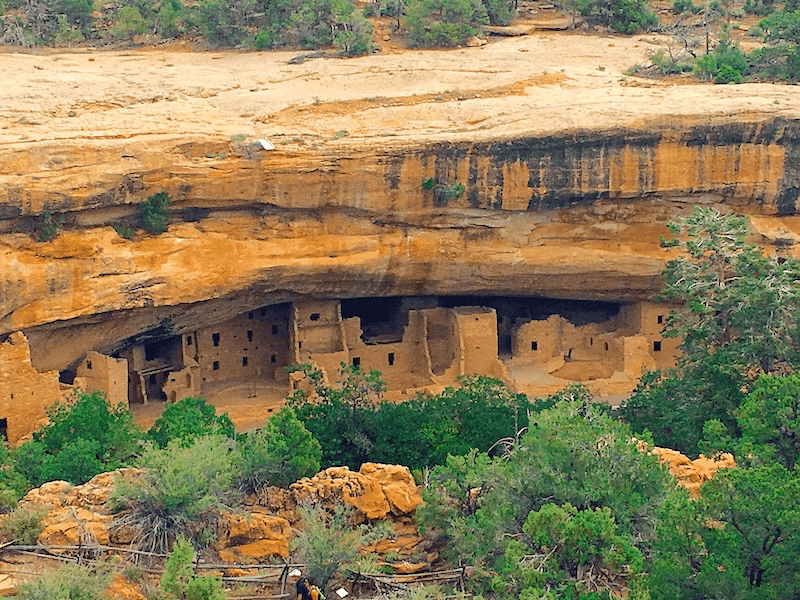 Mesa Verde Tours & Hiking
This park is an archeological site protecting the Ancestral Pueblo cliff dwellings and artifacts. There are several self and guided tours you can take to explore the historical significance of the area. If you want to get into the landscape to explore, there are several hiking trails where you can do that. Hiking is somewhat restricted in that you can't just hike anywhere you want as there are historical artifacts around that need to be preserved, but if you stick to the designated trails and ranger-led hikes, you won't have any trouble!
Ranger Led Tours are available to explore three of the park's cliff dwellings: Cliff Palace, Balcony House, and Long House. Taking a guided tour allows you to walk in the footsteps of those who built them. Cliff Palace is the largest cliff dwelling in the park.
Self Guided Tours are possible and many are open year around. The National Park website has a list of these tours that highlight many of the significant sites within the park. One you should definitely do is the Mesa Top Loop Road. This 6 mile driving loop allows you to see cliff dwellings via overlooks and explore surface dwellings such as Sun Point and Sun Temple.
700 Years and Far View Explorer Tours are available through Aramark Leisure. These bus tours take you on a guided exploration of the area and cover history, culture, and architecture. When we were there last year, we took the Far View Tour and found it to be a great way to see the area without large crowds. Learn more at VisitMesaVerde.com

Helpful Things to Remember
Altitude Sickness – The park elevation ranges from 6,500 to 8,500 feet. At this altitude, visitors may experience altitude sickness if they hike up too quickly. Be sure to take your time and allow your body to acclimate to the elevation before setting off on long hikes.
Dress in layers during your tour or hike. Summer highs can be in the mid 80's with low humidity. Winter daytime temperature average in the 30's. Temperatures become much cooler as the sun goes down.
Get Your stairclimber workout in. Several of the trails and tours involve stairs and/or ladders. You will be climbing and descending those stairs. So plan ahead and learn tour/hike descriptions carefully. Get more tips on hiking with kids here.
National parks are not all focused on green spaces and nature. Mesa Verde National Park is a beautiful park, but it's focus is on protecting the Ancestral Pueblo cliff dwellings and historical artifacts. You and your family will gain a new appreciation for the ingenuity of a people who once lived here and what they accomplished. It's a lesson you can't get from a book! Plan a trip to Mesa Verde and walk in some one else footsteps.