This year the National Park Service is celebrating a huge milestone. We love the exploring the outdoors, especially in the national parks, so we're sharing tips for camping in any of the National Parks.
Camping in National Parks can be an awesome experience. The National Parks are an awesome way to see different places, experience wildlife and nature, and of course they offer amazing camping locations!
When you think of national parks, what comes to mind? Do you think of Yosemite, Yellowstone, Joshua Tree, Denali, etc? Those are four of the most well-known national parks.
The National Park Service maintains 392 national parks. So you can find parks all over the country. There may be one closer that you thought. Regardless of the locale, camping in national parks can be a great family experience! In honor of the National Park Trust's 6th anniversary of Kids to Parks Day (May 21st), we are bringing you tips for camping the National Parks because the best kind of adventure is a family adventure.
Kids to Parks Day is a nationwide effort that invites you to join the nationwide day of play by discovering and exploring your local, state, and national parks and public lands. Join us and pledge to get outdoors May 21st to explore a park near you. Learn more about the event and register for Kids to Parks day at kidstoparks.org where you will be entered to win great prizes.

Camping in National Parks
Before you head out, there are a few different things you should try and remember when camping at national parks. We have a few tips for camping at national parks to make your next camping trip one that you and your family will be talking about for years to come!
Safety First
This should be an obvious one: Safety. Safety should be your number one concern when camping at national parks and it is the best tip we can provide.
Here are a few key things to remember to stay safe:
Never leave children unattended
Be prepared for changing weather and emergencies
Make sure you are familiar with the wildlife and predators of whatever area you are in
Listen to any warnings from the rangers
Be cautious and respectful of the park and its inhabitants
Never approach any wild animal
In some national parks the threat of large predators like bears and mountain lions will be very real.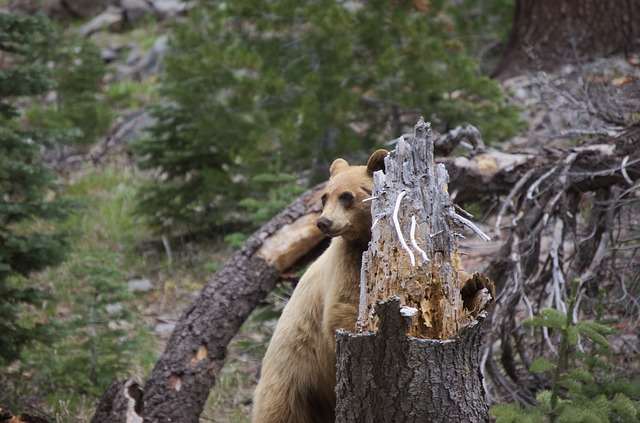 According to the Grizzly and Wolf Discovery Center, bears and other predators are attracted to the following items:
Human and Pet Food
Insect Repellants, lotions, toothpaste
Trash
Cooking pots and utensils
Fuel for stoves and lanterns
Unopened beverage cans
Therefor, you need to be prepared to properly store food, water, supplies, and waste, so as not to attract animals close to your campsite. You can store these items in bear resistant food storage containers, your vehicle, or suspended 10-15 feet off the ground (like up a tree).
It is also important to know what you should do in the event of an attack. A little bit of research before hand and a conversation with the ranger upon arrival can do a lot of good.
Now that we've talked about safety, let's get planning and get a camping spot.
Plan Ahead and Make a Reservation

Many national parks are first-come, first-served, but some do allow you to make reservation. For those parks that do not take reservations, make sure you plan ahead and arrive early in the day to secure your spot! These campgrounds usually fill up by early afternoon.
Some of the national parks allow you to make reservations online; others do not, either way you should try your hardest to secure a reservation. Especially during the busier seasons you will not want to wait and "just show up" or you might be out of luck and have nowhere to stay for the night! Making a reservation will help make sure that your planned trip doesn't end up starting out on the wrong foot. Some of the more popular national parks like Yosemite and Yellowstone allow you to book in advance between six months and one year prior!
Another great way to plan ahead is to do some research on the area where you will be staying. Lots of times there are little known trails, adventures, or awesome sights to be seen that you can miss if you are not familiar with the area! Do some digging online so you know what to look for and you can get some reviews from past campers on specific areas of the parks!
Know Where Your Camping Spot Is Located

National Parks can offer a variety of campsites; primitive back-country, developed campground, and/or RV pull through locations. Make sure to book a spot in the proper area for your planned type of camping. You don't want to book a spot in the RV area if you are planning to tent or backpack. The noise will be unbearable and you will likely get very little sleep.
Back-Country Camping
In most national parks there are primitive, backwoods areas for extreme camping experiences. It could be to a designated area or allow for you to camp in any suitable area. This type if camping requires a special permit, but it can be a free or low cost option. If you up to the challenge, you will want to make sure you are trained for this type of adventure experience beforehand! Always tell somewhere where you are going and be sure to check the weather before you head out.
Developed Campgrounds
These types of campgrounds usually include both tent camping and RV areas. The tent camping sites are great for families. You can drive in by car and usually park next to or very near your camping spot.
Many National Parks have developed campgrounds that provide modern conveniences like water and electric hook ups, hot showers, flushing toilets, and camp stores. Not all campgrounds are the same, so be sure to check the park's website for the facilities offered. Camping fees range in price, $10-$50 per night.
Many National Parks also charge an entrance fee which may be waived for overnight guests. Discounts may be available on entrance fees for Active Duty Military Members and their families, Families with a 4th grader, Access Pass holders, and seniors.
When planning your next camping trip to one of the U.S. National Parks, these tips will help you plan for a once in a lifetime experience. Go out and explore with your family!
Have you ever been to a national park? How did you enjoy your trip?