Ready for a family adventure that takes you through the woods and then UNDERNEATH it? If you answered yes, it's time to start planning a trip to Kentucky to explore the world's longest cave system at Mammoth Cave National Park.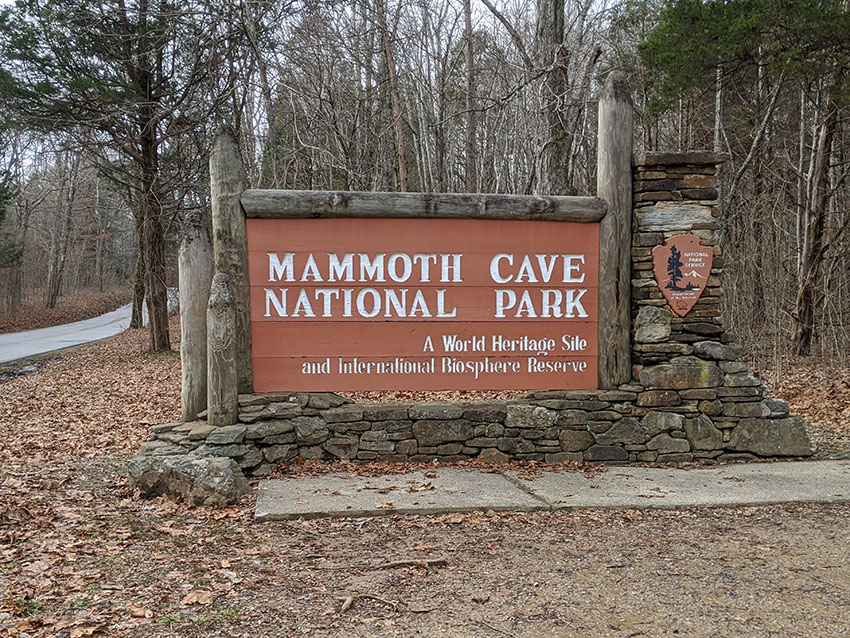 Recently, friend and fellow family travel writer Mike Baron with FivePax.com, his wife Brittany, and three children (ages 6, 4, and 1) embarked on a road trip to visit Mammoth Cave National Park. They had a great time and since Mike know how much we love getting kids outdoors, he wanted to share their trip with y'all here. Mammoth Cave is known for their cave tours.
Mike offers some great insight to help you plan your next family trip including the 5 best cave tours for families. These tours range from the super short Frozen Niagara tour, to the park's only accessibility tour for those with limited mobility, and the Wild Cave Tour for super adventurous teens. He also shares tips on nearby attractions, caves outside the park, the trail system, and lodging options when you are here. Everything you'll need to plan your trip is here!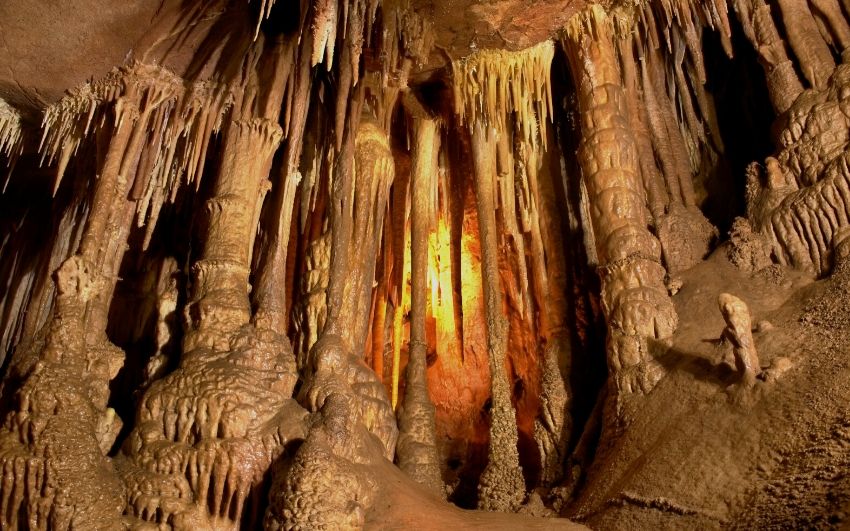 Mammoth Cave National Park
The sensational Mammoth Cave National Park holds the world's longest known cave system and is one of the real gems of the US National Park service. The land surface above the cave covers over 80 square miles, but underneath is a limestone and sandstone labyrinth of roughly 400 miles of a five layer cave system. The park sees over 2 million visitors each year, with nearly 500,000 taking a cave tour.
Around Mammoth Cave National Park, visitors can enjoy nearly 84 miles of trails that span backcountry, front country, and near the visitor center. In the summertime, visitors can also canoe down the green river through Mammoth Cave National Park. Canoe trips range from 3 hours to 2 nights or more with great opportunities to see wildlife such as turkey, deer, beaver, birds and reptiles along the shoreline. The main attraction, however, is the cave itself.
PIN THIS FOR LATER…..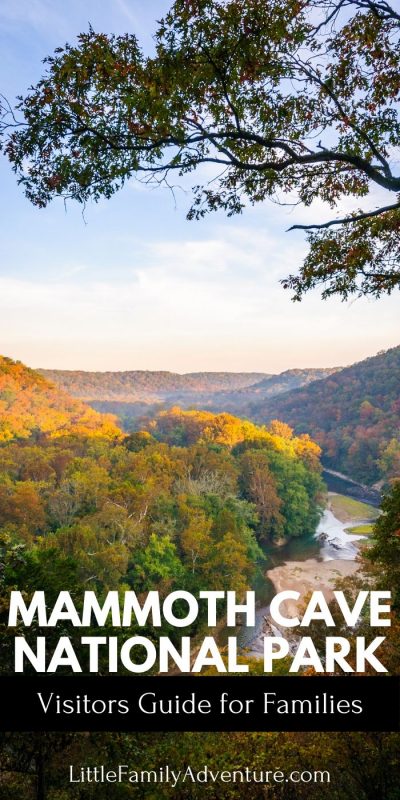 Where is Mammoth Cave?
Mammoth Cave and the surrounding attractions are located in central Kentucky, about halfway between Louisville and Nashville, and about 4.5 hours east of St. Louis. For those who enjoy a sip of Grandpa's whiskey, it is also conveniently located a few hours south along Kentucky's Bourbon Trail.

When you are ready for a visit, we share the best cave tours for families and everything you need to know about the park before you arrive.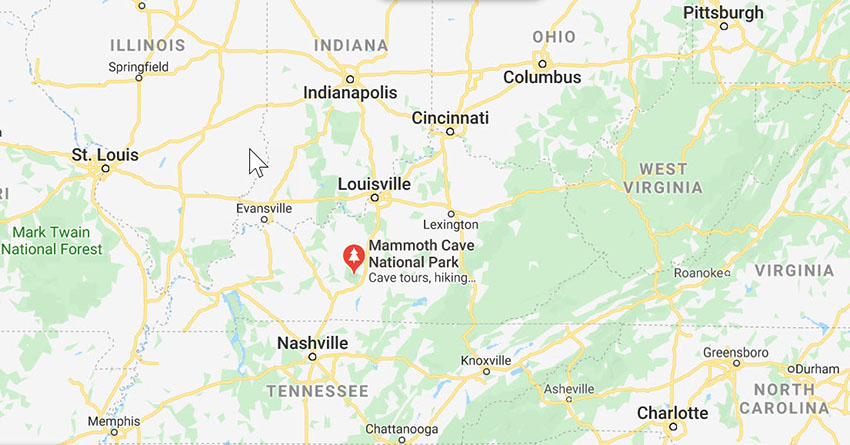 Hotels and Airbnbs near Mammoth Cave National Park, Kentucky
Start With a Visit to the Park's Visitor Center
The visitor center is the obvious place to start upon arrival at Mammoth Cave. Families can stop at the ranger kiosk at the center of the visitor center to learn more about the trail system and the various cave tour options. There is also a gift shop and a museum where visitors can learn more about the caves, or in our case, hype your kids up for some time underground.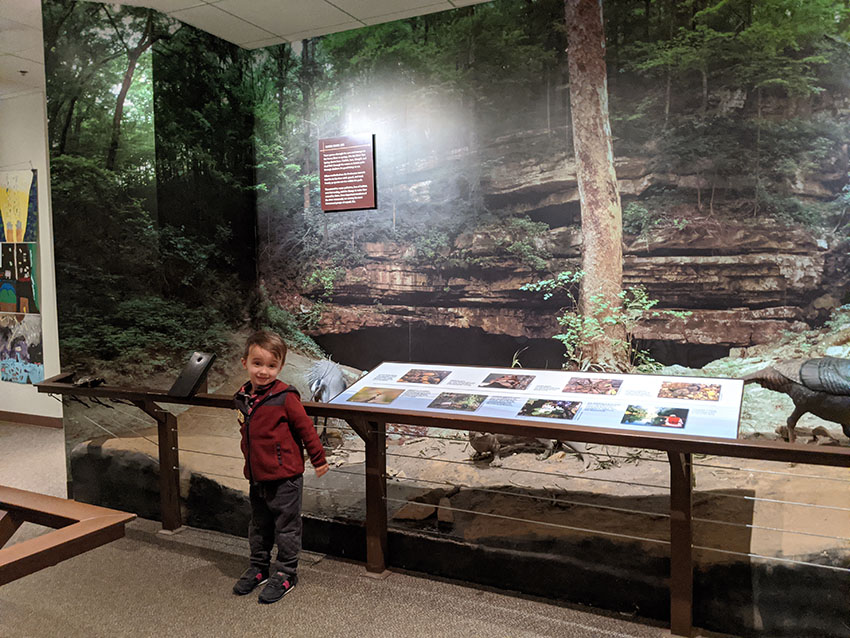 Junior Ranger Program
One popular activity at any National Park, but something especially fun at Mammoth Cave is participating in the Junior Ranger Program. At no cost, you can pick up a booklet of educational activities for the kids at the ranger kiosk in the visitor center. You will definitely want to pick this up BEFORE you head out into the park and especially before you begin touring the caves. The Mammoth Cave booklet may be a little basic for kids over the age of 12, but was a huge hit with our city slicker New Yorkers.
NOTE: Did you know that adults can participate in the Junior Ranger Program? It's fun for ALL ages! You can do the activities as a family, solo, or make it a competition – Kids versus adults.
The Junior Ranger program at Mammoth Cave covers topics such as the types of animals living in the caves, plant life outside the cave, and important lessons such as the Leave No Trace principles. Once the kids complete the requisite number of activities in the book based on their age bracket, a ranger reviews the work and awards a badge after a swearing in ceremony.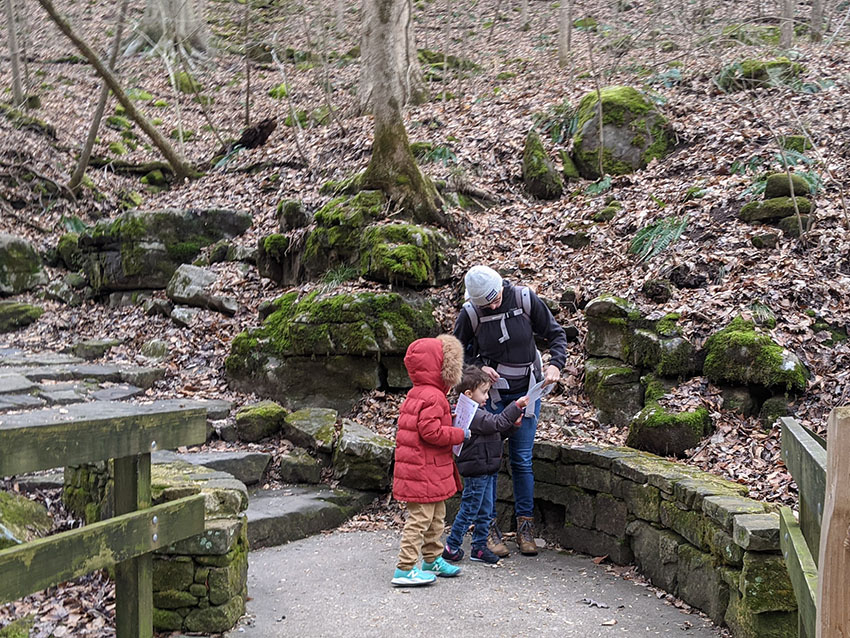 Future Junior Rangers are seen here learning about moss that covers the rocks near Mammoth Cave Kentucky.
If the educational value of the program is not the highlight, watching the attention kids get when they walk around with mini park ranger badges certainly is.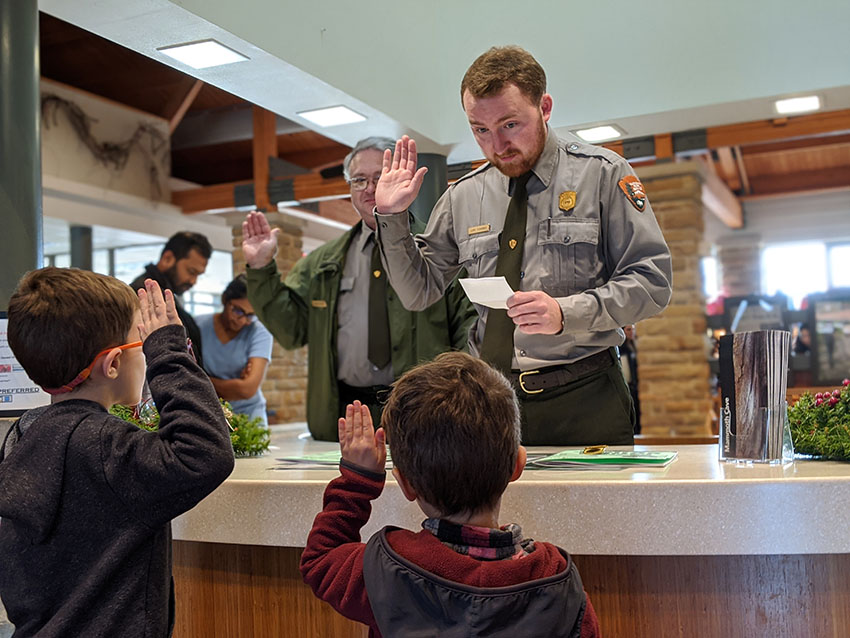 First of all, he's cute. Also, he's left handed, so the ranger let the little guy slide for raising his left hand. He still got the official Junior Ranger badge.
Mammoth Cave Tours
The National Park Service offers multiple cave tours at various levels of adventurous spirit. Several tours covered below are lit tours great for families with young children or grandparents. More adventurous alternatives are lit only by paraffin lamps carried by guests. Finally, for those looking for the ultimate adventure, Mammoth Cave offers a few "wild" tours that descend into the depths of the caves, away from the developed sections and into muddy and dusty crawl spaces.
Narrowing down the 18 offered tours is quite a task. While some of the more popular tours are offered multiple times per day even in the winter, many tours have very little availability outside of the summer months. If your time at the cave is limited or you are traveling in the late fall, winter or early spring, start by searching which tours are being offered during the time your family has available. We highlighted the top 5 tours for families below, but the best place to find all tours listed in one place is oddly the recreation.gov website and not the Mammoth Cave NPS site, which only lists tours for the current season.
Know before you go
Before ducking into the caves, it is important to do a self-assessment about what a cave tour actually means. Claustrophobic individuals may want to consider one of the well-lit tours, and even those include climbing through narrow passageways. Stairs down into the cave areas are also steep and occasionally wind through spiral metal staircase above several hundred feet of drop off. Finally, visitors should be aware that most tours require moderate physical activity and are completely cut off from the outside world.

All that said, our 4-year-old had no trouble on the Domes and Dripstones guided tour. He ran out of gas and only needed to be carried up a few stairs near the end, even with the optional additional 100 stairs, we tackled to get up close with stalactites and stalagmites. We also carried a baby in a front carrier and although tricky in a few spots, we were able to maneuver through without any problems.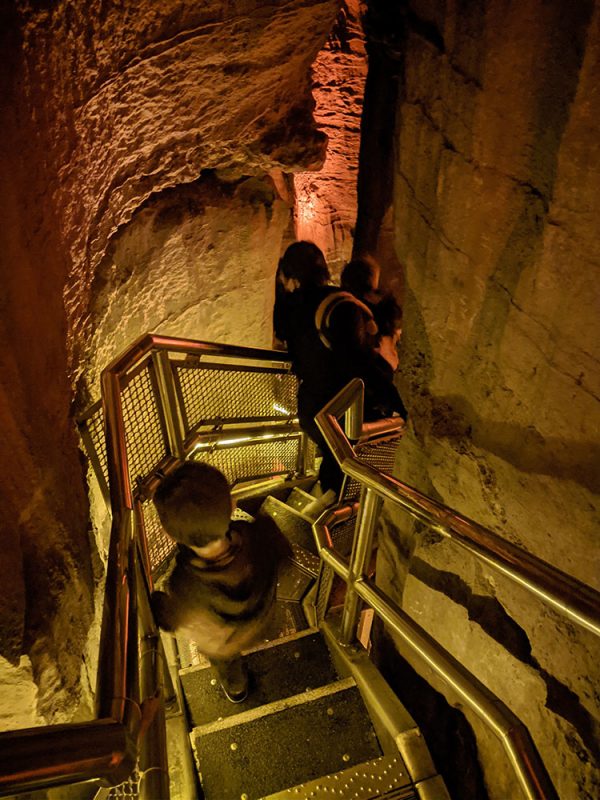 Logistically, tickets can be purchased online ahead of time or on-site. Ensure you check-in at the Welcome Center to receive your printed tickets at least 30-minutes prior to the start of your tour, even if you booked online. The tours start right on time. Unless noted, tours are not accessible by wheelchair or stroller.
Cave Tour Rules
Other things to note are items that are not permitted:
Strollers
Tripods
Flash photography
Metal framed backpacks
Child backpack carriers (you can carry on the front)
Walking sticks
Firearms or weapons of any kind
Best guided cave tours for families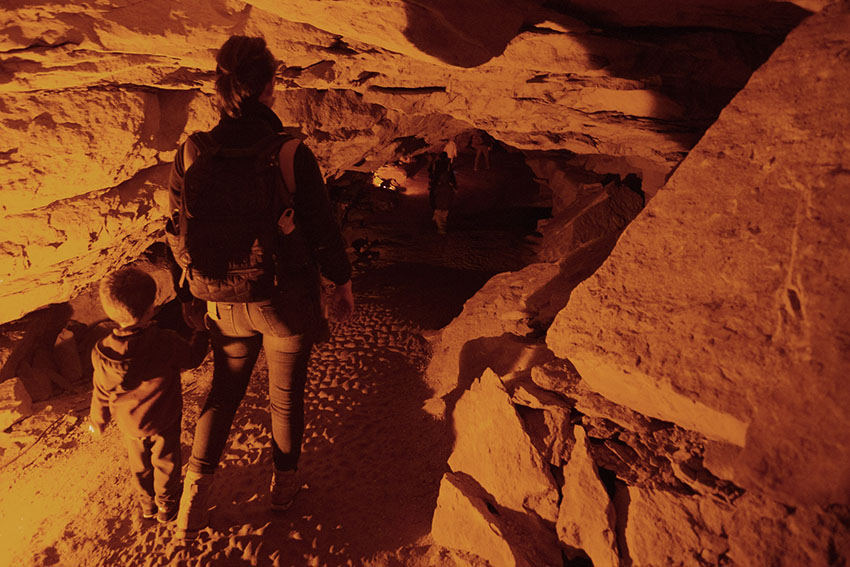 There are a few low and/or tight passages in the Domes and Dripstones tour, but well worth the crouching and twisting.
Domes and Dripstones Tour
Duration: 120 minutes
Distance: 0.75 miles, Steps: 500
This is the tour for families who are okay with a bit of adventure, hundreds of stairs and steep passageways with a few narrow squeezes. The viewing prize are the stalactites and stalagmites at the end! We chose this trail and our 4 and 6-year-olds handled the tour just fine with our one-year-old tucked into a front carrier. The payoff truly is fantastic.
Historic Tour
Duration: 120 minutes
Distance: 2 miles, Steps: 540
A tour for history buffs and adventure seekers, visitors of the historic tour will walk the same paths used by area residents for thousands of years. You will need to squeeze through Fat Man's Misery and duck down for Tall Man's Misery on this tour, which will be to the great amusement of small children who glide through with ease. The reward is quite worth the temporary discomfort as you will soon be standing among the massive rooms that gave Mammoth Cave its name.
Frozen Niagara Tour
Duration: 75 minutes
Distance: 0.25 miles, Steps: 12
The shortest tour on the list, a great choice for families of very small children or anyone with limited mobility who may have difficulty with stairs or a longer hike through the cave system. The Frozen Niagara begins where many tours end with a stunning view of stalactites and stalagmites.
Mammoth Cave Accessible Tour
Duration: 120 minutes
Distance: ½ mile maximum, no stairs
This tour is the only accessible tour offered at Mammoth Cave but offers visitors who require assistance with the ability to enjoy the caves via an elevator entrance. The tour is ideal for visitors who require wheelchairs, scooters, or other special assistance devices. Due to demand, the park requests guests who do not require an accessible tour to book other tours. Keep in mind during the late fall and winter months this tour has limited offerings so you will need to plan ahead.
Wild Cave Tour
Duration: 6 hours
Distance: 6 miles, 500 steps
OK, this tour is probably not the most family-friendly tour, but we have to mention it. For the most adventurous travelers who are at least 16 years of age with a chest and waist measurement not exceeding 42 inches, this tour might be for you. The Wild Cave tour is an all-day underground crawling adventure and is very physically demanding. If you want to physically challenge yourself in a unique environment, the Wild Cave tours answer the call.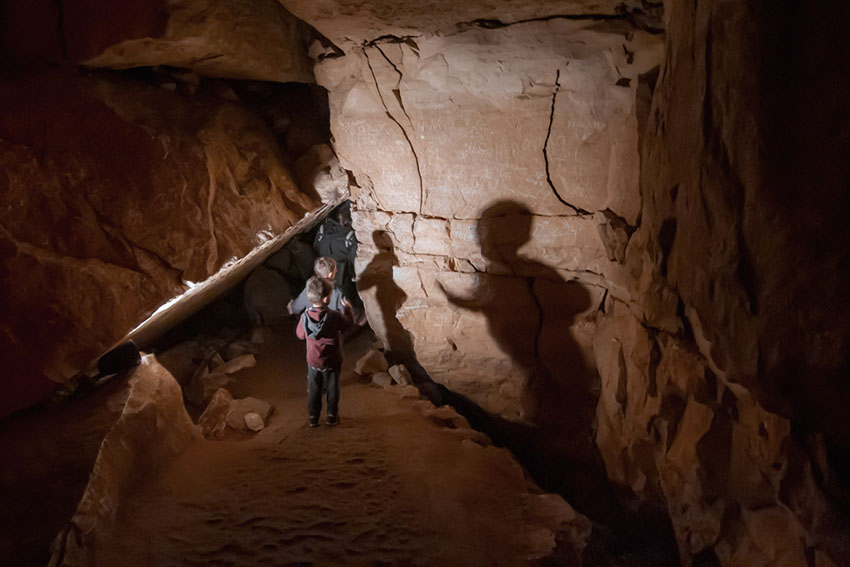 What's more awesome than making scary shadows in the depths of a super cool cave?
Mammoth Cave National Park Trails
The trail system around the visitor center is well cleared, some areas are paved and well-traveled, but none are especially well marked. Hiking is generally easy for all ages. The views are good, but not spectacular. If you are in the park for a trip to the caves, the trails are worth a hike simply for the wildlife. One rather amusing observation is the fact that the deer in the park have no fear of humans. Hunting is strictly forbidden in the National Park, so deer have no reason to run when people approach. We also saw wild turkey and a lot of squirrels. The trails further off the paved walkway are a bit less traveled and more scenic.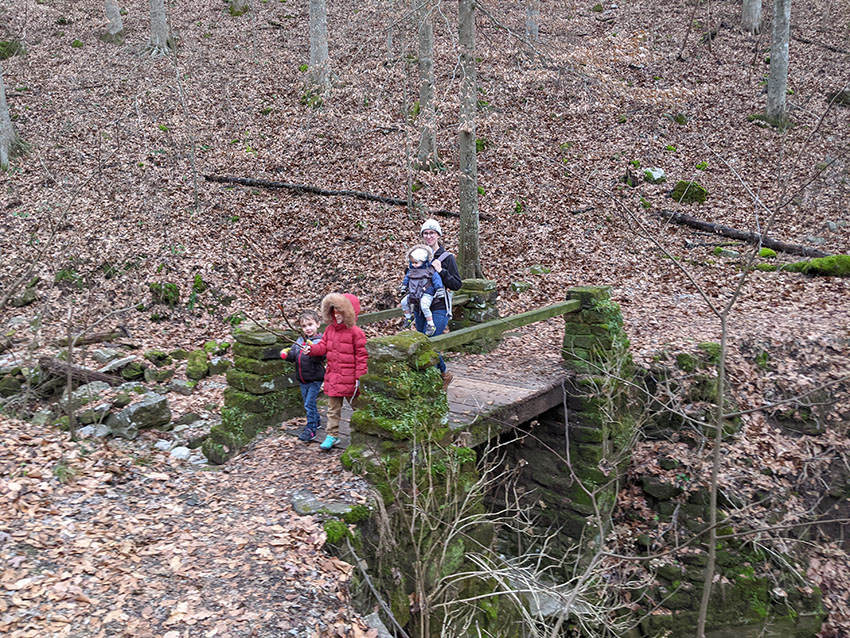 Related: Get our hiking with kids tips & printable nature scavenger hunt.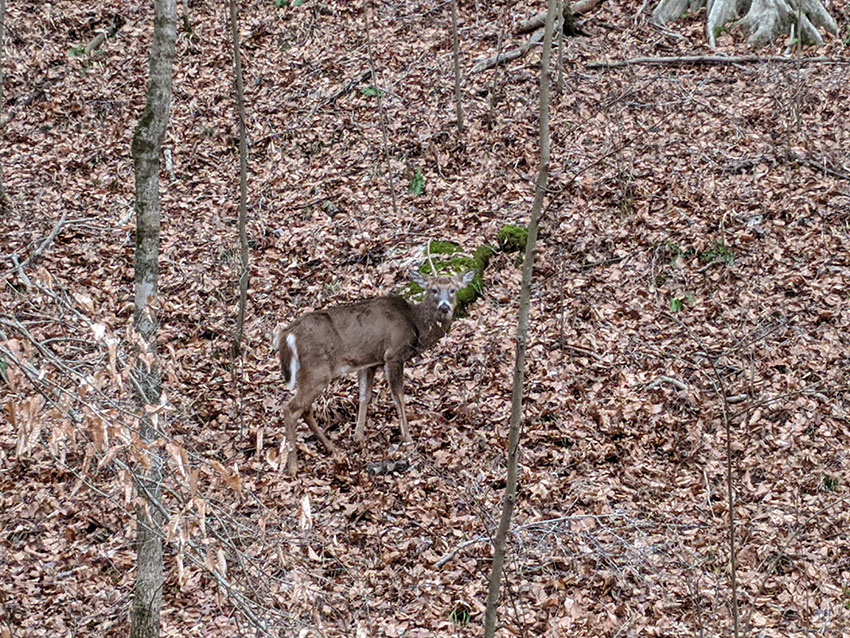 As we approached this buck, I informed our boys that his tail would shoot up indicating he was afraid of us and he would run away. I was wrong. He continued munching and ignored us.
Exploring the Surrounding Area
Nearby Nolin Lake State Park offers a great camping getaway and the area also offers attractions such as Chaney's Dairy Barn. Also nearby are smaller, but equally dynamic caves in Kentucky such as Diamond Caverns or the Crystal Onyx Caves where you can see actual stalactites dripping mineral water. The smaller caves outside the park are not nearly as large as Mammoth Cave, but the rock formations and lighting are better suited for photos. Cumberland Gap National Historical Park and the Abraham Lincoln Birthplace National Historical Park are two other nearby national parks in Kentucky.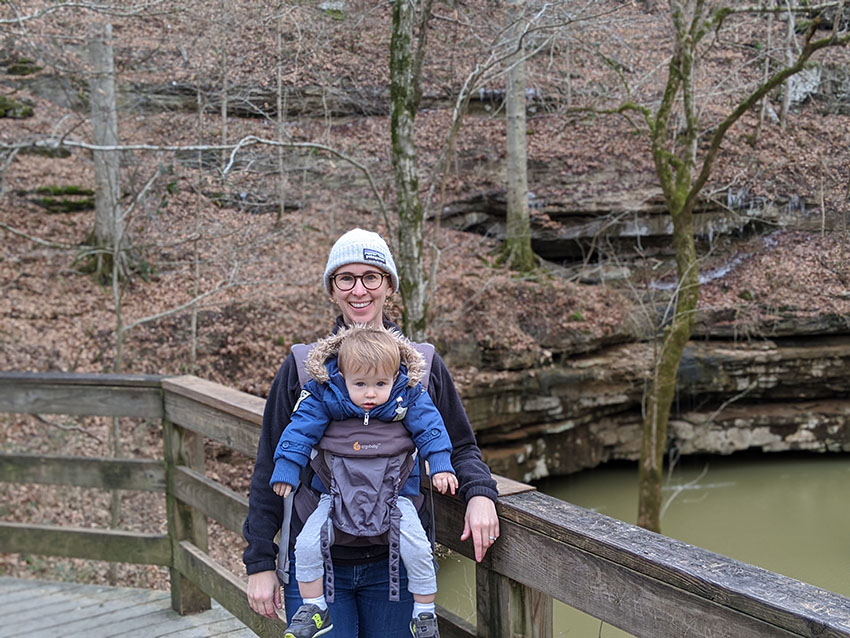 Mammoth Cave Lodging
The Lodge at Mammoth Cave is located at the heart of the park with rather nice rooms and full amenities such as dining, shopping, and even on-site dog and cat kenneling.
Mammoth Cave offers a number of very reasonably priced campgrounds, however, of all the campgrounds only two sites have electricity. RV's with a maximum length of 38 feet are allowed at some sites.
As mentioned previously, Nolin Lake State Park also offers camping, with 32 sites that have both water and electricity.
Outside of the National Park, hotels in the cities of Horse Cave, Cave City, and Park City are closest to the park entrance and attractions with a few chain hotel options. A little further out, within 30 miles are the towns of Bowling Green and Elizabethtown. Both offer slightly larger metro areas with more lodging and restaurant options.
In any case, it is advisable to book reservations well in advance during the summer months. In the summer, Mammoth Cave in Kentucky will see over 5,000 visitors per day.
Conclusion
The National Park system really is a national treasure and Mammoth Cave National Park in Kentucky lives up to the hype. While it does not get the attention of Zion, Yellowstone, or Yosemite, Mammoth Cave delivers a fascinating ecosystem and a one of a kind experience. What is your favorite hidden gem of a National Park?
Interested in other National Parks? Take a look at:
Guest Author Bio: Mike is a software engineer and father of three young boys. He works closely with a study abroad program at a large university in New York City, so he gets a healthy dose of culture at home and gets to travel to amazing places for work. When he's not staring at a screen trying to figure out why a semicolon is causing an entire system to malfunction, he enjoys spending time with his family outdoors immersed in culture and nature. You can find more of his and his wife's travel tips on their website FivePax Family Travel.