— Today's article on Joshua Tree California is a guest post from Patricia Knight, a professional photographer and local resident in Joshua Tree, CA.
Come and Explore Joshua Tree National Park and Surrounding Area
Joshua Tree is a haven for those looking to escape the concrete jungle and enjoy some outdoor family adventures.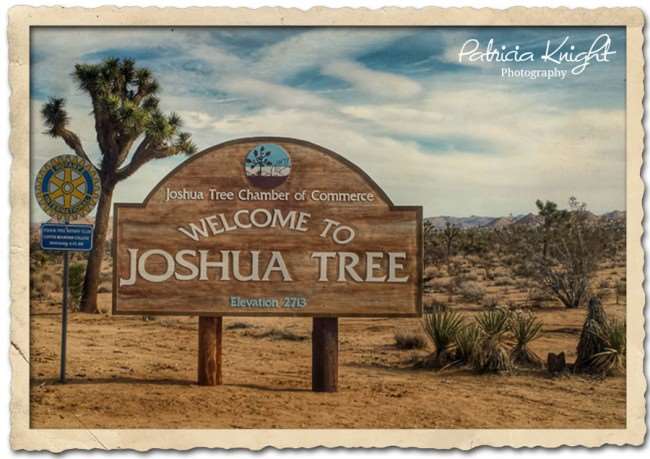 You'll find the little village of Joshua Tree, nestled in the Morongo Basin, just 34 miles east of Palm Springs. JT is steeped in cultural arts and a gateway to Joshua Tree National Park.
Super Short History of Joshua Tree
For centuries, this arid desert was home to various Indian tribes until the late 1800s when smallpox and homesteaders in search of gold overtook the land. Most famous of the homesteaders was William Keys, who came to the area when he was 30. He, like many others, came to the area in search of gold. Shortly after becoming a superintendent of the Desert Queen Mine, the mine went bankrupt. The owners of the mine gave him the deed to the mine as compensation for wages owed to him. Keys and his wife Francis stayed in the area to homestead nearby land and built a ranch. They remained here until their deaths in 1963 (Francis) and 1969 (William). His ranch still stands today hidden away within the rocky confines of the Joshua Tree National Park. You can make a reservation for a Ranch Tour by calling 760-367-5522 or stopping by one of the three Visitor Centers (Cottonwood, Joshua Tree or Oasis) to purchase tickets. The cost is $5 for adults and $2.50 for children six and above. Seniors and those who have an annual pass are also $2.50. Tours are start at 2pm on Fridays and Saturdays and at 10am on Sunday's.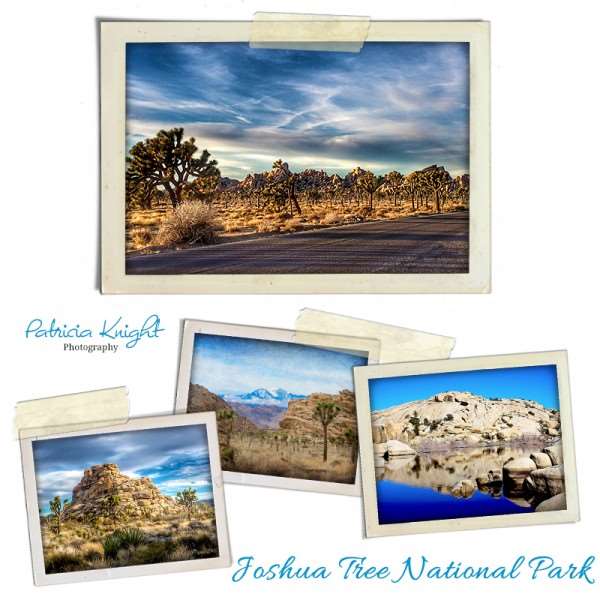 The Main Attraction: Joshua Tree National Park
People have been flocking to the area of Joshua Tree since the early 1900s. And thanks to the efforts of Los Angeles socialite, Minerva Hoyt, who while president of the Desert Conservation League, helped get the area designated as a federal park to preserve the fragile desert ecological system from those who sought to destroy it. In 1936, Franklin Roosevelt signed a proclamation establishing parts of the Mojave and Sonoran
deserts as Joshua Tree National Monument. You may still hear local residents refer to Joshua Tree National Park (JTNP) as "The Monument" because the area did not get its National Park status until 1994 when President Bill Clinton signed the Desert Protection Act.
Nowadays, over 1.2 million tourists (including rock climbers, hikers, and locals) from all over the world descend on the village of Joshua Tree every year as they make their way to Joshua Tree National Park. Despite that many visitors annually, JTNP does not have shuttle bus transportation like many other national parks do, so you'll have to rely on your own vehicle to get around. I highly recommend you have a full tank of gas before venturing into the park.
Related: Find out when you can visit for free on one of these National Park Free Admission Days.
Top 10 places to visit within Joshua Tree National Park:
Arch Rock Nature Trail

– Best reached by entering the Park through the entrance located in 29 Palms. This is a fairly easy stroll among some fantastic boulder formations to the only known arch in the park.

Barker Dam

– Best reached from the West Entrance in Joshua Tree. This is also an easy hike that most people enjoy. The water level will vary depending on recent rainfall. We've been experiencing a drought as of late so there hasn't been much water for the local wildlife.

Cap Rock

– Best reached from the West Entrance as well. This is one of the few handicap accessible hikes within the park. Personally, this has long been a favorite place of mine, so much so that I got married in this location in 2010.

Cholla Cactus Garden

–You can reach this Pinto Basin location from the 29 Palms entrance into the park. I highly recommend coming here at sunset. The needles on the cholla cactus glow as the sun is setting in the distance. Speaking of distance, you'll want to keep yours from this cacti, as they are known by locals as the "jumping cactus". You'll also want to watch were you walk as it is not easy getting these needles out. I like to keep a pair of pliers with me whenever venturing into the garden to photograph the sunsets.

Hemmingway

– You can reach this location by entering the Park in Joshua Tree. Rock climbers love coming to this area to seek out the higher elevations.

Hidden Valley

– Not too far past Hemmingway you'll find this secret valley surrounded by towering boulders and a slew of joshua trees. This is the perfect spot to enjoy a family picnic. Plenty of tables and bbq's throughout the area with plenty of rocks for the kids to scramble on.

Keys View

– This is one of the highest points in the park and it can be reached from the Joshua Tree entrance. Once you reach your destination, you'll be rewarded with panoramic views of Palms Springs and the entire Coachella Valley. It's also a great location to enjoy many 4th of July celebrations all at once.

Lost Palm Oasis

– Best reached from the Cottonwood entrance located in the Coachella Valley off the 10 freeway. This remote canyon oasis can be reached by a 3.5 mile trail.

Ryan Mountain

– Best reached by entering the Park from Joshua Tree. One of the more difficult hikes in the Park but you'll be rewarded with dramatic views of JTNP from its peak. And in the campground area, it's a short, easy hike to an abandoned adobe homestead.

49 Palms Oasis

– Can be reached by driving into Indian Cove located off Highway 62 between Joshua Tree and 29 Palms. There's a gorgeous palm oasis awaiting you at the end of this moderate trail.
Joshua Tree Weather
The best time to visit Joshua Tree is from October to May when temperatures are milder. Right now the weather has been getting into the upper 60s and low 70s during the day and into the 40-30s at night. I always suggest wearing layers to adjust to the changing temperatures. During the summer it can get downright miserable with the summer heat getting well above 100 degrees. And no matter what time of year, always make sure you have plenty of water with you. This is the desert after all.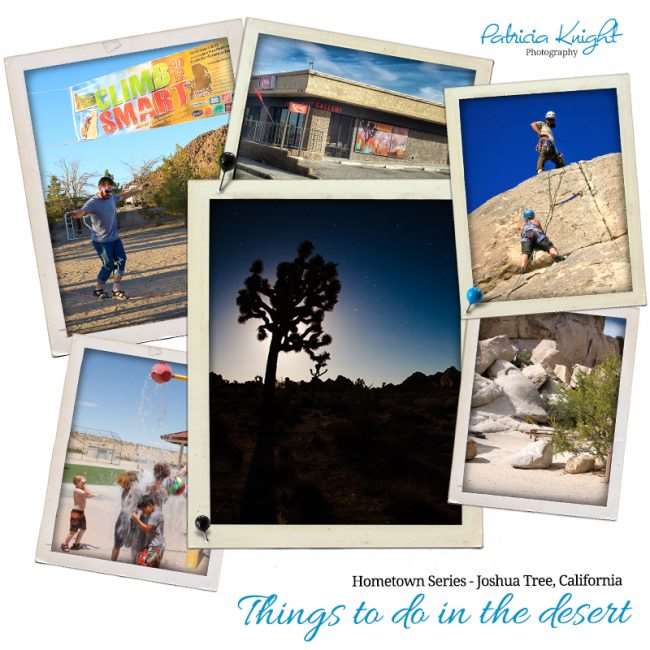 Things to do around Joshua Tree & Morongo Basin
While many come to the area to visit Joshua Tree National Park, they are plenty of things to do within the Morongo Basin and the lower desert. Saturday's are the best day to head downtown to check out the local shops and art galleries. And every Saturday there is a Farmer's Market where you can find locally grown produce and crafts from local artisans.
If you're visiting during the toasty summer months, I suggest taking your family to Sunburst Park to enjoy the water playground, which is open Memorial Day weekend through Labor Day weekend.
If you're into astronomy, there is an annual Starry Nights Festival in September when there's a new moon.
One hidden gem in the desert of the Joshua Tree & Southern Railroad Museum. They are not always open so you'll have to check their calendar for upcoming events but I guarantee you its worth it. Here's a video I put together from a recent trip I took there with my son. We had a blast riding on an open car of a self built scaled down train. Check it out on YouTube!
Looking to see how the west was won in Hollywood? Then I suggest you take a trip through Pioneertown, which was originally built as a movie set for the old western movies. These grounds were graced by the likes of Gene Autry, Roy Rogers and Russell Hayden. Locals have vowed to keep the west alive by performing a variety of shoot-em up skits on Saturday's and Sunday's. Afterwards I would head on over to Pappy & Harriet's for some grub. And you may want to check their Event Calendar when planning your trip as they are host to a number of upcoming bands as well as some local stars.
Speaking of music, twice a year there's a Joshua Tree Music Festival held at the Joshua Tree Lake & Campground in May and October. This is definitely billed as a family event as they have a number activities planned for the kids while the parents are rocking out to indie bands from all over. But you'll want to get your tickets quick as they tend to sell out quickly.
As you're heading into or out of the Morongo Basin, you can always make a stop in Morongo Valley at take a nature walk through the Big Morongo Canyon Preserve and within walking distance you'll finding Covington Park so the kids can get out and stretch their legs.
Various retreats and yoga festivals are held throughout the year at the Joshua Tree Retreat Center, which was designed by Frank Lloyd Wright and his son Lloyd.
Related: Top 5 Most Popular National Parks in the US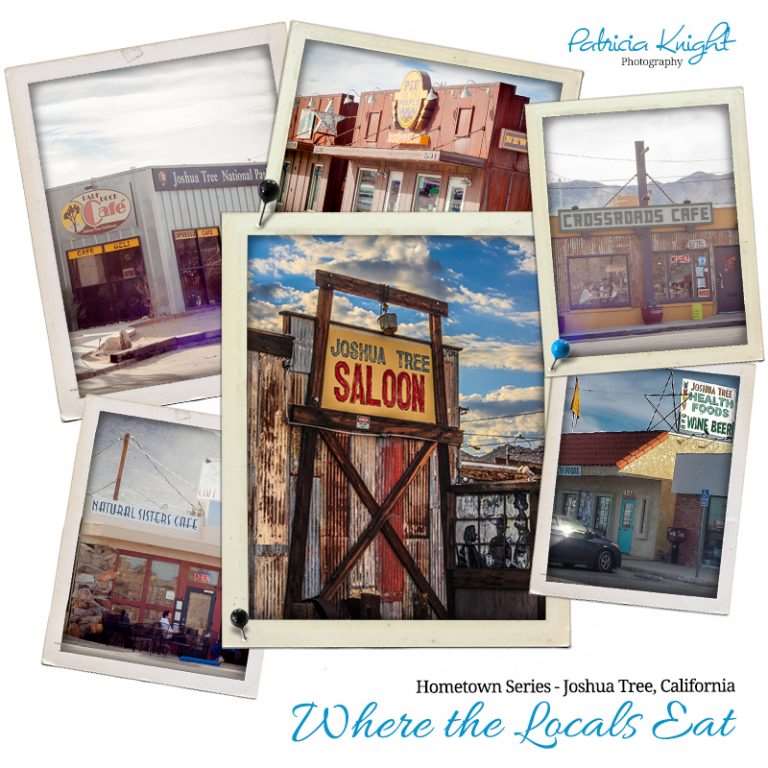 Where the Locals Eat
You won't find any of your typical fast food restaurants in Joshua Tree. In fact, the only place with a drive thru window is Santana's Mexican Food. The locals prefer to sit down with friends and enjoy the atmosphere. One of my family's favorite places to dine is Pie for the People. They offer specialty pies by the slice or you can a whole pizza with a variety of toppings. I love the Go Westo Ma Pesto while the rest of my family prefers the Highway 62
Revisited.
If you're looking to maintain your healthy lifestyle away from home, I highly recommend Natural Sisters Cafe. They offer a variety of vegetarian dishes for breakfast and lunch. And you better come with an appetite because they do not skimp on servings. They're also known for their smoothies, my favorite being the Rock Climbers Revenge. The Park Rock Cafe also serves up a variety of sandwiches, soups and salads. This place is known for their box lunches which are perfect for grabbing as you head for the south to enter JTNP.
Another local crowd pleaser is Crossroads Cafe. They are open for breakfast, lunch and dinner 7 days a week. They offer a variety of tasty entrees including a kids menu.
As the sun goes down, you'll find locals and out of towners at the local watering hole known as Joshua Tree Saloon. They are known for their beer, food and local talent playing on stage. But you better get here early because this place fills up quickly.
If you're looking for familiar favorites such as Del Taco, McDonald's, Sonic or Appleby's you can find them in the town of Yucca Valley. Other places I recommend are Pappy & Harriet's in Pioneertown or the 29 Palms Inn in Twentynine Palms (another 20 miles east on the highway.
Joshua Tree Camping
Guess that kind of all depends on the comfort you're looking for. The more adventurous families will likely want to camp out in the great outdoors (weather permitting). In town, more like on the outskirts of town you have the Joshua Tree Lake RV & Campground. This is definitely an oasis in the desert since it is the only body of water you'll find for miles. Its rather tranquil out in the middle of nowhere and they have plenty of little nooks for families to enjoy. If you'd rather rough it, there are several campgrounds located within JTNP. Most of the campgrounds are on a first come, first serve basis and let me tell you, on the weekends during peak season, those spaces fill up quickly. The only two campgrounds that take reservations are Indian Cove (located in 29 Palms just south on Highway 62) and Black Rock campground located in Yucca Valley.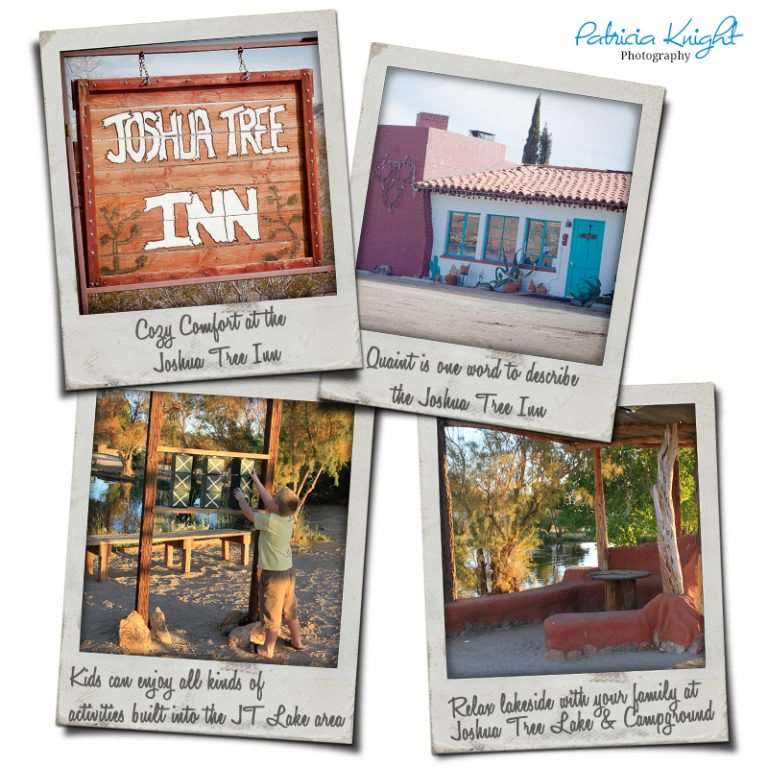 Joshua Tree Lodging
Now if you and your family prefer the comfort of four walls and a bed along with some modern amenities, there are a number of quaint places to stay. In downtown Joshua Tree you will find the Joshua Tree Inn, the Safari Motel and the High Desert Motel. If you're truly looking for a home away from home, there are a number of vacation rentals and bed & breakfast places located in Joshua Tree like Sacred Sands (which overlooks the west entrance of JTNP) and Spin & Margie's Desert Hideaway.
Nearby in surrounding towns you will find the 29 Palms Inn, Travelodge, Holiday Inn Express and Kate's Lazy Desert. This last one might be well off the beaten path (located in Landers) but it's well worth it. Remember the band The B-52s? Love Shack or Rock Lobster ring a bell? Well Kate from the band has put together a collection of unique Airstreams' for guests to stay in. Definitely a one of a kind experience that can only be found in the desert.
Support Local Businesses
Whenever I travel, it's always nice to get to know the locals and support local businesses. If you're looking for climbing and hiking gear than look no further than NOMAD Adventures right on the corner or Highway 62 and Park Blvd or Joshua Tree Outfitters in the downtown area. And the best place to get local souvenirs is Joshua Tree National Park Gift Shop. If you need food for your camping trip we've got the Joshua Tree Health Foods Store. You can find unique wearable's at Ricochet. And Windwalkers has a unique collection of pottery and other sculptures.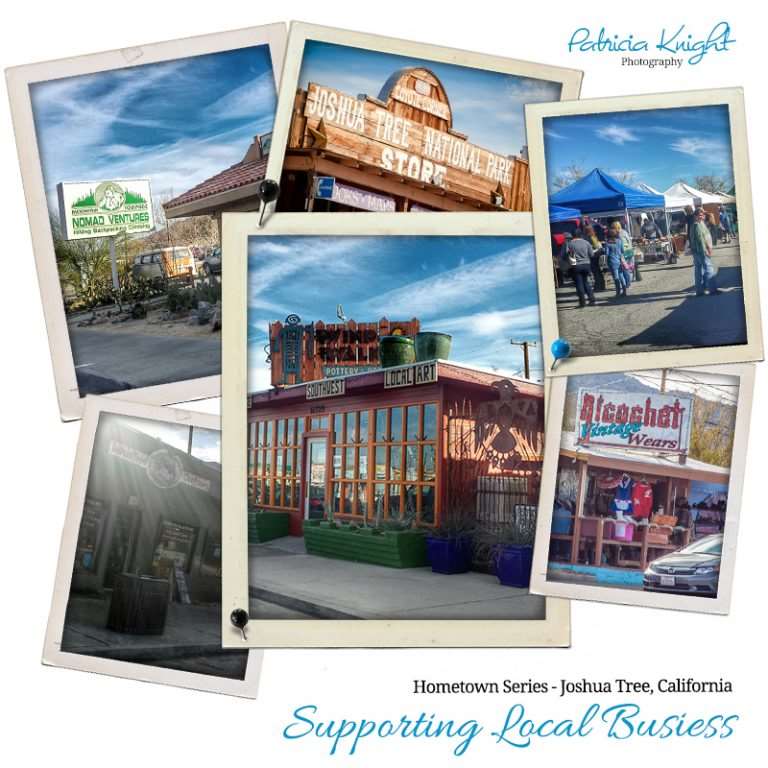 The Place I Call Home
I've been a resident of the Morongo Basin for 19 years now and for 9 of those years, I've been proud to call Joshua Tree my home. It's quaint and without all the hustle and bustle of the city. Growing up my daughter hated living in the desert because there was nothing to do here. And then she moved to Long Beach for a few months. And she instantly disliked how rude the people were and all the traffic in the city. Sometimes you have to go away to appreciate what you have in your own backyard. Wishing you safe adventures whenever you may travel. And I hope to see you soon in Joshua Tree, the gateway to one of America's national treasure, Joshua Tree National Park.
About the Author
Patricia Knight is a professional photographer in Joshua Tree, California.