The summer is the time for hiking in the United States, what what what what what what what what ???? I do not know how many "what's" I have in there but I think it is worth mentioning.
Not even kidding – hiking can be brutal out during the hot summer months, especially in the lower half of the United States. Here in Oklahoma, where I live, it begins to heat up in April and doesn't start cooling down until just before Halloween. When hiking, I always bring a lot of water, hiking snacks, and sunscreen. The hiking clothes I wear are just as important.
Planning What Wear on a Summer Hike
There's a saying Norwegian saying, "there's no such thing as bad weather, just bad clothing." That my friend is all about planning. When hiking, what you wear can make or break what your experience will be like faster than any weather forecast.
The first thing I do when thinking about what to wear for a hike is to think about the average temperatures for that time of year. Then, what seasonal weather conditions should I expect? Is there a chance of precipitation?
For example, Oklahoma summers temperatures average in the low 80s with a high of upper 90s and a heat index in the low 100s. July and August bring a chance of afternoon thunderstorms and 100% humidity too. So I wear plenty of layers so I can peel off as I get warmer on the trail.
Second thing to consider is how far the hike will be. If you're just going out for a couple of hours, a good rule of thumb is to dress as if the temperature was 10° cooler than it actually feels (heat index) outside. If you are planning on hiking for more than four hours, then start wearing even lighter clothing and definitely start carrying plenty of water.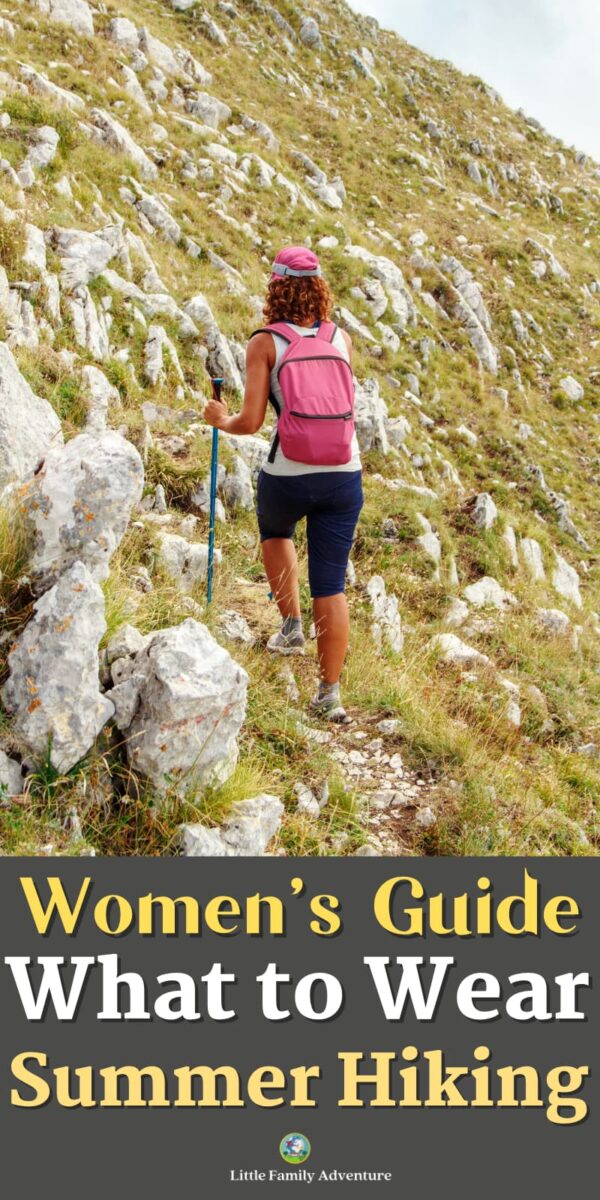 What to wear for a summer hike?
If you want to know what to wear when hiking, this information will help you understand the types of clothing you should wear during this time of year and offer a few product recommendations. These are all products I've tested out and wear myself. You could say they are trail tested and mom-approved.
When it's hot outside, here is what I recommend for the trail:
Good Layers for Summer Hiking
When hiking in the summer heat, take plenty of layers. That way, as the temperature changes on the trail (and it will) you have a lot of options for staying cool and comfortable. Being prepared for a wide range of temperatures is not practical but goes a long way to ensure your comfort and enjoyment.
A base layer is very important for men and women, especially when going on a hot day hike. Your base layer will be made up of a wicking fabric so sweat can escape and it'll dry quickly. These can be made out of synthetic fabrics like polyester or nylon or natural fabrics like bamboo and silk that also have anti-bacterial and anti-odor properties. When hiking in the summer months, a lightweight tank top, t-shirt, and pair of synthetic fiber underwear (bra and panties) can be very comfortable underneath your mid-layer.
Capilene® Cool Trail Tank Top by Patagonia – I like what Patagonia has to offer in their base layers. One of my favorites is this Capilene® Cool Trail Tank Top which is a lightweight, sleeveless shirt designed to wick away moisture and keep you cool during your hike. It's made out of 100% recycled polyester. Shop at Patagonia || REI || Backcountry
Konstance Tank by KÜHL (center) – I love what KÜHL has to offer in their clothing line. This is what they have to say about what they call their KONSTANCE TANK: "KÜHL's lightweight tank is made from functional, sweat-wicking material that feels like you're wearing nothing at all" – and it's true! I've worn this shirt hiking as well as just every day. It feels super soft and is extremely comfortable. An added benefit of UPF 50+. Shop KUHL || Backcountry
XA T-Shirt by Salomon – I love what Salomon has to offer too. They have a variety of clothes designed to be versatile enough to wear every day as well as on the trail. This XA T-shirt is perfect for summer hiking and perfect for everyday wear with the AdvancedSkin ActiveDry technical fabric that is highly breathable and quick-wicking. Shop at Salomon || Amazon || REI
A mid-layer is what you put on next. Again, it should be made up of wicking material so you stay dry and comfortable. Once again, synthetic materials work great in this layer as these are often what I recommend to folks looking for what to wear hiking that is multi-purpose clothing.
Long-sleeved shirts also make the perfect mid-layer. They work well for keeping the sun off your arms. I also recommend dressing in clothing that has venting in it. Many long sleeve shirts, like the Expedition LS below, and light jackets are constructed with underarm vents and breathable material that keep your body cooler and more comfortable.
Bug Barrier Expedition Long Sleeve (Button Up) by Royal Robbins– This button-down makes a great mid-layer for summer hiking. It's made with super lightweight polyester that is quick to wick moisture away and dried quickly. This has the same insect repellent as the Travel tee listed below but the fabric on the upper back has venting and special HeiQ Smart Temp technology that responds to your body heat and actually helps you stay cool. Available on Royal Robbins || Amazon
Phoenix Pleat-Back Long Sleeve by Title Nine – This relaxed long sleeve T-Shirt offers excellent sun protection (UPF 30), moisture-wicking, and is fast drying. With hot weather comes sweat and stink on the trail. But this shirt has Stink Stopper technology. The polyester fabric is embedded with silver and copper that naturally blocks bacteria that cause odor. Available at Title Nine
Bug Barrier Tech Travel Long Sleeve by Royal Robbins – I don't know about where you are, but mosquitos have been particularly awful this year here. So bug protection is at the forefront of my mind! This Bug Barrier Tech Travel Long Sleeve by Royal Robbins offers great protection. It provides UPF 50+, moisture-wicking, odor control, and what Royal Robbins calls "the world's strongest bug barrier fabric." It blocks 94% of harmful UV rays, while its Stink-Free technology controls odor. The polyester fabric features Insect Shield that repels ticks, mosquitos, and other insects. Available at Royal Robbins || Amazon
An outer layer is what you would put on next when hiking in the summer heat. This is the layer most often forgotten. Yet when hiking in desert areas, evening temperatures can drop as much as 40° F as the sun goes down. Staying warm on those summer nights can help prevent the chill. An outer layer should be made out of what you would call a water-resistant fabric, so in case of an unexpected rain shower, your skin won't get wet but what you wear hiking will keep you warm.
A lightweight fleece, windbreaker, or raincoat provides another layer of protection to wear at the top of the hill. Lightweight fleece has the ability to keep you warm when wet (thanks to an afternoon shower) and cool when dry. It also lets sweat evaporate away from your body, so you are not soaking wet on the hike down the mountain. A rain jacket can double as a windbreaker.
Whistler Windbreaker by Coalatree – This packable windbreaker is water-resistant and featherlight at just 7 ounces. It's great for summer hiking and everyday use. The best thing I like about this windbreaker is that it's made with self-healing fabric allowing you to repair rips and tears almost instantly. You just scratch across the area with your finger and the heat and friction heal it making it good as new. Available at Coalatree
Engineered Hoody by Kuhl – I'm a big fan of clothing with "venting". This allows air to flow through the fabric. This Engineered Hoody is ideal for summer hiking with a breathable open knit fabric and venting in the arms, back, and across the upper chest. It breathes, wicks moisture, provides sun protection, and dries quickly too! Available at Kuhl
JWP Dynamic W by Jack Wolfskin – For a light tech fleece, the JWP Dynamic W from Jack Wolfskin is ideal for the warmer months whether you are hiking or not. It is ultra-lightweight, fast drying, breathable, and has excellent moisture management with what you would normally think of as a jacket for colder months. This fleece is designed to keep you dry and comfortable during the hot summer months and can be combined with a shell jacket in case of rain. Available at JackWolfskin || Amazon
Opt for wearing lightweight clothing
Many people want to wear denim when they hike, but denim is hot! Denim jeans are also really heavy. Cotton shirts are also too heavy in warm weather because they don't allow sweat to evaporate; instead, sweat soaks into the fabric and leaves you feeling sticky. For hiking in hot weather, it's best to wear something lightweight and comfortable. Lightweight fabrics that wick perspiration away from your skin are key to your ultimate comfort. Synthetics such as polyester or nylon blend fabrics work better because they stay cool when wet.
Wear long pants
Although you can wear shorts to hike, pants are a better choice. Pants provide your legs needed protection from sunburn, dirt, and insects. Pockets are helpful allowing you to store small items. Most hiking pants use these technical fabrics made for hiking. They have a specific cut that is designed for mobility on the trail and not necessarily fashion. Some hiking pants have reinforced knees to help them stand up to rugged terrain and feature extra pockets so you can carry your phone (or an emergency whistle if you are really into hiking safety ).
If you're hiking with children, long pants will also be good for preventing ticks and insect bites. I remember one time we were all hiking through the forest and my friend's toddler was climbing about in her onesie (which is adorable, but not practical). She ended up covered in chiggers from head to toe because she had no pants to protect her skin.
Zephyr Ultralight Explorer Pants from Title Nine (left) – These Ultralight pants are Title Nine's lightest weight technical pants. The polyester fabric is super soft and provides extra stretch for a greater range of movement. They dry quickly and are very comfortable. I appreciate how they breathe when I'm hiking in the heat. Available at Title Nine
Trailhead Pants by Coalatree (center)- Finally a hiker that covers my ankles! I really appreciate what Coalatree has done to make hiking pants more fashion-forward. These are not your granny's baggy khaki hiking pants. They look good and are super comfortable and functional on and off the trail. These hiking pants are wind, water, and dust resistant making them ideal for a range of weather conditions. Available at Coalatree
Free Flex Roll-Up Pant by Kuhl (right) – Oh my goodness, I love these! I'm so impressed with what Kuhl has done to improve these pants. I bought them as travel pants but love them on the trail too. They are super lightweight and versatile. They're water repellent and really quick drying which is what you want on the trail when you come across an unexpected stream or river crossing! Because they are made with a stretch polyester fabric, they have great stretch and are soft to the touch. Available at KUHL
Wear loose-fitting clothing
Make sure to keep all of these layers loose and breathable – it is better to be too cool than way too hot! If you are uncomfortable, this can ruin your hike. I do love my yoga pants and run tights, but they are not ideal for hiking in hot weather. They hold onto moisture especially in the crotch area, which is the last thing you want on the trail, and doesn't breathe well. Use what you learned in field-testing clothing to make sure that what you're wearing is what will keep you cool and comfortable all day long.
Wear natural fabrics
Wool, bamboo, and silk are natural fibers that wick moisture away from the skin and dry quickly. Merino wool isn't just a great material for winter base layers. It's also great in hot weather. Wool dries faster than synthetics; bamboo and silk are extremely light, soft, and airy.
A good pair of natural fiber underwear can really keep you comfortable on the trail. The most popular brand is ExOfficio – which offers both shorts as well as long undershorts designed for women's needs. My favorite style is the Give-N-Go Sport Mesh Briefs (Women's). These come in a variety of colors from neutral gray to bright patterned prints. I like the color options.
Note: Since I'm talking about underwear above, I also recommend bralettes or sports bras instead of bras — just make sure you choose fabrics that will wick moisture away from your skin and prevent that underboob sweat. A lot of people like to layer their bras with a camisole underneath and this works well for keeping cool while being appropriate in public!
I really like this Run It All Cross Back Bra by Brooks Running. This wireless sports bra provides excellent support without an underwire. Fabric provides excellent moisture wicking and breathability. Available at TitleNine.com
Wear hats in the summer sun
When hiking in the summer whether you're a man or woman, you need to wear a brimmed hat. I always wear a sun hat when hiking in the summer because it keeps me cool, shades my face, and protects against windburn as well (make sure what you wear hiking has a UPF rating). My favorite is made by REI but there are a lot of good brands to choose from.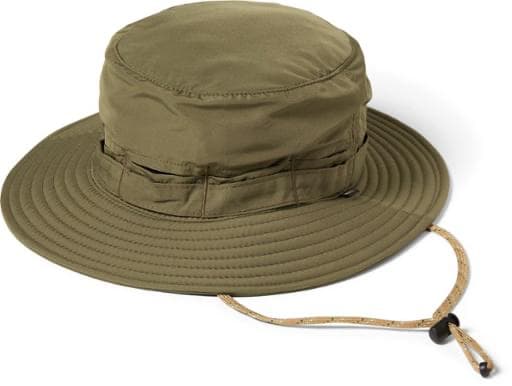 I have what my husband calls "a bucket hat" and it stays on all day long. When choosing what you'll wear hiking, make sure what you choose will stay on comfortably and securely. My favorite sun hat is the REI CO-Op Sahara Bucket Hat. It has a great wide brim to shade my face and neck and doesn't make me look like a dork.
I've heard a lot of stories about people hiking with long hair being caught in the wind when they weren't prepared — we all know what that's like! Let me take the plunge for you: it sucks big time. Wearing a hat also helps prevent that.
Wear sunglasses
Sunglasses can also help you see what's going on while hiking and camping. They keep your eyes protected and help prevent you from feeling dizzy due to the sun's glare.
Wear sunblock on exposed skin
Even if you are wearing a long-sleeved shirt and long pants, sunscreen is still essential. Wear at least one layer of sunscreen to protect your face, neck, ears, and hands. Remember to pack sunscreen in your day pack as you'll need to reapply every two hours.
Currently, I am using and loving Sun Bum Mineral Sunblock. With all the different types of sunscreen out there, what makes Sun Bum unique is that they use zinc oxide and titanium dioxide as their active ingredients instead of oxybenzone. There have been a small number of studies linking oxybenzone to endocrine hormone disruption in humans (especially at high concentrations), severe allergic reactions, coral reefs' die-off, and bleaching. Sun Bum sunscreen is reef-safe, biodegradable, and vegan! It is also free from parabens or petrochemicals.
Hiking socks
Blisters can ruin your hike and a good pair of hiking socks will reduce the risk of foot problems occurring on what is supposed to be an amazing outdoor adventure. Choose what's most comfortable for you but make sure that, whatever it is, they're not cotton! Wool or synthetic fabrics are what you want because they offer padding and protection.
A few socks I really like and use most often are:
Icebreaker Women's Hike+ Light Crew – (top left) Protect your feet from what could be painful blisters with hiking socks that offer padding, durability, and odor-fighting protection. These merino socks from Icebreaker are ideal for day hiking and warmer conditions. Available at Icebreaker || Backcountry || Amazon
Pursuit Hike by Swiftwick – (bottom left) – Designed with comfort in mind, the Pursuit Hike sock is built with a merino wool blend for temperature and odor regulation – necessities in the summer heat. Olefin, a hydrophobic fiber, in the footbed helps wick away moisture to keep feet blister-free on long hikes. The light cushion version is best suited for spring/summer hiking. Available at Swiftwick || Backcountry
COOLMAX Micro Crew Cushion Socks (medium weight) by Darn Tough (upper right) – these poly blend socks are really comfortable and help keep your feet cool. They feel great against the skin and have excellent padding on the bottom of your feet. I've never had a blister while wearing them. Available at REI
Smartwool Performance Light Cushion Ankle Socks (bottom right) – these are what I pack for my low hiking boots and walking shoes. They keep your feet dry and comfortable. Available at REI
Wear proper hiking shoes and insoles
Hiking in shoes that are hot (i.e., heavy, stiff) will make your hike less pleasant no matter what time of year it is! If you wear your heavy boots on a hot trail they will get hot too, and what's worse is they will make your feet hot. What you want are lightweight shoes that let your foot breathe.
Personally, I like to wear either hiking boots or trail running shoes with a nice pair of wool socks during the summer! If you have the budget for good insoles then perhaps consider investing in those, as well!
Barefoot Shoes by Merrell (top left)- I recommend wearing breathable shoes or sandals. When walking on easy trails in hot weather, I like the ultra-lightweight Trail Glove 6. They are really comfortable and help protect your feet from the hot pavement so you can continue to enjoy what's outdoors as long as possible! Available at Merrell.
Newport Sandals by KEEN (lower left)- what I like about these sandals is that they're lightweight and have great padding so your feet won't be sore after a long day of walking on hot ground. Ideal for hikes where water sports may be involved. They are also wonderful to wear on city streets when it's hot out. Available at KEEN
MX Low by ECCO (upper right)- These are my everyday travel, and hiking shoes for the summer when temperatures get up into the high 80s to low 90s. They are breathable, very comfortable, and have a nice tread on the bottom that keeps you from slipping on declines. The only downside is that they are leather and don't breathe quite as well as I would like, but what is perfect for me may not work for you. Available at ECCO
Alp Trainer 2 Mid by Salewa (lower right)- For rugged terrain and light backpacking, I like Salewa's Alp Trainer 2 Mid hiking shoe. These shoes are what I use for year round and they really carry me through what the trail throws at me. They are lighter than many of the other mid-hikers I have tried and the midsole cushioning helps protect my knees while hiking! Available at Backcountry
Wear a lightweight backpack
If you want to do some long-distance or heavy backpacking, you need a good pack. You won't be carrying as much weight in the summer months but still, you'll want one that is sturdy, has comfortable shoulder straps, and has lots of pockets/pouches for storage & water bladder.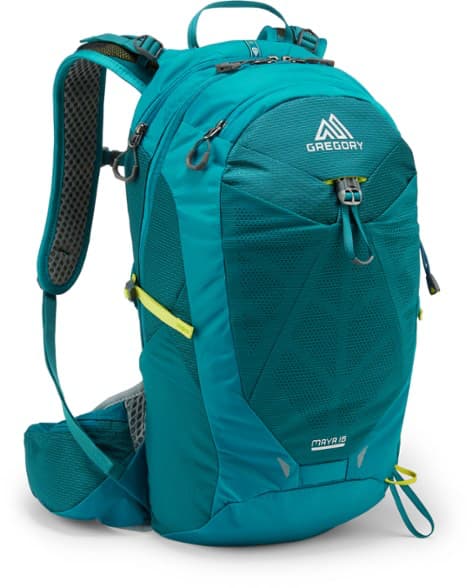 The Maya 16 from Gregory is a great day pack to take on hikes when it's hot out. It's not heavy but has what you need for a day hike – a dedicated water bladder pouch, trekking pole storage system, side compression stability, and extra storage. It holds what I bring with me on the trail: first-aid kit, snacks, water filtering/purifying system, and gear repair supplies.
Things to also carry in your backpack include:
Sunscreen
Lip balm (especially when going through wetlands)
Plenty of snacks – what you bring should depend on what kind of hike you are doing!
When you're hiking in the summer, what you wear can make a huge difference. You want to be as comfortable and cool as possible but not attract any extra attention or have anything get into your eyes. Keep these tips in mind when picking what you'll wear for an outdoor adventure.
Before I end this article, I wanted a few specific questions readers had about hitting the trails, summer hiking, and what to pack. If you had a question that wasn't answered above, you may find it here.
Is it better to wear black or white while hiking in high temperatures?
The color of what you wear on hikes is a key variable. Along with what thickness the fabrics are, what they're made of, and what the cut/shape is, color affects how hot and sweaty you'll feel when doing all that walking. Designers spend a lot of time thinking about these things! In general, there are four main colors – blue (cool), green (neutral), black (warm) or tan browns, or earth tones like khaki which can be both warm and cool depending on what kind of shorts and tee-shirt combo you're wearing.
Should you wear shorts and flip-flops on a summer hike?
You should wear what's comfortable and will protect you from the elements. I also recommend wearing what is appropriate for your level of experience too.
Yes, you can wear flip flops on a hike, but only if what you're wearing is appropriate for the hike itself. If it's a walk in the park, then they should be fine, but if you're doing more intense, more technical hikes like mountain climbing or hiking in swamps or thick forests, then they are not recommended. You should wear shoes best suited to the types of hiking you'll be doing.
Hiking skirts are also a great option for women. These either have long slits on the sides or kick pleats in front, which allows you to hike unrestrictedly and be comfortable hiking with your friends.
What shoes should you wear when hiking in the summer?
Always bring what you need according to what kind of hike you are doing. If it's a day hike, you can probably get away with wearing what you already have in your closet, but if it is a backpacking trip, then I recommend bringing what will protect your feet.
While wearing what you already have maybe what's most comfortable, what you wear can mean the difference between life and death in certain situations. It's like what my mom always says "You're not going to die from being uncomfortable".
Stay cool and enjoy nature!