There are more varieties of ice cream than you can shake a stick at. There are so many choices; cone or cup, type of base, flavors, and add-ins, etc. One thing is for sure, homemade ice cream is always a welcome treat. This Toasted Almond and Peach Ice Cream is sure to be one of your new favorites.
I recently picked up a box of fresh peaches from a local farmer. I had approximately 23 pounds of these sweet, juicy jewels that were begging to be used. I made peach jam, jarred peaches in vanilla syrup, peach juice, and more. The one recipe I was dying to make was this Peach Ice Cream with Toasted Almonds. I found the original recipe on the
Rachel Ray website
. Both the original and my modified version are a great use of fresh fruit.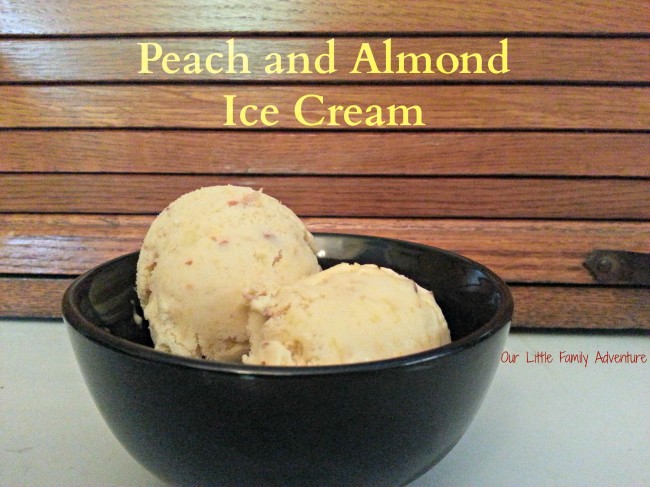 The ice cream has a custard base. It requires heating cream and milk, then adding them to egg yolks. A custard base gives a creamier base to any ice cream. This recipe can be easily modified to use any type of frozen or fresh fruit. Just substitute the type of fruit in the same proportions. You can use strawberries, cherries, blackberries, blueberries, cherries, nectarines, etc. You can also swap out the almond extract for vanilla extract if using other types of nuts like pecan or walnut.
For peeling peaches, the easiest way is in a hot water bath followed by shocking in ice water.
Cut
a small "x" at the bottom of each peach. Bring a saucepan of water to a rolling boil. Place a few peaches in the boiling water for 30 seconds and then remove them and place them in a bowl of ice water. The ice water will stop the cooking process and cool down the peaches quickly. Remove the peaches from the ice water and the peels can be pulled off with your hands.
Peach and Toasted Almond Ice Cream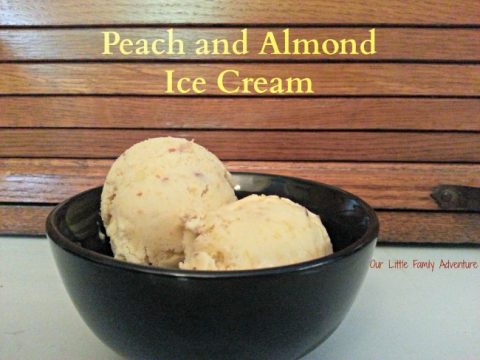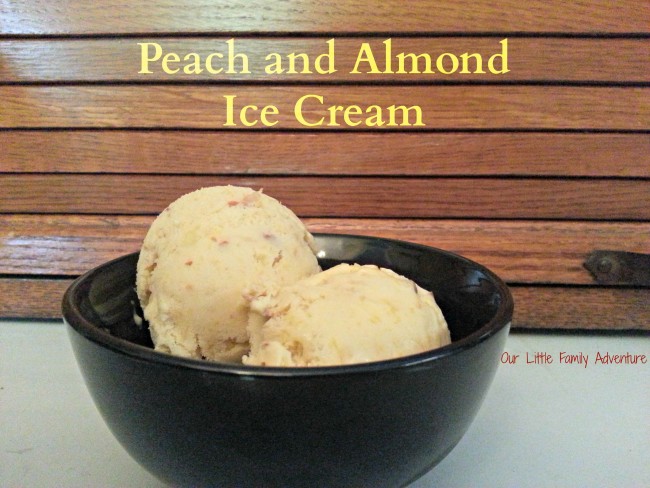 Ingredients
1 pound peaches-peeled, peeled and pits removed
2/3 cup cane sugar
3 egg yolks
1 cup whole milk
1 cup heavy cream
just under a 1/8 teaspoon pure almond extract (if you love almonds, add the full 1/8, otherwise use less)
1/4 cup whole almonds, toasted and coarsely chopped
Instructions
In a food processor or blender, pulse half the peaches with 1/3 cup sugar. Add remaining peaches and pulse until almost smooth. Place into a covered container and set aside
In a medium bowl, whisk the egg yolks and the remaining 1/3 cup sugar for 1 minute; set aside.
In a medium saucepan, heat the milk and cream over medium heat until just simmering, about 5 minutes. Slowly whisk about 1/4 of the hot milk into the yolk mixture. This will temper the eggs and bring them up to temperature.
Whisk the yolk mixture into the saucepan with the milk. Cook over medium heat, whisking constantly, until the mixture thickens enough to coat the back of a spoon, about 2 minutes. (Do not boil.)
Strain the warm egg mixture through a fine-mesh sieve into the peach puree. Stir to combine, then stir in the almond extract.
Refrigerate ice cream mixture for at least 2 hours.
Remove ice cream mixture and add chopped almonds. Place in your ice cream maker and make your ice cream according to the maker's instructions.
Here are a few more ice cream recipes you can enjoy: