Recently, a local farmer had fresh freestone peaches available. Fresh summer stone fruits like peaches and nectarines are the perfect fruits to cook with. We've enjoyed peaches chopped in salads, grilled for dessert, and blended in smoothies and ice cream. Here's my Peach and Toasted Almond Ice Cream recipe.
Freezer Peach Jam
Today, I'm sharing a great no-sugar peach freezer jam recipe.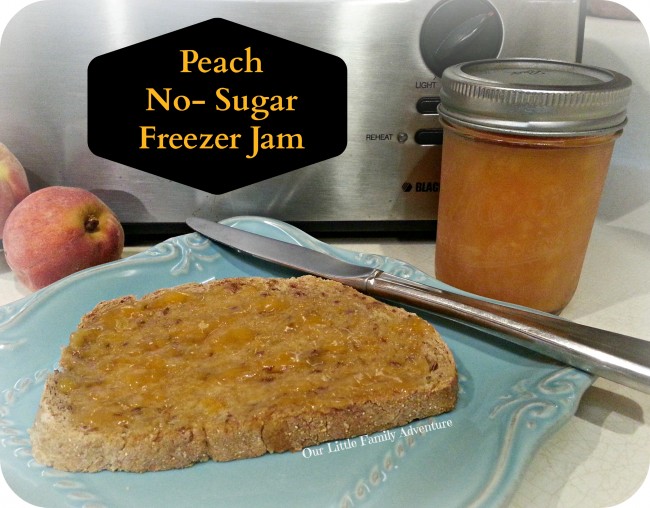 This recipe is a great master recipe for other types of fruit jam. Substitute 3 cups chopped or crushed fruit of your choice for the peaches and follow Steps 2 through 4. White grape juice, cranberry-apple juice, etc. can be used instead of apple juice. Omit lemon zest and lemon juice if desired.
No Sugar Added Jam
The key to a no sugar jam is using "No-Sugar Needed" pectin. You cannot substitute regular pectin and get the same results. This no sugar version isn't as thick as the sugar version, but it's a delicious and healthy spread for toast, as a topping on yogurt or ice cream, and more. If you want a sweeter jam, you can add additional cane sugar or honey to taste. The peaches we had were extremely sweet and no additional sugar was needed.
When it comes to peeling peaches, I have a great tip for you. It's a Flash Boil and Cold Water Bath method.
Cut a shallow "X" at the bottom of each peach.
Bring a pot of water to a rolling boil and place small batches of peaches in for 30 seconds
Remove peaches from boiling water and immerse in a large bowl of ice water for 30 seconds or until cool. This stops the peaches from cooking any further and helps to loosen the skins.
Remove peaches from ice water and remove peels. The peels will just wipe off. All that's left is to remove the pits.
If you're not quite ready to use the peaches, set them into a third bowl of water with 1 teaspoon of vinegar to prevent discoloration.
No-Sugar Freezer Peach Jam
2 pounds ripe peaches, peeled, pitted and quartered (7-9 peaches)
1 3/4 cups apple juice
1/2 teaspoon freshly grated lemon zest
1 tablespoon lemon juice
1 1.75-ounce package "no sugar needed" fruit pectin
Coarsely chop peaches in a food processor or blender. Measure out 3 cups of fruit. (Reserve the rest for something else like a smoothie.)
Place apple juice, lemon zest and lemon juice in a large saucepan. Stir in pectin gradually; stirring constantly until completely dissolved. Place over medium-high heat and bring to a full rolling boil, stirring frequently. Boil hard for 1 minute. Remove from the heat.
Immediately stir in the chopped peaches. Stir vigorously for 1 minute.
Divide the jam among six 8 ounce canning jars, leaving at least 1/2 inch of space between the top of the jam and the top of the jar (this space allows the jam to expand as it freezes). Cover with lids and let the jam stand at room temperature until set, about 24 hours. Store in refrigerator, up to 3 weeks, or freezer, for up to 1 year, until ready to use.