Meet the husky sled dogs at Bearhill Husky in Rovaniemi, Finland! Imagine exploring wilderness trails above the Arctic Circle driving your own dog sled team? This fall, we embarked on a Husky Safari, Lapland style and LOVED every minute of it! It was the highlight of our Finland trip! I dare say it was a bucket list worthy, family-friendly adventure that tops our list. Here's why….
Alaska Husky Puppies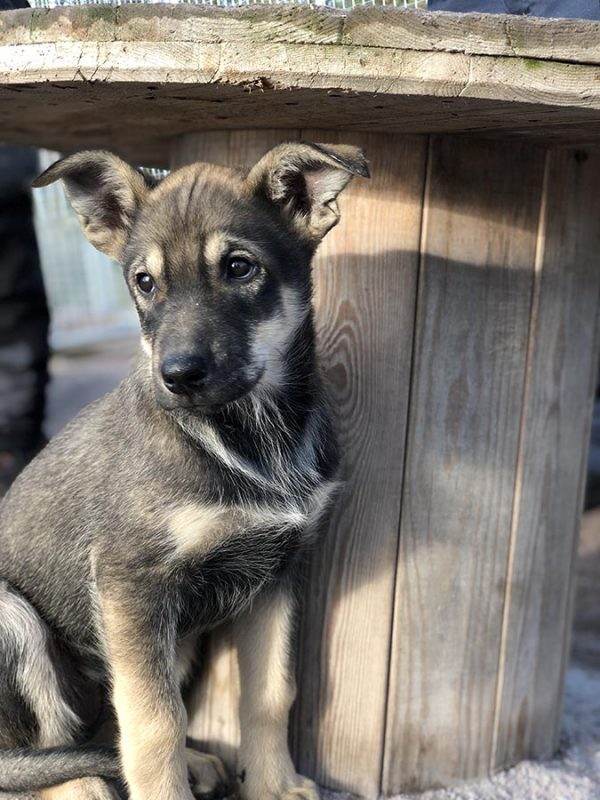 Those are faces you have to LOVE!!!! Not officially part of the husky safari experience at Bearhill Husky, but I want to start here. These sweet faces are just too adorable and they are most well-behaved puppies I've ever seen.
Seriously, the most well-behaved puppies. The Alaskan Husky is a slender dog bred specifically for running. Valentine, the kennel's owner, described his huskies as "leggy, lightly built, almost bony…like a marathon runner of the canine world."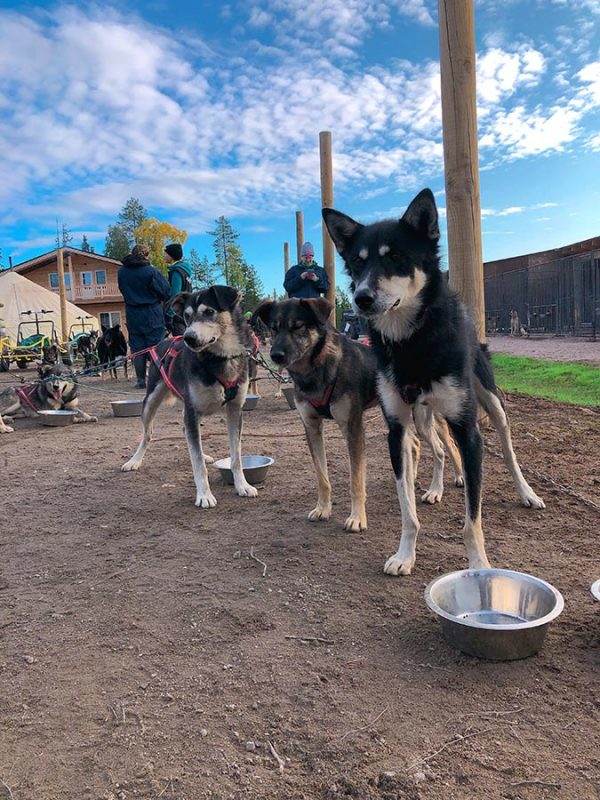 The dog on the far right is Kosher, the puppies' father. He is a retired racing dog that finished 3rd in the famous Alaskan Iditarod back in 2017. He ran that 1000 mile race and on last 14 mile stretch, finished the race running 11-12 MPH across the finish line. Huskies are really tough dogs. They will take you through snow storms, whatever trouble you have, gobble up their food, and pull you home.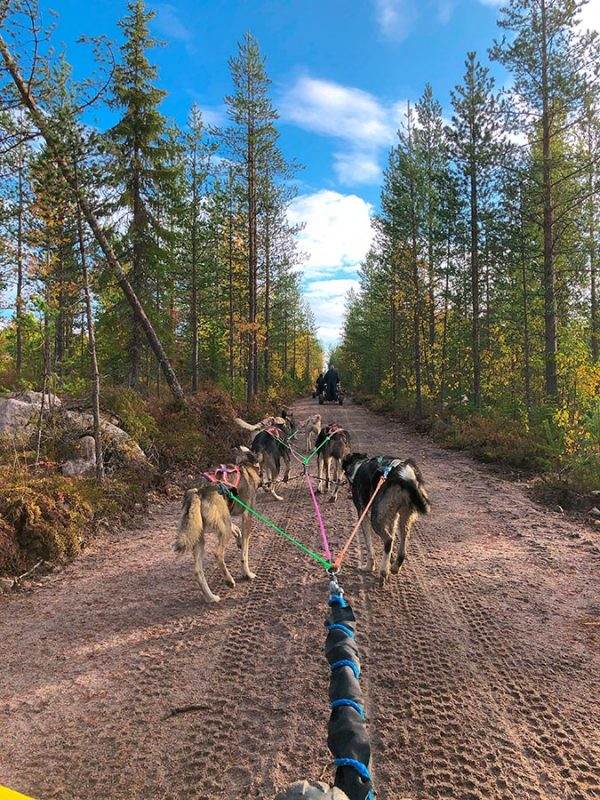 Discover Finnish Lapland Above The Arctic Circle
Nature is at the heart of what it is to be Finnish. Finland is the most heavily wooded country in the Europe and it feels like you can be in nature within minutes (no matter where you are). Just outside Rovaniemi, you can experience the real joy of "forest-bathing" as you immerse yourself in boreal forests. It's peaceful, tranquil, and provides a respite from everyday life.
True – you can walk, hike, or run arctic trails. But in the arctic, don't you envision sledding across the snow pulled by huskies or reindeer? I DO!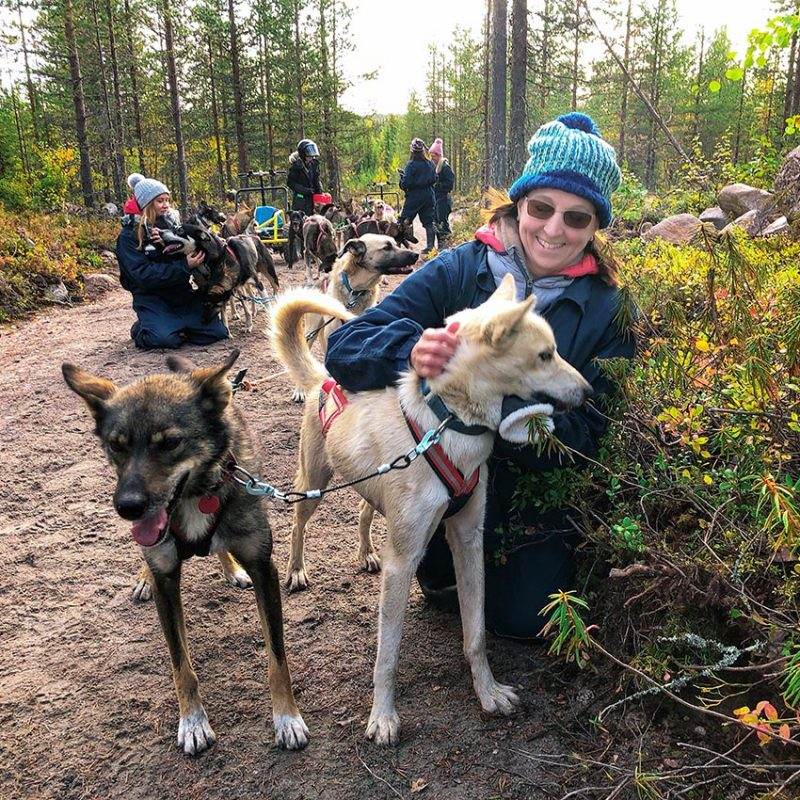 Try Dog Mushing in Rovaniemi
A husky safari (dog mushing experience) is a truly exhilarating adventure, especially when you can be a musher guiding your own husky dog team across the countryside.
When you show up to the kennel, the dog's excitement is palpable. As the weather starts to cool, the dogs instinctively know that it's time to go to work! Soon the sleds will be pulled out and it will be time to RUN!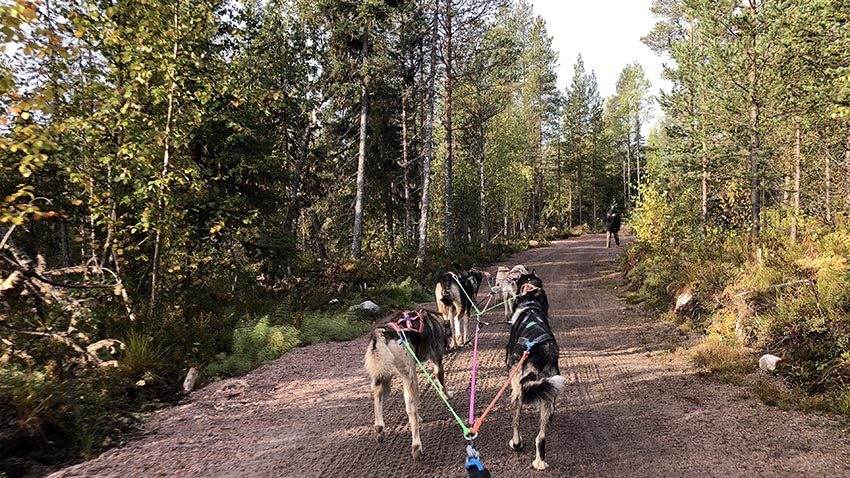 At Bearhill Husky, you can choose from one of their tour options. Before your tour begins, you will get suited up in arctic outerwear to stay warm, learn about the dogs and their care, mushing, and how to navigate the course. Then you are off for your adventure!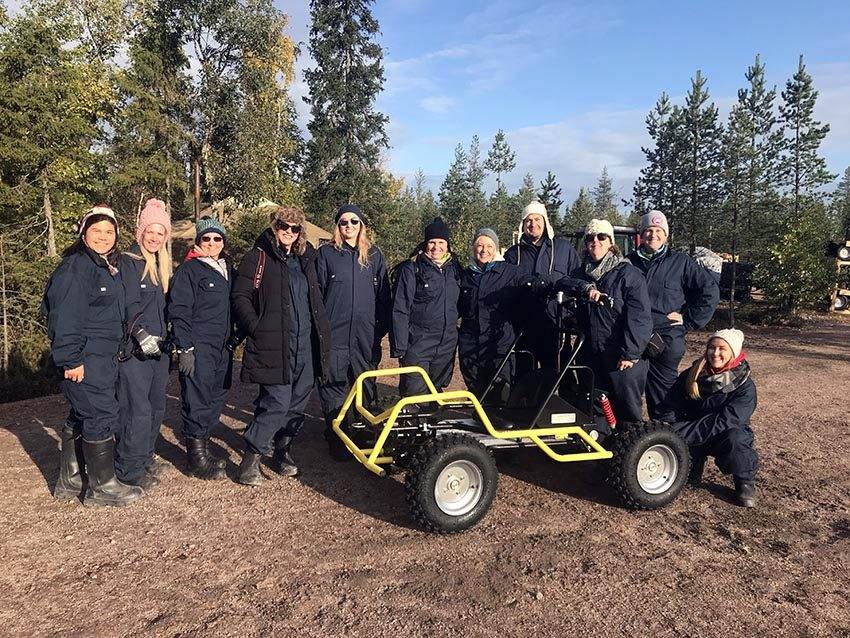 When is the best time of year to go on a husky safari?
Fall and winter are the best times to visit a kennel for a husky sled ride experience. During the fall months, dogs are training for winter races. Winter is peak season for dog sledding.
Rovaniemi Dog Sledding
During the fall months, there may not be any snow on the ground, but in Rovaniemi, dog sledding is still possible. Bearhill Husky offers the Born to Run Husky Tour, a seasonal dog sled tour made possible with special wheeled carts or trolleys. Akin to a go-kart, the dog sled trolley is equipped with four oversized, all-terrain tires, passenger basket, steering bar, and brakes. This is the tour we did in September.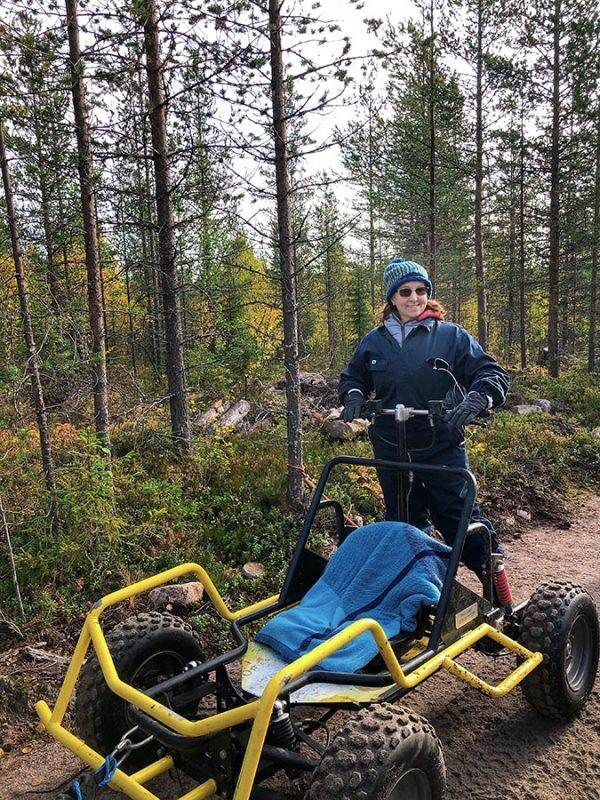 As the driver, you stand on a platform at the rear of trolley and drive your team of seven powerful Alaskan Huskies. The 4 kilometer course has you traversing hills, tight turns, and racing down straight-aways. At max speed, the team can top 16km/hour. We feel the wind in your face and breathe in the forest air as you explore the tree-lined trails.
The Most Important Rule: DON'T LET GO!!
At the end of the trip, you'll guide your team back to the kennel and reward the dogs for a job well done. After a run, a dog musher always feeds her/his dogs. This is no different, except it's the staff that feeds the dog sledding teams. They are given warm water and food to rehydrate them. I never knew that dogs stay hydrated three different ways; drinking water, getting water from their food, and through metabolic hydration. While the dogs are eating, I learned quite a bit about their diet, training, and more about the kennel.
Winter Sled Rides
Husky safaris change once the snow arrives in Finnish Lapland. The Arctic wilderness is blanketed in a snow-covered carpet. The wheeled trolleys go back into storage and the sleds come out. Then dogs and drivers take a sleigh ride past frozen lakes and through snow-capped forests. It's peaceful and to be one with nature.
Beyond the husky safari, Lapland is the perfect place to see Northern Lights. The team offers photography tours that mix a sled ride with the Aurora Borealis nighttime spectacular. Can you imagine?
Beyond Bearhill's Husky Safari Experience
Rovaniemi has other experiences you can enjoy. Try your hand at walking an adorable alpaca, feed lichen to real reindeer, or meet the real Santa Claus at the Santa Claus Holiday Village. Watch for those stories. They will be out soon.
For lodging, we stayed at Santa's Hotel Santa Claus in the center of Rovaniemi. It was a modern hotel with all the modern conveniences including in-room sauna. Finns love their saunas and after a cold fall or winter day, it is a wonderful way to relax. If you'd rather camp, I'm told that you can rent camping equipment from Lapland Safari or rent a motor home from a local store.
See more from our trip to Finland:
A big thank you to Visit Finland and Visit Rovaniemi for providing complimentary lodging, activities, and meals for research purposes. All opinions are our own.