This article is brought to you by ALDI. All opinions are my own.
I love shopping at ALDI. I love saving money on the food I feed my family every day. It's refreshing to find a store that offers high quality, real food ingredients that won't break the bank. Over the past year, I've shared a few recipes, meal plans, and tips on saving money with ALDI. Recently, a group of bloggers and I had the chance to visit ALDI headquarters and their Test Kitchen. Even though I have been shopping at ALDI for a number of years, I learned a lot about how ALDI is making grocery shopping simpler, smarter and less expensive. I'd like to share with you what I learned.
Simply Smarter Shopping
ALDI stores make shopping easier with 4-6 aisles in an average space of 10,000 Square Feet. Other grocery stores are 4-5 times that size. ALDI's smaller space means that you can get in, complete your grocery shopping, and get out in less time. I typically get my shopping done in 30 minutes, with my three children in tow.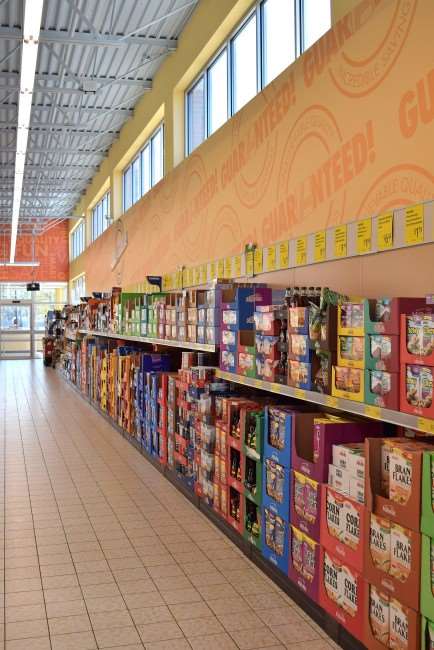 Streamlined operations mean less waste and that saves you more money. From the warehouse to the store, everything is streamlined. For example:
Shipments are assembled with the store's layout in mind which making stocking easier and less time consuming.
Products arrive in stores ready to be placed on the shelves. A products' shipping package is also its display. Employees save time stocking shelves this way and when the box is empty, it can be reused by customers to bag their groceries.
Products have multiple UPC codes to make scanning/check out easier and faster.

Commitment to Quality
ALDI is committed to offering the best products possible. They regularly test their products to ensure that they meet their high quality standards. During our tour of the Test Kitchen, our group was able to participate in a few taste tests. We were asked to try two samples of a product; guacamole, tortilla chips, orange juice, yogurt, etc. Then we were asked to evaluate it and guess which sample was the ALDI product and which was a competitor. ALDI products won the taste test every time. Not only were the products better tasting, ALDI was offering them for much less than the national brand.
I am THRILLED with the ALDI commitment to remove artificial colors, MSG, and hydrogenated oils for all Aldi exclusive brands by the end of 2015. That is HUGE!
ALDI sells a smaller selection, with the most frequently purchased grocery items. These are items that customers have asked for and buy frequently. Customer input has a significant impact on the products ALDI offers. Fresh cilantro is a great example. Customers asked for it and now it's available in stores next to the organic salad greens.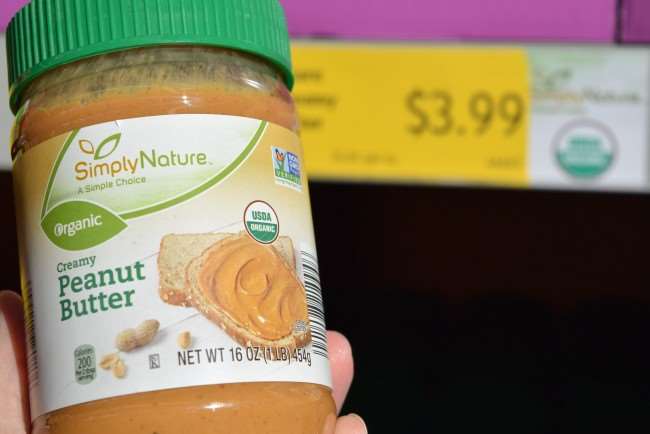 ALDI has a great selection of organic and Gluten Free products. With the organic product line, Simply Nature, ALDI is bringing you high quality organics without the big price tag. I regularly buy fresh organic produce, cheeses, bread, grass fed beef, and pantry goods like canned tomatoes and pasta sauce. The image above shows organic peanut butter for $3.99. That's a great deal! ALDI is also offering a good selection of non GMO verified products with more on the way.

ALDI stands behind their products and they prove it with a double back guarantee. If for any reason you are not 100% satisfied with any product, they will replace the product AND refund your money. I don't know of anyone else that offers this kind of guarantee. Do you?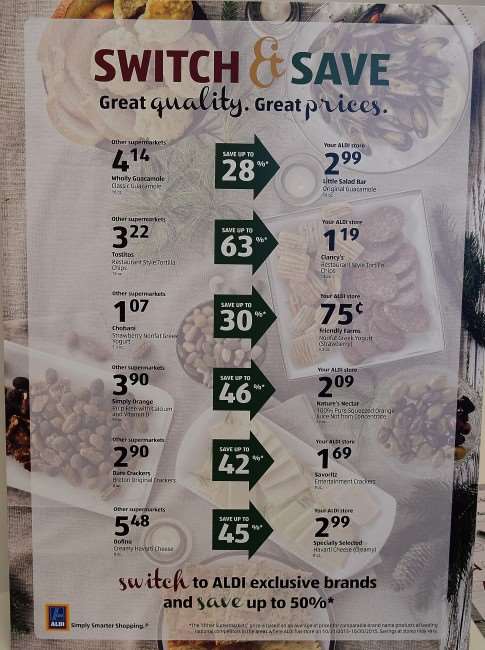 Save Money with ALDI
ALDI saves you money on the food you buy every day. Their everyday low prices and exclusive brands can save you up to 50% over national brands. By offering a select assortment of products, a smaller store environment, and cutting out a few frills, ALDI is keeping their costs down and passed that savings on to you, their customer.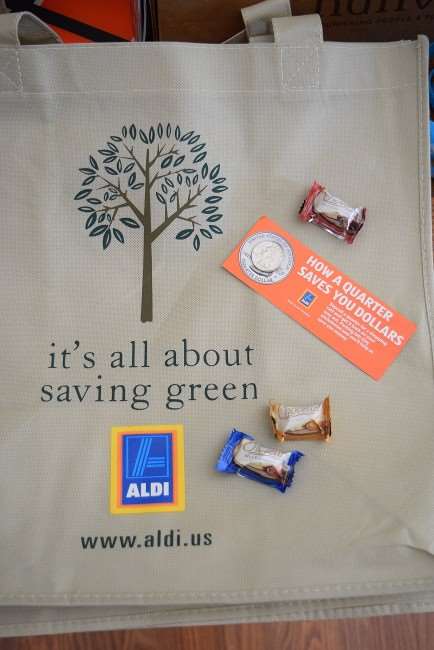 The carts: When you go to ALDI, bring a quarter for the shopping cart. Insert your quarter, do your shopping, and return your cart to get your quarter back. By doing this, ALDI keeps costs down because they don't have to pay someone to retrieve carts.
Be your own bagger: At ALDI you bring your own bags and sack your own groceries. If you forgot your bags, you can buy them at checkout or use an empty card board box.
Credit card processing is expensive. Instead of transferring that cost to the consumer, ALDI has decided to only accept cash, debt and EBT cards as forms of payment.
All the little things that ALDI does to save money benefits you, the customer. They make healthy eating easier and more affordable. With ALDI, simply smarter shopping is a reality and that means great food with more money in your wallet.
Share your story on how you save money at ALDI in the comments below. We'd love to hear from you.