Let's take a trip on the Stonyfield Farm Tour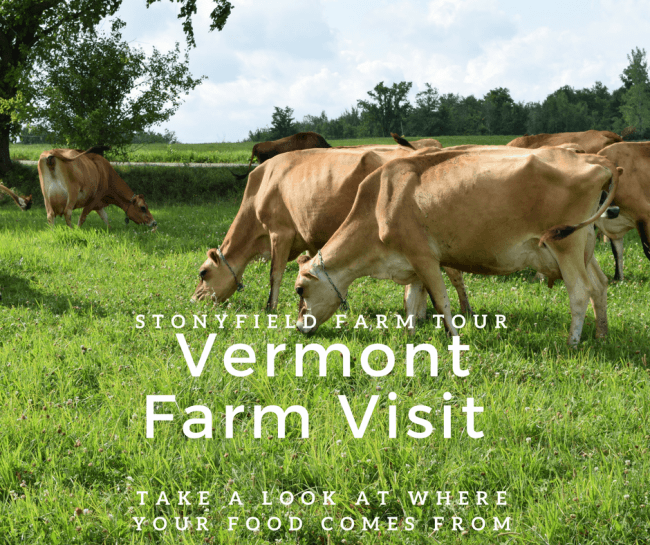 Have you ever wondered where your food comes from? Every food we eat is more than just the creative packaging it is sold in. There is a person, farm, field, or ranch behind each and every thing that we eat. I recently had the opportunity to travel to the VERY green state of Vermont to meet a few of dairy farmers that work directly with Stonyfield.
I love being a Stonyfield YoGetters Ambassador. Stonyfield's organic yogurt is delicious. Even before becoming an ambassador, their yogurt was a staple in my refrigerator. Now, I've been able to partner with them, sample new products, and share new ideas with you. In August, several ambassadors and I were invited to Vermont to tour three dairy farms that work directly with Stonyfield. The farms we visited, people we met, and food we ate, made this trip one I won't ever forget.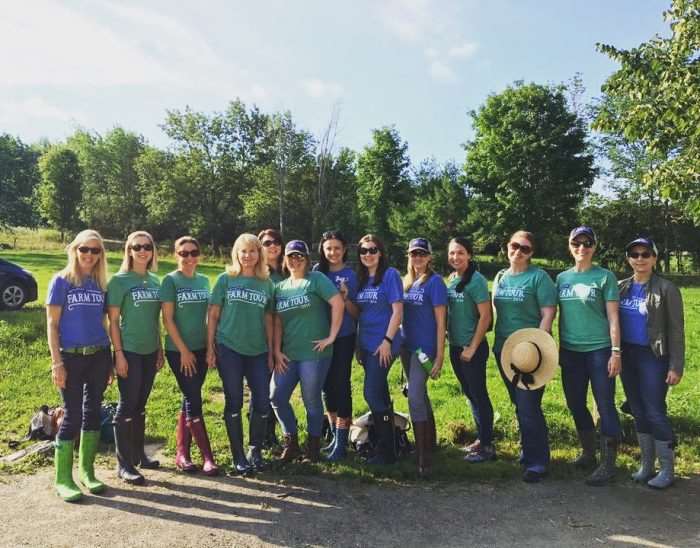 Let me introduce you to the other ladies! These are the bloggers that I had the pleasure of exploring Vermont farms with. From left to right: Ann Fulton – Fountain Avenue Kitchen, Joanna Murnan – Making Mine, Jessica Morrison – 30 Something Mother Runner, Lynda McMillen – Me and My Pink Mixer, Sarah Bates – The Chef Next Door, Erin Huiatt – Midwest Mom and Wife, Ashley Covelli – Big Flavors from a Tiny Kitchen, Michelle Palin – My Gluten-Free Kitchen, Calley Pate – Back to Calley, Dianna Muscari— The Kitchen Prep, Leah Segedie – Mamavation, Angela Bekkala – Happy Fit Mama, and Me!
This trip to Vermont was a once in a lifetime experience. Even with my travel hiccups which caused me to miss most of the 1st day's activities, what I learned will stay with me forever. If you have ever considered where your food comes from, meeting the farmer that produces it will give you new insight to all the hard work that goes into their job and what a labor of love their profession is. It will be hard to look at food the same way again.
A trip to Vermont
I've never been as far north as Vermont. But rest assured that I will return. Vermont is a beautiful state filled with lush landscapes, clean streams and rivers, amazing food, and the most wonderful people.

During our trip, we stayed at the Snowflake Mountain Resort and Spa. I can write a whole other article about how wonderful this place was (look for it soon). Words can't describe is accurately, so let me just show you a few photos. You'll see what I mean.
Green Wind Farm, Enosburg Falls, Vermont

On our Stonyfield Farm Tour, we visited 2 farms on Saturday. The first farm we visited was Green Wind Farm. Julie Walcott, and Stephen MacCausland own this farm and are transiting to an organic herd with the help of Stonyfield. For them, the organic certification is a year long process because they have always managed their land organically. They made the decision to transition to organic for the next generation and for the sustainability of their small farm.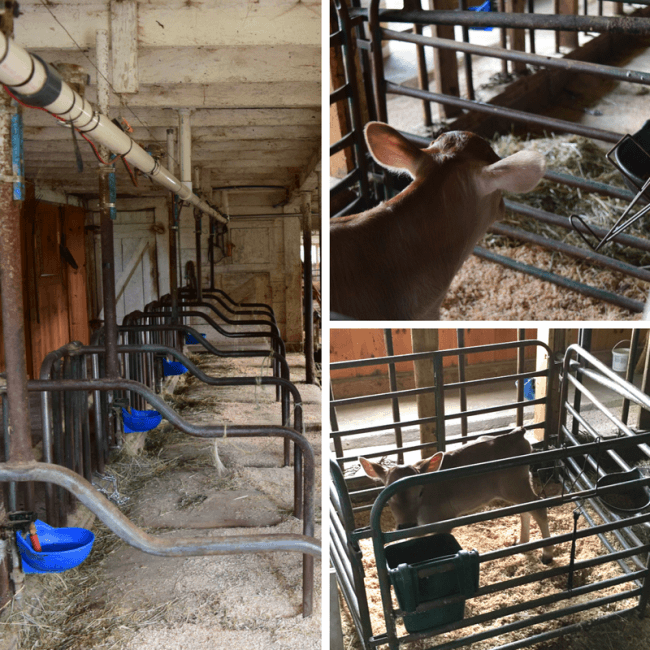 Green Wind Farm is a "hands on" type of farm. It's what I think of as a small dairy farm. They are hands-on with their cows, especially during milking. Julie and her family milk each cow personally, with the help of a milking tool called a spider, twice a day. In the barn, there are traditional milking stalls, a young calf, and a barn cat.
Like many organic dairy farms, they have a small herd of 25 cows. The family knows their cows, their lineage, temperaments, etc. It's like a huge extended family where everyone cares for one another.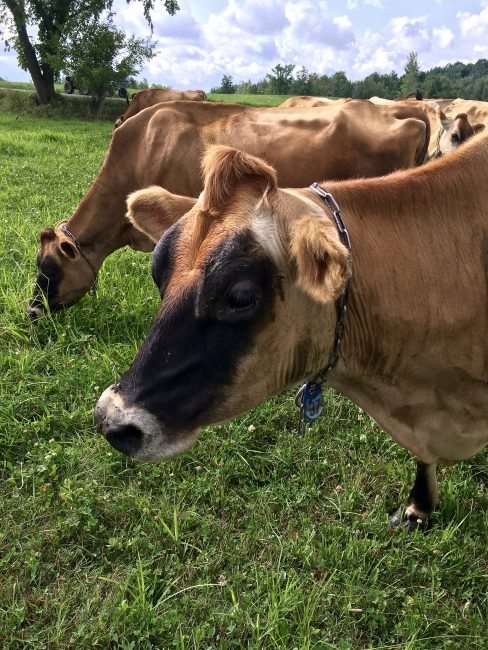 On the tour with us were Kyle Thygesen, Farm Relationship Manager for Stonyfield, and Britt Lundgren, Director of Organic and Sustainable Agriculture for Stonyfield. Kyle explained how Stonyfield is working with many small farms to help them transition to organic and maintains that relationship once certified. We learned how he works one on one with farmers to help increase their farm's health, productivity, and profit. I liked to hear how Stonyfield provides advice and support without dictating terms or conditions on farmers. It's a reciprocal relationship that benefits everyone involved.
Farm Breakfast
Julie and Stephen invited us into their home for a farm fresh breakfast filled with goodies grown and/or created on the farm. You know me and food. I was in HEAVEN. It is a special thing when you and new friends can gather around a table and share a meal together. There isn't anything better!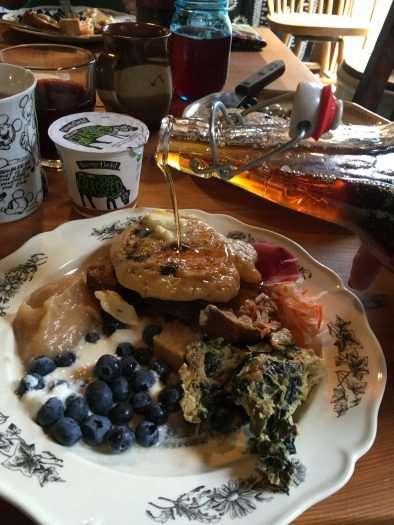 Their family treated us to blueberry pancakes with farm fresh blueberries, french toast, farm made maple syrup, egg bake with fresh kale, tempeh, yogurt, coffee, juice, and more.
During breakfast, Britt Lundgren shared more about the organic movement and initiatives that Stonyfield is involved with. I learned that organic is more than just what isn't in a product (no additives, no pesticides, no hormones, etc. ) Organic is more about being sustainable, establishing high quality practices that result in quality products. It's good to see that companies and people are dedicated to doing better.
This is just half of our Stonyfield Farm Tour. On the next page, I'll show you a very different kind of dairy farm. It uses technology in a whole new way.