Wonder Why Farm, Cabot, Vermont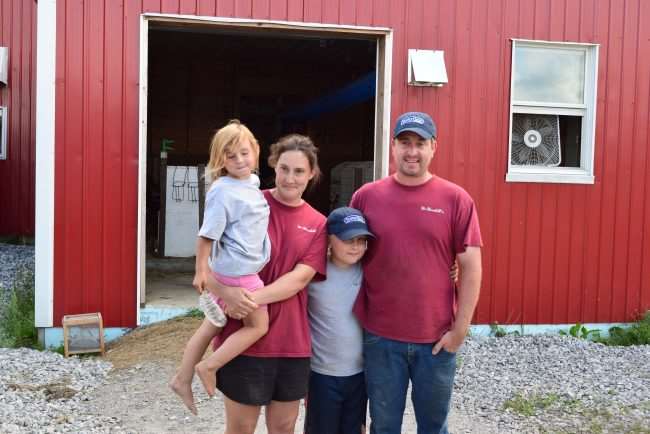 Jen and Morgan Churchill own this modern farm. Dairy farming is in their blood. Jen is a 3rd generation dairy farmer and Morgan is 2nd generation. There 2 kids help out around the farm and you can already see they are ready to take over the farm when it's their turn.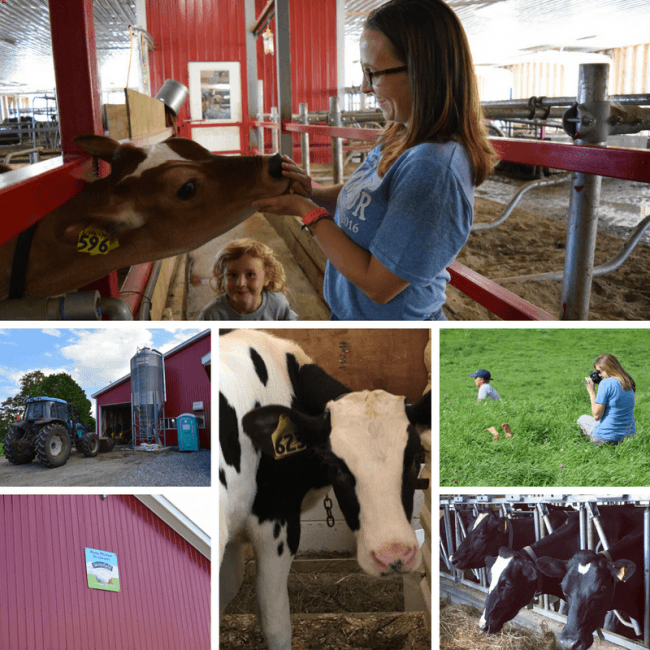 Churchill Farm is very different from the first farm we visited.  When Jen and Morgan built their new barn, they decided to put in a milking robot. This milking robot takes care of milking all the cows. Cows self manage themselves in the milking barn and queue up to be milked about twice a day. When they are in the milking stall, they are rewarded with organic grain.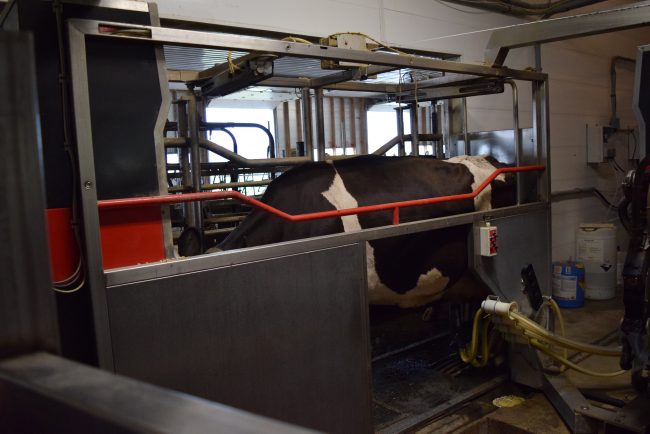 Morgan said that using the robot has helped them better care for their cows. Cows are free to come and go between the barn and pasture. Each cow is outfitted with a sensor on their leg that is read by the computer. The computer tracks when they are milked, the quality of the milk, weight, etc. If a cow is producing less milk or if there is a problem, Morgan or Jen receive an email alerting them to an issue. They can then care for the cow and ensure that she is healthy or gets the she needs.
Take a look at how beautiful Churchill Farm is. We all trekked up the hill  to get a better view of the farm. During the hike, Morgan talked about land management as part of his overall success. He talked about how everything is connected; land, animals, family.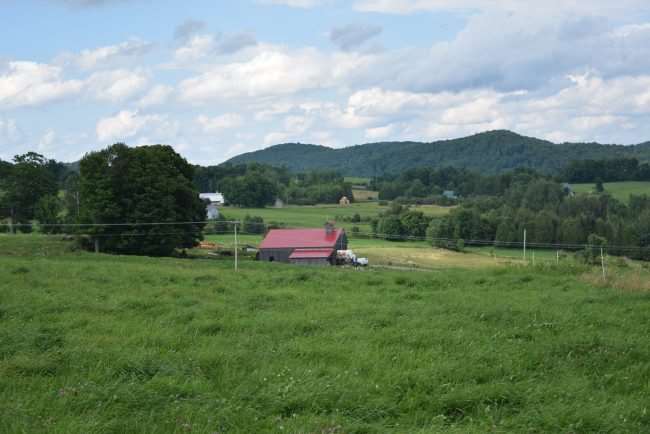 I was impressed at how much each family cared for their herds. Just like at Green Wind Farm, Jen Churchill talked about her cows like family. The pride both families had in their herds showed in how they talk about them. I won't be able to see yogurt or milk again without seeing all the hard work both families put into their craft.
Michael's on the Hill, Stowe, Vermont
After a long day of farm touring, we needed to get cleaned up for dinner. We all smelled like the barn and that isn't something you want at a nice night out. I was so excited at the thought of a girls' night out, that I didn't get any photos of us all dressed up. But I did get photos of the food. We went to Michael's on the Hill in Stowe, Vermont for an amazing evening meal.

Our table decided to order one of each appetizer and share amongst ourselves. What a great idea! For the entree, I had the BEST pasture raised beed tenderloin I've ever had. For dessert, the strawberry rhubarb crisp left me speechless. Literally! The dining room fell silent when dessert was served. It was actually kind of funny.
I was impressed that the menu featured great local farms and vendors. They took great pride in promoting their community. It further strengthened what I'd seen all day with the local farmers that work with Stonyfield. Together they are stronger and can do great things.
My Stonyfield Farm Tour was an amazing experience. It gave me a new appreciation for all the hard work that goes into the food I eat and serve my family. I loved seeing how passionate the farmers were and how Stonyfield is helping them be successful. I would love to say more about my trip, but this article is already looking more like an essay than a short trip recap. So I will end this one here. Look for more articles as I share more about the Snowflake Resort, the Sunday Farmer's Market in Stowe, and more.
If you have any questions about the trip, please let me know in the comments section below. I'm happy to answer each one and if I don't know the answer, I know someone who can. Thank you for joining me for this tour of Vermont dairy farms. I hope you enjoyed it as much as I did firsthand.
Disclosure: I was invited to participate in this all-expense paid trip as a member of Stonyfield's YoGetters. As always, all opinions here are my own.