This post brought to you by Breyers. The content and opinions expressed below are that of Little Family Adventure.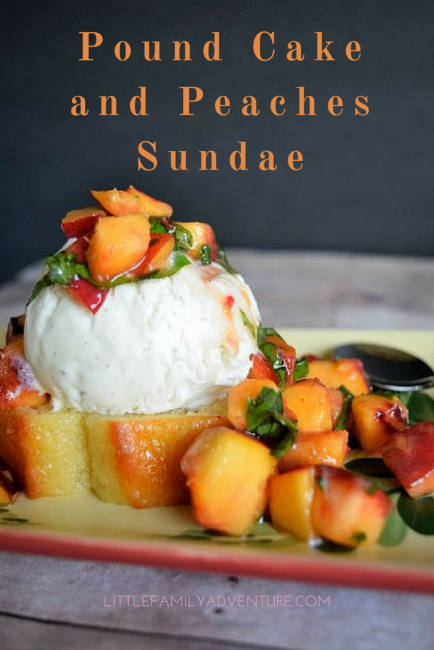 Ice cream is one of my all-time favorite indulgences. A bowl of creamy, vanilla ice cream is enough to brighten my day. My kids love ice cream too! As the saying goes, "We all scream for ice cream!" During summer months, you'll find ice cream sundaes at our house for dessert or afternoon snacks. Sundaes are simple and easy to make. You can add fresh fruit and create a healthier dessert to indulge in. This Pound Cake and Peaches Sundae is one you are going to want to make at home and enjoy with your family.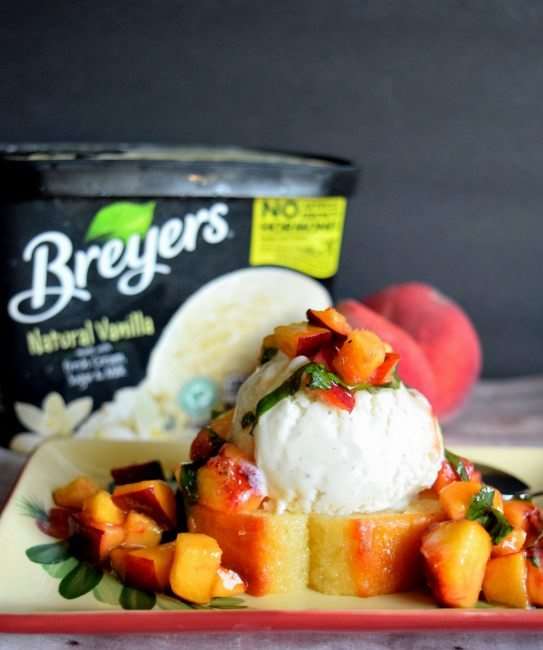 Breyers has partnered with Chef Antonia Lofaso to create fun, family-friendly recipes featuring Natural Vanilla to encourage family moments together. These pound cake and peaches sundaes are one of them. You are going to love this dessert! At only 220 calories, it truly is a dessert you can indulge in without the guilt! The combination of peaches and basil is soooooo good! You'll wonder why you never combined to the before.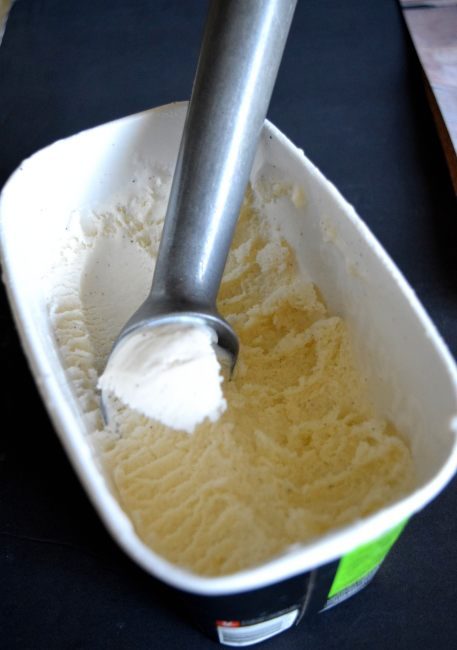 Just like everything I feed my family, I want to be sure that I can feel good about the foods I'm giving them. That's why when it comes to ice cream, I choose to buy Breyers® Natural Vanilla Ice Cream. It contains real food ingredients; fresh cream, sugar, milk, and real vanilla beans.Breyers is committed to using only the best high quality ingredients. They now source their milk and cream from cows not treated with artificial growth hormones*and the vanilla is from sustainably farmed, Rainforest Alliance Certified™ vanilla beans. These are just some of the reasons why Breyers® Natural Vanilla is America's No. 1 vanilla ice cream. So whether you're enjoying a simple bowl of vanilla ice cream or this Pound Cake and Peaches Sundae, you can enjoy this sweet indulgence without any guilt.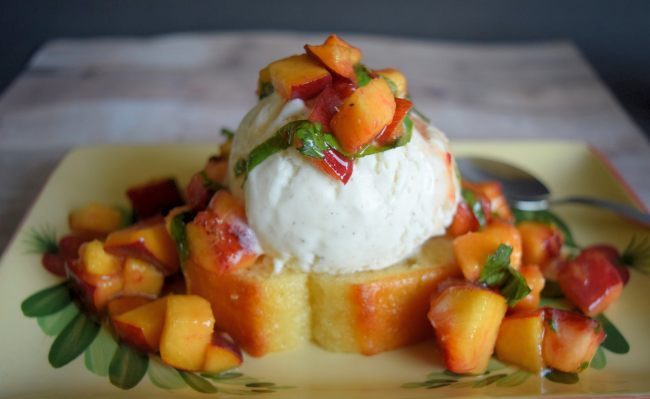 Pound Cake and Peaches Sundae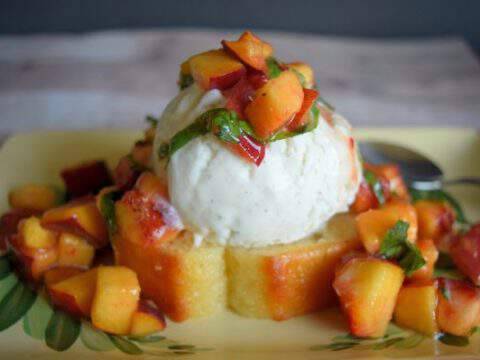 Ingredients
2 fresh peaches, diced
2 Tbsp. fresh lemon juice
1 Tbsp. granulated sugar
2 tsp. thinly sliced fresh basil leaves
4 (1/4-inch thick) pound cake slices
1 cup Breyers® Natural Vanilla Ice Cream
Instructions
Mix peaches, lemon juice, sugar and basil in a small bowl.
To make each sundae, place a slice of toasted pound cake on a plate, then top with a 1/4 cup scoop of Breyers® Natural Vanilla Ice Cream and cover generously with macerated peaches.
Nutrition Information:
Serving Size:
1
Amount Per Serving:
Calories:

322
Total Fat:

15g
Saturated Fat:

9g
Cholesterol:

58mg
Sodium:

106mg
Carbohydrates:

44g
Sugar:

41g
Protein:

5g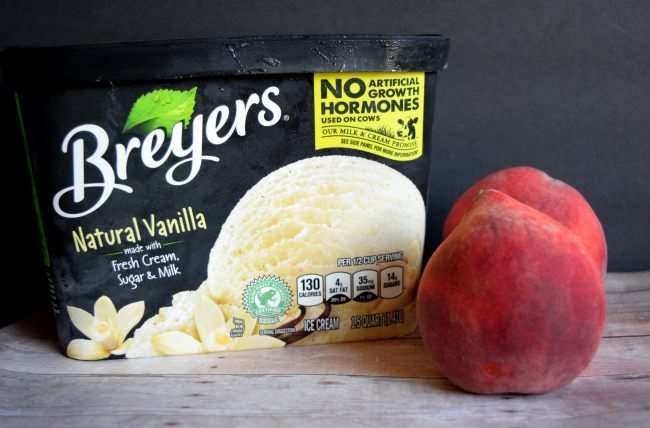 Treat your family and enjoy this ice cream sundae any time. You can find Breyers® products in grocery stores nationwide for a suggested retail price of $3.99 – $5.99.
Find more great inspiration by visiting Breyers on Pinterest, Breyers on Twitter, and Breyers on Facebook.
What is your favorite fruit combination over ice cream?
* Suppliers of other ingredients such as cookies, candies & sauces may not be able to make this pledge. The FDA states that no significant difference has been shown between dairy derived from rBST-treated and non-rBST-treated cows.