There are almost as many types of camping styles as there are hotel accommodations. Do you want to rough it in the backcountry, glamp it up inside a canvas tent with 4 poster bed in Yellowstone, or are you somewhere in between? For our family, we often go car camping. Usually that means we load up the car or truck, drive to an improved campground, upload at a designated site, set up, camp for a few days, then break down, reload into the car and head home. Napier Tent recently sent me one of their Backroadz truck tents to try out. They are taking car camping to a new level allowing campers to set up camp anywhere they can drive.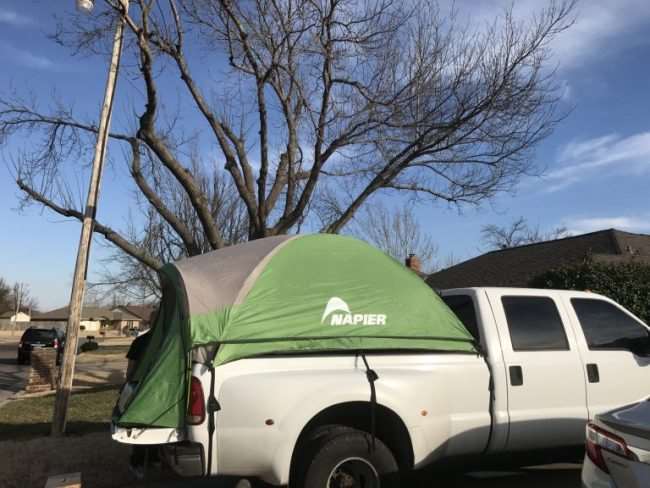 Just imagine taking a road trip or driving off road and finding that beautiful spot that you'd love to pitch your tent for the night. You grab your tent from behind the back seat, set it up in the bed of your truck in about 10 minutes, and you're ready to enjoy the most amazing sunset ever. This is what you get with Napier tents. Their products allow you to convert your truck or SUV into your next camp site.
The Napier Backroadz truck tent sets up inside the bed of your truck. Just like a standard pop-up tent, it sets up easily and can be done with just one person.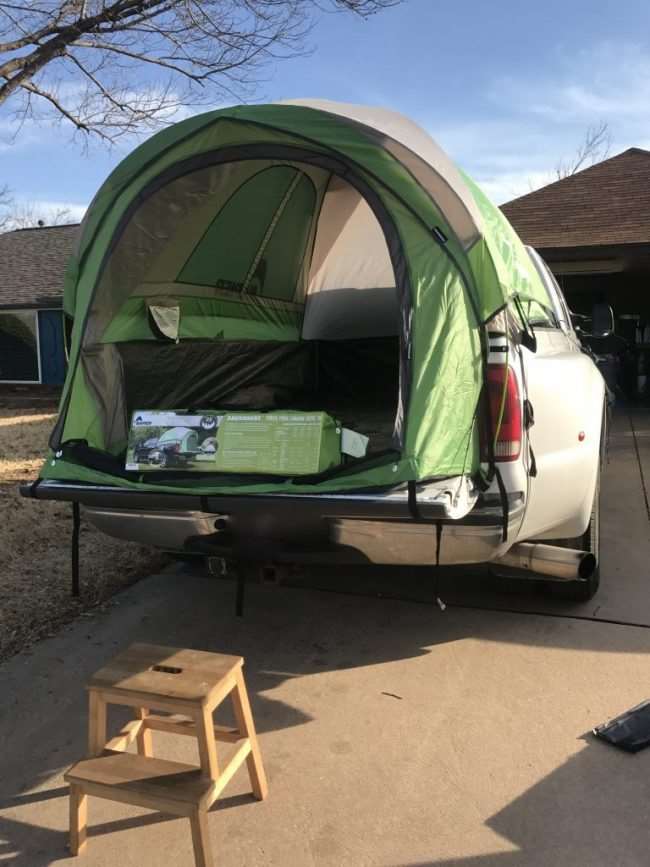 We have a Ford F350 Dually with an 8 foot bed and set up the tent in our driveway to test it out. Take a look at this video of my husband setting up the tent.
Note: ALWAYS test out your gear before a camping trip to ensure that it is in working order and has all the required equipment/pieces.
For tent specifics you can visit us.napieroutdoors.com Here's what I liked about the Backroadz truck tent and this type of camping, plus what could have been better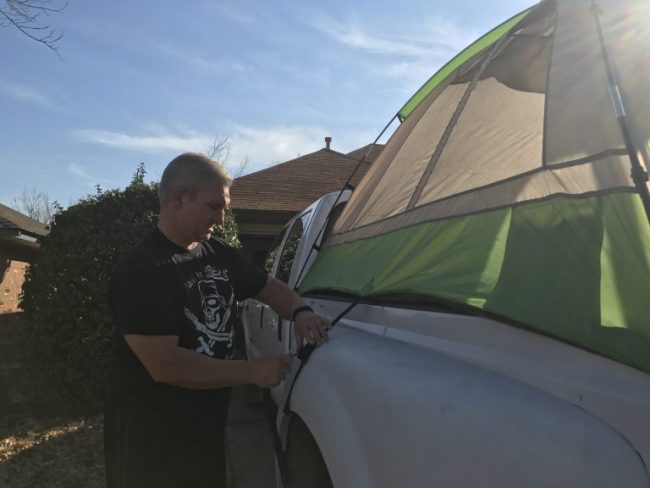 Advantages:
Tent is set up well above ground level
Easy tent set up in about 10 minutes
Sturdy tent floor is large enough to cover the bed and sides of the truck
Elastic straps make securing the tent to the truck effortless
Fabric sleeves protect truck from scratches from buckles
Rain flap attaches easily to tent with a clasp
If it does rain, rain flows over the sides of the truck and not into the cargo bed
5'6" of head room inside the tent
Tent extends to the end of the tail gate using every inch of space
Disadvantages:
Cargo bed has to be empty to set up tent
Once tent is set up, you can't drive the vehicle without breaking down the tent
This model only sleeps 2
You really need a thick sleeping mat or inflatable mattress to sleep comfortably
Tent extends to the end of the tail gate making it difficult to set up without stepping on the tent
If you are short (I'm 5'2") and have a tall truck, you may need a step stool to step up into the tent
Overall the Napier Backroadz Truck Tent is a well designed camping tent. Materials are durable and overall is manufactured well. It retails for $189.99. If you want to be above the ground in a traditional tent instead of a hammock, this is a great way to accomplish that. The only major drawback is the size because it will only sleep 2. For a family, Napier makes the Sportz Truck Tent 57 Series with the Link Model 51000 attachment that sleeps a total of 6.
For more information visit us.napieroutdoors.com
Disclosure: This blog contains affiliate links. They help pay for the coffee that keeps us turning out adventures week after week. I'll only recommend and share products that I use and love myself. Thanks!
Napier provided a truck tent for the purpose of this review. All opinions, as always, are my own. I only recommend products that will make it easier and more enjoyable to get out with your family.