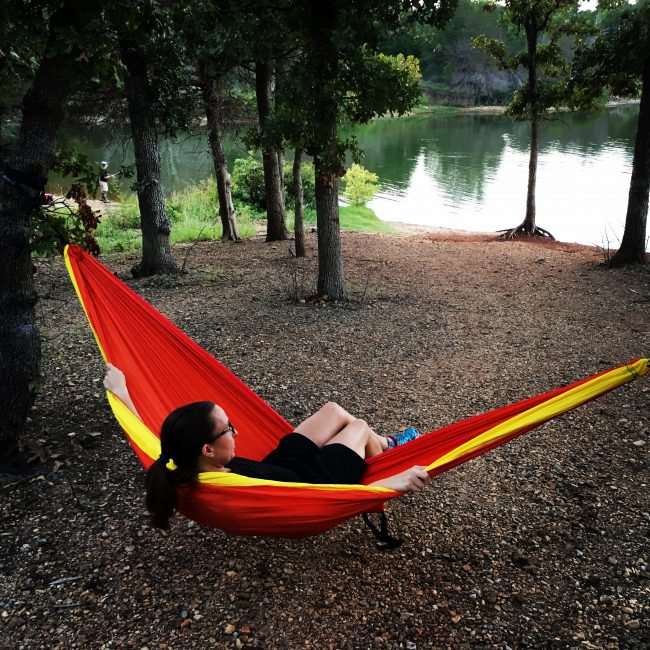 For the past few years, our family has been doing mostly car camping with a large tent, sleeping bags, cots, etc. Now that the kids are a little older, I have been wanting to trim down our gear and lighten things up. For that reason, I have been looking at hammocks to replace our traditional tent and sleeping bags/air mattress set up. Eagle Nest Outfitters recently sent me their DoubleNest Hammock and Atlas Straps to review. So today I'm sharing that review with you plus a few advantages of hammock camping.

Advantages of Hammock Camping
There are several advantages of hammock camping over traditional family tent camping. Here are just a few of them that I have found so far:
More suitable areas to camp
As long as you can find two trees that are 12-18 feet apart, you can setup a hammock almost anywhere. So it doesn't matter what the ground is like below the hammock. It can be rocky, sloped, full of roots, etc. Your hammock will set up nicely above it giving up a great place to nap or spend the night.
You are no longer limited to spots that are suitable for a traditional tent. You can take a hammock and hike to a remote spot in the backcountry or set it up near the lake.
Quicker Set Up
Unlike a camping tent, a hammock can be set up in minutes. You simply have to secure the hammock straps around two trees and attach your hammock. A traditional camping tent requires site prep, unpacking, set up, etc.
Lightweight and Mobile
A hammock is lightweight and can be carried anywhere. You can take it hiking, to the lake, or set it up in other places you can't take a traditional tent.
Comfort
Sleeping in a hammock can be more comfortable than sleeping on the ground.
In a June 2011 article published in the journal Current Biology, researchers found that the swinging motion provided by a hammock affords a faster route to sleep and the benefit of deeper sleep throughout the night.
You can set it up as a seat too and relax during a hike or outing anytime.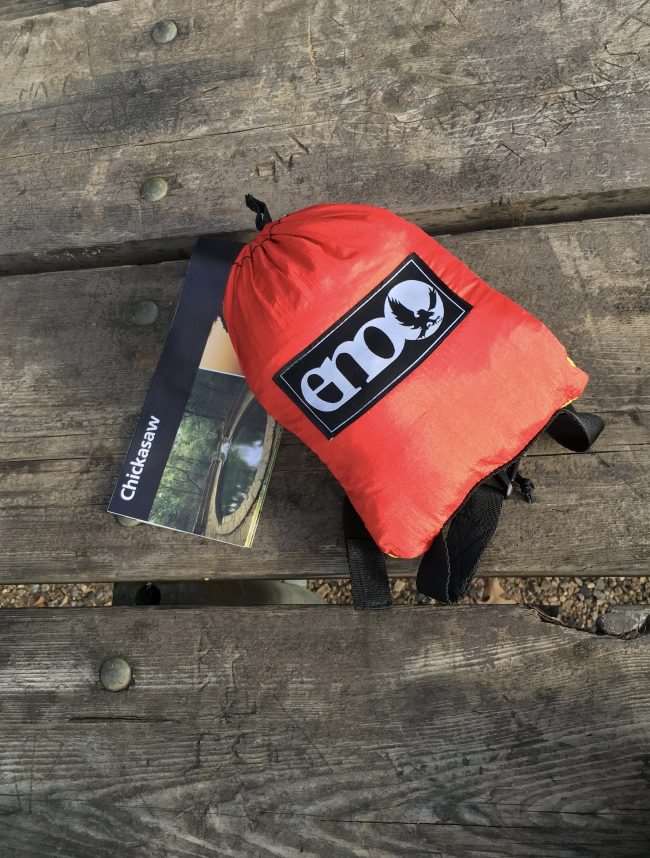 Like I mentioned above, Eagle Nest Outfitters recently sent me their DoubleNest Hammock and Atlas Straps to try out. Here is what I thought about this hammock and it's suspension system.
This is their top selling hammock and for good reason.
It's big enough for two adults with a weight capacity of 400 pounds. Unfolded, the hammock measures 9'4"x6'2".
The lightweight, high tenacity nylon taffeta fabric is super durable.
The hammock has an attached compression storage bag.
Weighs just 19 ounces.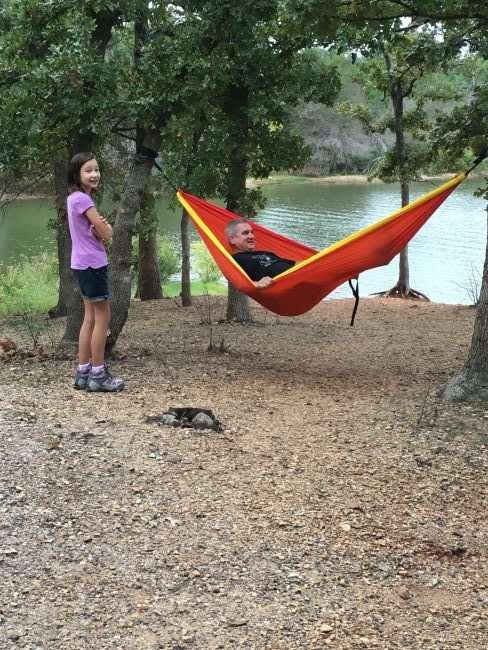 This hammock is very comfortable to lounge around in and sleep in. I have back problems and sleeping on a hard surface is agony on my back. I took a long afternoon nap in this hammock and my back wasn't bothered by it. My back actually felt better after the nap than before I laid down. I have to admit that the gentle sway in the breeze made it hard to stay awake making a hammock great for lazy afternoons.

ENO's Atlas straps are made by Titan. They are strong and lightweight, 11 ounces. I really enjoyed how easy these straps make putting the hammock up. The straps have 30 adjustment points and are easily adjustable. I like that the straps are wide enough that they don't dig into the tree and damage it.
My oldest son has now claimed this Eagle Nest Outfitters hammock system for himself and has decided that he won't go camping any other way. He is really warm natured and doesn't need a blanket or covering to sleep in the hammock. As it gets colder, he may want to add a layer of insulation or inflatable mattress. Until then, this hammock is in his daypack for hiking.
When we are out on a trail, we'll stop for lunch and he'll pull this out to lounge around in. My younger two will often climb in too and they all eat lunch together.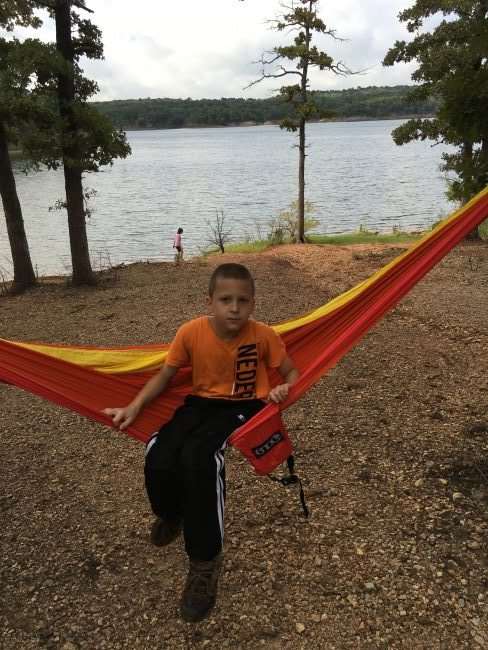 Here is my youngest when we were at the lake a few weeks ago. I love the versatility a hammock offers and the quality of this ENO DoubleNest Hammock.
You can learn more about their products at their website at www.eaglesnestoutfittersinc.com.
If you camp with hammocks, I'd love to hear any tips you may have. Or if you have questions, please let me know in the comments below. I'd love to hear from you.
amzn_assoc_placement = "adunit0";
amzn_assoc_search_bar = "true";
amzn_assoc_tracking_id = "littfamiadve-20";
amzn_assoc_ad_mode = "manual";
amzn_assoc_ad_type = "smart";
amzn_assoc_marketplace = "amazon";
amzn_assoc_region = "US";
amzn_assoc_title = "My Amazon Picks";
amzn_assoc_linkid = "8c0a89c86dd1d35ac386734c9d82cde7";
amzn_assoc_asins = "B0052CQDMA,B00K30H3O8,B00HYTB7Q6,B001DDWK9C,B003BU4CZ0,B00TQZGV2Q,B00MU2HV80,B00MU2I6TS";
Disclaimer: Eagle Nest Outfitters sent me complimentary DoubleNest Hammock and Atlas Straps to review. All opinions expressed are my own.