When planning a journey by car with a dog, you should pay attention to a few important things in order to keep your dog safe in a car. First, you will need to get your dog used to ride a car so that it is not stressful. Secondly, you should stock up on the necessary travel accessories.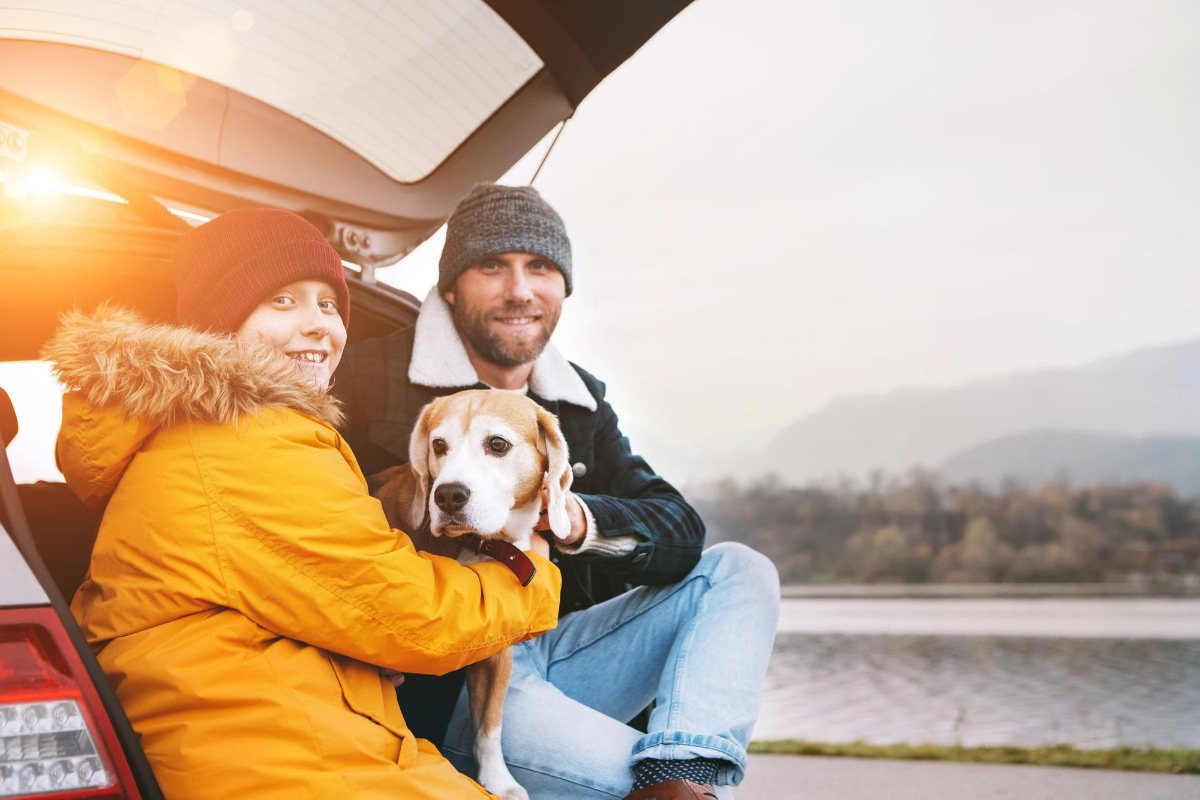 Above all, transporting your dog in a car should be safe – both for the pet and the driver. Some states in America don't have laws enacted to prohibit driving with an unstrapped dog in a car. But in some, inappropriate dog transport may result in a fine.
Traveling with Dogs
The correct animal transport option depends on its size and age. So you should learn all the rules of safe traveling with a dog to be able to choose a solution for your pet individually.
In this article, we will share the essential tips for safely traveling with dogs in a car.
Before the Trip
Preparing a dog for a car trip should start already in his puppy years. Then, your dog will treat car rides like a normal part of his life. Calm and accustomed to the situation, most of the route will sleep peacefully. Keep in mind that a stressed dog barks, which distracts the driver. If you want to change this particular behavior of your dog, click here for humane bark collar options.
If your dog is of a small or miniature breed, it may require assistance with jumping into the vehicle. You should just put such a dog in the car, because it may not be able to cope on its own. This also applies to puppies or senior dogs.
Remember that you should not overfeed your pooch just before the trip. Of course, the dog cannot go completely hungry, but it is good to limit the food portion a bit.
Pin This for Later…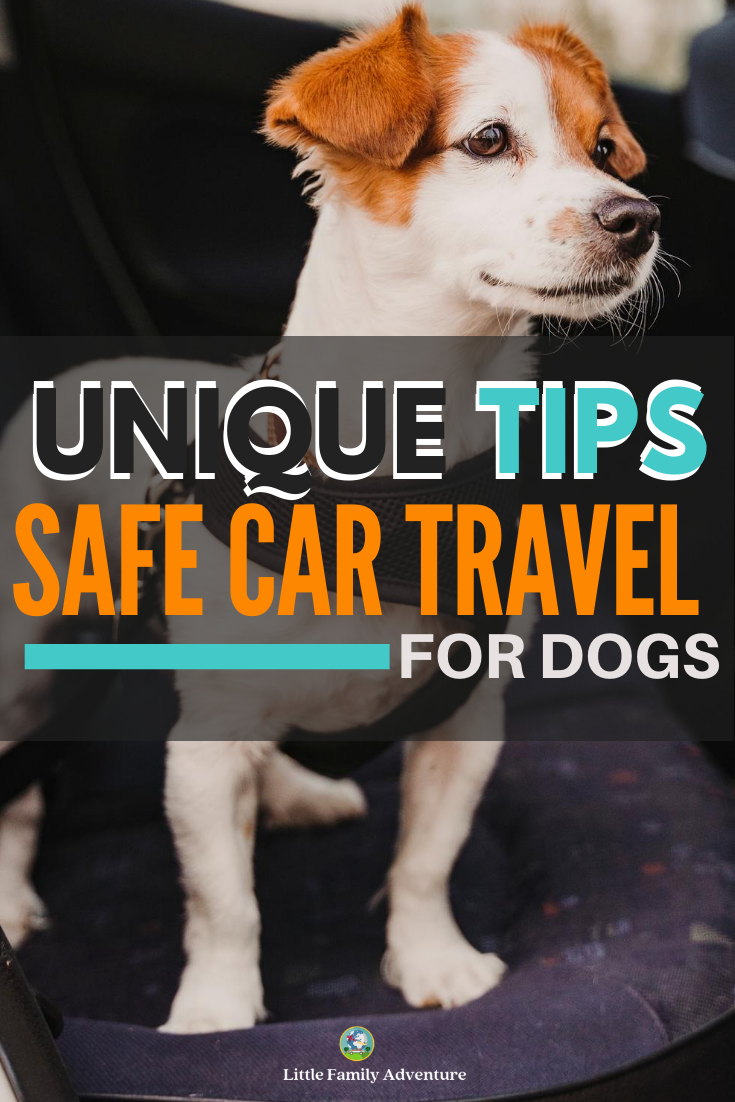 Dog Car Safety Equipment
Getting the right safety equipment before embarking on a car trip requires some advance preparation. If you decide to buy dog car safety equipment online, keep in mind that it takes several days for the ordered goods to reach your home, so plan accordingly.
You will certainly need a portable water bowl with a bottle and a food container so that your dog can drink/eat on a car stop. You have several options to choose from when it how you will be transporting your animal: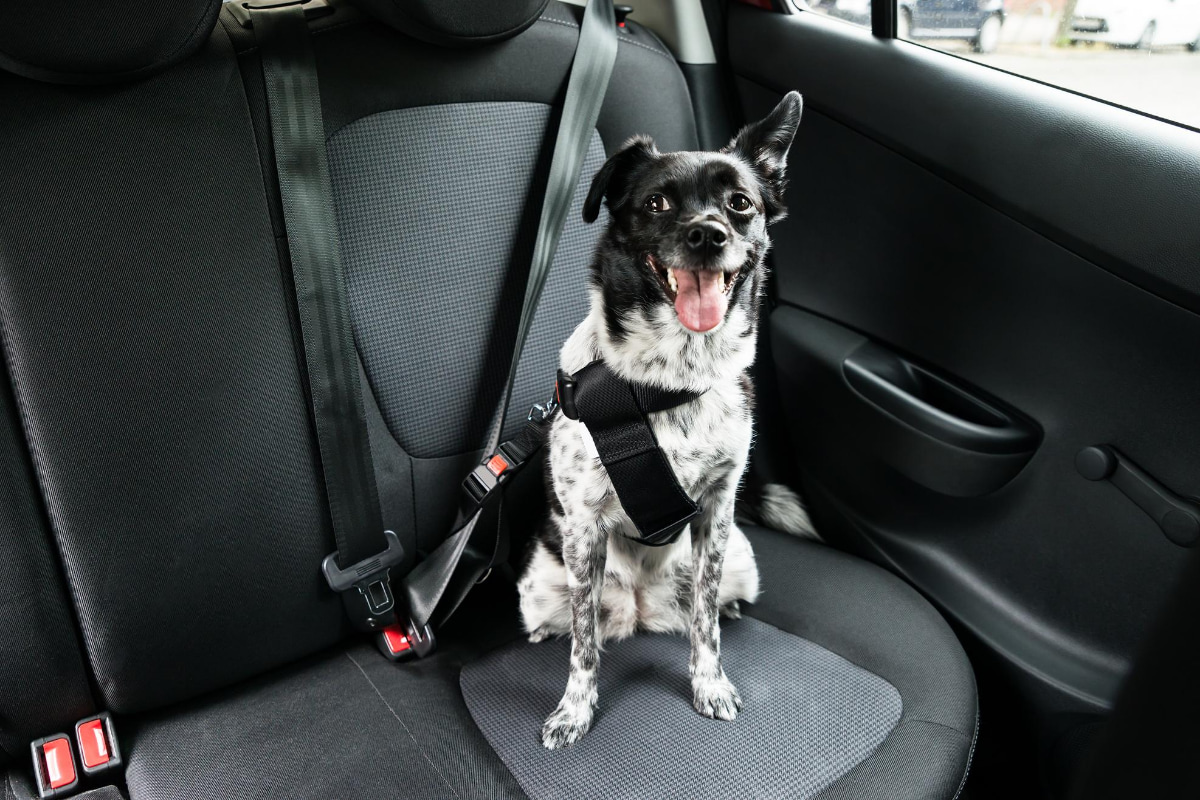 Small dogs can be transported in a carrier or dog harness, which is secured with straps or the car seat belt. Miniature dog breeds or puppies are usually very mobile. It will be safe to keep them in a carrier or harness, as you will prevent them from moving and cool their emotions. Besides, thanks to this solution, your dog will not be able to put his/her head out the window or distract you while driving.
A dog cage's walls, ceiling, and floor are made of metal grilles, most often aluminum. They are suitable for transporting large dogs, such as German Shepherds, but will also work well for carrying medium breeds, such as Beagle or Cocker Spaniel.
You can place the cage in the rear seat of the car or the trunk and secure it properly, e.g., with seat belts. In this way, it cannot move when cornering or braking, which could be dangerous not only for the dog but also for all the car passengers.
It is a solution for large dogs that tolerate traveling by car well – you can go for it if your pet is calm and not restless while driving. The mat is mounted to the front seat headrests, and the dog can lie down freely on the entire rear seat. Also, you can put a similar one in the trunk.
Check Your Dog's Health
Make sure you visit the vet before the journey. Take care of the required vaccinations and deworming. The vet will also assess whether your dog's health allows for longer car journeys. If you are going abroad, do not forget to update the data in the dog's passport and check all the requirements for importing animals to a given country.
Some dogs don't like to travel by car and may show symptoms of motion sickness – they drool, are restless and have difficulty breathing. Moreover, they may also feel sick and have a gag reflex. Unfortunately, sudden braking or driving on uneven surfaces can worsen the symptoms.
Never give your dog any medication intended for people with motion sickness on your own. Any drug or dietary supplement that you want to give your pet should be consulted with a veterinarian. Please, remember that what works in humans can be toxic to animals.
Break for the Driver and the Dog
If you are going on a road trip that will last several hours, do not forget about rest stops. They are very important for the driver and passengers, but also for our furry friends. Breaks should be done about every 2 hours, although some dogs (e.g., puppies and dogs with joint problems) should be able to get out of the car more often.
Ensure that your dog can regularly satisfy its physiological needs, take a short walk, relax, discover new smells, and drink water. Never release your dog without a leash during breaks. It can end up tragically, because if the dog gets scared, it may escape into an unknown area where you will have issues to find it.
Conclusion
Traveling with your dog can only be stressful if you are not properly prepared for it. If you put a little effort into getting to know the advice on transporting pets, and the state requirements, nothing unpleasant should happen to you along the way.
Both you and your dog can enjoy traveling together. Discovering new places is great for building a strong bond. For creating a relationship based on trust, make sure your dog won't be afraid of traveling by car. You can ensure it by a smooth, steady ride, that is the best for your dog. Take frequent breaks and keep your dog safe, thanks to the appropriate transportation system. Have a nice journey!
©Paula Sieracka