You got a new puppy! Or maybe your friend did and you are now in the enviable position of being able to spoil them rotten. Either way, new puppy presents are in order.
You might be wondering what the best pet gifts for a new puppy owner should be? The answer is simple: every single one of them! With a new fur baby, practical items like chew toys and dog food bowls are needed from day one. Any new pet parent will be grateful for these from you. But if you need to narrow it down, we've got 16 puppy essentials that any dog would love.

What to Buy For a New Puppy?
We have a NEW puppy in the house too!
This is Kiko, the newest member of our family. It's such an exciting time in our house. Kiko's an Australian Shepherd, so she is a fluffy ball of spastic energy. We are so excited to be new parents again. Getting her was like having a new baby in the house again. LJ, our adult dog, was adopted at 2 years old from a local rescue organization. So this time, we started out with a puppy and tested out all kinds of new puppy products for Kiko. Many of the items here are those we personally tried out and would recommend to fellow new dog moms and dads.
If you or someone you know has or are getting a new puppy, these are the best gift ideas for new puppy owners.
Interactive Dog Toys
Dogs are intelligent creatures and they need to be entertained. This is especially true for puppies, who can quickly get bored with old toys. Interactive toys are essential new puppy gifts as they keep your pup active by forcing them to work out how to obtain their treats when the toy's "passageways" are filled up with food.
Our veterinarian, during Kiko's first visit, gave us a Kong enrichment toy. This is the classic treat dispenser, but I like the treat dispensers from SodaPup better. They have more fun shapes and sizes suitable for puppies. We have this cupcake rubber chew toy & dispenser. It is soft enough for puppies but durable enough for our adult dog who's an aggressive chewer. SodaPup has a full range of interactive and enrichment toys. I like they are a veteran-owned business that makes their toys in the US and gives them back to shelters and working dogs (law enforcement groups). Shop all SodaPup dog toys and use coupon code LFA10 to save 10% off your order.
A Good Quality Collar
It's important to buy a collar and ID tag for your new puppy when they come home. A well-made collar will have a quick release buckle and durable leather or nylon strap which allows for the dog's safety if their collar becomes stuck.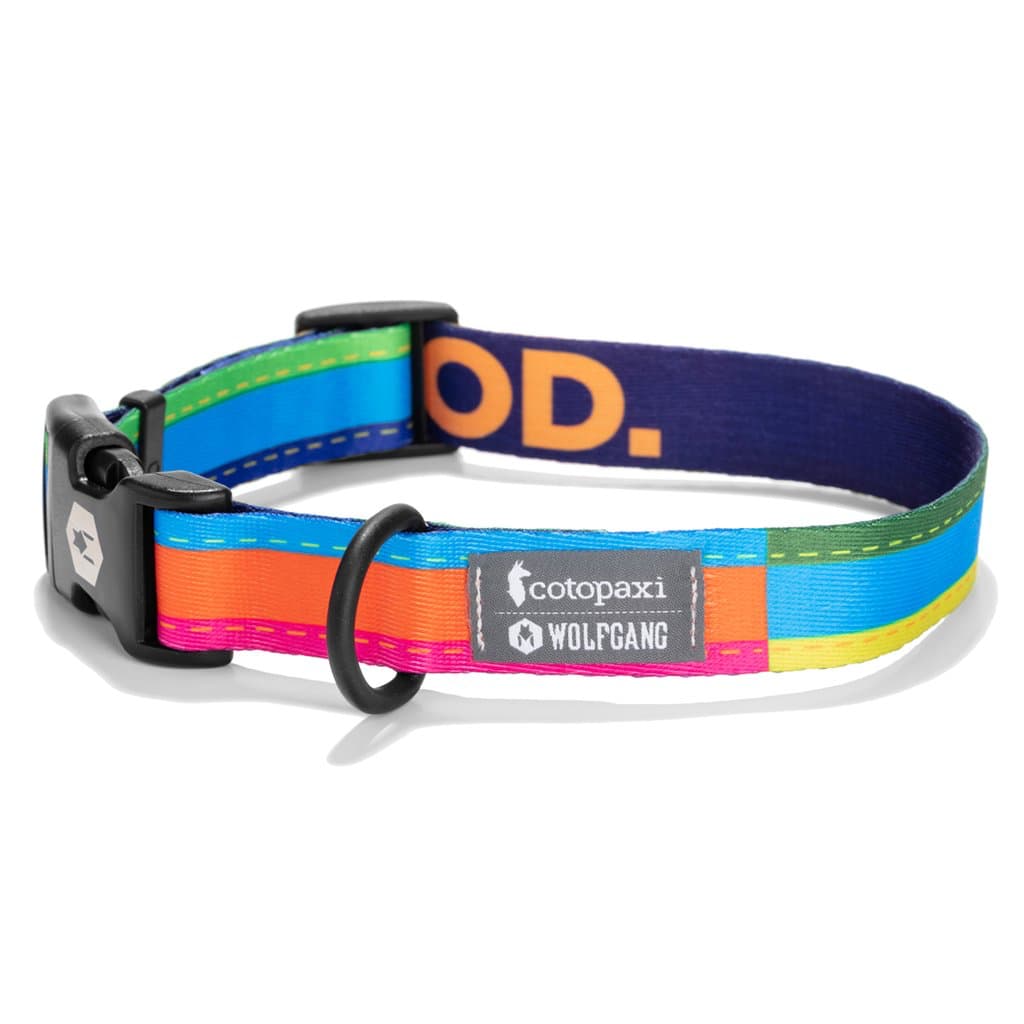 Wolfgang and Beast Collar– If you want more color, look no further. Wolfman and Beast has a range of colorful, themed collars, harnesses, and leashes. These are not as thick as those from Jiby (below), but I love the colors and patterns. We have the Cotopaxi collar and leash and enjoy the bright, bold colors that Cotopaxi is known for.
Park Collar from Jiby – I liked this high-quality, thick nylon collar. It comes in four solid collars (we have the olive) and includes an engraved ID tag. Matching leash is available.
Customized ID tags
An ID tag should also be included on the collar because they offer some protection for your new puppy if lost, as well as help reunite them with their family. At a minimum, it should include the owner's cell phone and either the dog's name or the owner.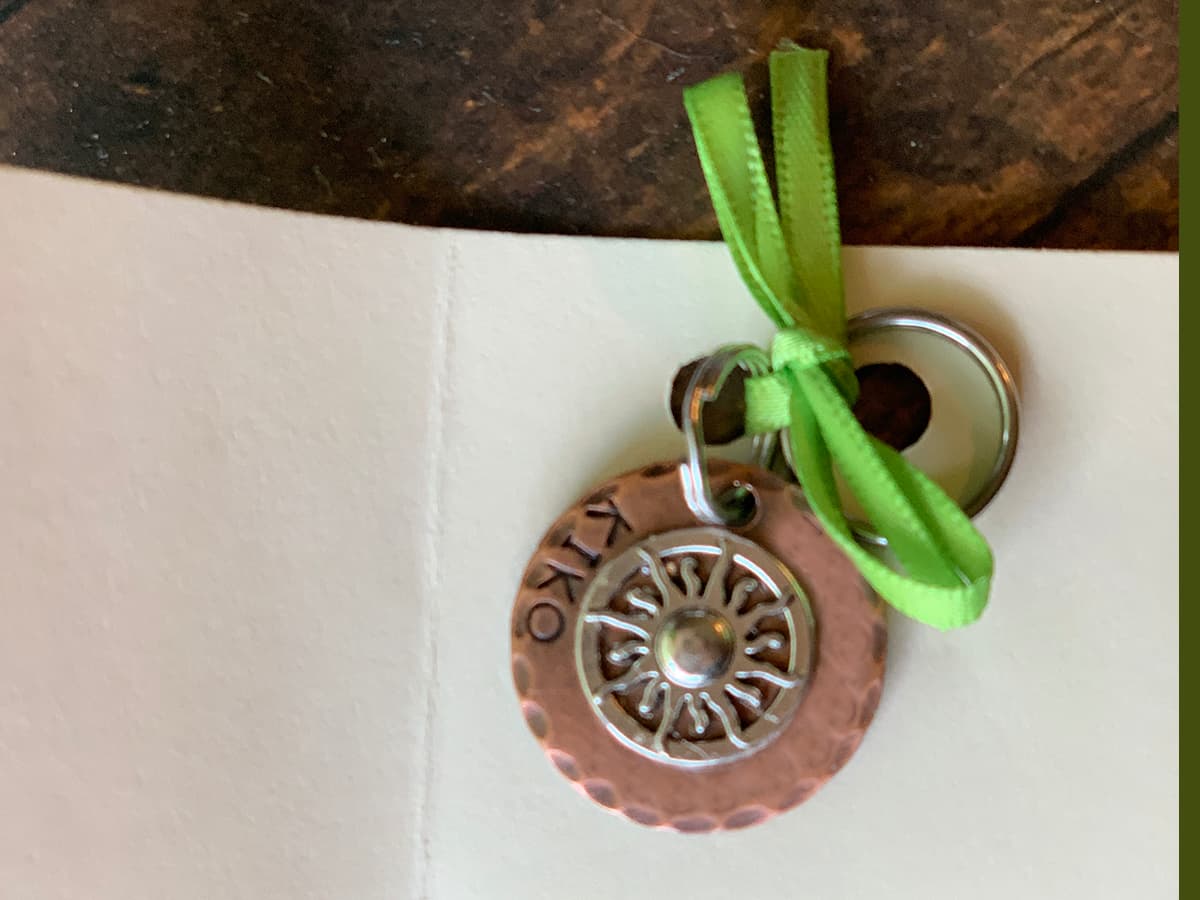 This is the ID tag we had made for Kiko. It's a stamped copper tag with her name and my phone number. I found it from Kaysea at Pugs2Persians on Etsy. She has some really cute stuff! See this and other metal id tags I found on Etsy.
Squeaky Toys
Puppies LOVE squeaky toys and they are perfect for teething puppies. The sound of the toy will keep your puppy's attention and encourage their natural chewing habits which is an important part in developing healthy teeth. Many squeaky toys are plush toys. Chewy.com has a vast line of squeaky toys and plush toys for dogs. Check out Chewy's top deals here or see these from Amazon below.
Note: I can't recommend a particular squeaky or plush toy because our adult dog has a LOVE/HATE relationship with both. He will dive into either with the singular focus of freeing the squeaker from the toy. In the process, he destroys said toy.
A Comfortable Plush Dog Bed
Puppies are full of energy and will sleep when they're tired. A puppy bed is a perfect gift for a pup who likes to nap in comfort. Give the new furry family member their own personal space with a high-quality dog bed. If the new puppy has a name, you can even have an embroidered name on the bed.
Pillow Crate Mat from Armarkat – This thinner, easily-washable mat is ideal for the crate. It provides a level of comfort without being too bulky. It's easy to wash, so when there's an "accident" in the crate, it can be thrown in the wash.
Chew Toys
Puppies like to chew! This is a natural behavior and their teeth are constantly growing. Chew toys cater to this need, keep your pup entertained, and provide a distraction from chewing on the furniture or other household objects that could be harmful if ingested or chewed up. Toys should be tough enough that the stubborn puppy can't break them or easily swallow pieces of them.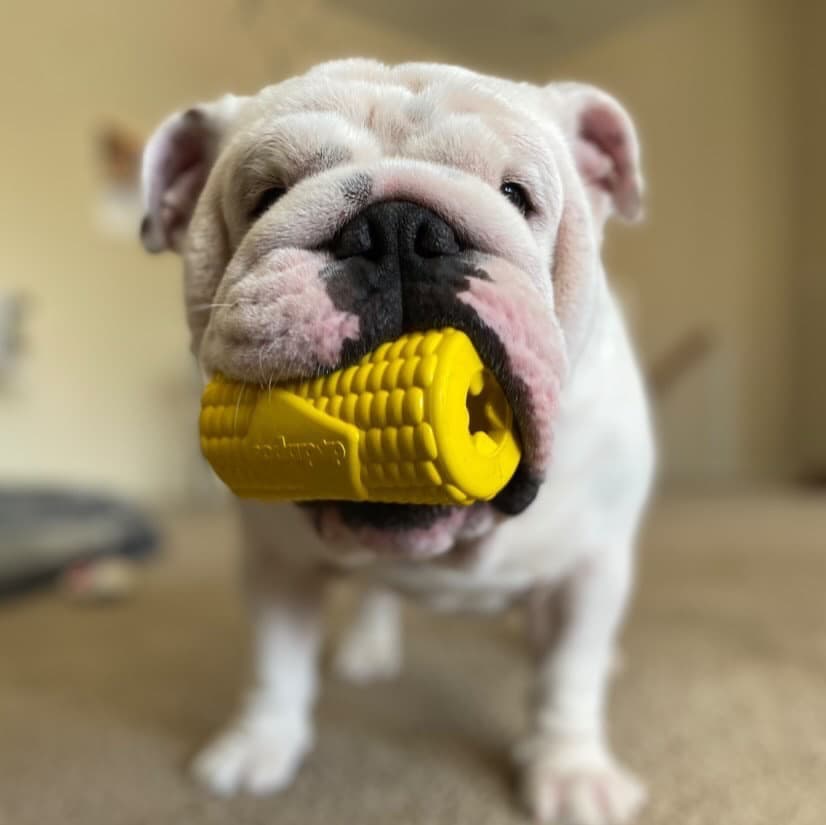 Rope Dog Toys – Our puppy loves rope toys. They are good for chewing on, playing tug-o-war, and fetching. This rope toy collection on Etsy was actually very inexpensive and they last for a good long while.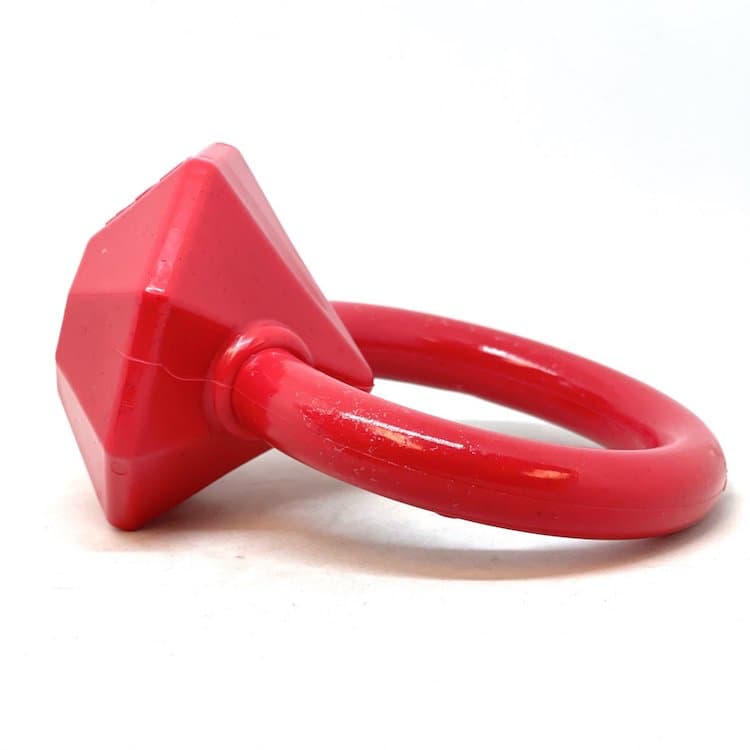 Diamond Ring Chew Toy – Every girl needs a diamond and puppies are no exception. SodaPup has this Diamond Ring teething ring for puppies designed for aggressive chewers.
Nylabone Chews – Whether made from nylon or natural materials, I really like Nylabone products. They have a full puppy line of chews that are easy on a puppy's teeth. Many can also be thrown in the freezer and then given to a puppy to provide relief during teething.
Pin this for later –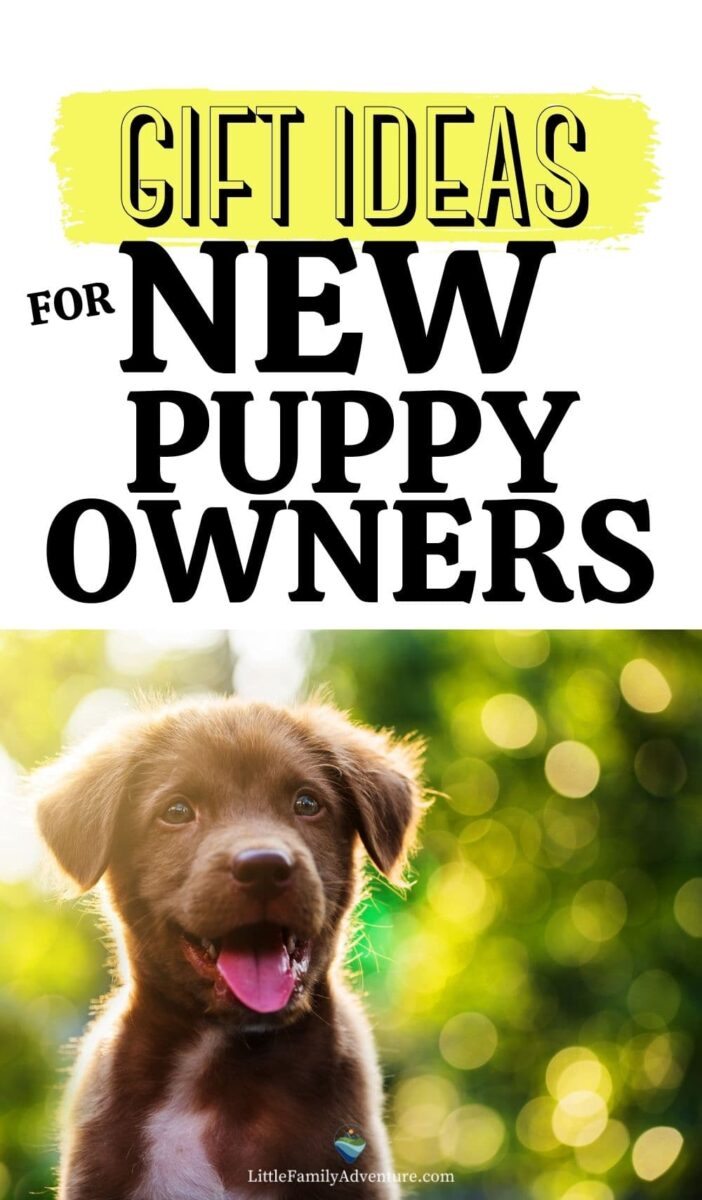 A Good Quality Dog Food
Puppies need high-quality food that is specially formulated for their needs. Puppy foods should have the right amount of nutrition, fats, and proteins to give them what they need to grow healthy bones and muscles as well as keep their immune system strong. The best puppy food will be made with high-quality ingredients that are affordable. Gifting dog food is a bit like giving new parents diapers. Highly practical and always much appreciated (IMO!)

Pet Plate – With Kiko, we really liked this refrigerated fresh-cooked food by PetPlate. It's basically a customized meal plan designed for your dog. To start, I answered a few simple questions about my puppy/dog. Then everything is cooked to order with human-grade food ingredients and shipped frozen to the door. Meals are the same for puppy and dog dogs and portion size is based on weight. It was really easy to feed Pet Plate to dogs of all life stages.
We (our puppy and adult dog) tried several Pet Plate varieties. Our dogs devoured the Lip Lickin Lamb and Barking Beef. Save 30% off your order here when you use my affiliate link.
Nutro Puppy Dry Food – For dry food, we feed both our dogs Lamb and Brown Rice puppy formula. It was recommended by our vet and I like that I can get it auto-shipped from Chewy.com. Plus saved 30% on the 1st autoship and then 5% after that.
New Puppy Gift Basket
The best thing about gifts is that you get to personalize them. If the new puppy owner on your list is anything like us, then they will have a wide range of interests and hobbies. One way to make their gift more personalized is by building a Puppy Gift Basket with items related to the person's likes or what we know about the puppy breed. You can take any of the products on this list of unique gifts or buy one of these pre-made baskets or kits.
Potty Training Basket
Potty training is a big deal for new puppy owners. New puppy parents are not only teaching the pup about where they should go, but they are also setting up some good habits that will hopefully last their lifetime. Create a basket that helps them puppy proof their home with disposable potty pads, a training book, urine eliminator, and odor neutralizer.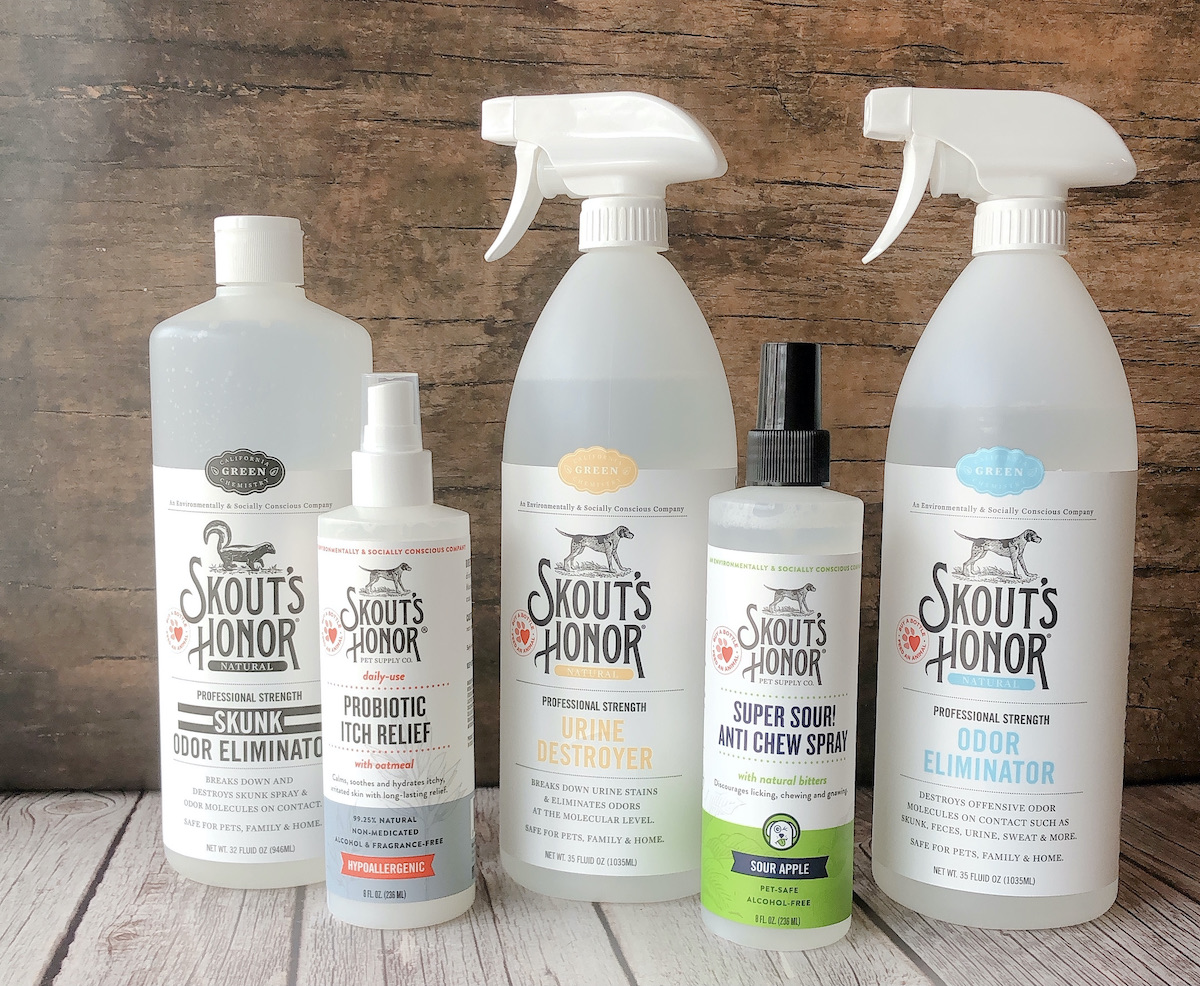 Skout's Honor Everyday Essentials – I tried several of their products and highly recommend their products. The Pet Urine Destroyer, Odor Eliminator, and Pet Stain & Odor Remover are fantastic at neutralizing pet odors and puppy pee "accidents". I actually find that the Stain & Odor Remover works on human clothes stains too. Who would have thought? These products are eco-friendly and free of harsh chemicals.
Good Quality Leash
When you first bring home a new pup it's important to have an appropriate leash on hand. A good quality leash will have a comfortable handle, non-tangle woven nylon or leather straps.
Ride Leash by Jiby – This lightweight, 48" heavy-duty nylon leash has a padded neoprene lined handle. I like how comfortable that makes this to hold. When you buy this and any Jiby collar or harness, use coupon code JIBYSETUP to save 20% off.
Wolfman and Beast Leashes – If you want more color, look no further. Wolfman and Beast has a range of colorful, themed collars, harnesses, and leashes. Their designs range from national park landscapes (Utah canyons), bold geometrics, floral, tribal, camouflage, and more.
Furbo Dog Camera
Furbo is a wireless, interactive toy that allows you to toss treats up into the air and watch your pup jump for them. It also lets you talk and see them when they are feeling down or lonely with an in-app chat feature when paired to Alexa Echo. This is a unique gift idea for sure.
Puppy Treats
It's always a good idea to have some tasty treats on hand for the new pup. These should be small and soft enough that they can easily chew them, but not so easy as to make it an unhealthy snack option. Homemade dog treats make great gifts and many dog lovers make their own. Recipes are easy to find and often include ingredients that can be purchased at the grocery store.
Water Dish
One of the most important things to remember when you bring home a new puppy is the importance of providing fresh water for them. You can find food and water bowls that sit on the ground or as elevated dishes. The most important thing is choosing bowls that won't be knocked over and can be easily washed out.
Petmate Gravity Waterer – With two dogs in our house, this gravity fed waterer makes more sense and it's what we have. It holds 2.5 gallons and has a non-slip base so it stays in place.
Stainless steel bowls – For something simpler, these stainless steel bowls perform well. They don't break and have a rubber bottom so they don't slide. Best of all, they are VERY easy to clean.
Gift Cards
Another great option are gift cards that allow recipients to buy their own gifts! Chewy, Amazon, national pet supply store, a local independent pet store, or a local dog training center.
A Collapsible Water Dish
New puppy owners won't just sit at home with their new puppy. A collapsible dish will provide clean water when away from home. As the puppy gets bigger and goes for long walks and later hikes, this will come in handy.
These collapsible, silicone water bowls are perfect. They are the ones I have and use most often. Each attaches easily to a leash handle, belt loop, or backpack when outdoors.
Good Quality Food Dish
It is important to provide fresh water, but what about food? A good quality dog bowl that won't be knocked over and can hold a large volume of food will do the trick.
When it comes to dog bowls, you can get creative and find unique options. The bowl food bowls we have are simple rubber bowls. They aren't pretty but are highly functional. As I write this I saw that Jiby had a preorder on a Doodle Dog Skatebowl (dog bowls inside a skateboard frame.)
Here are a few options available on Amazon any new puppy owner would love:
A Good Quality Crate
Crates are an important item for a new puppy owner. They can help the dog feel safe and secure in its own space when traveling or at home during the day. If the puppy will be crate trained, then it's a necessity. It will also provide peace of mind that your pup won't be chewing up anything you don't want them to chew up while they're alone.
Metal Folding Dog Crate – When buying a puppy's first crate, I'm a fan of buying one that can grow with the puppy. This crate has a metal divider to create a smaller area for the puppy to feel safe. It can be moved as he/she grows. If you want something more elaborate, see this fancy version on Etsy.
Custom Pet Portrait
Sometimes the best gifts are those that can't be bought. This is especially true for pet owners who appreciate a nice portrait of their four-legged friends. Photo services like Easy Canvas can create a canvas portrait from a photograph. Find out what kind of style and size picture the new pet lovers prefer and gift them a custom portrait. I've used CanvasHQ to convert photos to canvas and they do a stellar job. A gift card for this is also a great option.
Being a new dog owner is such an exciting time! Having a new puppy in the house is a lot of work, but it's so worth it! I know this list is filled with good gift ideas for new dog parents!
We hope that these gift ideas for new dog owners will help you welcome your newest family member.
The joy of a new puppy is hard to beat. Whether you or a friend is adding a puppy to their home, these items are great for starting out. The best part about this list? They make great gifts and could be used as essentials for yourself too. Choose from food bowls and water dishes, treats, interactive toys that will keep them entertained during playtime—even nice collars so they can have something stylish when out in public with their owner. And don't forget cleaning supplies like pet shampoo or an absorbent mat to help get rid of any accidents before they happen again. Although most puppies can't speak for themselves, we hope they would agree that these essentials make their life better too!