We love, love, love the Christmas season. My children and I have been busy decorating the house, baking cookies, and learning about Christmas traditions around the world. We love to learn how other people celebrate. We may not be able to travel the world, but no one said we couldn't bring the world to us. This week, we will been studying Christmas in Norway. It is the home of the vikings, fjords, and cold winter nights. During the Christmas season, there are so many traditions to choose from. Here are a few that we decided on. As we get underway, let me be the first to say "God Jul". That's Norwegian for Merry Christmas.
All over Scandinavia, Saint Lucia Day, is held on December 13th. December 13th is also the Winter Solstice, the shortest day (longest night) of the year. The celebration of Saint Lucia Day symbolizes the return of the light at the end of winter. For more information on the history of St. Lucia, click here.
At the crack of dawn, the youngest daughter in each family puts on a white robe with a sash, an evergreen crown with tall-lighted candles. Followed by her siblings, they wake their parents, and serve them coffee and Lucia buns, also called lussekatter. I tried to convince my children to try these tradition. They weren't having it. So I guess, my husband and I won't be getting breakfast in bread. In schools, the event is celebrated with a procession of children singing songs. One child is dressed as St. Lucia in the traditional robe and crown with lighted candles and leads the procession. Lucia buns are then handed out to all of the children. Try this recipe from King Arthur Flour.
Decorating the whole house is a big Christmas tradition in Norway. Communities gather together at Christmas Workshops to make decorations, cakes, holiday cards, and more. Many of the decorations are handmade. You can find holiday decorations in every corner of the house, from the embroidered curtain panels to the hand embellished tablecloths. On Norwegian Christmas trees, it is customary to find similar handmade decorations, like woven heart-shaped baskets. These woven baskets were made to hold candies, nuts, and dried fruits. My children each made their own woven basket using a craft tutorial from DLTK-Growing Together. Once you understand how they're made, they are easy to make. It just takes a bit of patience at first.
Another fun project we found were called Ice Baubles. They are lovely frozen decorations filled with found objects.
In Norway, winters are extremely cold. Many people like to decorate the outside of their homes with ice sculptures. An easy way to create a small ice sculpture is by creating an Ice Bauble. These baubles are created with water balloons filled with natural elements (berries, pine sprigs, twigs, twine, etc.) and frozen solid outside in the cold or in the freezer if you live in a warmer area. Once the water is frozen, you can remove the balloon and what remains is a lovely decoration. Follow this link to My Little Norway for a great tutorial on these.
Rice porridge is a staple in Norwegian homes. But they eat a special porridge on Lille Julaften or Little Christmas Eve, held on December 23rd . The porridge contains an almond inside. The one who finds the almond gets a prize, usually a pig made of marizpan. On this same night, children place a bowl of rice porridge outside for the Fjosnisse or Nisee. Nissee, according to folklore, is the gnome or elf who lives in barns and protects the animals. They are small creatures no larger than a few inches tall. They are characterized by their red hats and wool clothes. If the children forget to offer Nissee his bowl of rice porridge, they could find themselves at the end of one of his nasty pranks. There are many stories about the mischief caused by cranky gnomes.
Today, Norway has combined the traditions of the fjøsnisse and Santa Claus into Julenisse. Julenisse looks similar to the Nissee with that signature red hat. Unlike Santa Claus who comes down the chimney after everyone goes to sleep, Julenisse visits families in person on Christmas Eve and brings presents.
Christmas Day is considered the first day of Christmas. Celebrating will continue for the next 20 days. On Christmas day, people gather with friends or family for a big brunch at noon or dinner in the afternoon. A traditional dinner includes Pinnekjøtt (lamb ribs), pork ribs, lutefisk (dried codfish prepared in lye), mashed rutabagas, and risgrøt (rice pudding). Many families still hold to the tradition of having 7 different types of cookies for the holidays.
As we learning, the Norwegians love the Christmas season. Thanks to the Vikings, they celebrate for weeks. Some of our traditions stem from Norway. Every year, my family bakes at least 7 types of cookies. Our Santa Clause has that same red hat as Julenisse and the fjøsnisse. But regardless of the specific traditions, one theme is evident throughout, celebrating together with family and friends is the most important thing. From the Christmas Workshops to the holiday parties, the people of Norway gather together to celebrate.
Now that the lesson os done, here is the food we have made so far. Today's recipe is one my grandmother used to make. A big thank you goes to my aunt for sending me the recipe. These cookies are fun and easy to make. They are Norwegian Kringla Cookies.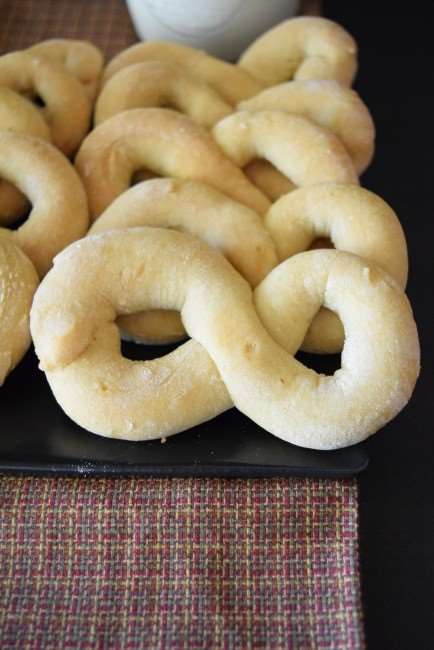 My grandmother made these cookies every year. Now I make them for my family. Click here for the Kringla Cookie recipe
Related Resources
Saint Lucia Buns Recipe from King Arthur Flour
Official Travel Guide to Norway at http://www.visitnorway.com/us/
Norwegian Christmas information, links, and recipes at My Little Norway
Fjords Coloring Page for K-2nd grade
Outline Map of Norway
Coloring Pages of Norway (maps, flags, coat of arms, animals, etc.)
Gnome Craft using TP roll
Collection of over 70 Norwegian Folklore Tales
Related articles
SaveSave