Looking for a lightweight rolling suitcase or wheeled duffel bag? Then you'll want to take a look at the Eagle Creek's Gear Warrior Luggage.
Recently, I found myself in serious need of a new larger suitcase that I could check. I ended up getting the Gear Warrior 26" wheel spinner because it is made from durable recycled materials, is expandable, water repellant, and lightweight. Best of all, it is built from materials designed for most any family adventure. I've never been happier.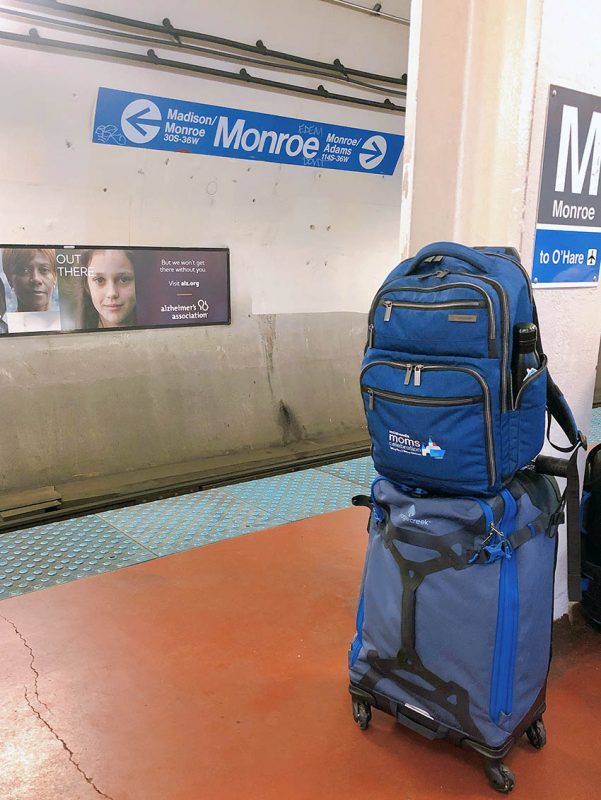 Eagle Creek Luggage: Gear Warrior
The entire Gear Warrior line is built for a lifetime of adventure. This collection of Eagle Creek luggage is made with 100% recycled PET ripstop fabric made from plastic bottles. Eagle Creek's use of recycled materials is one of the reasons I love their products so much. You'll find this rolling suitcase and their Migrate Duffel made from a material created from discarded windshields on my list of favorite eco-friendly travel accessories.
All their products are backed by the No Matter What Warranty. This is their promise to repair or replace any product failure during the life of the product failure. For the last few years, I've carried this basic duffel in my suitcase as an overflow backup. I use it whenever I need to bring more home than with what I left. It's stood up to a lot of abuse, as do all of their products.
Going Back to Soft Sided Luggage
For the last few years, I have been using a hard sided suitcases both as my checked bag and as a carry on. Honestly, I didn't think I'd go back to a soft sided rolling suitcase until I tried this Eagle Creek luggage. I think this luggage has the best of both types. The back of the duffel/suitcase has a recycled coating that makes the back fabric extremely durable. Then the high-wear areas (i.e corners, edges, etc.) have a laminated material there to provide added protection.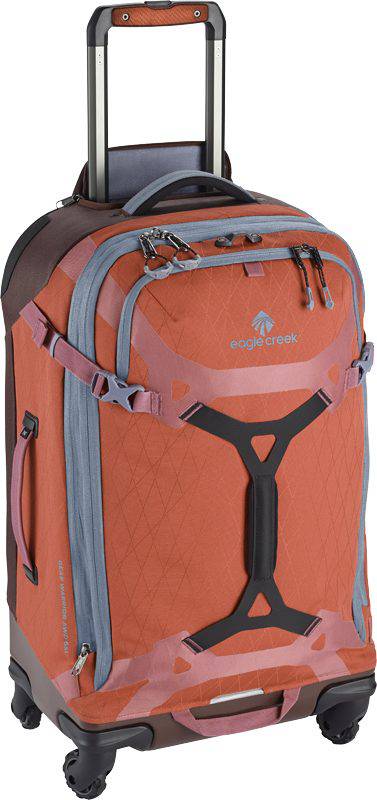 Benefits of a Wheeled Duffel
The main benefit of using a wheeled duffel is how lightweight it is. This 26" bag has a capacity of 60 liters, but only weighs 7 pounds and 15 ounces. It measures 15.5 x 26 x 10 inches (3785 cu in) and expends to 15.5 x 26 x 11.75 inches (3965 cu in). It's perfect for an extended vacation or someone like me who brings enough clothes for 2.5 weeks and 5 pairs of shoes for a 7 day trip.
This duffel has one main compartment that opens similar to a standard duffel. In the zippered flap is a secondary compartment that runs the full length of the bag. It provides rigidity to the top of the bag and added storage for gear or dirty clothes. If I'm not using it, I can tighten the cinch straps to compress the bag. The straps can also be used to strap additional gear to the outside of the bag when I'm on a road trip.
I really like that this bag has compression straps inside the main compartment. It makes packing with or without packing cubes so much easier as I'm able to compress everything down in one area. There's no more dividing my clothing/gear between two compartments of my older suitcase. If needed, I can unzip the expansion too and give myself more room. I am a notorious over-packer and this comes in very handy for me. If someone can help me learn to scale it down, I would welcome the help.
Traveling with this bag
One of the reasons why I needed a new checked suitcase was the wheels on my last one made it difficult to use. They would not work well on anything that wasn't a smooth flat surface. That has been a problem for me with our suitcase brands. But, I won't have that problem with this bag. These oversized tires that are threaded so they ideal for airports terminals, gravel roads, and carpeted hallways. I'm finding it so easy to wheel this suitcase wherever I go. Even over brick pathways, it rolls without a problem.
Multiple handles make it easy to carry this bag too. I particularly like the handle on the front of the bag. When I have had to carry my bag upstairs, I found that bag to be easiest to carry that way without being awkward. Plus the top of the bag has an equipment keeper latch hidden in the handle area. When needed I can pull it out and secure a jacket or gear on top of the suitcase. It leaves my hands free. Big plus!!
When I'm away from my bag, I want to know that my gear is safe. There have been times where the hotel safe hasn't worked. So, the lockable zippers with a central lock point allow me to use a luggage lock to secure my belongings regardless.
All in all, I am very happy with my new travel suitcase. Find this and other Eagle Creek Luggage at: