Hey There! Welcome to Little Family Adventure!
This summer, we have a TON of summer family fun adventures for you.* This article contains affiliate links. Purchase through our affiliate links and we receive a small commission without any extra expense to you!
Each month we share some new ideas with you so you and the family can get active and have fun together. In May, we shared 10 outdoor activities . I know our kids had a blast looking for water monsters, aka tadpoles and fish in area ponds and lakes. Do you have a favorite family outdoor activity?
This month we are going to share 10 Water Fun Activities for Kids. The weather is FINALLY warm enough here to get out on area lakes and kayak as a family. The ideas I'm going to share with you are low cost, easy to do, and most of all FUN!

Grab our monthly printable calendar for all your outdoor planning and schedule some family fun adventures for you and your family. It's an easy way to stay organized and plan for fun each and EVERY week. (Click the image for PDF version)
Join us on Facebook and Instagram too. I will share a NEW summer family fun adventure each day. You won't want to miss it!
Water Balloon Fight
Fill up some water balloons, invite a few friends and have a water balloon fight! What could be more fun?
Visit an area Splash Pad or Water Park
Many areas have a splash pad, pool, or water park. Set out, pack lunch, and have fun getting soaked.

Backyard Pool and Water Fun
If your area doesn't have a water play area or you'd like to have fun at home, pick up an inflatable pool, slide, or water toy for the backyard. H2OGO! sent us these toys to try out and they were A LOT of fun. The pool doubles as a glow in the dark canvas at night. We invited friends over and they played all afternoon.
This H2OGO! Doodle Glow Pool and H2OGO!Double Backyard Water Slide are available at your local Walmart, Toys R US, Blog Lots!, Kmart, or online at Amazon.com (affiliate link).
This is a fun water craft idea from our friend Michelle. Fill squirt guns with tinted water and create fun works of art. After they all dry, you can set up a gallery in the garage or house and show off your work.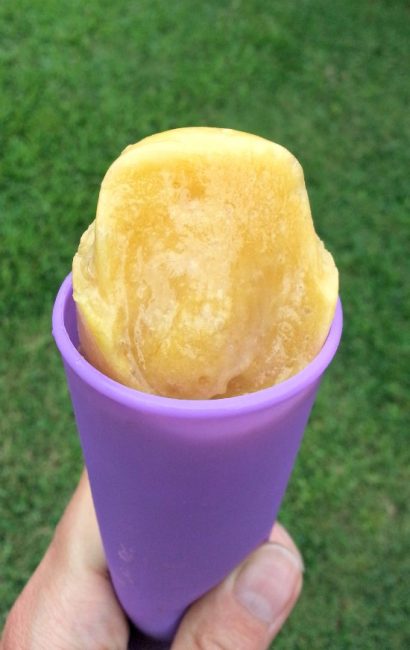 After an afternoon at play, recharge kids with a healthy snack like these Tropical Smoothie Ice Pops.
Experiment and learn about water with this simple experiment. It can be a great starting point to learn all summer long. Head to your local library and find more books and experiment guides to continue learning.
This one requires some work and has a cost involved. But how cool would it be to have your own kid wash or bike wash station?

Go Fishing
I grew up fishing with my dad and have great memories because of it. Take the kids fishing in a local area. If you haven't been fishing before, I think TakeMeFishing.com has some great resources. Many states have Free fishing days during the summer and some may even have free classes for kids. Here in Oklahoma City, you find out more about the free days at OKC.gov
Paint with Water
Pull out the paint brushes and paint with water. You can create on the sidewalk or driveway. Best of all, there no clean up.
Create Sail Boats and Host a Regatta
Challenge friends and family to a boat race. Create boats with paper corks, egg cartons, anything you have around the house. Then race then in a pool, river, or in the bathtub.

Play with Water Cannons or Guns
Classic summer fun with water guns or cannons will help cool you off in the summer heat and provide for hours of fun. Instead of random play:
Create teams and play a water version of Paint Ball without the dye
Set up targets and see would has the best aim
Quick Draw Water Gun Pictionary
So these are just a handful of water fun activities for kids this summer. Be sure to check in with us on Facebook and Instagram for more summer family fun adventure ideas.
What summer family activities do you enjoy?
Share with us below or on social media with the hashtag #lilfamadventure. We'd love to see how you have fun with your family.