Get Outdoors with these Stargazing Activities
Stargazing is a fun way to get outdoors and enjoy some fresh air. Families can enjoy this free outdoor activity together as they look for the Big Dipper, search for shooting stars, and watch the space station zooming by. These 11 tips will help you get out, do a light stargazing, and enjoy the night sky.
This article contains affiliate links. Purchase through our affiliate links and we receive a small commission without any extra expense to you!
1. Count the stars.
Does someone in Iceland, England, or Russia see the same number of stars you see? Join NASA's Star Count program, count the number of stars you see on a clear night, and send your data to NASA to share and compare with other curious kids from all over the world. Find more information, including how to prepare, here.
2. Check out online resources
These STEM activites from NASA contain great information and resources. From educational materials to fun activities, these sites have someone for everyone. Whether you're a novice or experienced star gazer, you'll find many great activities here.
3. Sleep under the stars.
Find local astronomy clubs that hold events, go camping in an area away from light pollution, etc. The Great American Backyard Campout is a yearly summer event that is perfect for this. If you missed it this year, there is also next year. GABC always has great resources for star viewing. Find details on the Great American Backyard Campout.
4. Call the moon by its Algonquin name.
The Algonquin tribes, who lived in regions from New England to Lake Superior, named the full moons each month to help track the seasons. The full moon in June is called the Full Strawberry Moon because it's when tribes would gather ripening strawberries. Google and find the other 11 full moon names.
5. Watch a meteor shower.
Let your kids stay up way past their bedtime (meteor showers aren't usually visible until after 12am, so summer is the perfect time) to watch the most popular meteor shower, the Perseids, which can be seen from the northern hemisphere and peak on warm August nights. Active from July 12 to Aug. 26, the Perseids—whose parent body is the Swift-Tuttle comet, meaning the meteoroids are released from the comet—are estimated to peak Aug. 11-12, according to the American Meteor Society. Find out what you can see in the sky this week here.
6. See an outdoor movie.
Pack up the popcorn and a blanket and watch a movie in the park. Not on your tablet, silly! On a genuine big screen. From big name Disney movies (A Wrinkel in Time) to super-powered smash hits (Marvel), cult classics (Back to the Future) to animated blockbusters (The Lego Movie), you can catch free outdoor screenings of family flicks under the stars.
7. Make a telescope.
You don't need a NASA-quality telescope to get a close look at stars. Build one from National Geographic Kids Get Outside Guide using paper towel tubes. See if you can name some of the constellations that you may spot! Visit this Instructables site for visual, step-by-step instructions.
8. Eat like an astronaut.
Freeze-drying food is a process that removes its water—reducing the food's weight up to 90 percent, making it smaller and easier to preserve. Today, Astronaut Foods, founded in the 1970s to supply the astronauts of NASA's Apollo Missions, produces a variety of novelty treats including Neapolitan AstroRox Ice Cream Drops. As you gaze at the stars while enjoying this treat, imagine you're in a Space Shuttle. No freezers needed! (Amazon.com )
9. Find Polaris.
Finding the Big Dipper, an asterism—a small grouping of stars—in the constellation
Ursa Major (Great Bear) is one of the easiest ways to find Polaris (the North Star). Once you find the seven-star asterism, draw an imaginary line connecting the two stars on the edge of the bowl (without the handle) from bottom to top and continue it until you reach a really bright star—Polaris!
10. Romp around under the full moon.
Wolves only turn into wolves when the moon is full. Play on this story and let your children and their friends run wild during the full moons by playing a game of "Where-wolf"—a spin on Sardines, where one person hides and everyone else (the werewolves) looks for the hider. The twist from regular hide-and-seek: Once someone finds the hider, they hide too. The last person to find the group of hiders has to then hide first. Head to a local, state, or national park and take part in a night time hike. Just in time for Halloween, many offer spooky themed events.
11. Go gazing close to home.
Living in a town or city is wonderful, but all those lights contribute to light pollution. They blind us from the nature's light show, the stars in the sky! Head out of town to observe the natural beauty of stars. If you can't get out to see stars, you can still enjoy the stars at local planetariums.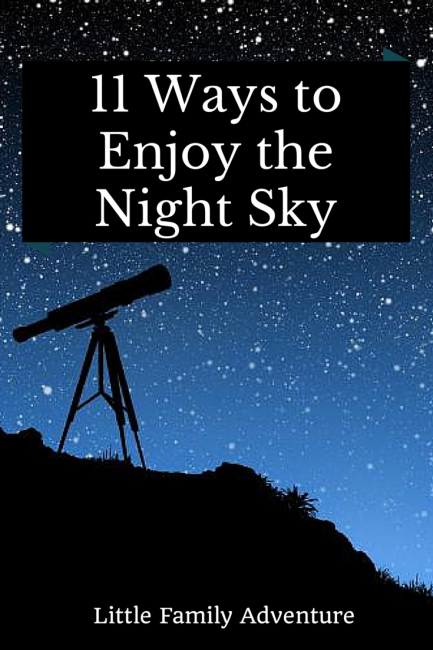 For more outdoor family activities, visit: