This article featuring 14 family friendly trails when hiking Colorado Springs is sponsored by Colorado Springs CVB. All opinions are my own.
Colorado Springs, Colorado is an outdoor adventure wonderland for all ages. The area's natural beauty brings visitors year around to hike, bike, raft, ski, and sled. Hiking with the kids provides a great opportunity to get out into nature, reconnect as a family, and get active together. We have put together a list of the best hikes in Colorado Springs for families and/or beginners. Each is a great addition to outdoor itineraries when in the area. Some hikes are super short that end at a waterfall and others are longer with scenic panoramic views of the area.
Garden of the Gods Park
TripAdvisor ranked Garden of the Gods the #1 U.S. park. The big draw here are the magnificent red rock formations and offer stunning views of Pikes Peak. Easy Trails.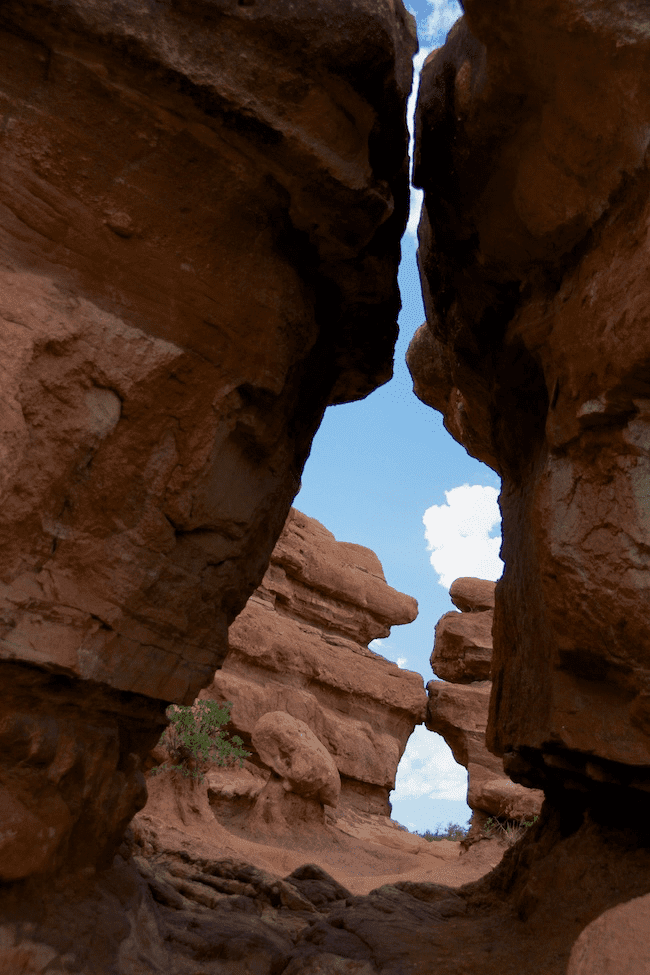 Siamese Twins Loop Trail
A super short, 0.5 mile, trail with great views and rock formations. Kids will love climbing the rocks on this trail. Popular Instagram photo is capturing Pikes Peak through the window between the twins.
Rocks and Vistas Garden of the Gods Trail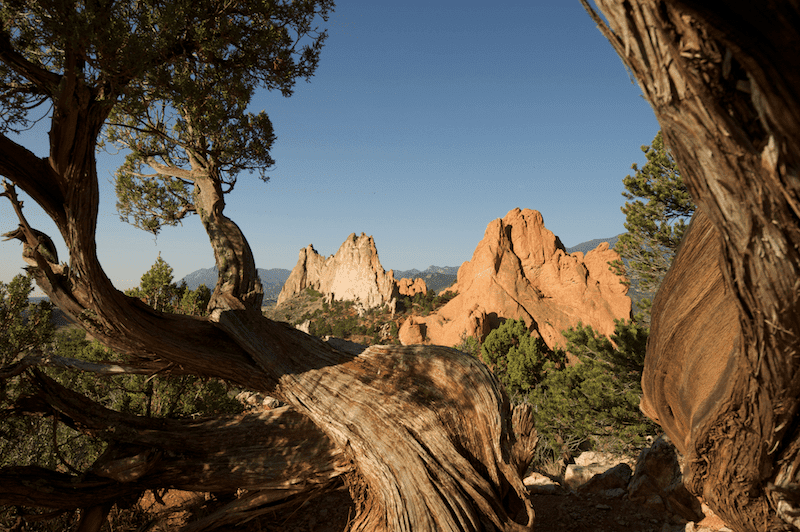 A very popular 4 mile loop trail. Highlights include the wildflowers and the many rock formations. The portion of the trail around the rock formations is paved. Tip: Go early in the day to beat the crowds.
Garden of the Gods Loop Trail
This 3.7 mile loop trail combines parts of three trails and creates this one. Think of it as a "Best of Garden of the Gods hike." It includes sections of the Palmer Trail, Siamese Twins Formation mentioned above, and the Buckskin Charlie Trail. This popular trail is best earlier in the day to avoid crowds. You'll enjoy viewing the large rock formations all along the trail.
Cheyenne Mountain State Park
Families enjoy 18 hiking and biking trails covering 21 miles of this 2700 acre park. Easy to Moderate Trails. Entry fee.
Coyote Run Trail
This 1.37 mile trail is more of a nature walk near the park's visitor center. It's an interpretive trail that is good for wildlife viewing.
Sundance & Little Bear Trails
Wildlife viewing – If you want to see the prairie dog town, take the mostly flat 3.29 mile Sundance Trail or the 0.1 flat Little Bear Trail that connects you to other trails. Find a playground for the kids at the Limekiln Trailhead as well as ample parking.
North Cheyenne Canon Park
This regional park offers 56 mies of hiking and biking trails. Kids will enjoy the Starsmore Visitor and Nature Center (open in summer months) with its hands-on exhibits and nature programs.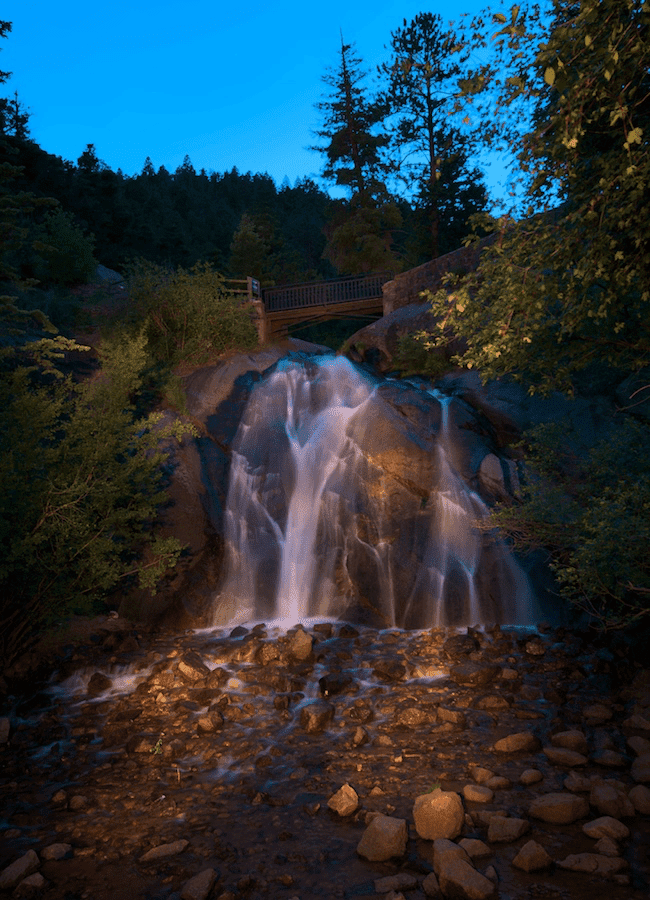 Helen Hunt Falls Trail
This short 0.1 mile out and back trail features a waterfall. It's so short that you can see the falls from the road, but it's a fun little hike for the kids.
Lower Silver Cascade Falls Trail
This is a newer trail that takes you to the base of Cascade Falls, a 20 foot tall waterfall, and a large resting area. The trail is 0.5 miles out & back.
Seven Bridges Trail
This 3.7 mile out and back trail that crosses seven bridges, thus the name. Most of the trail is well packed and/or gravel. Once the trail reaches the 7th bridge, the trail becomes more moderate and you can decide to continue or turn back. Views are beautiful and include forest, waterfall, and wildflowers. Easy to Moderate Trail.
Mueller State Park
This 5500+ acre park has 55 miles of hiking and biking trails for you to enjoy. Three family friendly trailheads start at the Visitor Center and provide scenic overlooks as well as connecting trails to enjoy. Average elevation is 9600 feet. Easy to Moderate Trail.
Raven Ridge Overlook
This is one of three natural rock outcropping in the park. Views are stunning and this trail is only 1.4 mile out and back.
Grouse Mountain Overlook
Trail #16 leads hikers to the top of Grouse Mountain, the highest point in the park (9,843 feet). From the peak, enjoy a scenic views of Pikes Peak and the Sangre de Cristo Range. Trail is 0.8 mile round trip.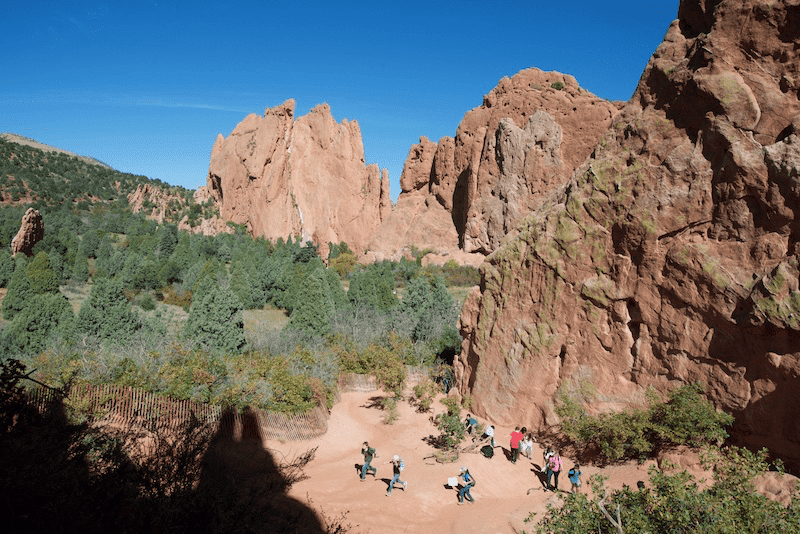 Red Rock Canyon Open Space
This 789 acre city park offers 10 miles of well maintained, connected trails. This park is just two miles south of Garden of the Gods and offers a similar landscape with red rock formations, flat grassy areas, and trees. Easy to Moderate Trails.
Sand Canyon, Mesa, Greenlee, Red Rock Canyon Loop
This is a 5.1 mile loop trail and one of the easiest. It is popular and easy to access.
Colorado Springs Hiking Trails
These last few trails aren't related to any group of state, regional, or city park trails. They are their own little trail/area that deserved a place on this list of easy trails when hiking Colorado Springs.
Fountain Creek Nature Trail
Fountain Creek Regional Park is a small park on the southern edge fo Colorado Springs. This nature trail is a 1.7 mile loop by the water. You can stroll the parks' shaded trails to view marshes, streams, pods, and area wildlife. Easy Trail.
The Broadmoor Seven Falls
Hike this nearly one mile canyon trail to a waterfall. Views are spectacular along the path and at the end you are rewarded with the waterfall that drops/breaks 7 times! The trail is called the "Grandest Mile of Scenery" and worth a visit when in the area. Easy to Difficult Trails. Entry fee.
Note: Take the free parking shuttle from the Broadmoor hotel to the ticket booth. If you want a more moderate to difficult hike, continue to the top of the falls via the 224 step staircase. You'll be rewarded with Instagram worthy pictures plus additional hiking trails. If steps aren't your thing, take the elevator up to the top.
There is no shortage of fun things to do in Colorado Springs with kids. These are some of the best hikes in Colorado Springs for families. All the trails listed are easy to moderate making perfect for families with children or beginning hikers. On your next visit to the area, be sure to set some time aside to visit a few.
Find more outdoor adventures and Top Hiking Trails visit VisitCOS.com or download this Electronic Visitor Guide to start planning your next adventure.
If you have been to the area before and can recommend additional Colorado Springs hiking trails, please leave a comment below.
Pin this for later…..