I recently had the chance to visit the ALDI Test Kitchens. They gave me some great entertaining and food ideas to share with you. This article is brought to you by ALDI. As always, all opinions are 100% my own.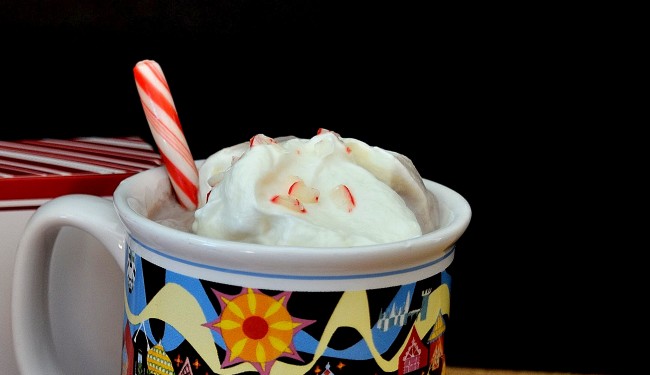 When it's cold outside, there is nothing like snuggling up by the fire. Add a warm cup of hot chocolate, a few cookies, and it's practically blissful. That steaming, comforting, rich cup of chocolatey goodness warms your heart and soul. Since this is the season of giving, share a cup today with friends and family. Treat them to that feeling of comfort and joy in the form of a cup of amazing hot cocoa today with this Ultimate Hot Chocolate Bar how-to and recipe.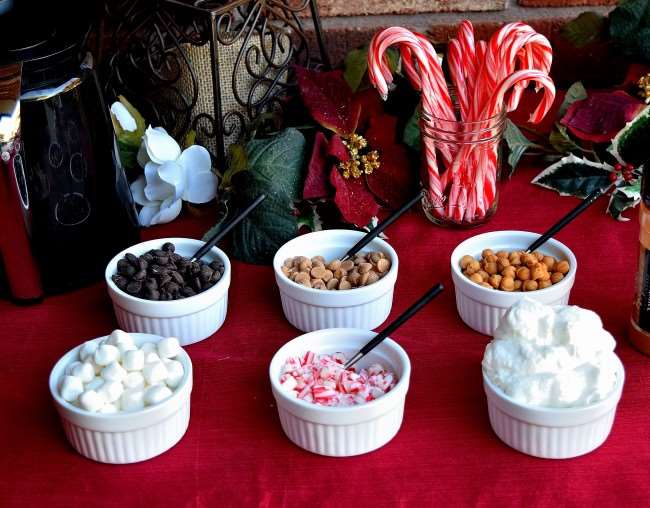 Holidays are all about family and friends. Now is the perfect time to have them over and celebrate the joys of the season. Whether you are hosting a night of caroling, a cookie swap, or a fun gift exchange, keeping things simple is essential for maximum enjoyment. As a host or hostess, you want to enjoy the festivities as much as your guests. Keeping things simple and setting up a self-serve beverage bar ensures that you are not playing barista or bartender during the entire event.

On a recent trip to the ALDI Test Kitchen, a group of bloggers and I were treated to an amazing holiday meal. Part of that meal including this great Hot Chocolate Bar. This beverage bar allowed us to create our own customized hot cocoa with a variety of mix-ins and stirrers. Every combination was practically perfect in every way because it was exactly what we wanted. It was perfection in a cup.
I am taking a few of the holiday entertaining ideas from the ALDI Test Kitchen and creating my own Ultimate Hot Chocolate Bar this month. These 3 super easy steps will help create an amazing set up for your guests to ohhh and ahhh over. Plus, everyone will be left to enjoy the event and have a joyous holiday season!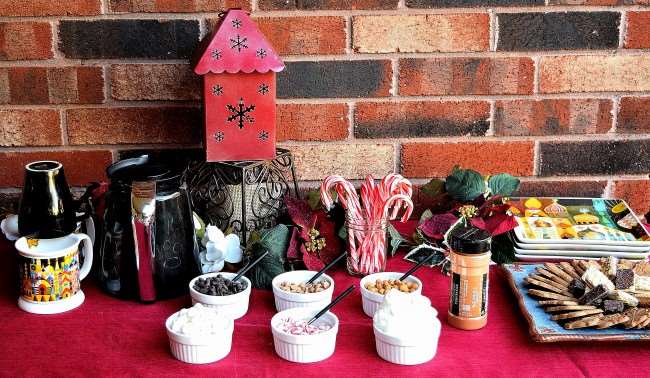 3 Easy Steps for the Ultimate Holiday Hot Chocolate Bar

Create delicious homemade hot chocolate
There are a variety of hot cocoa mixes and pods on the market. You can use those, but if you want an AMAZING hot chocolate bar, create your own homemade hot chocolate. This recipe for Mom's Homemade Hot Chocolate is really easy to do and it is nothing short of chocolate gold in a cup. Oh, did I mention that it is free of refined sugars and will save you money, too! The ingredients are cheaper than if you brought premade mixes and it's without any artificial ingredients.

Yield: 4
Mom's Homemade Hot Chocolate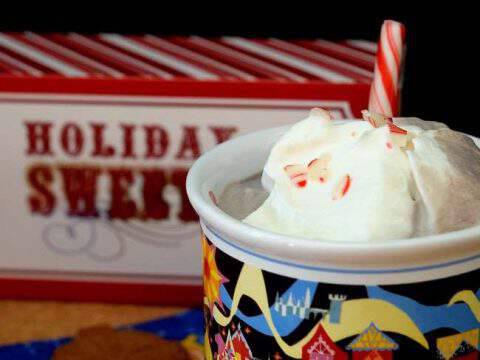 Homemade hot chocolate with no refined sugars and is naturally gluten freel Recipe can easily be doubled, tripled, etc.
Ingredients
3/4 cup cocoa powder
1/8 teaspoon salt
1/2 cup real maple syrup
1 teaspoon vanilla extract
4 cups whole milk
Instructions
Set a medium sized cooking pot over medium low heat. Add cocoa powder, salt, maple syrup, vanilla extract, and 1/2 cup of milk. Whisk to combine.
Add remaining milk and whisk together to combine. Heat until desired temperature, stirring often. Do NOT boil.
Remove from heat and serve immediately or store in a carafe to keep warm.
Note: If storing in a carafe, stir hot chocolate just before serving.
Shake up the hot cocoa recipe
Go dark – use a dark chocolate cocoa powder for the traditional cocoa powder.
For a dairy free version – substitute almond or coconut milk for the whole milk.
For a richer hot cocoa – substitute half & half or heavy cream for up to half of the whole milk.
Almond hot chocolate – substitute almond extract for the vanilla.
Orange hot chocolate – add 1/8-1/4 teaspoon of fresh orange rind.

Customize hot chocolate bar with a variety of mix-ins and stirrers
Allow everyone to create their own Ultimate Hot Chocolate by allowing them to add their choice of mix-ins and stir sticks. I've included a few suggestions.
Mix-Ins
Milk chocolate chips
White chocolate chips
Dark chocolate chips
Butterscotch chips
Caramel Bites
Fresh whipped cream
Crushed candy canes
Mini marshmallows
Ground cinnamon
Chopped nuts
Shredded coconut
Sprinkles or colored sugar crystals
Flavored Coffee Creamer
Adult Mix-Ins
Irish Cream Liqueur
Hazelnut Liqueur
Coffee Liqueur
Whipped Cream flavored Vodka
Marshmallow flavored Vodka
Stirrers
Candy Canes
Cinnamon Sticks
Straws
Chocolate covered spoons
Rock Candy Sticks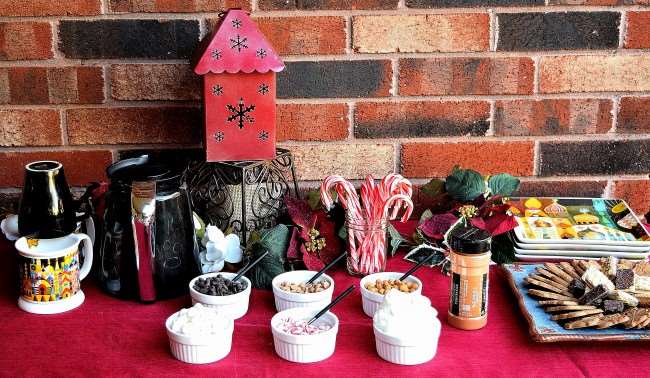 The possibilities are endless for mix-ins and stirrers. What would you add? I choose 6 plus the ground cinnamon for our hot chocolate bar. To serve the mix-ins, I placed the items in small ramekins with spoons. You could use small mason jars and scoops, small bowls, or any decorative container you like.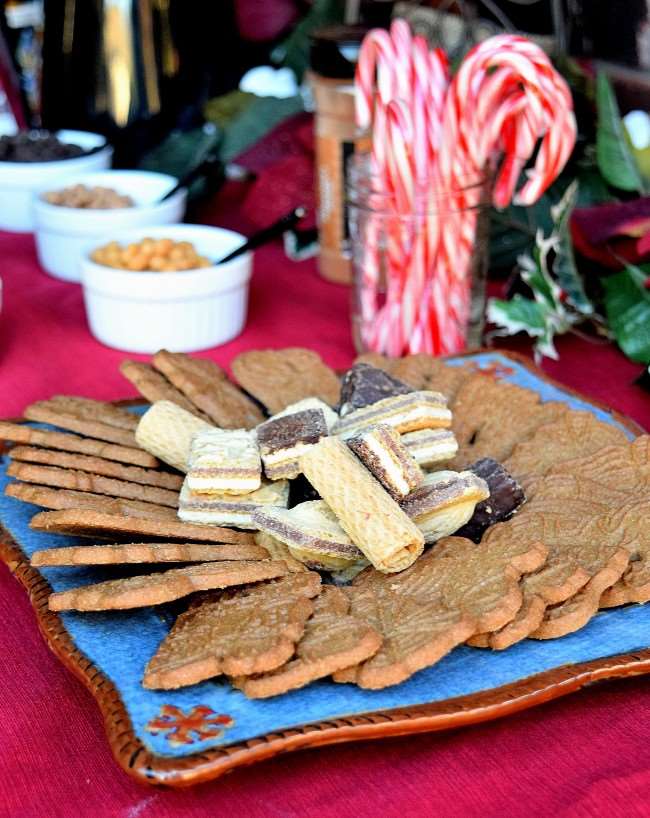 The Ultimate Hot Chocolate Bar needs cookies
Take milk and cookies to a whole other level. It's what makes this the ultimate holiday spread. You will also save money by serving cookies instead of other desserts.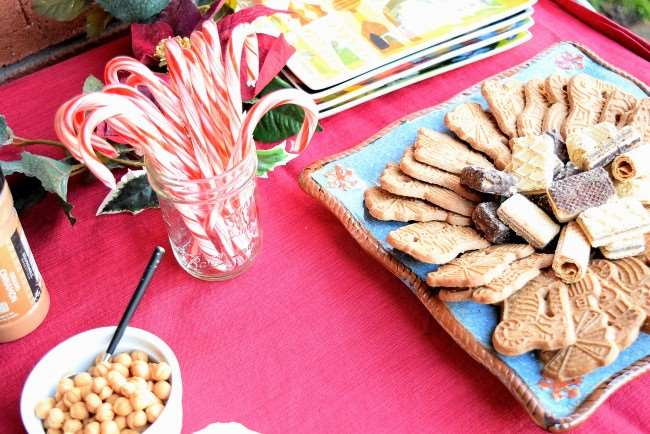 Make your favorite holiday cookie recipe or pick up a few at the store. Serve 2-3 different types of cookies to give a small variety to guests. My family adores this Spekulatius cookies from ALDI. With our Dutch/German heritage, these spiced cookies signify the holidays in every way. A Christmas party wouldn't be complete without them. In addition to the Spekulatius cookies, we added Wafer Mix Cookies from ALDI. Together we spent less than $5 on cookies to accompany our hot chocolate.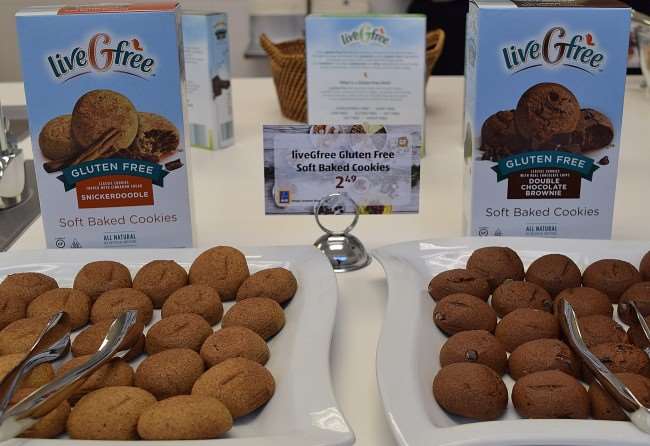 If you are looking for gluten free options, ALDI has a great product line, liveGfree, free of gluten and other common allergens. The Gluten Free Snickerdoodles and Double Chocolate Brownies are both REALLY good. They are gluten-free, dairy-free, and nut-free. So if you have guests with allergies, these would be a very good choice.
Cookies are the perfect way to complete an Ultimate Hot Chocolate Bar. With these super easy steps, you will create a great hot chocolate bar. Your guests will love creating their own perfect cup of chocolate goodness. You'll enjoy the time it frees up so that you can enjoy your guests and the holiday spirit. Make this a new holiday tradition today and for years to come.