When you visit a new place, don't you like to find those hidden gems that the locals love? We do. Before a recent trip to Branson MO with the kids (thanks to Explore Branson), we set out to find local restaurants to write home about . There are a variety of restaurants in Branson MO ranging from local diners and quick fast food to entertainment shows that serve a meal as part of the experience. In addition to searching Yelp, we asked readers, friends, and family this question, "Where Do You Eat in Branson MO?" They gave us their favorites in the area as well as surrounding communities.
Here's our list of Family-Friendly Restaurants in Branson MO we loved on our last visit. I know your family will too.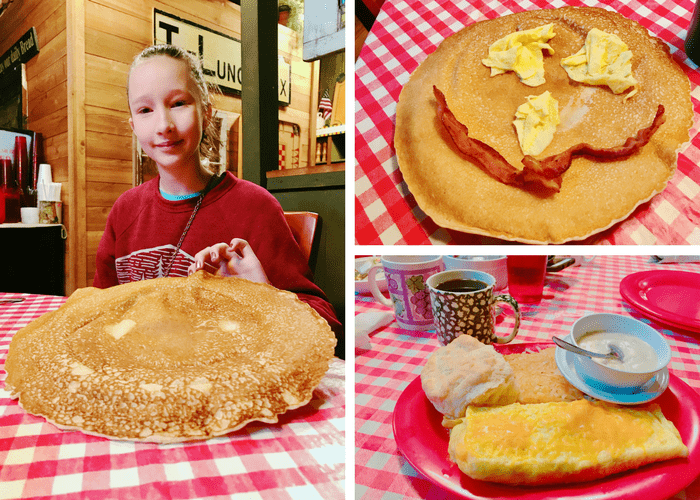 Billy Gail's Cafe
Go here for GINORMOUS pancakes that don't fit on the plate. Just one is sure to fill you up.
This local favorite serves breakfast and lunch. It's small place with a homey feel. It's decorated with vintage finds and signs. Staff is super friendly too. You'll find traditional items like pancakes, omelettes, burgers, and sandwiches. It's a really popular place, so get there early and bring cash. They don't take credit cards and there can be a long wait.

Billy Bob's Dairyland
Many locals vote it as the best burger in town. It's current location is super small, but they are moving to a new location (down the street) in 2018.

The menu is small but you'll find great burgers and shakes at this funky diner. Prices are great (single $5.69 & with fries $6.89). Like several family owned restaurants in the area, they are cash only.

Danna's Bar-B-Que and Burger Shop
This is good old-fashioned BBQ that smokes their meats low and slow for great flavor. It's easy to see why it's a local favorite.
The menu includes everything you'd expect at a BBQ joint. We ordered the Smoked Pit Plate ($28.99) with all of their smoked meats; beef, chicken, pulled pork, sausage, and ribs plus 2 sides. The menu says it's enough to feed 2. I'd say more like 4-5 because it fed the 4 of us and we had leftovers. Everything we ordered had us licking our fingers. Only wish they had a spicier BBQ sauce. What they have are both mild in flavor.

Arnie's Barn at Top of the Rock
This Mexican restaurant sits overlooking the Top of the Rock golf course in Ridgedale (15 minutes outside Branson). The views are stunning and well worth the drive.
Serving Mexican dishes for lunch and dinner from an open kitchen. The menu includes small shareable plates like queso and several types of guacamole, tacos, and enchiladas. I'd highly recommend the Crab Salad Guacamole, Rotisserie Carnitas Tacos, and Tres Leches cake.
There is a $10 entry fee to visit the Top of the Rock. When you dine at this or one of the other restaurants, that will be deducted from your bill.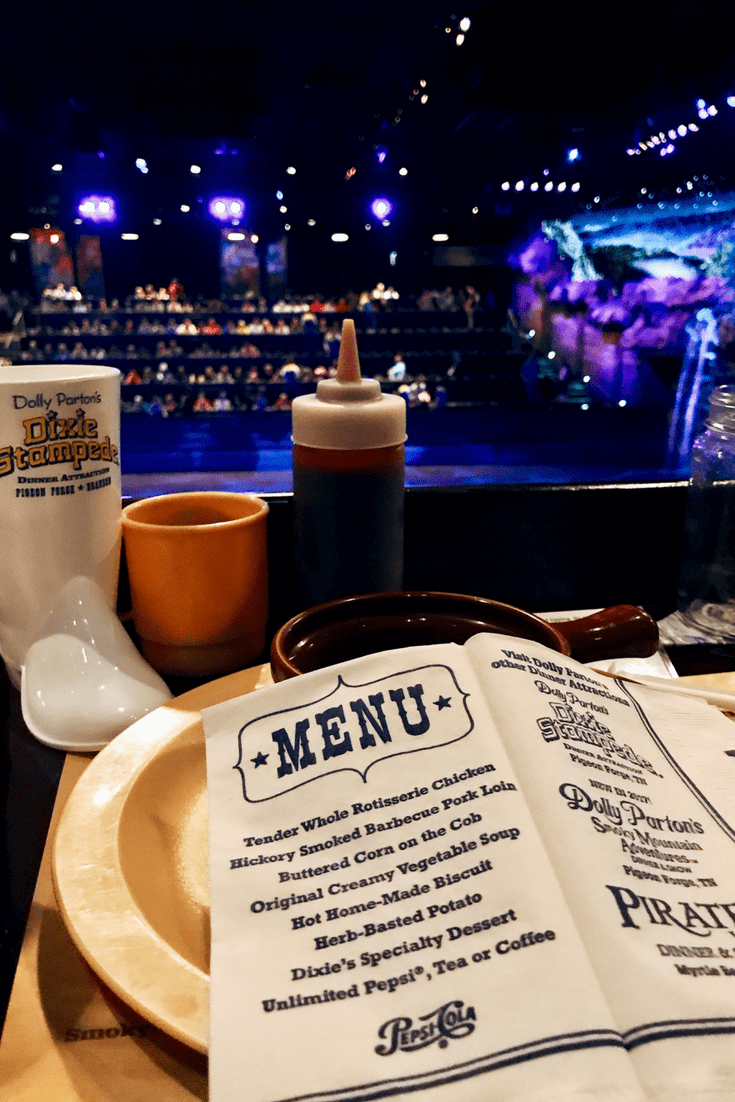 Dixie Stampede
Think Medieval Times with a Southern Flair. While watching the Dixie Stampede dinner show, you are served a four course dinner you eat with your hands.
The meal includes creamy vegetable soup with homemade biscuit, whole rotisserie chicken, smoked pork loin (thick slice), corn on the cob, herbed potato, and a fruit turnover for dessert. For beverages, there is unlimited tea, coffee, lemonade, or Pepsi products. It's a LOT of food that is very good. The kids LOVED the soup to the point we have looked up a copycat version to make at home. I really liked the chicken. It's a good size bird that's about twice the size of a Cornish hen. You won't leave hungry after this meal!
When you ask the question, "Where should I eat in Branson?" There are so many choices, but these 5 family friendly restaurants in Branson MO are our top picks. They are loved by both locals and visitors alike. They are each serving great food in a fun atmosphere that you can tell your friends about. On your next visit to Branson, be sure to try a few.
Thank you to ExploreBranson.com for sponsoring our recent visit. Meals were provided for this article. All opinions are mine and based on this recent experience.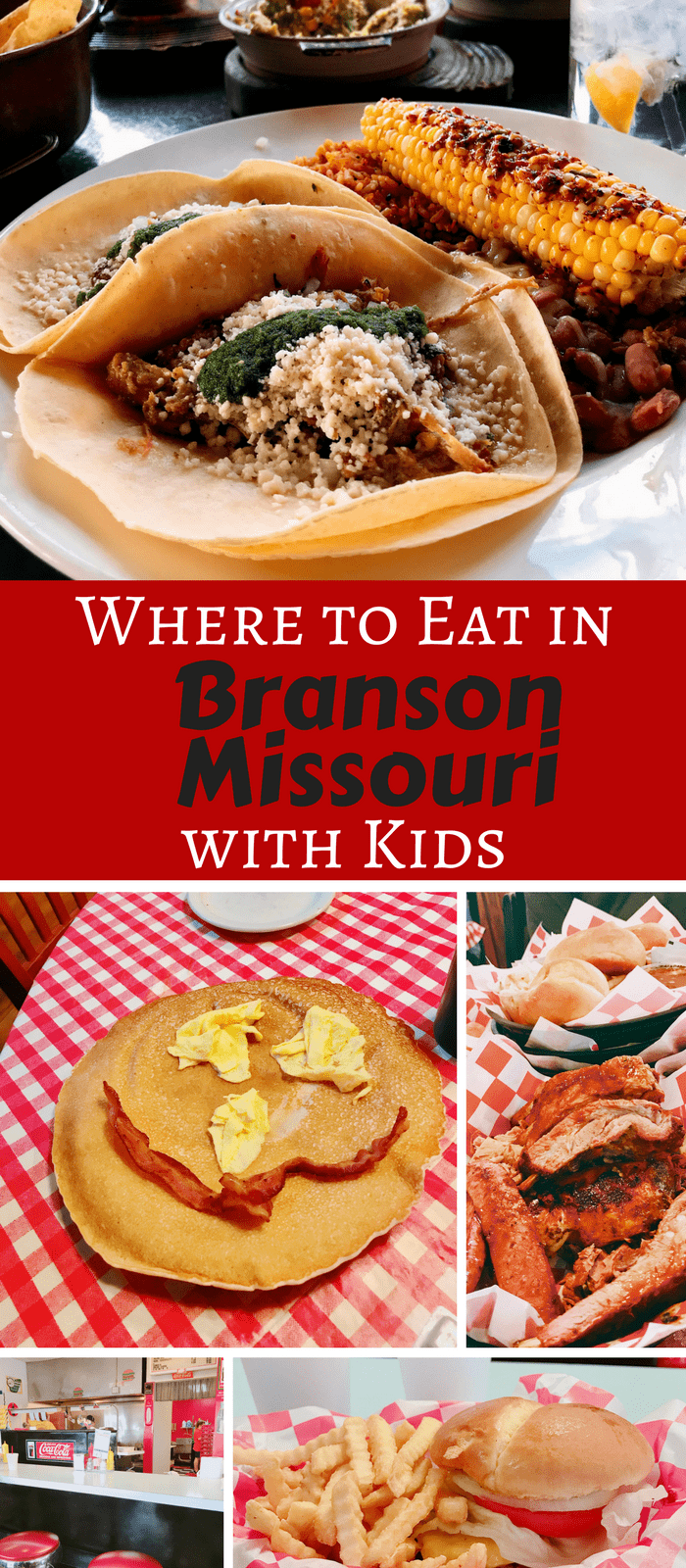 SaveSave
SaveSave