This hotel review for Aarchway Inn Moab is based on a recent sponsored visit. Complimentary accommodations were provided by Moab Area Travel Council, DiscoverMoab.com. This article contains affiliate links. We earn a small commission if you purchase through these links.
When traveling with your family, you need a place to rest your head, recharge, and relax. When traveling with 5 people, like in our family, that isn't always easy. Luckily places like the Aarchway Inn in Moab, Utah offer families with more than 4 people larger rooms and a host of amenities to make your stay everything it should be.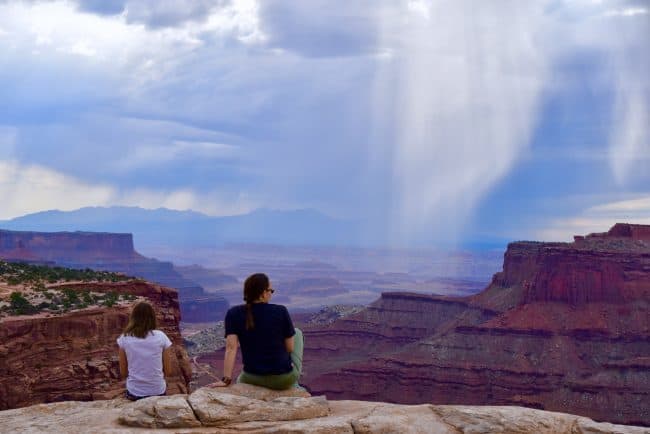 Utah has been on my family travel bucket list for quite some time. I has seen pictures online of the Mesa Arch in Arches National Park, the lookout above the Colorado River in Dead Horse Point State Park, and hikes in Canyonlands National Park. I wanted to see those places for myself. This past August, our family visited Moab and stayed at the Aarchway Inn. It was a good location to set off from to explore nearby parks and offer a host of amenities that made staying with children a relaxing experience.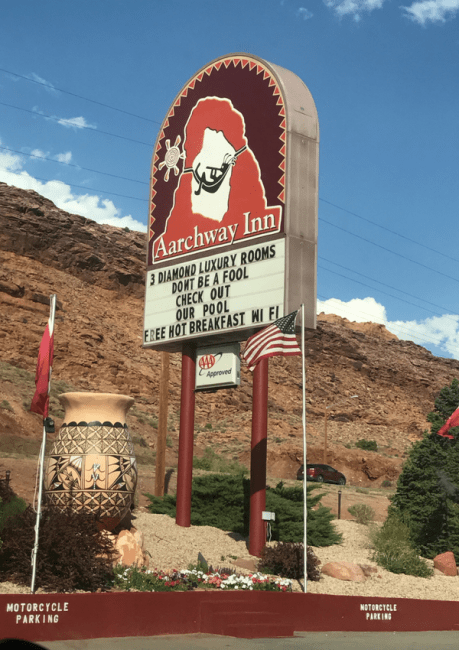 Moab Lodging
The hotel is located on Highway 191, the main road leading into Moab. What's nice is that the hotel is located on the northern end of Moab, just on the edge of town. It is near the Colorado River and just 2 miles from the entrance to Arches National Park.
It's location makes for a quite setting. It is right off the Highway, but rooms are quiet. We didn't hear any road noise the entire time we were there. Because it's just outside town, you also don't have to deal with traffic on. Main Street. That's a huge plus. You could just head north to any of the 3 parks.
Family Rooms at the Aarchway Inn
There are 97 rooms here. You can choose between a King Room, Queen Room with 2 or 3 beds, Studio, Family Room, and Executive Suite. We stayed in a Family Room that had 1 queen bed, 1 King bed and a Sofa bed with a trundle.
The website says the room will sleep 5, but the trundle would sleeping 5 plus a child comfortable. I liked that there was living space in addition to the beds. You weren't on top of each other but instead had plenty of room to move around.
Family rooms also have a micro-kitchenette area with a sink, microwave, and dorm size refrigerator. It made it easy to whip up a quick snack and the nearby table and chairs provided a place to eat, play dominoes, or do some computer work.
Hotel Amenities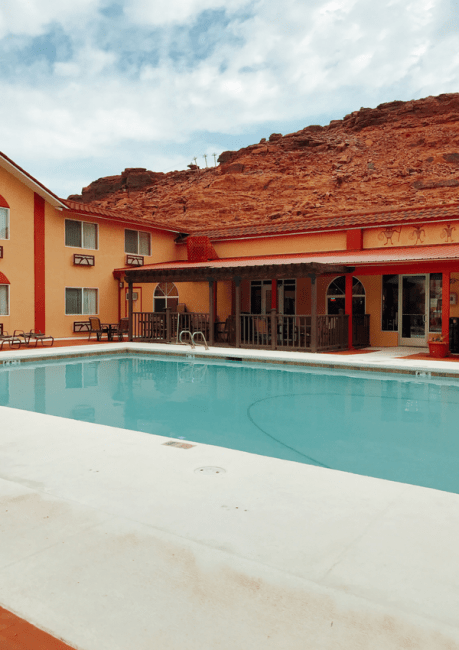 Whenever we stay anywhere with the kids, we like to have a pool for them to play in. Aarchway Inn had a great outdoor pool and covered hot tub. After a long day at the park, we could come back and go for a swim. The hot tub was great for those of us, I mean me, that were a little sore from a long day hiking and rock scrambling.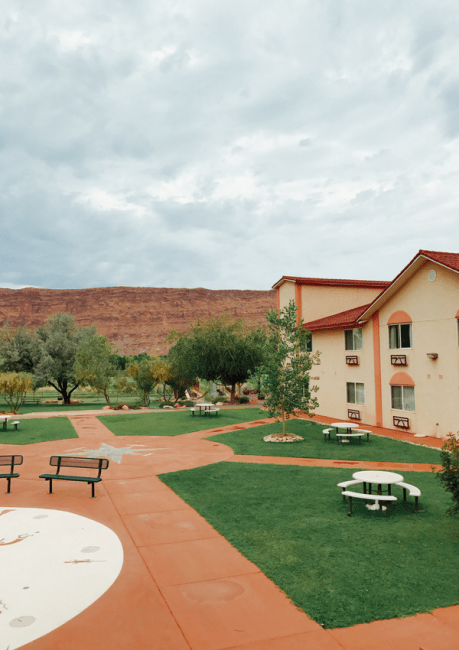 For younger children, the hotel has a splash pad and a fun outdoor playground. Both were really nice and not something you see at many hotels. For families, there were basketball courts to play on, a short nature trail at the back of the property and a firepit to enjoy at night.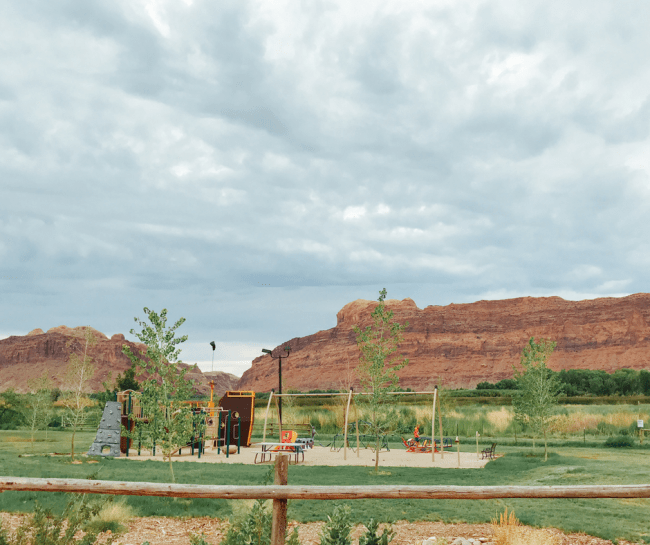 On this trip we had our bicycles with us. I really liked that the hotel provided complimentary indoor bike storage. We brought our bikes inside and one of the employees locked it up in a secure room. That was really nice and provided great piece of mind.
Dining
The hotel has a fantastic complimentary hot breakfast that goes beyond the basics. It does have all the typical breakfast items like cold cereal, yogurt, breads, juices, etc. But it also has offerings you don't normally see like freshly large breakfast sausages and scrambled eggs (not the powdered stuff) with fresh spinach, homemade salsa, or cheese.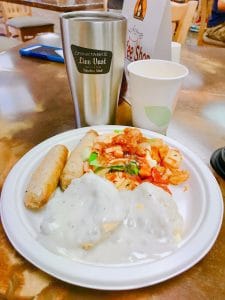 It wasn't heat and eat items, but instead were items that were cooked fresh daily. Even the biscuits and gravy was tasted homemade!
There wasn't a restartant in the hotel, but there was a specialty coffee shop. If you wanted a specialty coffee or tea, you could one here.
Nearby, you could find a wide variety of Moab restaurants. A few of our favorites in town are Love Muffin Cafe and Red Rock Bakery. A short drive away, I'd highly recommend The Cowboy Grill and Red Cliffs Lodge. The drive alone is spectacular!
Why is it a great choice for families?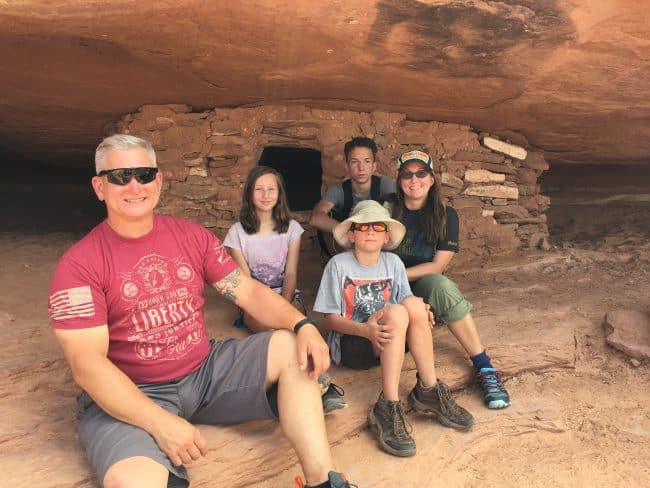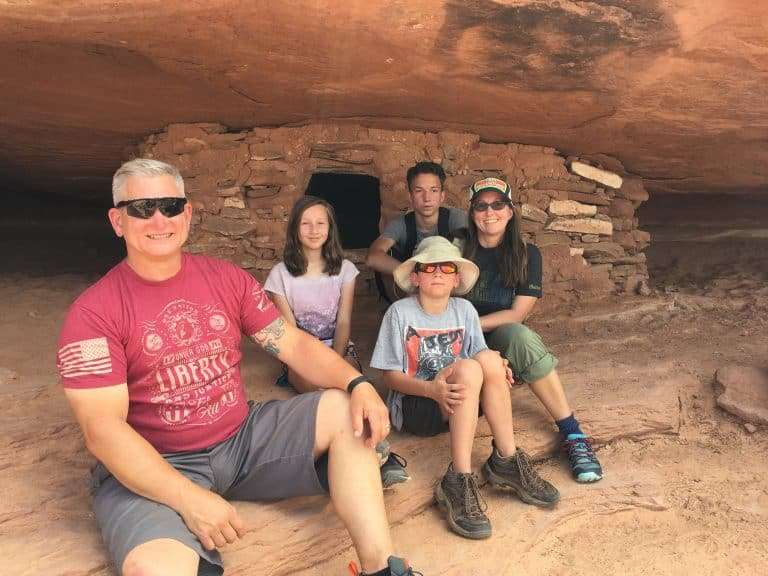 There are a host of Moab hotels for you to choose from. Aarchway Inn has everything your family could want and more. The reasons I will return again are the breakfast and the room comfort. The breakfast there is one of the best I've had outside a paid buffet. It had more healthy options that a traditional free breakfast. The room we had was super comfortable. After being on the road for 3 weeks, it was nice for everyone to have their own space in the room. Once I got into bed, it was so easy to go to sleep and wake up refreshed. If you are looking for a Moab hotel, I highly recommend this one. when you are ready to plan your activities, take a look at our tips and suggestions on how to spend your time in Moab.
Find current rates at the Aarchway Inn.