Our trip was made possible by DiscoverMoab.com who sponsored our visit. We were provided with lodging, meals, and activities. It was a fantastic trip and one I can't wait to tell you about. All opinions are my own.
Words can't describe all the different ways you can spend your time in Moab, Utah. I have tried countless times to write this article, well any article really, since we returned from our end of summer visit. But I keep getting stuck going through all our pictures. Seriously, there are thousands of photos! Maybe I just need to jump down this rabbit hole first before I can write anything else about this place.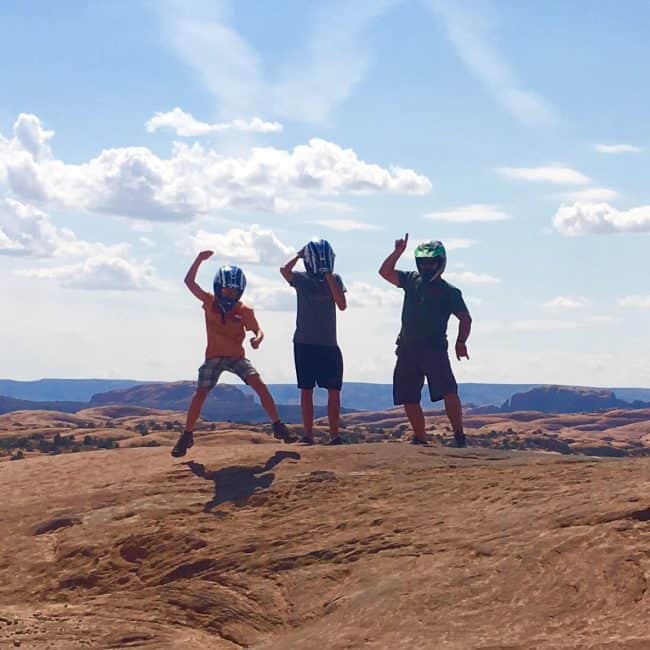 Moab is one of those places that surprises you and leaves you in awe when you visit. It's a combination of natural majesty when you see the rock formations at Canyonlands or Arches National Parks and wonder at all the little things you could miss if you don't take your time.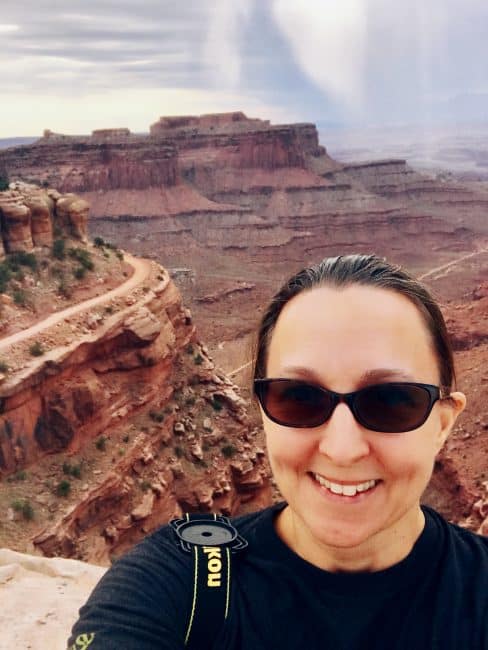 Let me start out by saying that I grew up in the desert in Southern California. You never forget the smell of the desert, the vibrant hues of a sunset, or the smell of the creosote trees after a rain. Our family visited Moab in early August. Instead of sweltering summer heat, we were treated to a cold front complete with afternoon rain showers. Heaven!!!! If you have ever seen a desert after a rain, you know what I mean.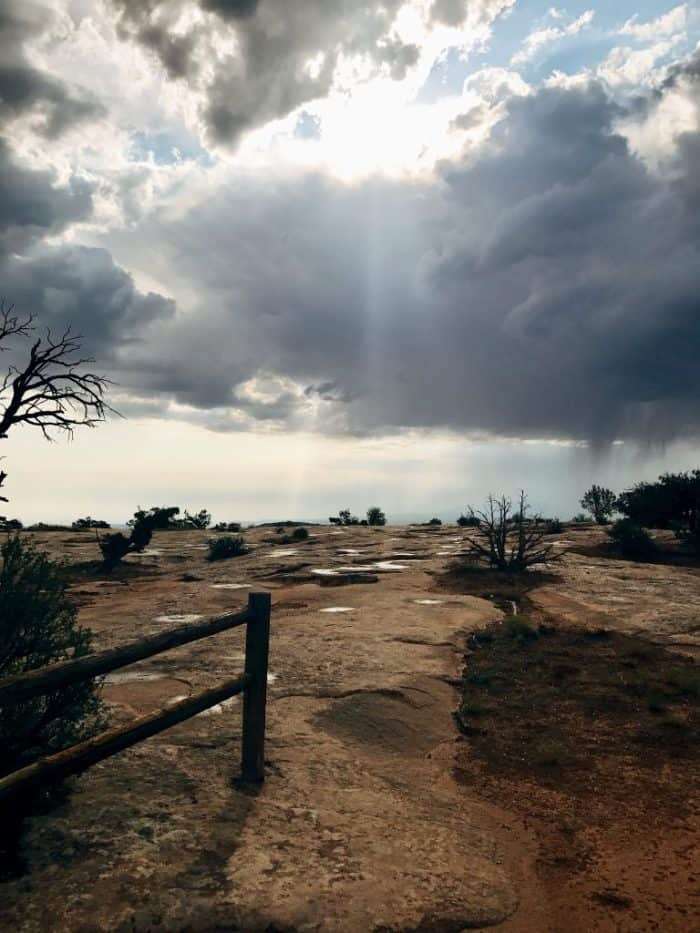 This picture can almost describe what that was like. The way the sun peaks out through the clouds after a thunderstorm. You can see the flashes of lighting in the distance, smell the rain and the creosote, and then finally hear the crash of thunder. I get goosebumps just looking at this image and remembering those things. But enough about that. You are here to read about how to spend your time in Moab. Let me get back to that.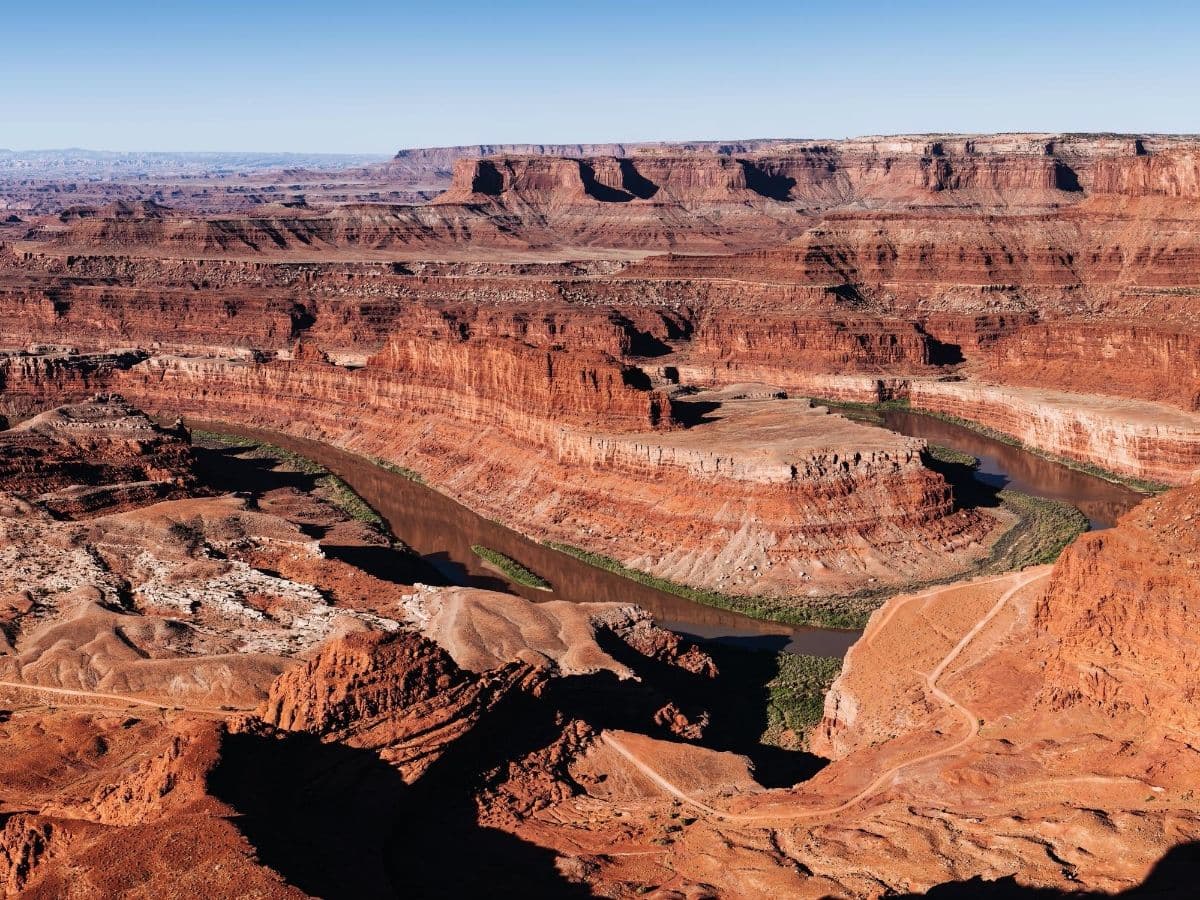 Moab, Utah is ideally situated in near Canyonlands and Arches National Parks, as well as to Dead Horse Point State Park. You could spend all your time in one of these parks. But the Moab area has so much more to offer including activities on BLM (Bureau of Land Management) Land, family attractions, local restaurants, and Colorado River. If you are an outdoor loving family like us, Moab is the ideal destination.
If you want to go RVing in the area, here are 5 of the top Moab RV Parks and Camping Sites in the area perfect for families.
It's estimated that over a million people visit this area every year. When you visit during peak season (summer) like we did, that number is every evident. There are people everywhere and all are looking to snap a picture in front of the major landmarks.
Here is a picture I haven't shared yet that shows all the people at Mesa Arch when we visited. It was recommended that we get there first thing in the morning. Well, this was 1st thing in the morning! Getting to the arch was a little like going to meet the Disney Princesses at Disney World. The line was long and you slowly make your way to the front of line to take a photo. Was it worth it? Yes, the Mesa Arch is gorgeous. Yes, I did take a picture of the arch. Was it the highlight of the trip? No. Mesa Arch was amazing but there were other lessor known structures, sites, and attractions that I enjoyed more.
OutsideOnline.com published an article earlier this year titled "Is Instagram Ruining the Great Outdoors?" It talked about how national parks and other outdoor destinations are feeling the effects of social media and the phenomenon of "Ohhh, I want to go there." after seeing a picture on Instagram or Facebook. That crowd picture above kinda holds some truth to what that article was saying. So instead of talking about the main attractions, I want to show you the draw of visiting other locations in Moab.
Moab Museum of Film and Western Heritage
The Moab area has been the site of numerous movies and film locations. Maybe you have heard of a few: City Slickers, Geronimo, Thelma and Louis. The museum houses film memorabilia, props, and pictures from these are other films.
It is fun to walk down the exhibits and see everything. The Moab Museum of Film and Western Heritage is located inside the Red Cliffs Lodge which a beautiful destination about 20 minutes outside Moab. A few movies have actually been shot on the lodge property. The drive alone to the lodge is worth the visit. It's a gorgeous stretch of road along the Colorado River. Admission to the museum is free.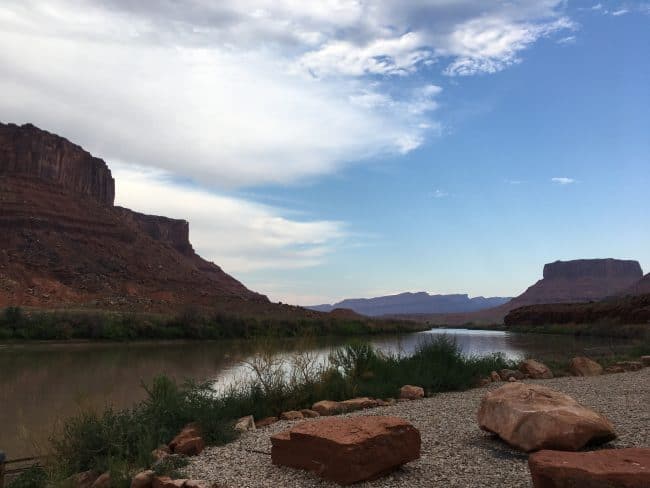 White Water Rafting
I just mentioned the Colorado River. In certain sections of the river, it is the ideal place to go river rafting. I wasn't able to raft or float on this trip, but I did meet a few people that did. They loved the experience. Water was warm and the rapids in August were just adventurous enough. The pictures they shared of the red rock cliffs along the river were amazing. Enough so that I look forward to coming back to try it.
Castle Creek Winery
Moab is home to the state's largest winery. The Castle Creek Winery and tasting room are located at the Red Cliff Lodge, the same place as the Moab Museum of Film and Western Heritage. The winery produces several wines including Pinot Noir, Merlot, Cabernet Sauvignon, Chenin Blanc and Chardonnay.
Stop in for wine tasting that is offered daily or visit the lodge's Cowboy Grill for a meal and a glass. We had dinner there and the food just as delicious as the view is stunning!
Related – Take a Look at Our Favorite Moab Restaurants
Petroglyphs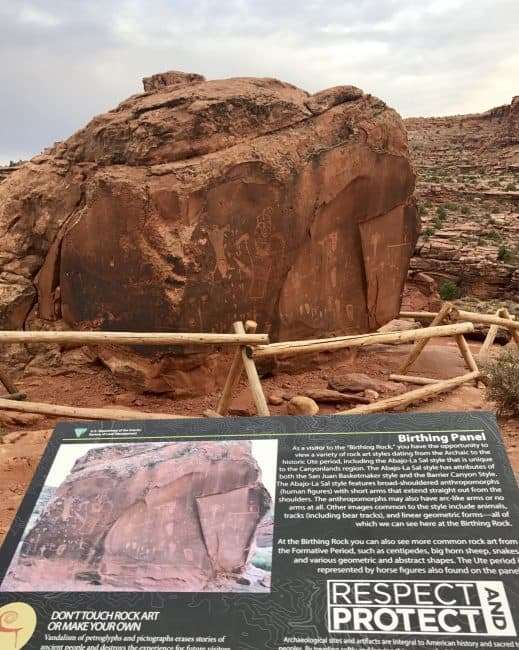 Petroglyphs can be seen all around the area. The Birthing Scene is a series of petroglyphs etched onto a huge boulder sitting on the side of Moab Kane Creek Access Road.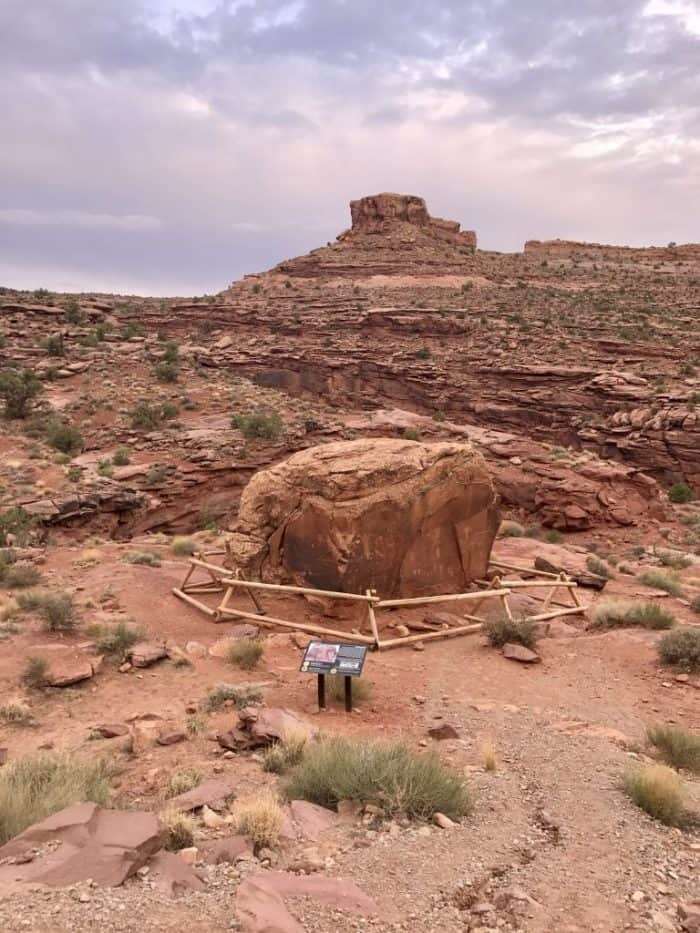 We found it just driving down the road. Behind it was this beautiful canyon. The Moab area has other locations to see rock art..
Moab Giants Dinosaur Park
If you haven't gotten the chance to hike or walk around the area, walk with dinosaurs at this fun roadside attraction. Moab Giants is an adventure park for dinosaur fans.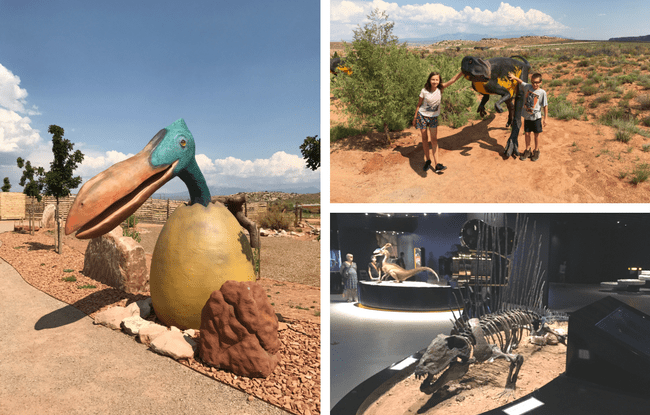 You could make this a great half day trip as you walk along side life sized dinosaurs on a 1/2 mile trail, see virtual animals in the 5D PaleoAquarium, learn more about dinosaurs in 3D theater, have fun on the playground, and more. There is something here for all ages and it's really well done. The PaleoAquarium uses 3D screen imaging to take you on a underwater "Jurassic Park" journey complete with predator attack at the end. So fun!!
Off Road Touring
Explore the area around Moab with a 4 wheel drive vehicle or UTV rental. There are several companies in the area that provide machines for rent if you don't have a 4 wheel drive vehicle. Our family of 5 rented a 6 seater Viking from Moab Tour Company to ride around in.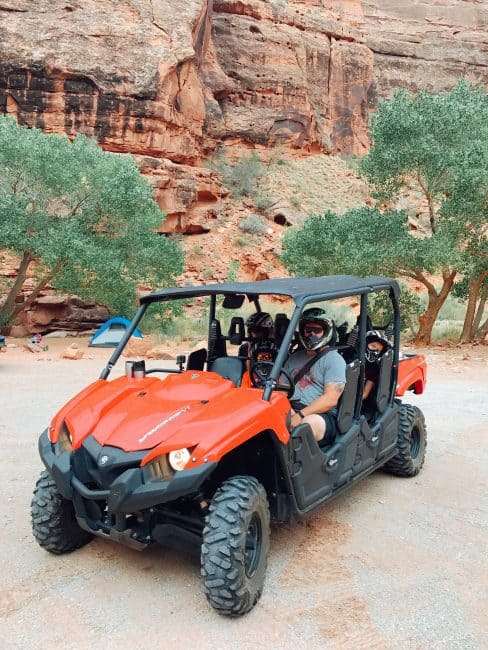 An easy trail is the Hurrah Pass. You travel on a gravel road past Kane Creek Canyon, the Birthing Rock Petroglyphs I mentioned earlier, through a few water crossings, and then a few bumpy spots towards the end.

If you want to be more daring, you can continue on this path into Chicken Corners. It gets its name because people "chicken" out when they see some of the turns.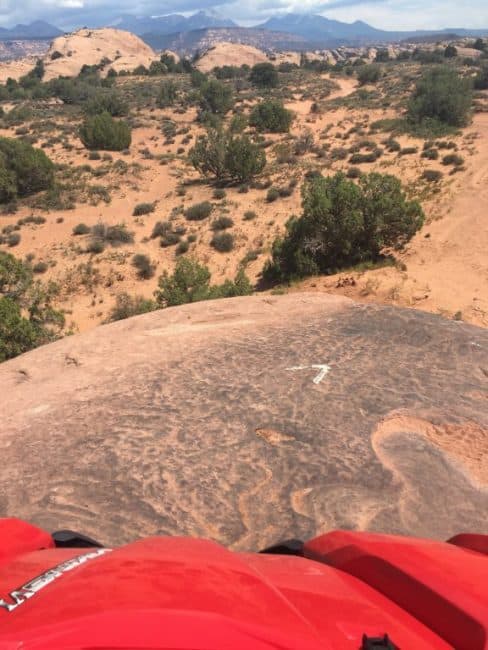 If you want something more harrowing, try Fins and Things Trail. The moderately challenging trail is rock scrambling in a vehicle! This trail had us navigating over slickrock and making steep turns. Slow and steady was the rule for us and it was a blast!!!
When we visited Moab, we stayed at the Aarchway Inn. It has a perfect location just on the end of town near the Arches National Park entrance. It was quiet, rooms were spacious, and staff was amazing.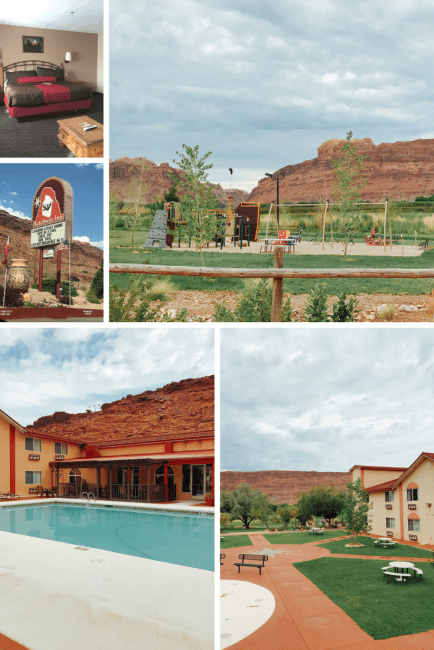 On a warm afternoon, it was nice to just hang out at the hotel, cool off in the large pool, and just relax. If my kids were younger, they could have played on the outdoor playground or the splash pad or taken a nature walk on the short hiking path. It really did have everything I could ask for in a family hotel.
These are just a few of the ways you can spend your time in Moab. I didn't even touch on the food here, but I talk more about the Moab restaurants I'd recommend here. The national parks here are fantastic and one of the main reasons visitors come to the area. Despite the crowds, I loved my visit to them and Dad Horse Point State Park. I'll also talk about them more in a future article. But the town of Moab and the surrounding area have so many more things to do outside the parks. The area is an outdoor families dream destination for sure. I hope reading this has inspired you to plan a trip and think outside the park.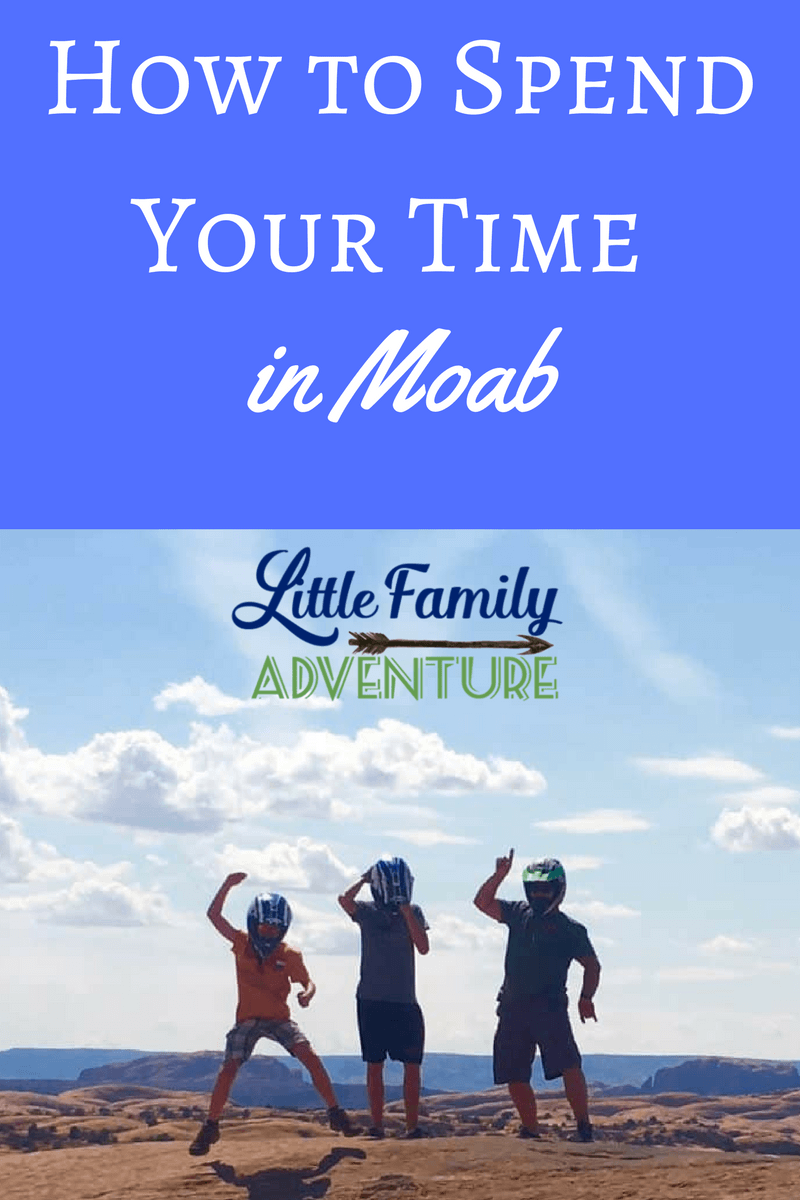 SaveSave
SaveSave
SaveSaveSaveSave
SaveSave
SaveSave