Moab, Utah IS the family adventure hub of the West! There really is so much to do here between two national parks, Canyonlands and Arches, nearby Dead Horse Point State Park, and the Colorado River. For anyone visiting with an RV, there are a number of Moab RV sites and campgrounds to choose from. So depending on how you want to vacation here among the red rocks, we have our top picks for the best Moab RV parks for you.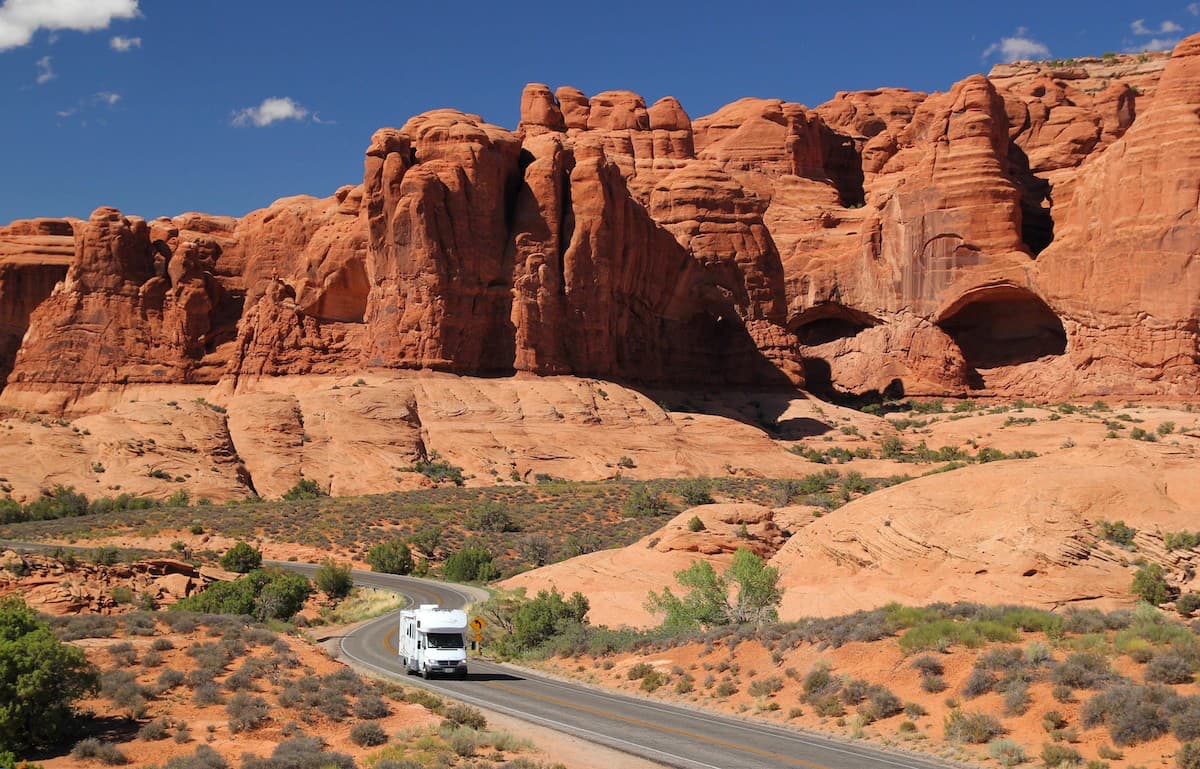 Covid Update: Masks or face coverings are required in all public areas including indoor or outdoor spaces open to the public where consistent social distancing of at least 6 feet is not possible.
Moab RV Parks & Campgrounds
Whether your goal is to set up a RV base camp, have easy access to mountain bike or hiking trails, score the most scenic location along the River, or get off the beaten path and escape the crowds. These really are the best RV parks Moab, Utah has to offer. I should know because I have been helping fellow adventurous families plan their own RV vacations. Our Arches and Canyonlands RV Vacation is dedicated to this adventure paradise. These are definitely some of my favorite campsites and RV parks. We highly recommend them for your type of adventure vacation here.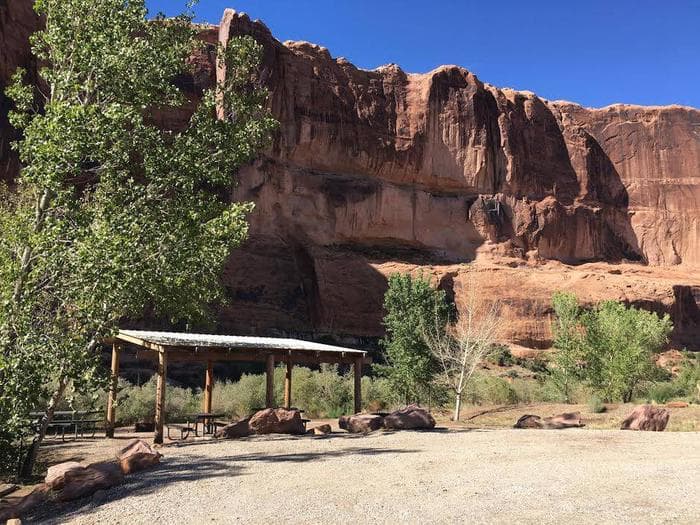 Best for the Lucky: BLM Campgrounds along the Colorado River
If you have good luck, or are very earnest, these are some of the best Moab RV & camping sites in the ENTIRE AREA! The series of BLM campsites along scenic Highway 128 and the Colorado River are all first-come, first-served, and are usually full. These are dry campsites with no water or electricity provided and some can accommodate up to 40′ RVs.. The sheer red cliffs and access to the river for boating, swimming, and recreating make these spots highly coveted. The link above also have information on area hiking, biking, etc..
My advice is to get there early if you want to snag one for your group. Those closest to Moab include Goose Island, Granstaff, Hal Canyon, Oak Grove, and Big Bend and are all worth a shot! $20/night per site. Individual sites are first come/ first served. All BLM group campgrounds are reservable online.
Looking at attractions, events, and ways to spend your time here? Check out these things to do in Moab, Utah.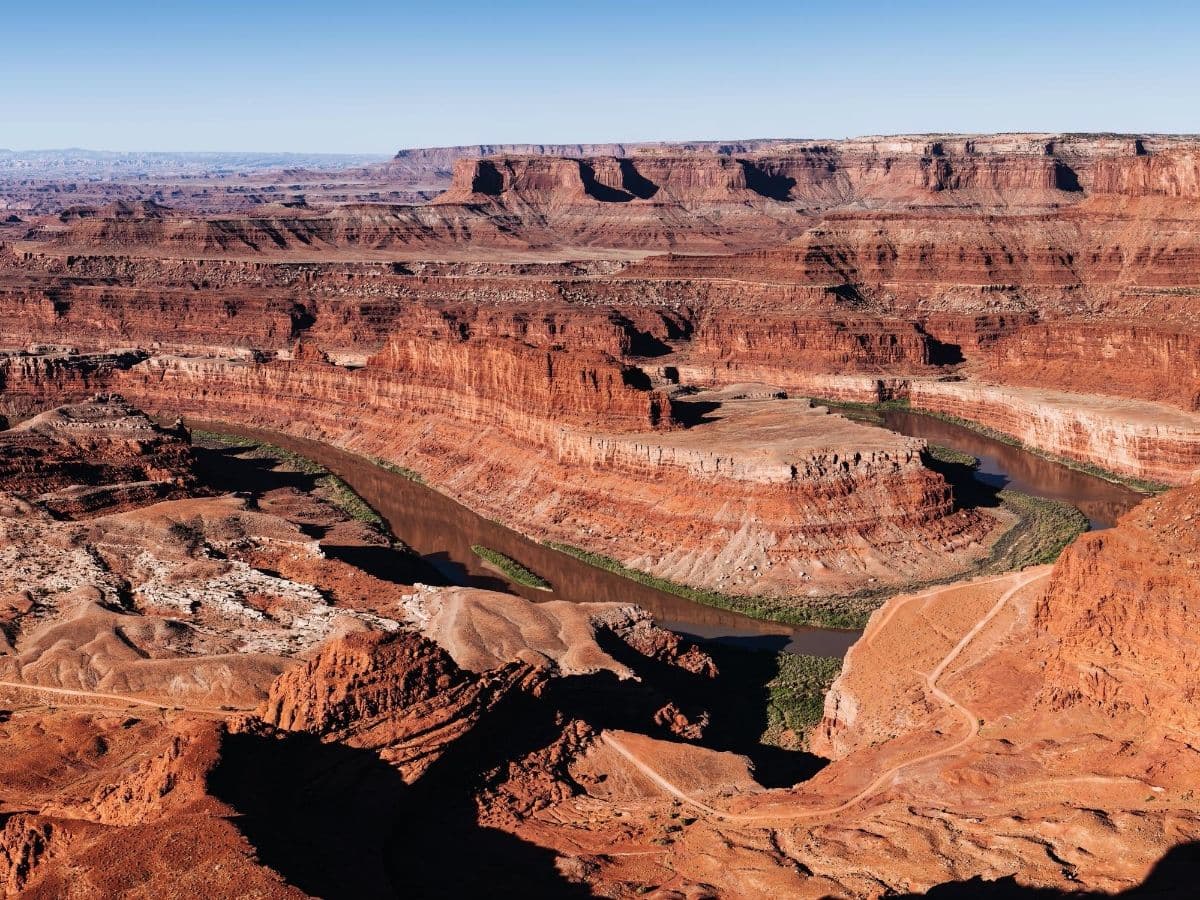 Best for Mountain Bikers: Dead Horse State Park Campgrounds
These campgrounds might take the cake in my book. Dead Horse State Park has two campgrounds, Kenyata and Wingate, that are often overlooked by campers and those looking for RV sites. Many look at staying in Canyonlands National Park just 5 miles away because they don't realize this is here. Dead Horse has a great set of both mountain biking trails and hiking trails. It is also one of the most beautiful lookouts in the area. Dogs are welcome on the hiking trails, which is not the case for the National Parks, and the sites all have a shade cover, picnic tables, tent pad, and picnic tables. All sites also have electrical hookups, which is a must in summer months. $35-40/site. Reservable Online
Don't own an RV and would like to rent one? Check out the top 25 RV rentals with RVezy starting at just $80/night in/near Moab.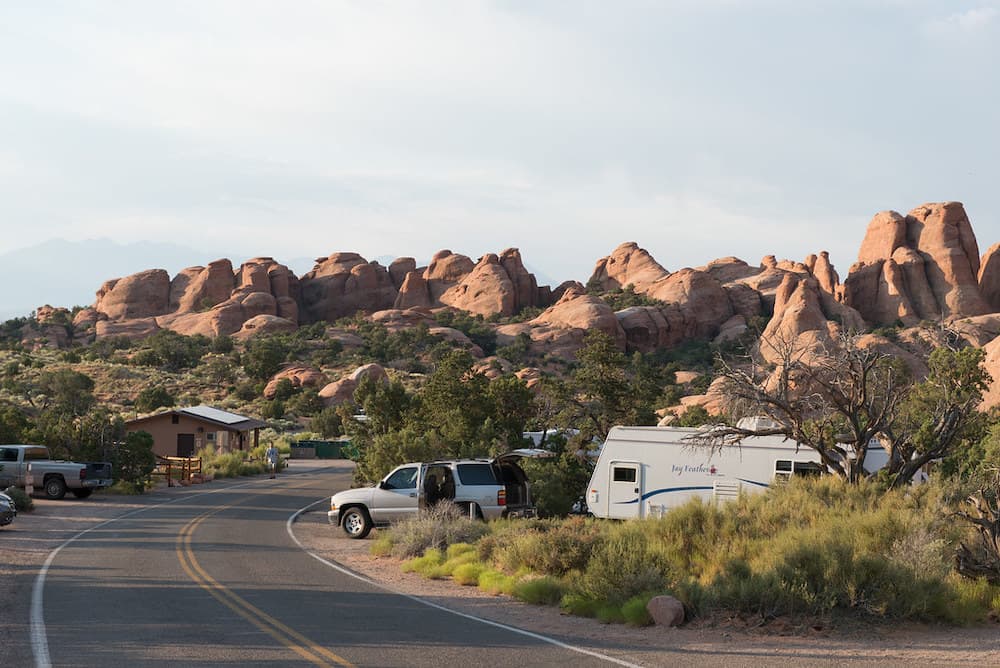 Best Location: Devils Garden, Arches National Park
As the only campground inside Arches National Park, Devils Garden's location can't be beat. The setting is gorgeous and the private sites are surrounded by rock fins, boulders and pinion trees. The views of the La Sal Mountain range really tops this campground off. You can park and enjoy easy access to hikes in the Park from your campground and stay to watch the sun set. $25/night. March 1 – October 31 Reservable Online, Otherwise First-Come, First Served.
Pin This for Later…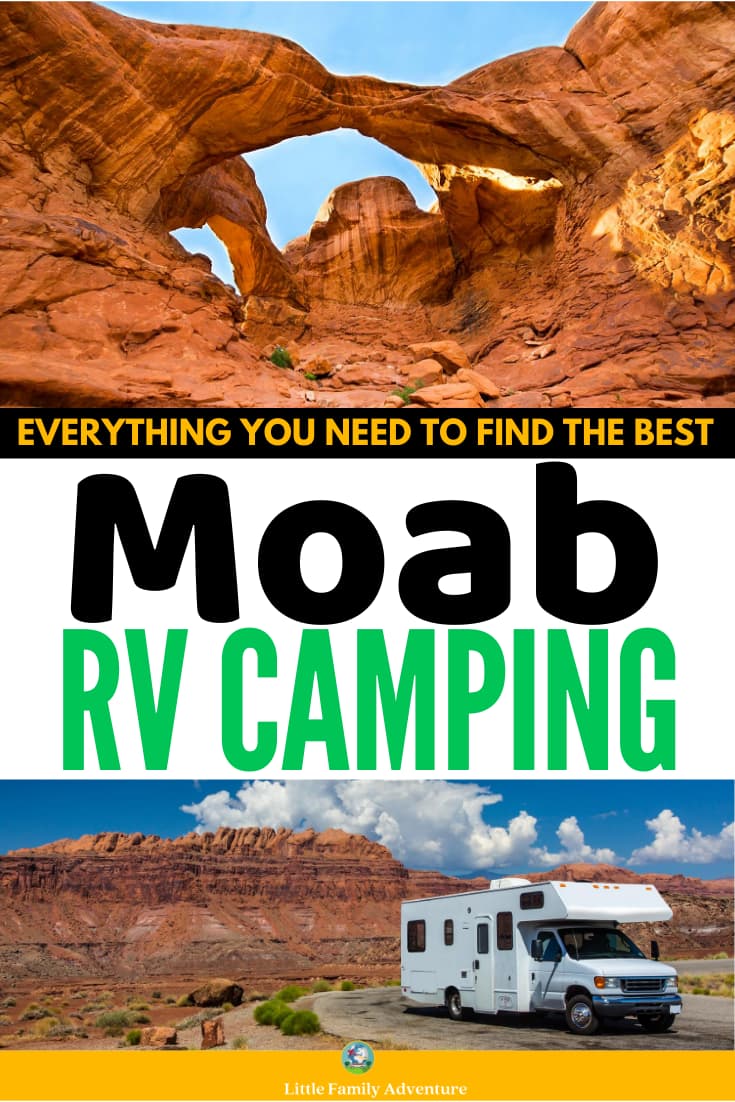 Best Base Camp: Canyonlands RV Resort & Campground
If you are traveling in an RV or travel trailer, this is my favorite campground to set up as a basecamp. Located directly in the town of Moab, you are perfectly situated to explore Arches, Canyonlands (Island in the Sky, Needles and Maze areas), the Colorado River and everywhere in between. With full hook-ups, shower building, and swimming pool, you can come back to camp to relax and recharge. Canyonlands RV Resort is also within walking distance to the major Moab restaurants (there are a few we highly recommend), shops, activity centers and grocery stores in town. $40-100/night Reservable Online
Best Off the Beaten Path: Warner Lake Campground
While 30 miles away from Moab on Hwy 191/ La Sal Loop Road, the Manti la Sal National Forest is where you should head if you want to cool off and get away from the crowds. Warner Lake Campground is situated at 9,400 feet high in the mountains above Moab. Surrounded by aspen groves and an alpine lake, you will get a completely different Moab area experience. It will be cooler than Moab, so make sure you have the thicker sleeping bag! $10/night. Reservable Online and First-Come, First-Served
For more on RVing, check these out:
Brooke Johnson is the Owner and CEO of Tumbleweed Travel Co. a full-service custom RV trip planning company. Brooke has been organizing road trips in the West for over 10 years and lives in Telluride, Colorado, but spends almost as much time in her RV, "Skinny Marie", traveling throughout the US. Tumbleweed Travel Co. organizes custom RV vacations in the west. They will plan your route, book your campgrounds, reserve your RV, and take care of all the details in between (so you don't have to.) Check out their blog and sign up for their Newsletter there!