After a long day hiking in Arches or Canyonlands National Parks you can really work up an appetite. Luckily, the nearby town of Moab, Utah is filled with great restaurants. On our recent sponsored trip, the great people at DiscoverMoab.com sent us to try a few of these Moab restaurants.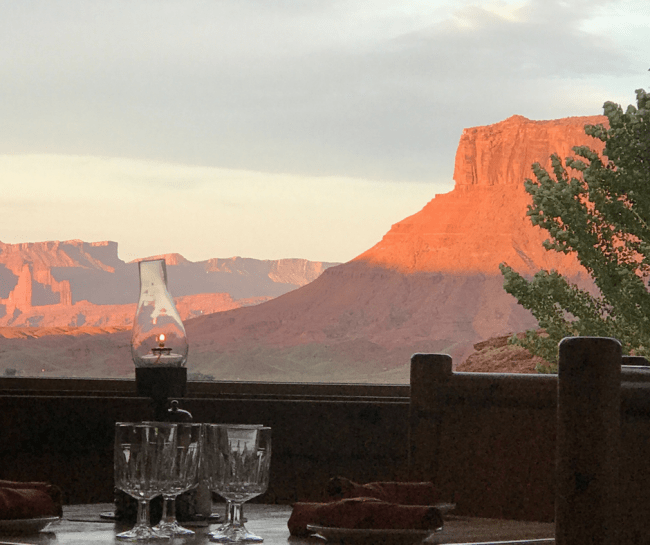 Best Restaurants in Moab Utah
Local eateries in the area range from coffee houses serving a great cup of java and nitrogen ice cream to fine dining restaurants serving elk and locally produced wines. We sacrificed ourselves (all too gladly) to sample and taste test the best food Moab restaurants had to offer. Now I bring you this list of the best Moab restaurants you REALLY need to try.
Love Muffin Cafe
I am going to start my list of the best restaurant here because every great adventure, at least in my world, is fueled by coffee. Love Muffin Cafe is a locally owned cafe and coffee house serving breakfast and lunch. I love finding local places like this one. Not only are they brewing a GREAT cup of organically grown coffee, but their food ingredients are also organic, seasonal, and local whenever possible.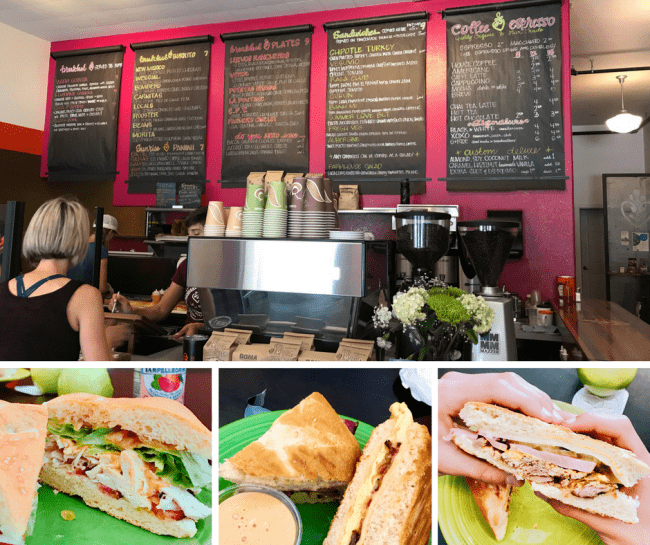 We stopped in here at the beginning of lunch time and were luckily enough to order off the breakfast and lunch menu. We loved the Cuban sandwich, Vesuvio sandwich with turkey and mortadello, Banh Mi, Breakfast sandwich with bacon (my youngest wouldn't share this one so I can only assume), and a Rasa Club. The Rasa Club had this onion jam that made the sandwich! If you like hot, then you'll love the Vesuvio. It has a sweet hot mustard that brought the heat in a good way. Everything we had here was good. This cafe itself is a fun place with a hip atmosphere. A must visit in my book!
Red Rock Bakery
If you want to grab a box lunch and head into the parks, this is the place. This local sandwich shop, bakery, and coffee shop has been serving Moab locals and visitors for over 20 years. Everything here is top notch! On the day we went hiking in Arches National Park, we picked up a few sandwiches, a green salad, chips, and drinks to take with us. We ordered the Moenkopi sandwich, Entrada sandwich, Kayenta Sandwich, RRB (Turkey, Bacon, Ham) Club sandwich, and a garden salad. As you can see from the pictures below, the sandwiches are huge and the freshly baked bread they're served on is fantastic! Oh and this was the first time I'd ever had Prickly Pear Pellegrino. Let's just say now that I'm home, I'm ordering it via Amazon.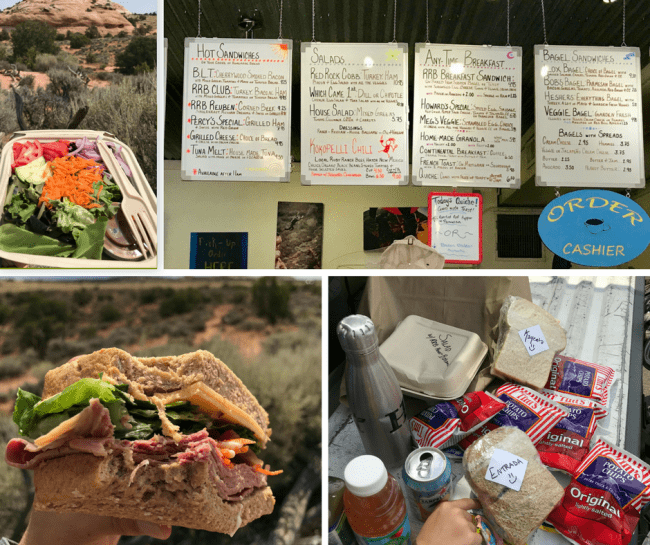 This is one of the Moab restuarants that allows you to order ahead for pick up. It was recommended that we pre-order for a morning pick up and we did. We arrived about ten after the bakery opened and there were already quite a few people inside either dining in or waiting on their to go orders. Our order was ready to go when I arrived at the register and so we were off to see Arches National Park in no time. In hindsight, I wish I had room for dessert that day. All of Red Rock Bakery's baked goods get rave reviews on Yelp and Facebook. Next time!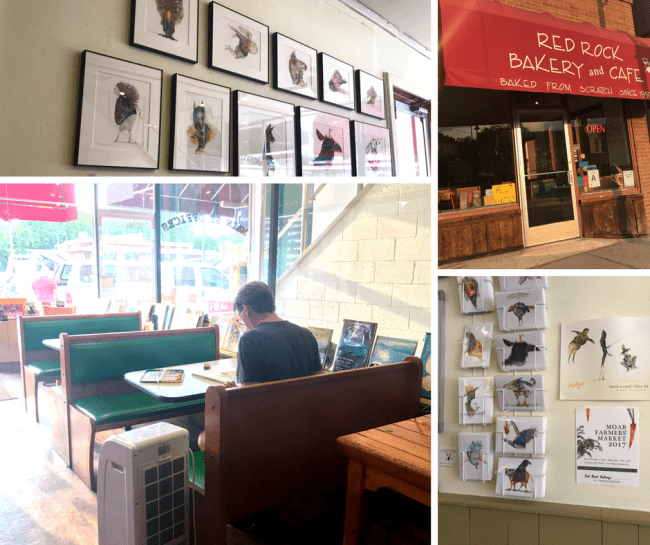 On a non food note: I just wanted to share the art that is featured inside the Red Rock Bakery. The bakery features the work of local artists on its walls. When I was picking up our lunch, a local artist was busy creating a new piece.
After a good meal, try one of these things to in Moab (and nearby)
The Cowboy Grill
About 20 minutes outside Moab is the Red Cliffs Lodge on scenic Highway 128. If you are not wowed by the drive along the Colorado River, the food will. I would give this place my vote for one the best restaurant in Moab is not THE BEST. The Cowboy Grill is restaurant located inside the resort that offers fine dining with white linen table clothes indoors or a more casual outdoor setting. Every table has a spectacular view of the Colorado River.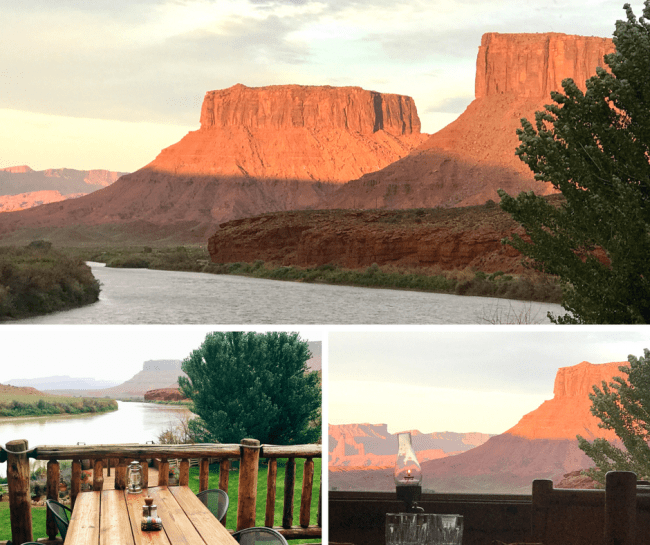 The restaurant serves a breakfast buffet, and a full lunch and dinner menu. We dined here for dinner after touring the Moab Museum of Film and Western Heritage and the Castle Creek Winery on the property. The menu offers a good variety of appetizers, salads, entrees, and desserts. They feature locally produced wines from the Castle Creek Winery on the menu. So after you visit the winery you can enjoy a glass with your meal.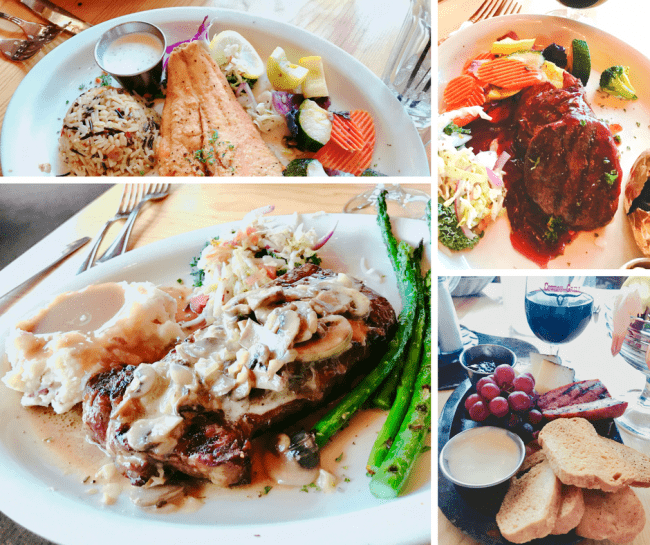 We ordered the charcuterie board with local meats and cheeses and a shrimp cocktail, Elk Medallions, Steak with a Mushroom Sauce, Ruby Red Creek Trout, Lamb Chop, and a Vanilla Flan for dessert. My pictures don't do the food justice. Each dish was delicious. The trout was light and the steamed vegetables and rice were perfect together. For a lighter dish, this was perfect. For those of us that wanted a heartier meal, the lamb, elk, and beef melted in your mouth like butter. I honestly can't think of a better way to end the day in Moab than with a meal here. This is one of the Moab restaurants I will return to again and again…….
Moab Garage
Here they serve up coffee and ice cream a little differently. Their ice cream is frozen with liquid nitrogen after you order it and they call it Crytocream. If you think that's crazy, you should try their flavors.
The flavor menu changes regularly. This one above is lemonade. When we were there a few of the stranger ones were Cheetos (yes, my son tried it and it tasted just like Cheetos), Churro, and Coffee and Donuts. I'm not sure which is more fun, eating ice cream or watching staff make it. Each cone/cup is made one at a time with a stand mixer and a nitrogen canister. Think culinary science experiment. Super fun!
Related: These are some of our favorite Easy Hikes in Utah
Moab Diner
Want a classic diner serving up milkshakes, burgers, and such? There's one of those too. Moab Diner has a huge menu…..but we saw green chile and couldn't bring ourselves to order anything else except a pancake. Leaving in Oklahoma we don't get New Mexico style green chile often. So when we saw that this diner served it on omelettes, in a bowl with tortillas, over a burrito, and over a burger, that's what we all ordered.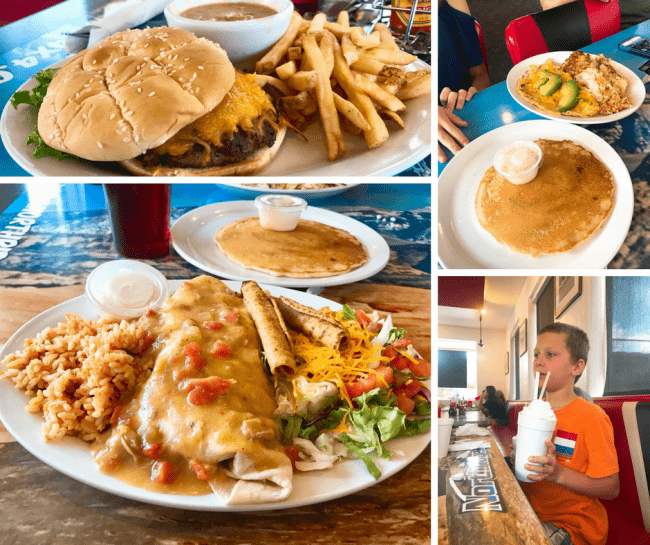 Like many diners, this place is always busy, servings are big, and prices are good. The milkshakes are all served in to go cups because you probably won't finish it before you are ready to leave. Atmosphere is really family-friendly. If you like diner food, try this place.
Eddie McStiff's
This restaurant is part taproom, part American restaurant. They have 12 different Utah microbrews on tap and a wide variety of of beers available. They are open for breakfast, lunch and dinner. Their menu is HUGE and has a little bit of everything. We went the first night we were in town. The Fish and Chips was really good. The Carnivore (All Meat) Pizza was good but the crust was really thick. If you are looking for a place that serves a cold beer and a meal, this would be a good choice.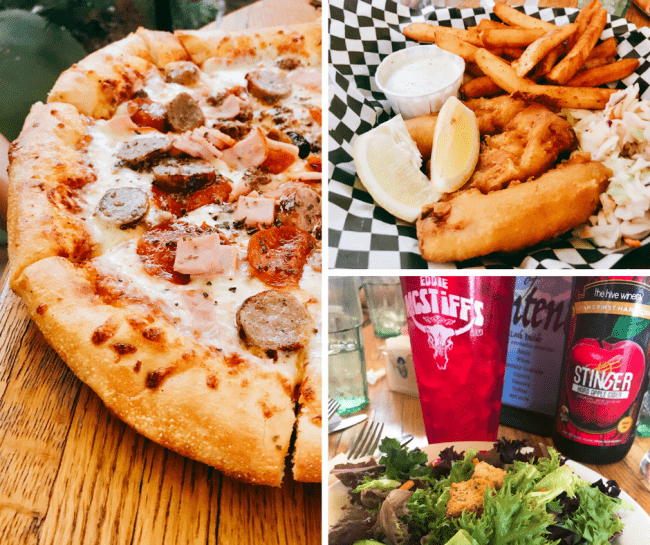 You can sit inside or out on the patio. We choose to sit outside just after a rain storm and it was really nice. The restaurant is on the Main Street making it super convenient to finish dinner and then go check out the local shops.
Continental Breakfast at Aarchway Inn
Normally I wouldn't add the free breakfast at the hotel we are staying at to a list of restaurants to visit. But the food at the Aarchway Inn was really, I mean REALLY good.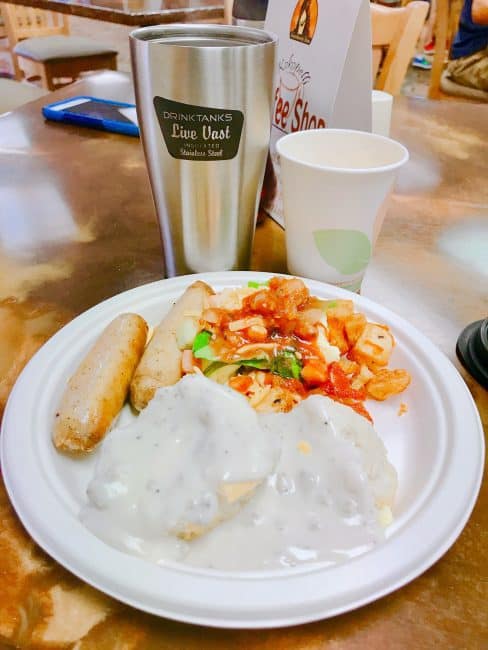 It went above your standard carb loaded continental breakfast. Every day during our stay, we had fresh biscuits and gravy, they pork sausages that were fantastic, skillet potatoes, freshly cut fruit, freshly scrambled eggs with spinach and cheese, and more. The clientele at the hotel was international so maybe that is why there was a bigger range of foods. But I am not complaining.
Be Sure to Check Out these Other Articles:
The Moab Area Travel Council, DiscoverMoab.com, provided complimentary lodging, plus complimentary and discounted meals during our visit. My review is based on that recent trip and are my own.
SaveSave
SaveSave
SaveSave
SaveSave